Spatchcock Herbed Turkey
Spatchcock Herbed Turkey is an easy and fast way to cook a Thanksgiving turkey!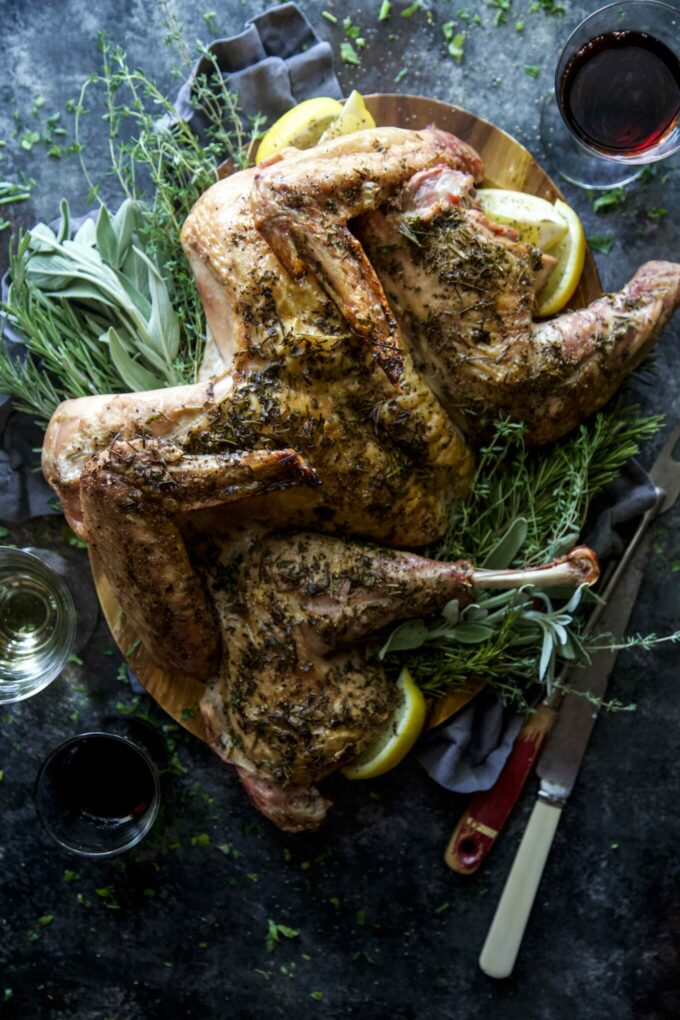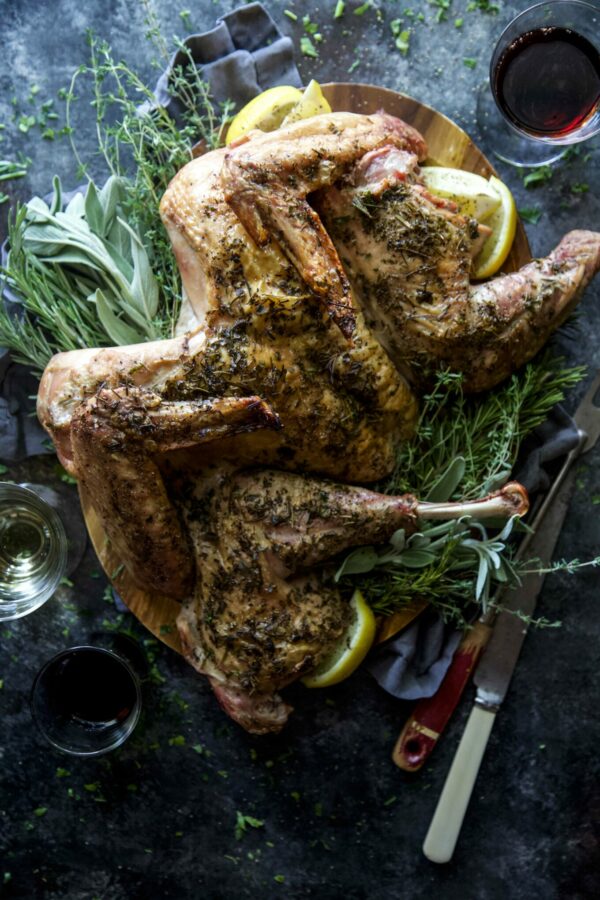 We are diving in.
To the holiday food season. Yes, food season.
What else would you call Thanksgiving? Okay, it is a time to gather with the people you love and take a moment to be grateful. BUT! Said gathering wouldn't be nearly as fun without delicious food. Am I right?
I know there are some folks that like to get a head start on meal planning for the big turkey feast. So I thought I would hit the ground running and give you guys some serious delicious recipes to add to your menu.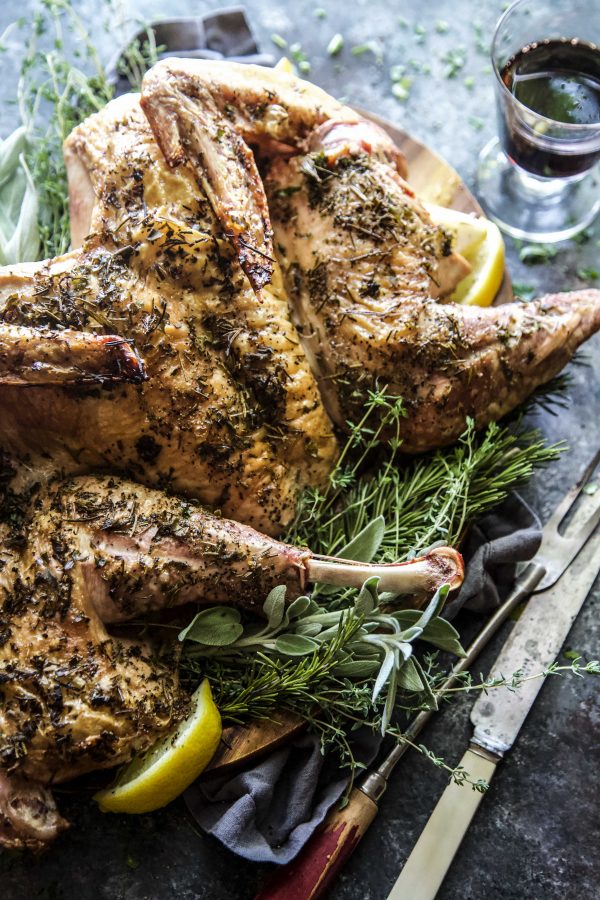 On Monday I posted these Chipotle Pimento Cheese Au Gratin Potatoes that are an easy side dish to make. The cheese situation alone on these taters make me swoon. Plus, they are a nice change from your basic mashed potatoes.
Today's recipe I'm coming out swinging and giving y'all a tried and true way to make a Thanksgiving bird. Have you ever spatchcocked a turkey before? If not, let me introduce you to your new best friend. Spatchcocking a bird is removing the backbone and flattening it onto a baking sheet so it will cook quicker. Like you can cook a 10 lb turkey in an hour and a half!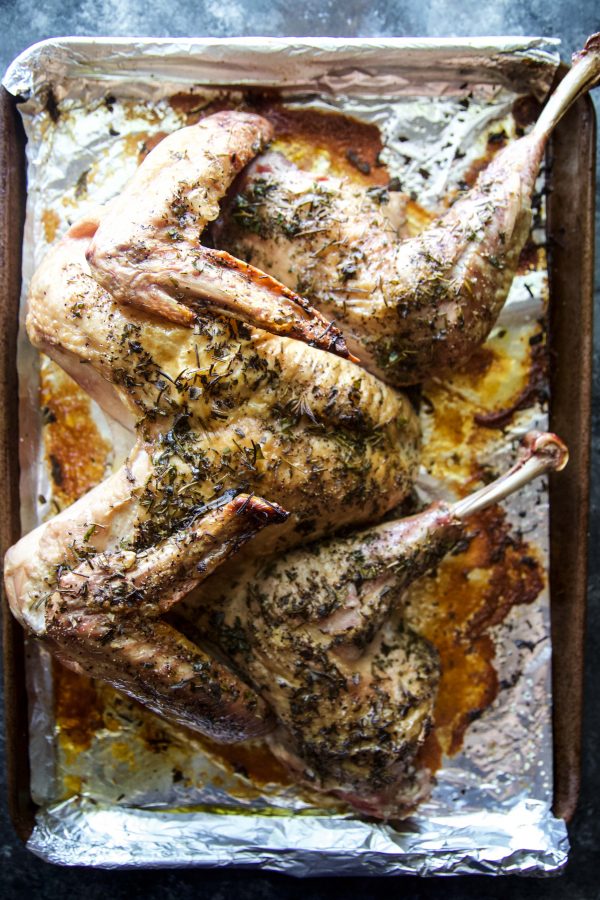 The thought of cutting out a backbone of a bird may sound intimidating, but I assure it's super easy. You just need some really sharp kitchen scissors and a little muscle. Once you've got that bird flattened on a baking sheet lather it up with butter and a mixture of herbs like rosemary, sage, and thyme. Toss the bad boy in the oven, pour yourself a glass of wine, have a dance party and wait for your Spatchcock Herbed Turkey to roast in a fraction of the time as a regular bird.
Who's ready to get spatchcocking?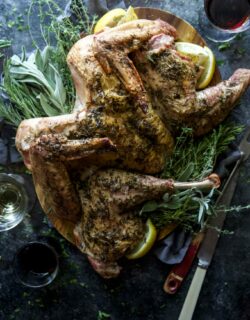 Spatchcock Herbed Turkey
Ingredients:
One 10-12 pound turkey, defrosted, patted dry
1/2 cup olive oil
1 tbsp chopped fresh rosemary
1 tbsp chopped fresh sage
1 tbsp chopped fresh parsley
1 tbsp chopped fresh thyme
1 tbsp kosher salt
1 tbsp ground pepper
Directions:
Preheat an oven to 425 degrees. Line a baking sheet with foil and spray with non-stick cooking spray and set aside.
In a bowl combine the olive oil, rosemary, sage, parsley, thyme, salt and pepper.
Remove the neck and giblets from the turkey. If desired use later to make gravy or broth.
Place the turkey on a large cutting board breast side down so that the backbone is facing up. Take your kitchen scissors and cut along each side of the back bone. Remove the back bone.
Next, flip the turkey over and using your palms press on the turkey to flatten it. Take the kitchen scissors and cut the wing tips off. Place the turkey on the prepared baking sheet.
Brush the entire turkey with olive oil mixture. Roast the turkey for about 1.25 hours or 1.5 hours until the thick part reaches 165 degrees.
Remove from oven and allow to cool for about 15 minutes before carving. Enjoy!
All images and text ©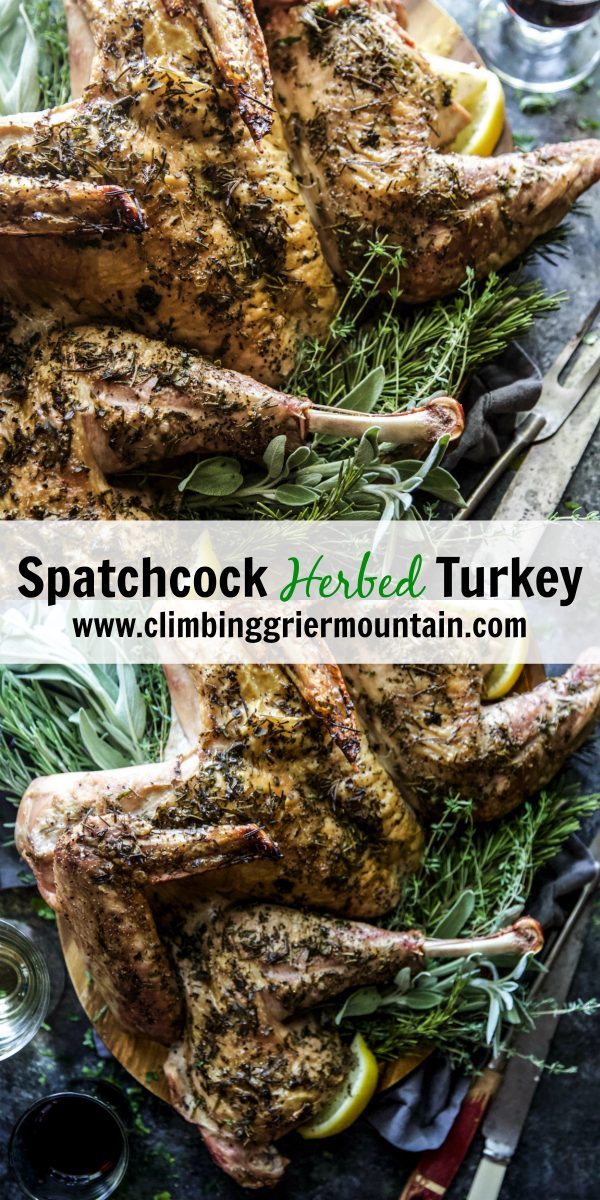 In conclusion, Spatchcock Herbed Turkey elevates your holiday feast with its succulent, herb-infused flavors and perfect roasting technique. A delicious reimagining of Thanksgiving traditions for a memorable culinary experience.