Chipotle Pimento Cheese Au Gratin Potatoes
Chipotle Pimento Cheese Au Gratin Potatoes are a cheesy, potato side perfect for a Thanksgiving feast!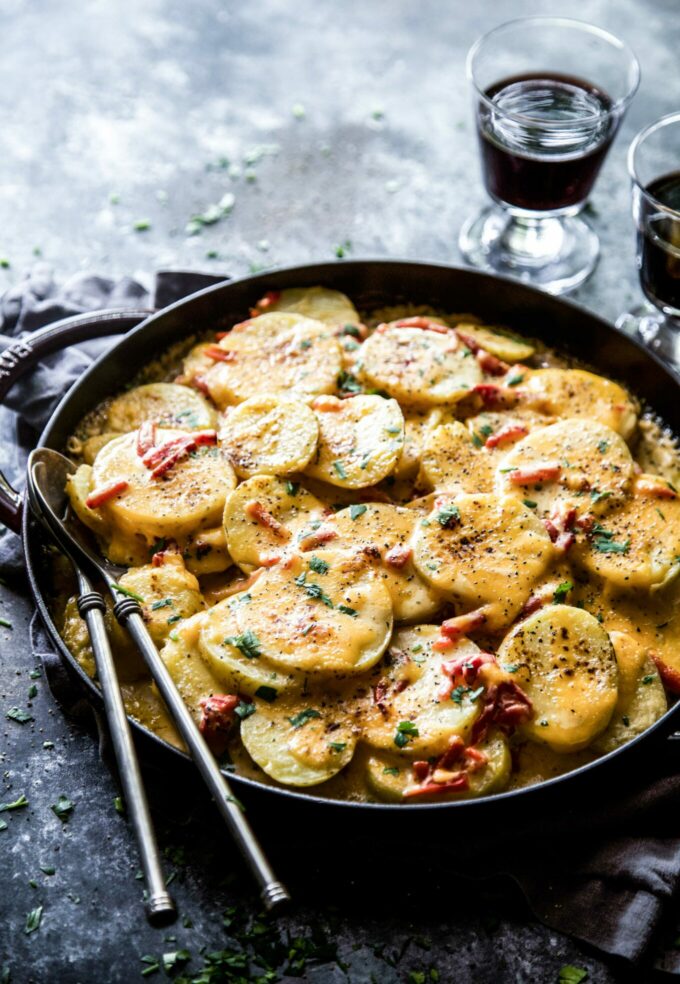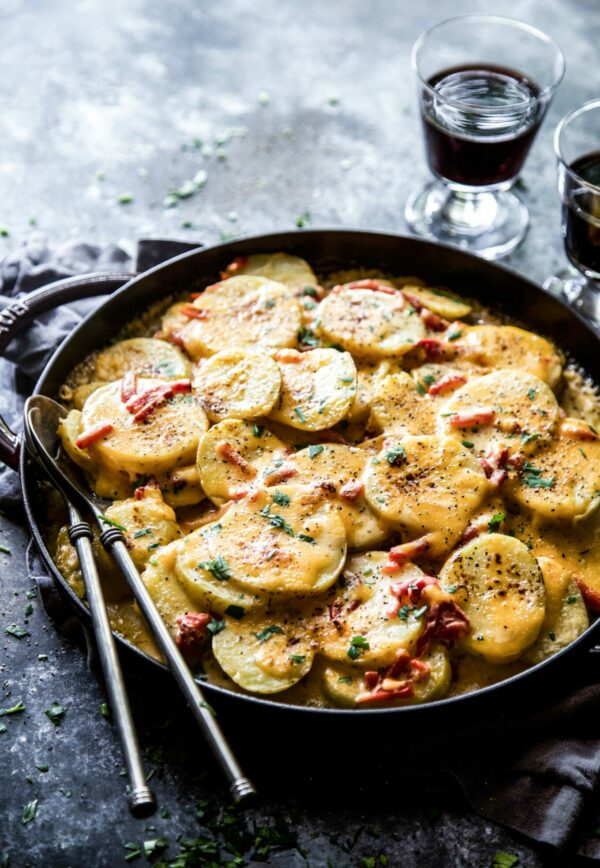 Howdy.
How was your weekend?
Did you survive Daylight Savings? To be honest, we got owned. Charlie was up every two hours cluster feeding and then rocking by 5am. Can we just get rid of this ridiculous ritual? Do we even need it?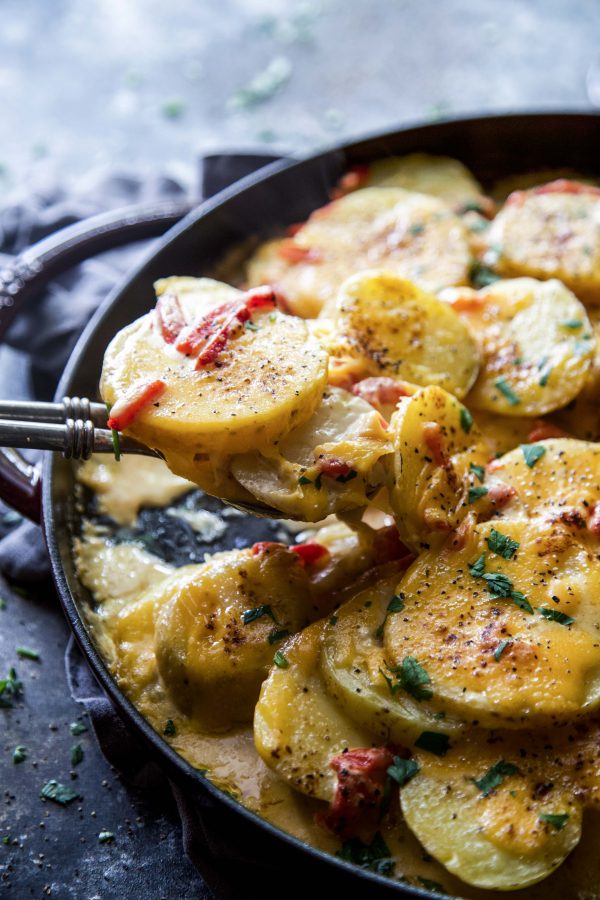 Sigh. I think a lot of parents might just flee to Arizona to not have to deal with it. Who's with me? I promise we don't have to stay between May and August. Unless you are into 120 + heat. I won't judge.
Besides trying to stay awake today, I am excited that we are approaching the holidays. I've got some delicious recipes coming your way that would be excellent additions to your Thanksgiving table. Starting with these Chipotle Pimento Cheese Au Gratin Potatoes.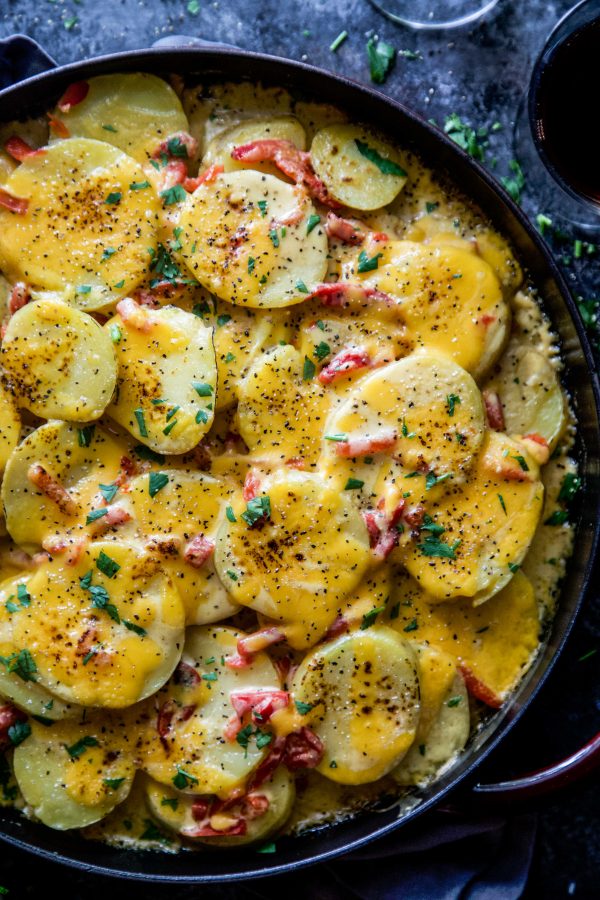 I know mashed potatoes always get the most attention, but au gratin potatoes need a chance to shine. Sliced potatoes topped with chipotle pimento cheese and baked until golden. I mean, what's not to like? Plus, these taters would make for an excellent leftover situation. Um, hello sunny-side up egg on top!
The bigger question, do you think these potatoes come with a dollop of extra sleep?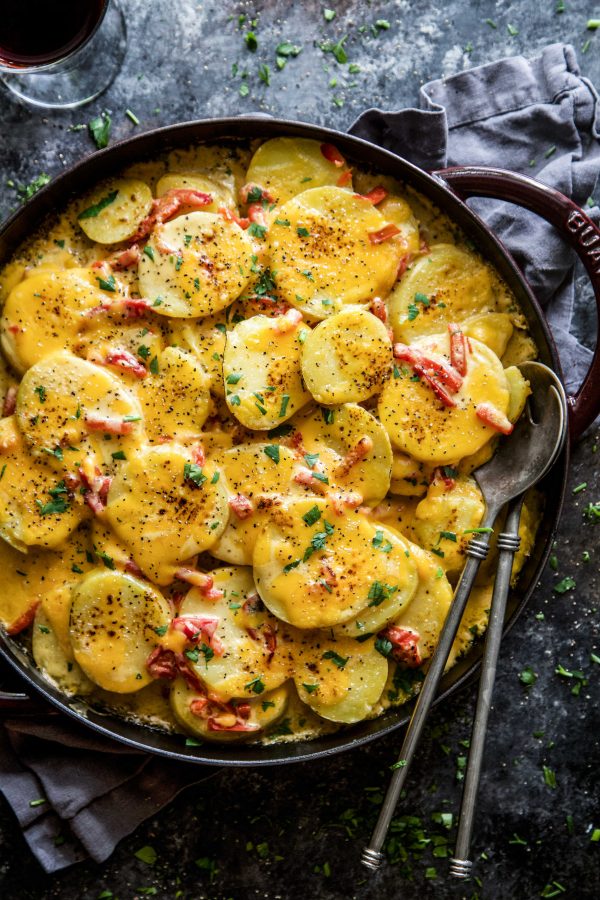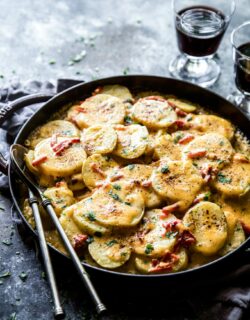 Chipotle Pimento Cheese Au Gratin Potatoes
Ingredients:
1.5 lbs Yukon gold potatoes, sliced 1/4-inch thick
2 tsp kosher salt
3/4 cup heavy cream
2 large shallots, diced
1/2 tsp chili powder
1 tsp ground pepper
1 4oz jar sliced pimentos, drained (reserve 2 tbsp liquid)
2 1/2 cups shredded cheddar cheese, divided
Fresh chopped parsley, for garnish
Directions:
Preheat your oven to 375 degrees. Spray a 8X8 baking dish with non-stick cooking spray.
Bring a large pot filled with water to a boil. Add kosher salt and potatoes. Cook the potatoes for about 10 to 12 minutes. Drain the potatoes in a colander.
While the potatoes are cooking, add heavy cream, shallots, chili powder, pinch of salt, pepper and 2 tbsp pimento liquid in a medium saucepan. Stir to combine and then bring the mixture to a simmer over medium heat for about 2 to 3 minutes making sure to stir often. Stir in 1 1/2 cups of the cheese until melted and remove saucepan from the heat.
Take the drained potatoes and layer 1/3 of them into the bottom of the prepared baking dish. Sprinkle half of the pimentos on top. Repeat process until all potatoes and pimentos have been used.
Pour the cheese mixture over the potatoes. Cover the dish with foil and bake for about 15 minutes. Remove dish from oven and sprinkle remaining 1 cup cheese on top. Place dish back into the oven for about 5 to 7 minutes or until the cheese is golden. Garnish with parsley and serve.
All images and text ©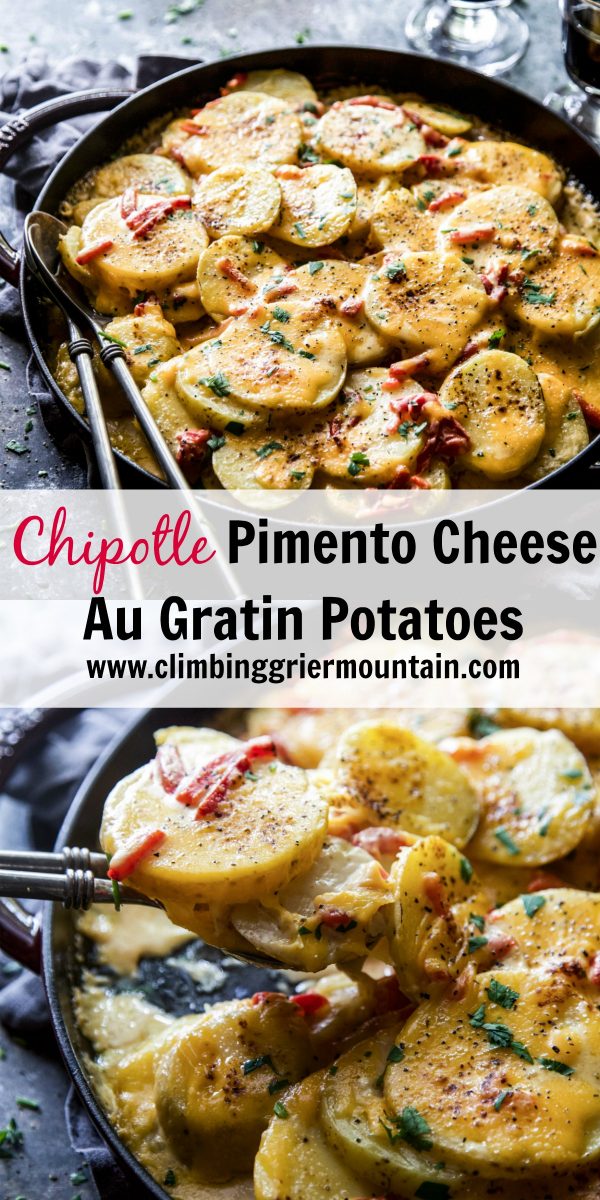 In conclusion, our Chipotle Pimento Cheese Au Gratin Potatoe combines the smoky kick of chipotle with the creamy richness of pimento cheese to create a tantalizing and unforgettable side dish. A true culinary sensation.