Sheet Pan Roasted Squash with Cider Vinaigrette
Sheet Pan Roasted Squash with Cider Vinaigrette is an easy and light side-dish that's perfect for weeknight dinner or Thanksgiving!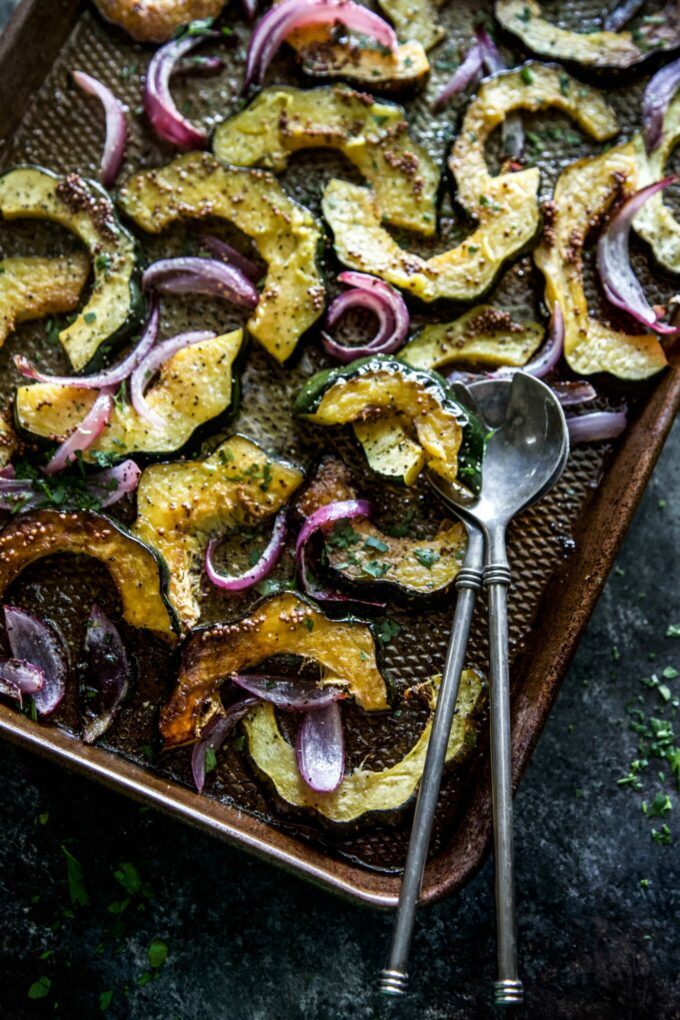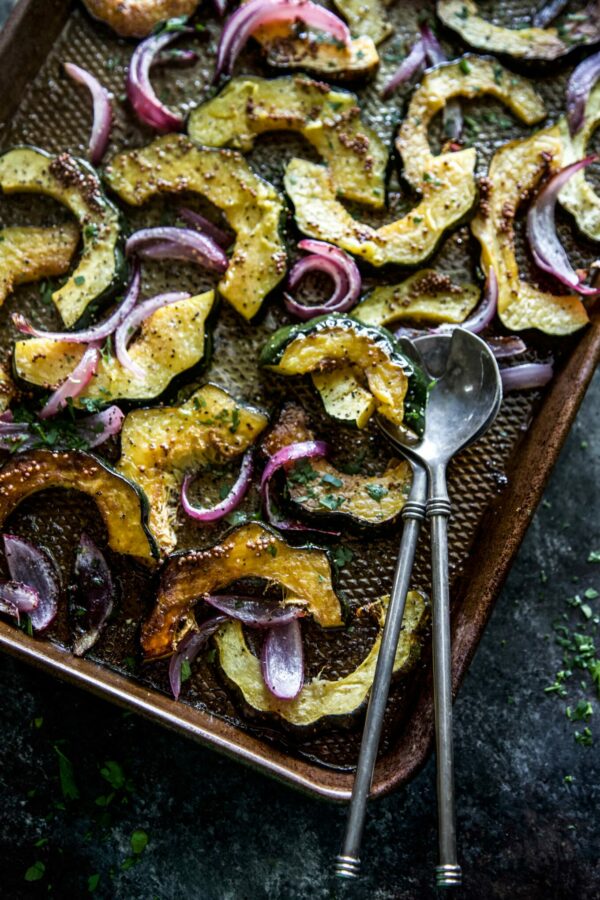 Two camps.
One camp for those that like to decorate for Christmas even before Halloween is over. Still a mystery to me.
Second camp for those that don't mention Christmas until after Thanksgiving. I definitely identify more with camp number two up until Sunday when I ordered stockings for the whole family. Oops!
I couldn't pass up a deal for these classic red velvet stockings that will have our names on them. Plus, I didn't realize how much fun it is to celebrate a holiday now that we have a child! Dear God. I want all the things!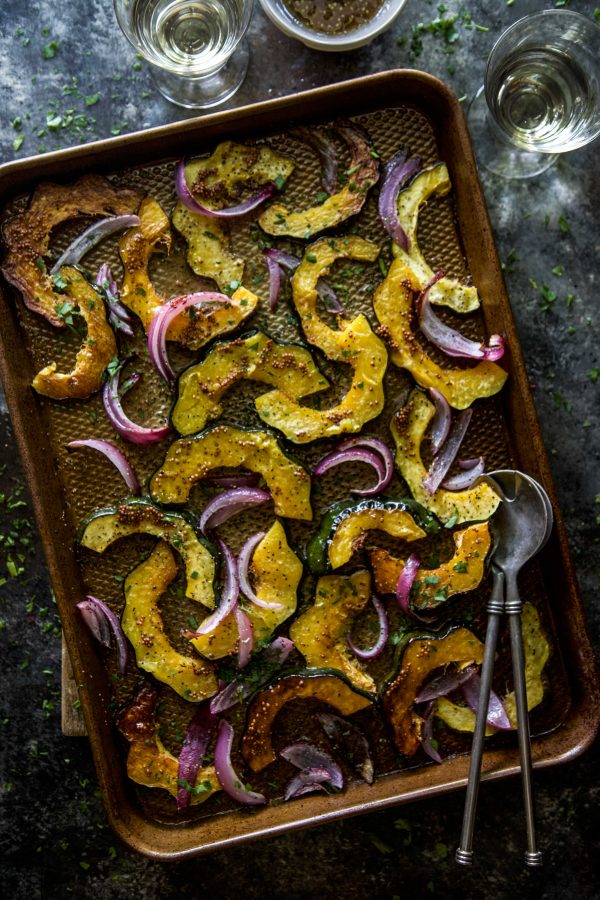 I was thinking about all the fun traditions we get to start like, do we load up the car and search for a real Christmas tree? Or do we get a fake one? Do I make hot chocolate before we go Christmas tree shopping? Do we see Santa? I spent at least an hour on Sunday practically giddy at all these new experiences!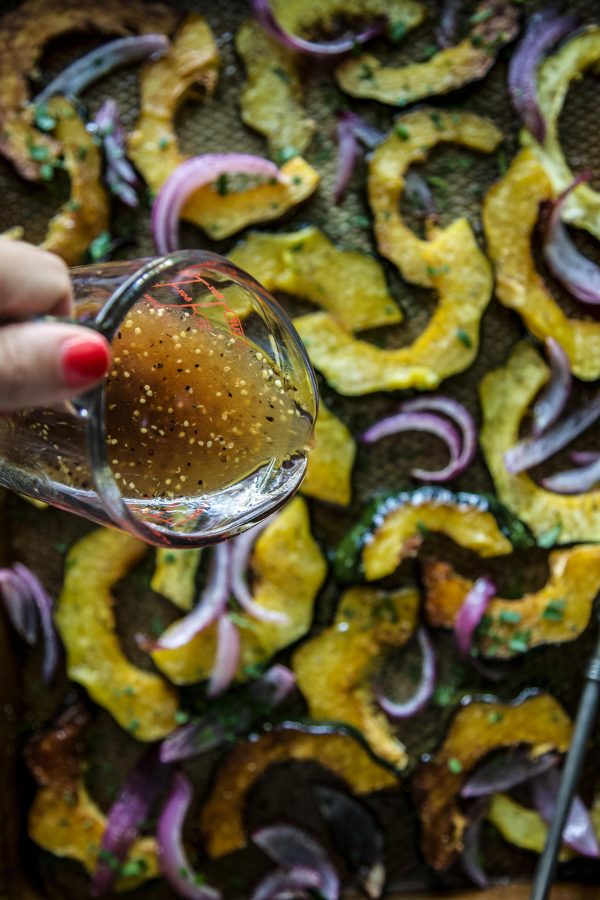 Curious, which camp does your loyalty lie? I won't judge.
Okay, before we disperse on this lovely Wednesday, I've got another epic side-dish for you. This Sheet Pan Roasted Squash with Cider Vinaigrette is super easy to throw together during the week. Because I know getting veggies can be tricky especially during the holiday madness.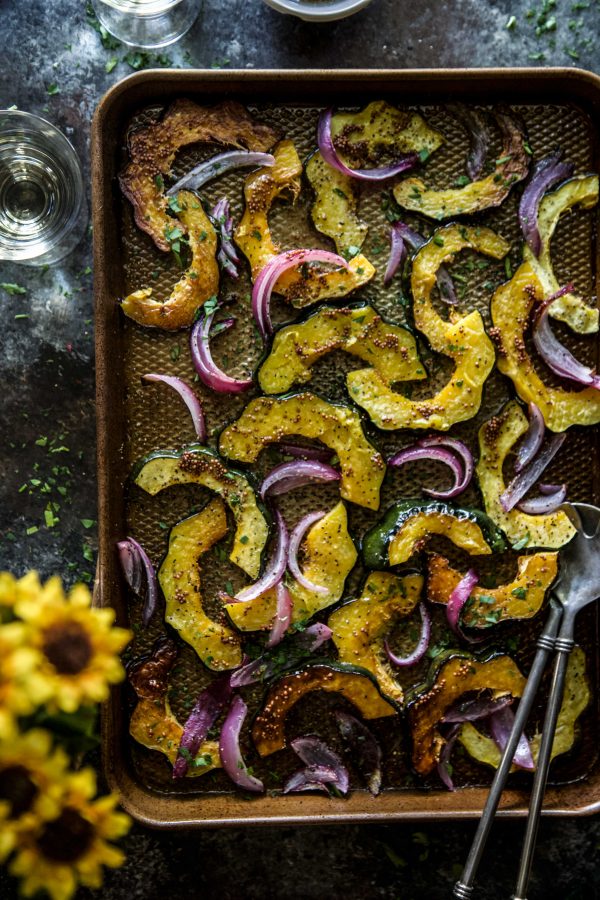 BUT! This side dish would also be fabulous for Thanksgiving. Sliced acorn squash roasted and then drizzled with a cider vinaigrette. Light, delicious, and easy to make. Veggies never looked so good.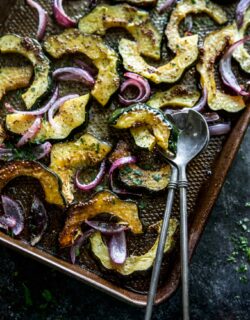 Sheet Pan Roasted Squash with Cider Vinaigrette
Ingredients:
four acorn squashes, seeded and cut into 1/2-inch thick slices
1 large red onion, sliced into small wedges or sliced thinly
3 tbsp olive oil, divided
1 cup apple cider
1/1 2 tbsp whole grain mustard
1 tbsp red wine vinegar
2 tbsp chopped fresh parsley
salt and pepper to taste
Directions:
Preheat your oven to 425 degrees. Spray a baking sheet with non-stick cooking spray. Place the acorn squash and red onion on the baking sheet and toss with 2 tbsp of olive oil, salt, and pepper. Roast the veggies for about 2o to 25 minutes or until golden brown.
While the veggies roast, in a medium saucepan over high heat boil the apple cider. Reduce the heat to low and then simmer for about 12 minutes. Remove the saucepan from the heat.
In a bowl whisk together the mustard, vinegar, reduced apple cider, 1 tbsp of olive oil, salt and pepper. Pour the cider vinaigrette over the veggies and garnish with parsley.
All images and text ©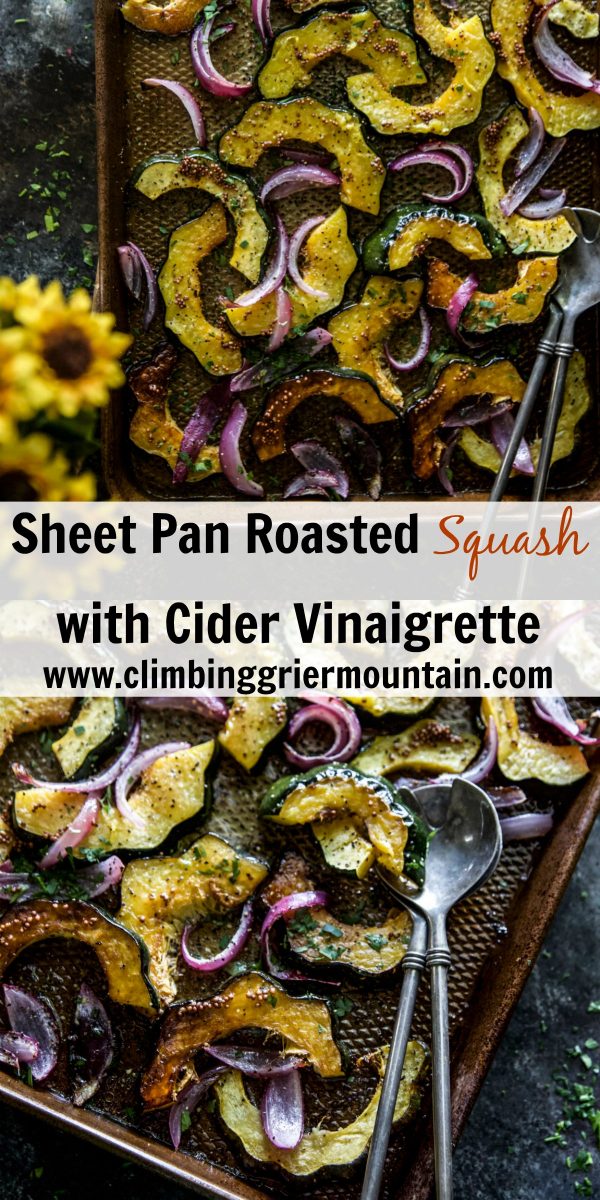 In conclusion, Sheet Pan Roasted Squash with Cider Vinaigrette is the epitome of autumn comfort and flavor. It's a side dish that adds warmth and richness to any meal, making it a seasonal favorite.