Salted Bourbon Pumpkin Pie with Pecan Stresuel
Salted Bourbon Pumpkin Pie with Pecan Stresuel is a decadent dessert made with Bob's Red Mill Whole Wheat Flour that will be the star at your Thanksgiving table!
***This post is sponsored by Bob's Red Mill. As always all opinions expressed are 100% my own.***
Thanksgiving is looking good, y'all.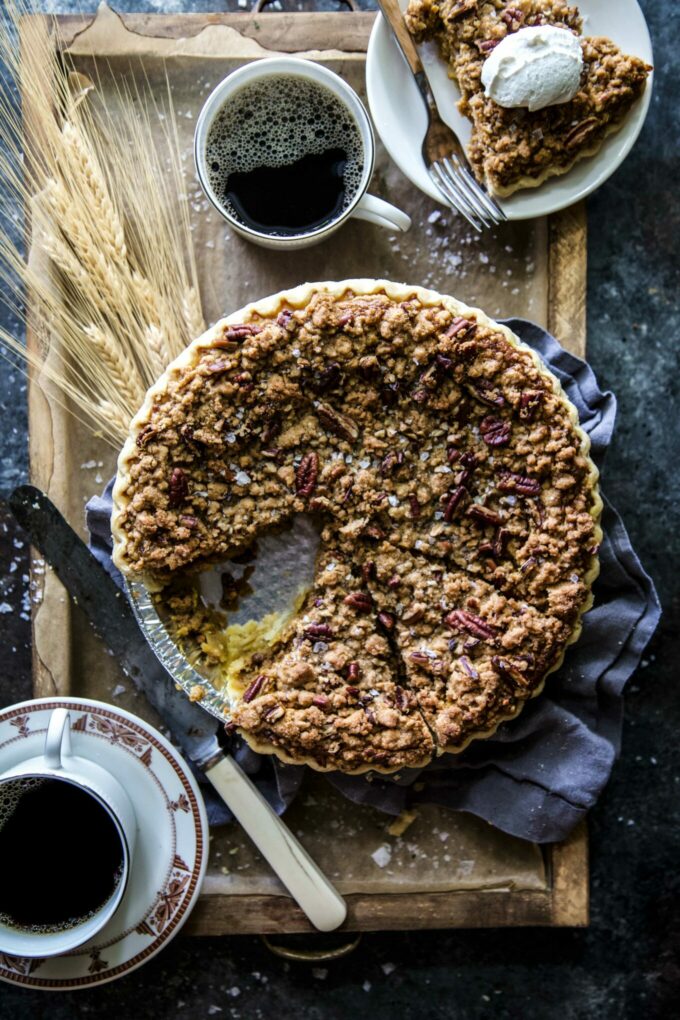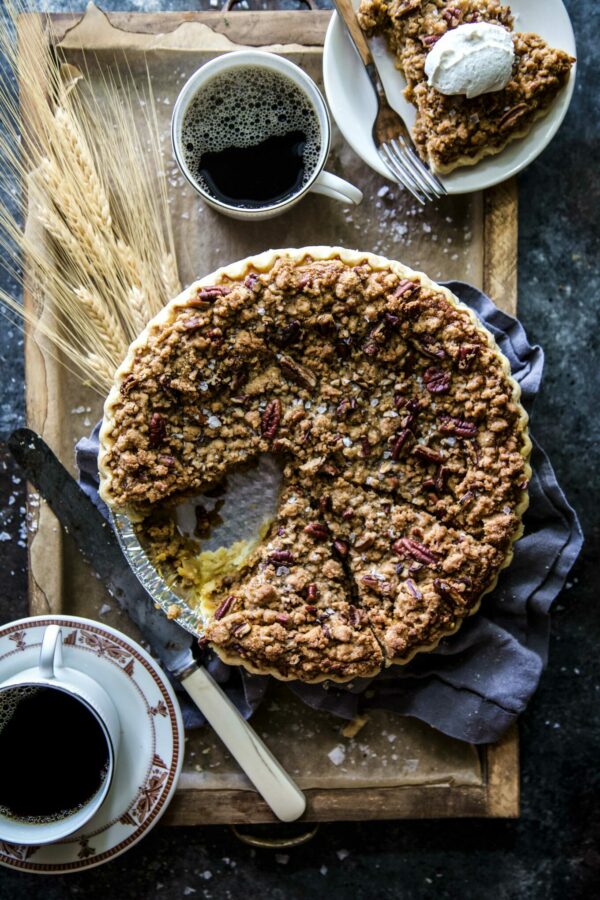 Last week I shared a cheesy side and a quick way to make a bird. These two recipes alone would slay at your Thanksgiving feast. BUT! We need to have a quick chat about dessert.
I feel like people are hard core about their Thanksgiving dessert. Really there is only one dessert that truly matters on Thanksgiving and that's pie. I know, I know, I am always on team cake or brownie, but it when comes to this particular holiday, pie rules the dessert table.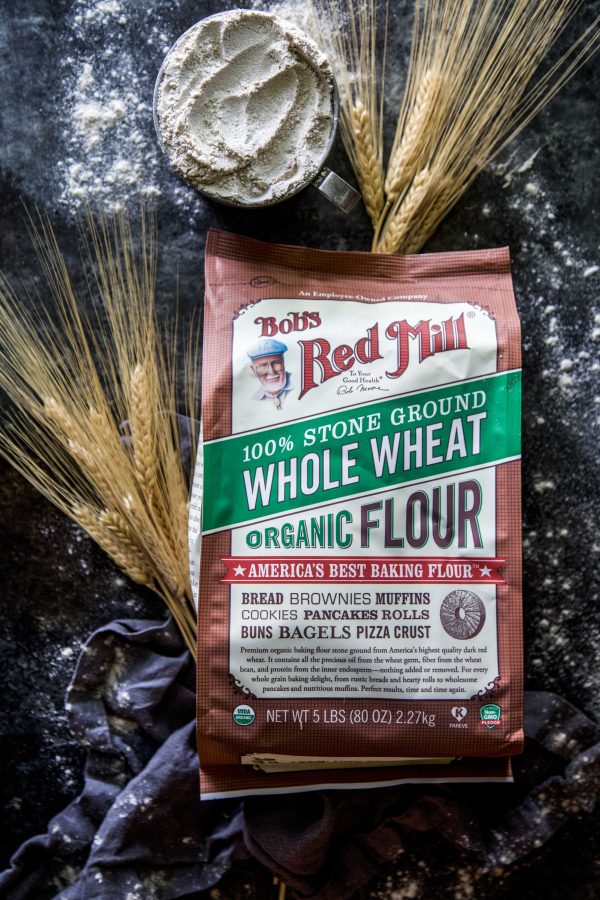 Of course, I can't simply say pie rules without talking about what kind of pie. YIKES. This is where the Mason-Dixon line of flavor emerges and you're either on one side of the crust or the other. Pumpkin or Pecan? Apple or Cherry? Cranberry or Sweet Potato? Where do your taste buds lie?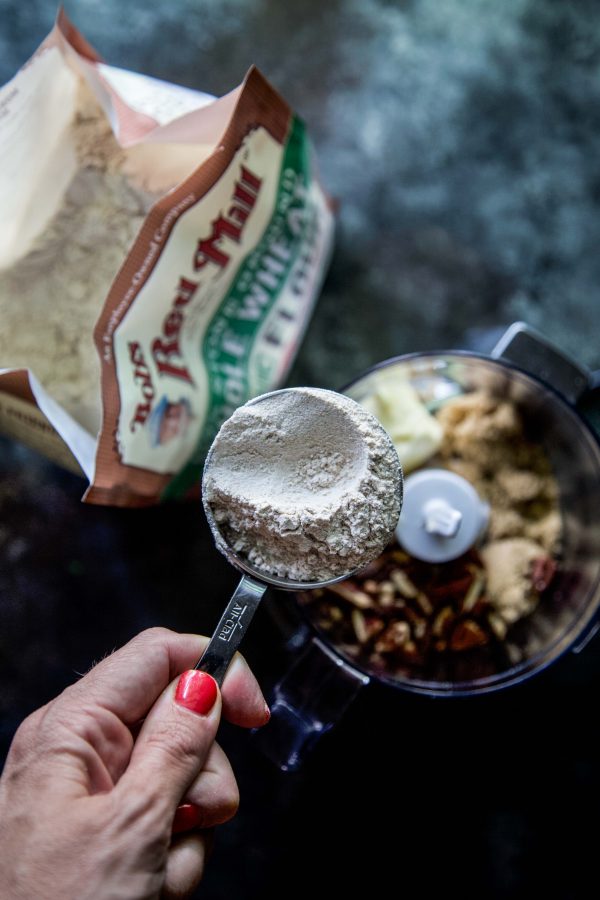 What if your taste buds didn't have to decide on a flavor? Today's recipe is taking two of my favorite flavors and combining them into one delicious pie. This Salted Bourbon Pumpkin Pie with Pecan Stresuel will have you dancing with joy. The base of this pie is loaded with all the pumpkin flavors, but the top is sprinkled with a dusting of pecan. What's not to like?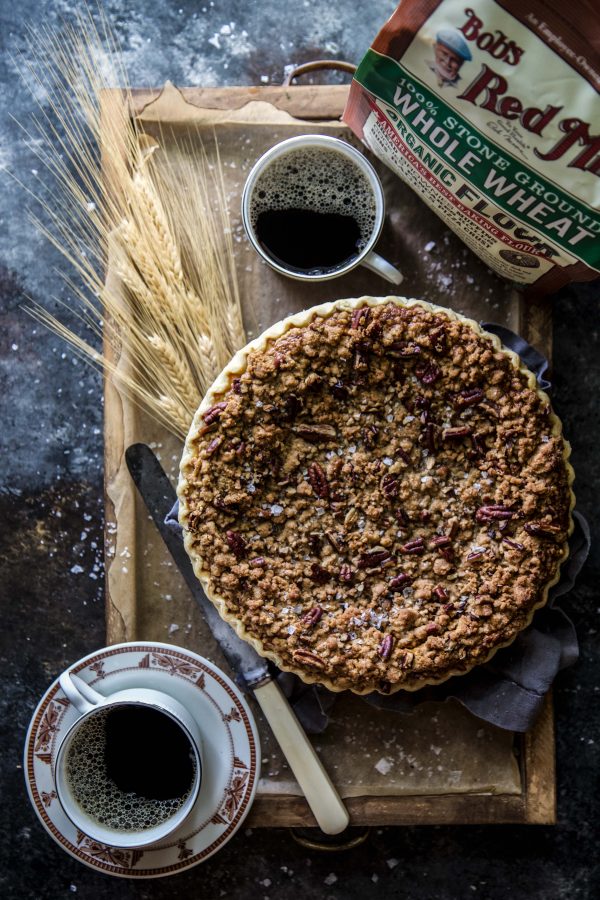 Although, I will let you in on a little secret. The reason why this pie tastes off the charts is the Whole Wheat Flour I used. Bob's Red Mill Whole Wheat Flour is what I like to call a miracle worker. Stone ground flour with an assortment of nutrients is a rock star when it comes to baking. Seriously, stock up on this flour because it will make your pies taste luxurious!
So, are you ready to join team Pumpkin-Pecan? Thought so.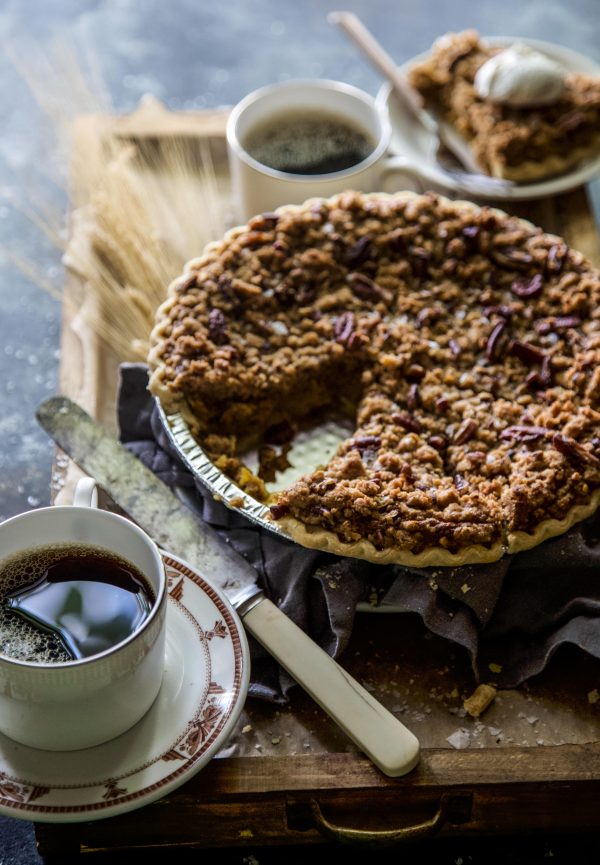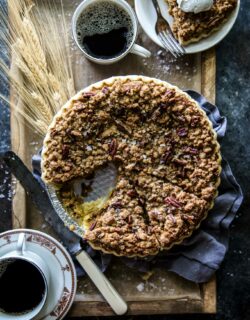 Salted Bourbon Pumpkin Pie with Pecan Stresuel
Ingredients:
1 1/2 sticks unsalted butter, room temperature
1 cup brown sugar
1/2 cup Bob's Red Mill whole wheat flour 
1/2 cup pecan halves
1 1/4 pumpkin puree
3 large eggs, separated
1 1/2 tbsp cornstarch
1/2 tsp ground cinnamon
1/4 tsp ground nutmeg
1/4 tsp ground cloves
1/4 tsp kosher salt
1/2 cup whole milk
1/4 cup bourbon
1 store bought pie crust
Sea Salt Flakes, for garnish
Directions:
Preheat your oven to 350 degrees.
In a food processor, add four tbsp of the butter, 1/4 cup brown sugar , and whole wheat flour. Pulse to combine until small crumbs appear. Pour the mixture into a bowl and stir in the pecans.
Next, in a large mixing bowl beat the remaining stick of butter and 3/4 cup brown sugar until light and fluffy. Add in the pumpkin puree, three egg yolks, cornstarch, cinnamon, nutmeg, cloves, and kosher salt. Continue to beat until combined. Then add in the milk and bourbon and continue to beat.
In a separate bowl beat the three egg whites until stiff. Fold in the pumpkin mixture until no white streaks remain.
Pour the mixture into the prepared pie shell. Sprinkle the streusel on top and bake for about 1 hour or until a toothpick inserted in the center comes out clean. Remove from oven and garnish with sea salt flakes.
All images and text ©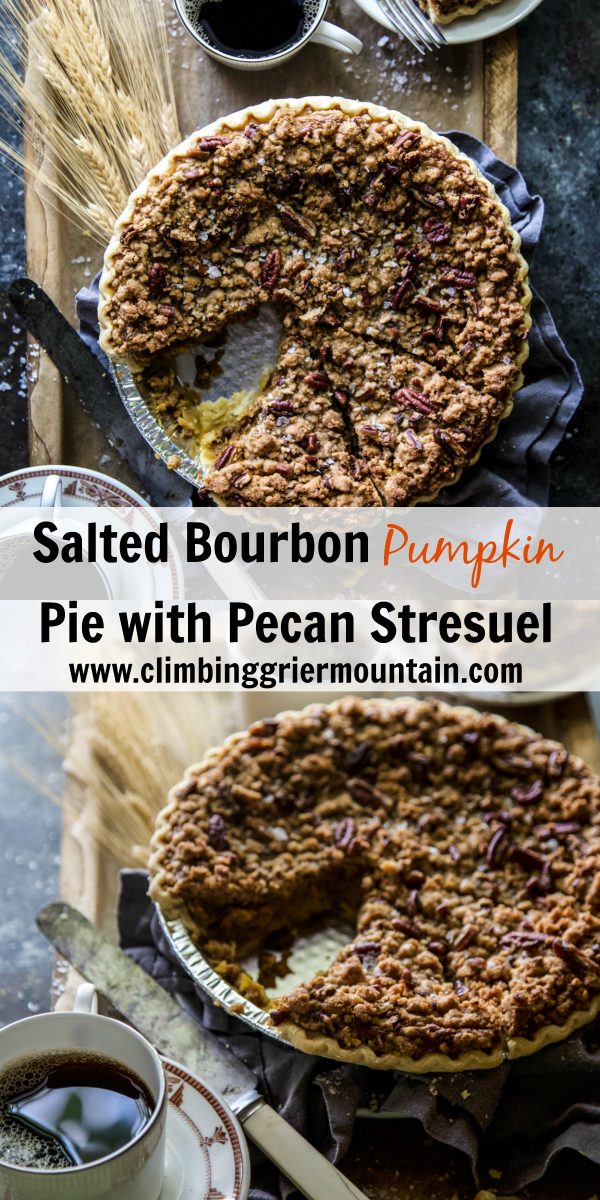 In conclusion, this delectable dessert harmoniously combines the warmth of bourbon, the richness of pumpkin, and the crunch of pecan streusel for a truly unforgettable culinary experience. A taste of autumn in every bite.