Roasted Potato Salad with Shishito Peppers
Roasted Potato Salad with Shishito Peppers is a delicious side that is perfect to serve all summer long!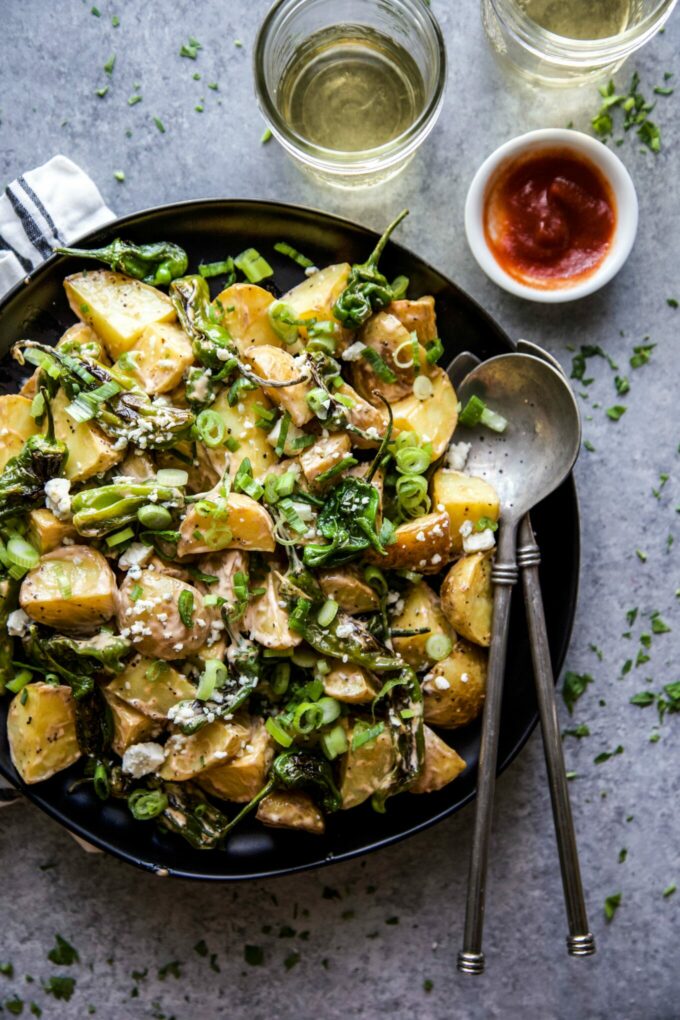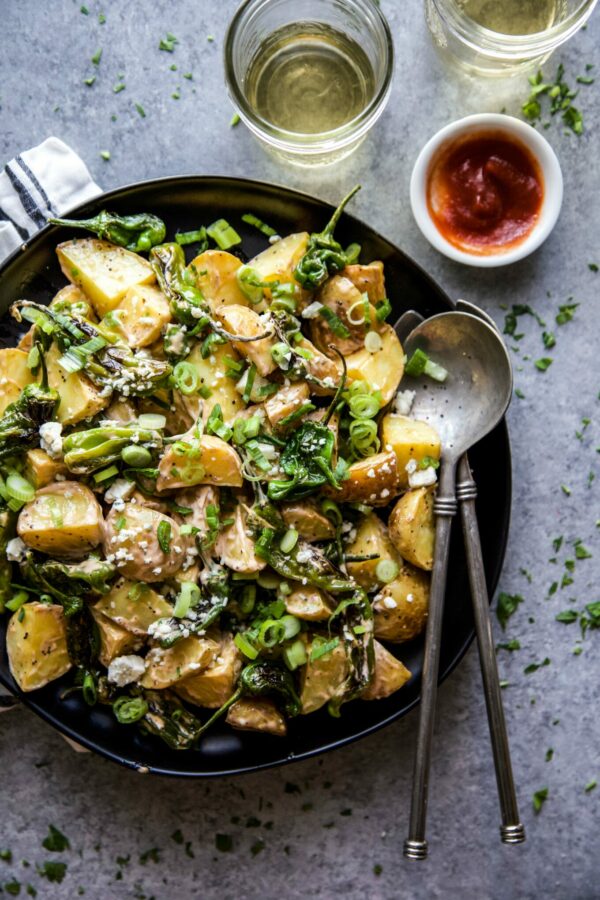 So…..can we get excited?
About summer that is.
I realize we have another month before summer officially kicks off, but I think we can all agree that spring was a sh$t show. I know it's not Spring's fault. The timing of this whole pandemic might have been a blessing in disguise because I couldn't imagine being cooped up inside like we were in the movie The Shining. I wouldn't have made it.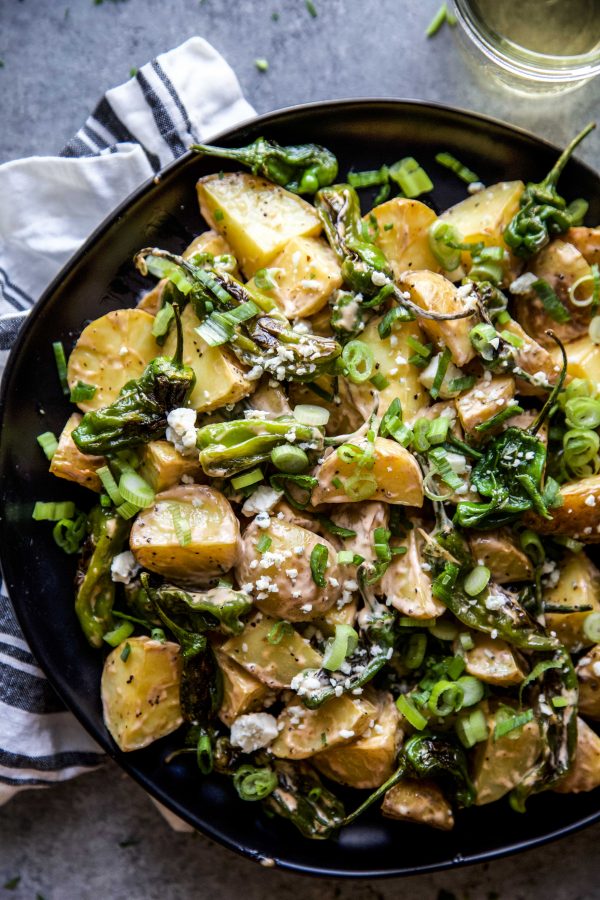 Even though summer will look a little different this year that is not going to stop me from getting my potato salad game on. I mean you can't have a picnic without potato salad. Now, I am all for the Church Lady potato salad, but I think we can up our game just a bit. 
This Roasted Potato Salad with Shishito Peppers is going to light up your picnic spread. Because instead of boiled potatoes these taters are roasted!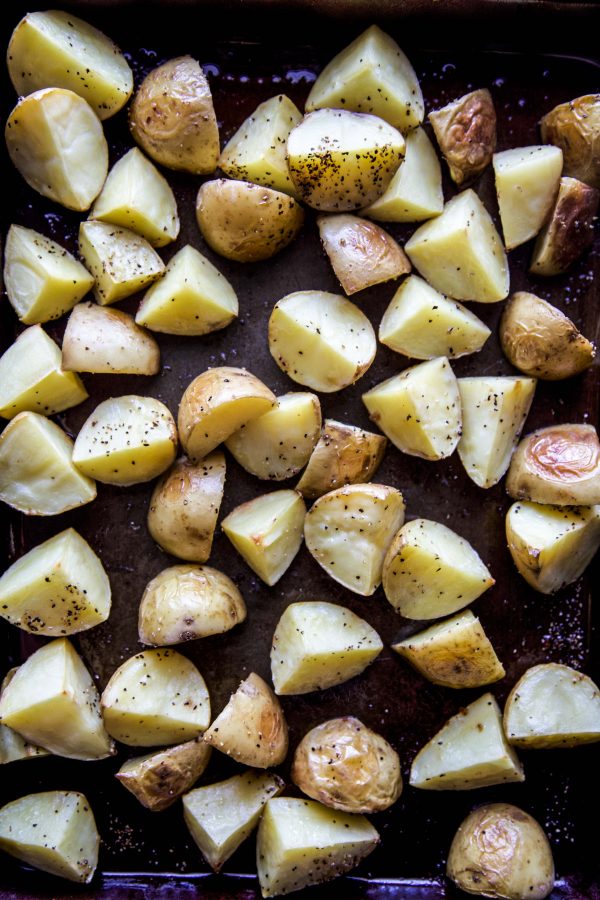 Why Roasted vs. Boil? 
Truth: it's just a subtle change. Instead of being a soft potato as most traditional potato salads are made this version is roasted. I think it's a nice change-up because you get some crispy potato bits mixed in. 
Besides the crispy potatoes, you also get a bit of crunch from the shishito peppers!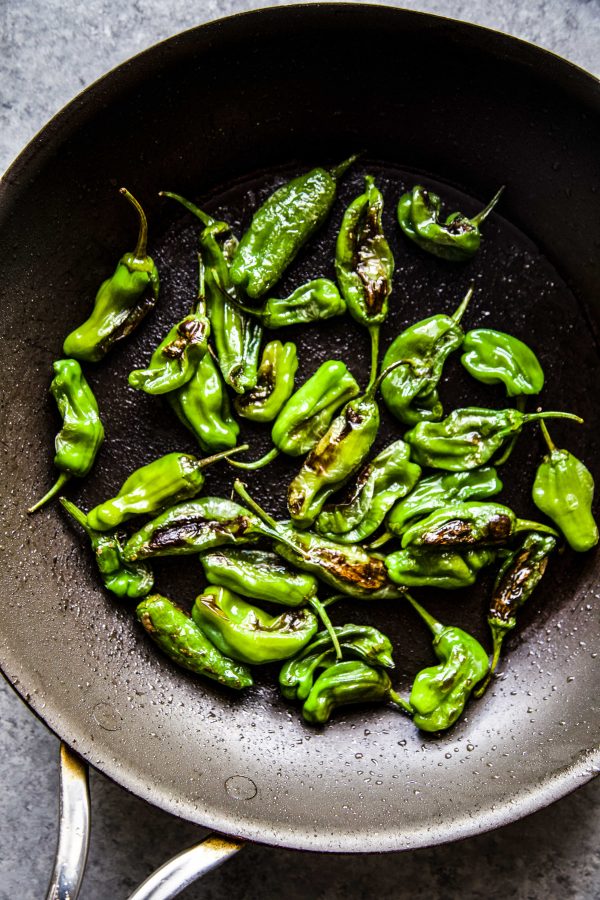 What are Shishito Peppers?
A shishito pepper is a sweet Asian pepper. The pepper ranks low on the spice scale and is often eaten like you would a green bell pepper. The best to consume these guys is a quick sear in a hot skillet for a few minutes. They will blister slightly and become crunchy and freaking delicious! 
When I toss the shishito peppers with the roasted potatoes and sriracha aioli it makes for a sassy, quick potato salad. If you really want to up this salad sprinkle the salad with some Gorgonzola. OH MY!
This is worthy of a Church Lady's blessing.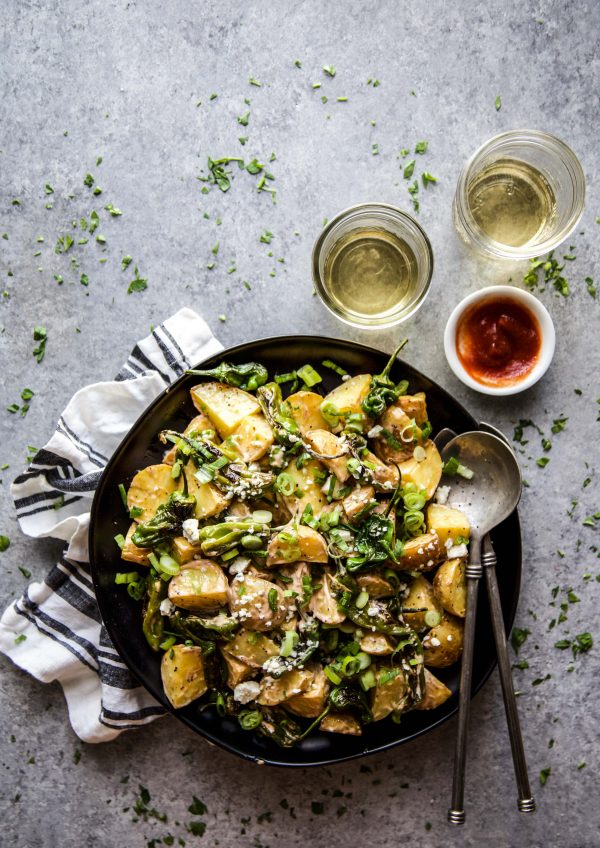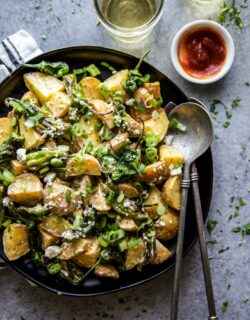 Roasted Potato Salad with Shishito Peppers
Ingredients:
1.5 lbs golden potatoes, quartered
1 tbsp olive oil
salt and pepper to taste
l garlic clove, minced
1/2 cup mayonnaise
1 1/2 tsp Sriracha
1 tsp lemon juice
1/4 cup vegetable oil
15 shishito peppers
1/4 cup crumbled Gorgonzola
2 large scallions, finely chopped
Directions:
Preheat your oven to 400 degrees. Line a baking sheet with foil and place the potatoes on top. Drizzle the potatoes with olive oil, salt and pepper. Roast the potatoes for 35 to 45 minutes or until golden brown.
In a small bowl combine garlic, mayonnaise, Sriracha, lemon juice, salt and pepper.
Next, preheat a large skillet to medium-high heat and add the vegetable oil. Add the shishito peppers in batches to the skillet and cook until golden brown and blistered in spots.; about three to four minutes.
Once the peppers are cooked transfer them to a bowl. Add the roasted potatoes and Sriracha mayo. Toss to combine. Transfer the potato mixture to a serving platter and garnish top with Gorgonzola and chopped scallions.
All images and text ©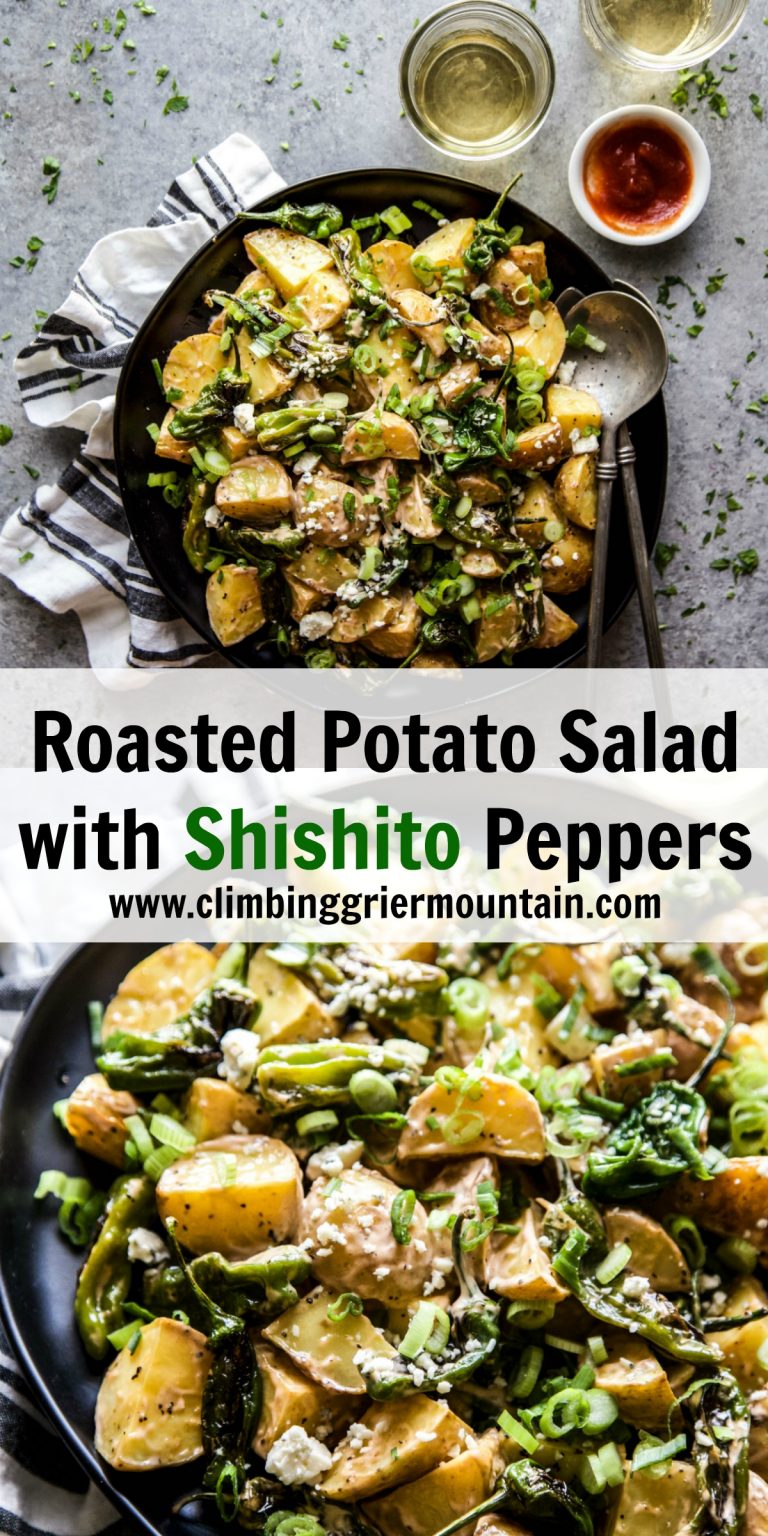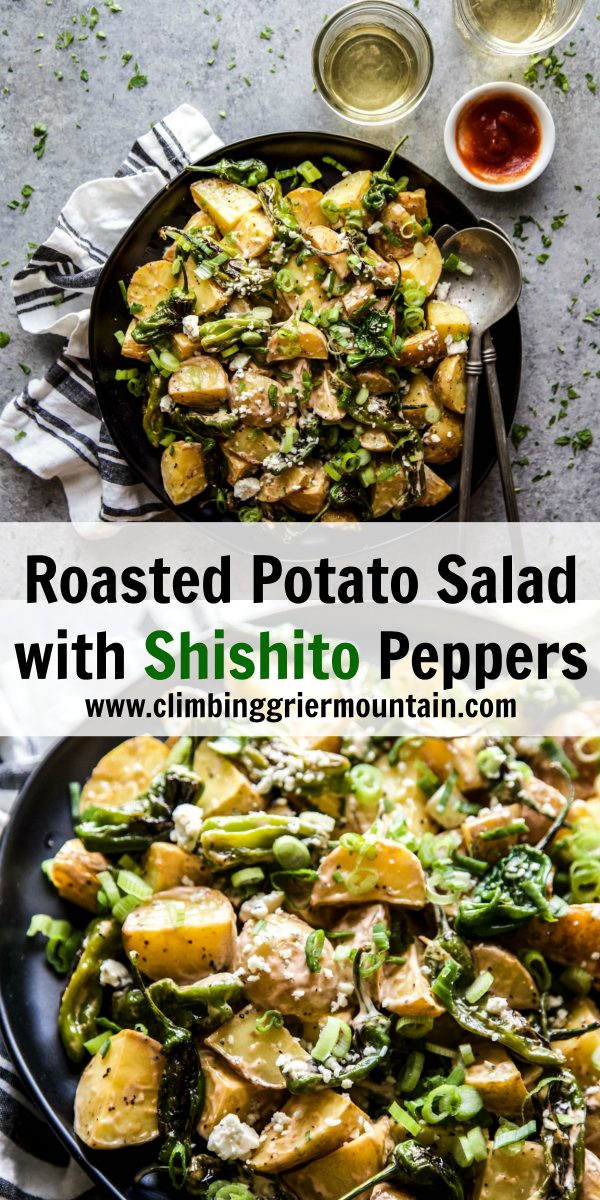 "In conclusion, Roasted Potato Salad with Shishito Peppers is a uniquely flavorful side dish that elevates any meal. Its exquisite blend of flavors adds a zesty twist to your dining experience."