Ultimate Chocolate Sheet Cake with Chocolate Cream Cheese Frosting
Ultimate Chocolate Sheet Cake with Chocolate Cream Cheese Frosting is a delicious, decadent treat that's perfect for any occasion!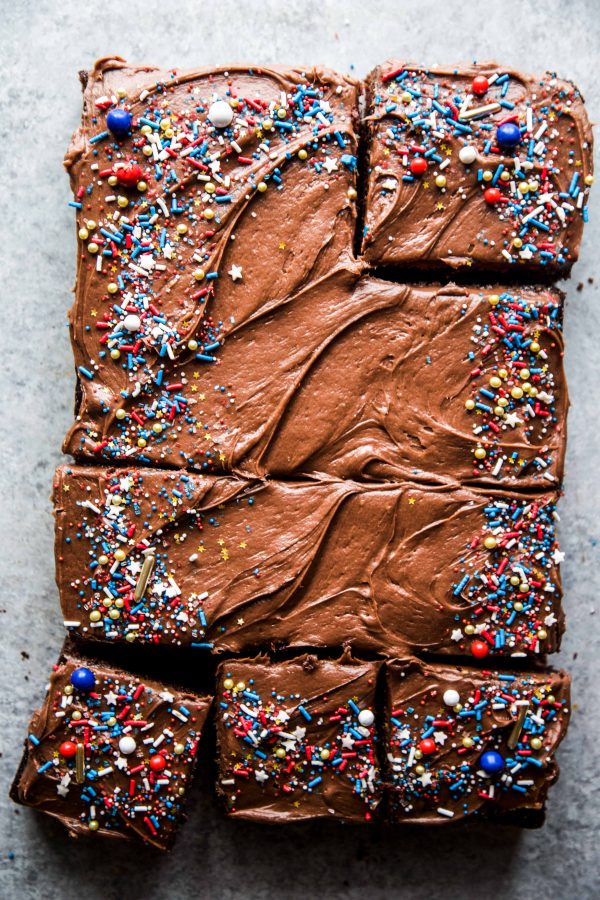 So……that happened quickly.
Is it me, or did Memorial Day weekend just burp up?
We haven't made any plans for the long weekend other than working on the house. If you've been following along on Instagram Stories we finished installing our master bedroom flooring this past weekend. Thank God my parents were here to help (paint, watch Charlie, etc.) because I don't think we could have gotten it done.
I can't wait to move back in! Mr. B and I still need to do some touch up paint and install the base boards. BUT! Other than that, we should be able to move in this weekend. Fingers crossed.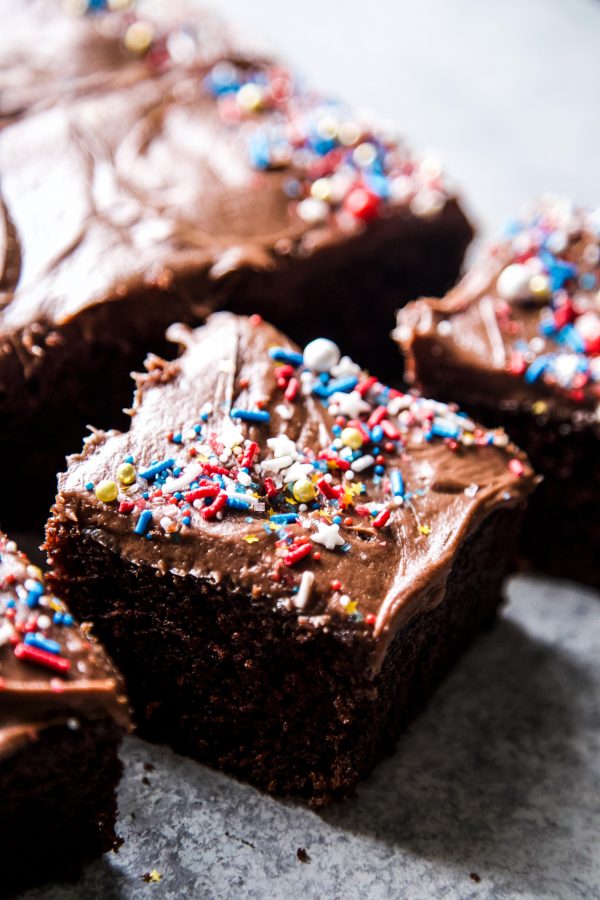 What are your plans for the weekend? Are you getting out of the house? Staying in? Maybe having a few friends over? Not sure what the protocol is moving forward. Denver is trying to open up restaurants on Monday for in-service dining. I hope they do, but it's just going to be weird with the whole six feet restriction.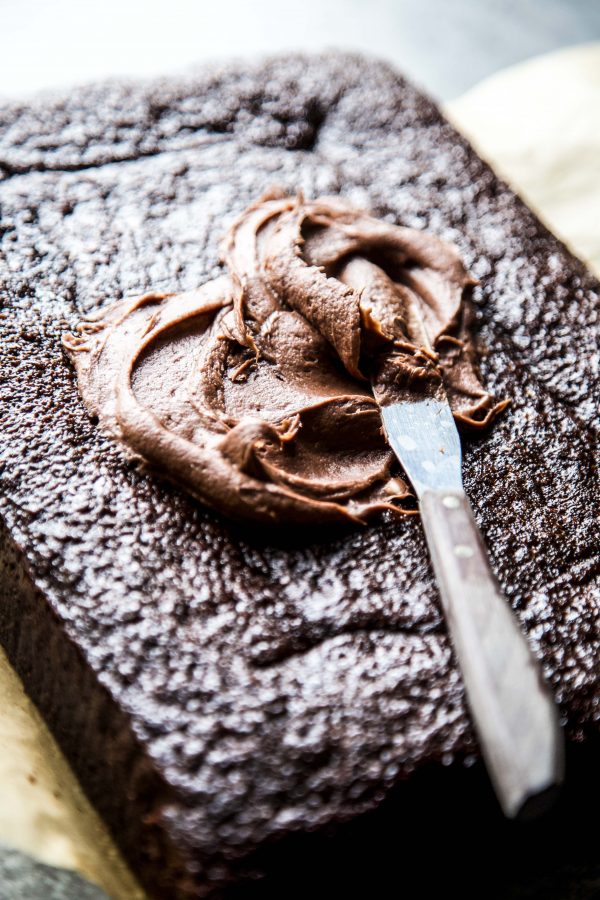 Anyway, if you are still putting together a Memorial Day feast spread, I've got the perfect recipe to celebrate the day. This Ultimate Chocolate Sheet Cake with Chocolate Cream Cheese Frosting is dreamy. The cake is dense and infused with a rich coffee flavor. Plus, the frosting….OH.MY.WORD.
WHAT IS A SHEET CAKE?
A sheet cake is a one layer cake. The cake is made in a baking sheet or a casserole type dish. For this recipe I went with the 9 X 13 baking dish because I wanted a taller, thicker cake. If you used your standard baking sheet 18 X 26 the cake will not be as tall, but will still taste delicious.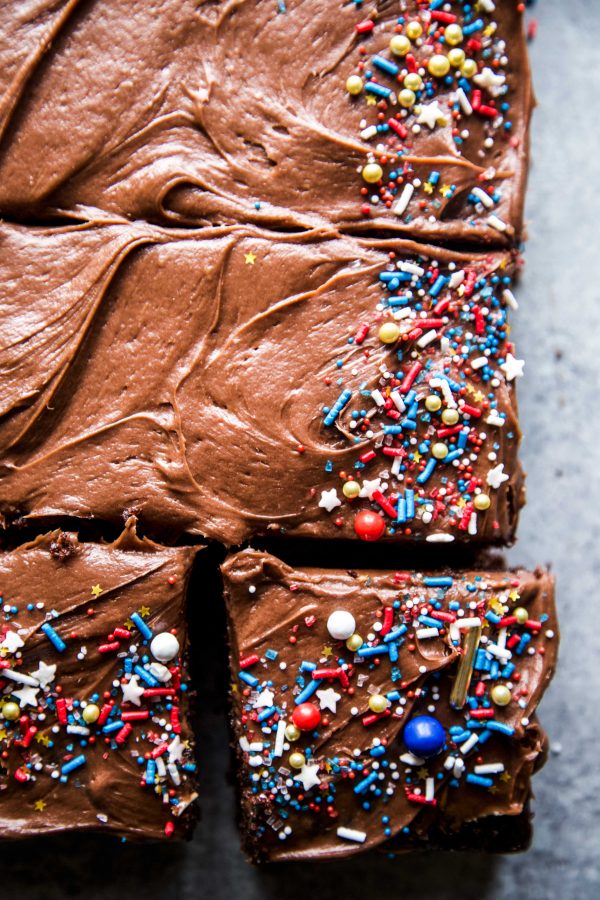 TIPS TO MAKE THE CAKE BATTER:
What if I don't have buttermilk?
Not to worry! If you can make your own buttermilk by souring some regular milk. Simply add either a tablespoon of lemon juice or white vinegar to a cup of milk and stir.
Can I use whole milk yogurt instead of sour cream?
You betcha!
I don't drink coffee, what's a good substitute?
If you don't drink coffee simply substitute the coffee with water.
Can I freeze the cake?
Yes! You will want to freeze the cake unwrapped then once frozen, wrap the cake well and store up to three months in the fridge!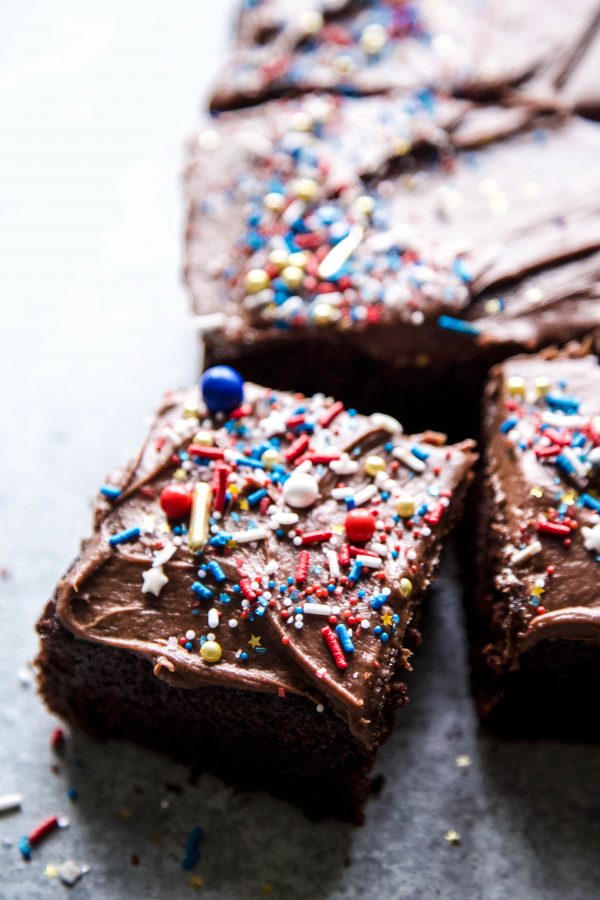 HOW TO MAKE THE FROSTING?
The best part of the cake is the Chocolate Cream Cheese Frosting. So, naughty, but so good! You will only need a handful of ingredients to make the frosting: butter, cocoa powder, powdered sugar, and cream cheese! Combine the ingredients using a stand or hand mixer until creamy! Once the cake has cooled smear this on top and watch this cake disappear! Just don't forget the festive sprinkles!
Hope you have a great rest of the week!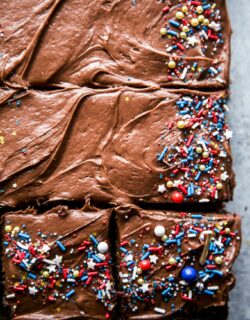 Ultimate Chocolate Sheet Cake with Chocolate Cream Cheese Frosting
Ingredients:
for the cake: 
1/2 cup sour cream or Greek yogurt
1 cup buttermilk
3 large eggs
1 1/2 cups hot coffee
3/4 cup vegetable oil
1 tbsp vanilla extract
3 cups all-purpose flour
2  2/3 cups granulated sugar
1/2 cup unsweetened cocoa powder
1 1/2 tsp baking powder
1 tbsp baking soda
3/4 tsp kosher salt
for the cream cheese frosting: 
6 oz plain cream cheese, room temperature
1 1/2 sticks unsalted butter, room temperature
2 cusp powdered sugar
1/4 cup unsweetened cocoa powder
3/4 tsp kosher salt
1 tsp vanilla extract
Festive sprinkles, for garnish
Directions:
for the cake:
Preheat your oven to 350 degrees. Spray a 9X13 baking dish with non-stick cooking spray. You could also line the baking dish with parchment paper for extra insurance.
In a large bowl combine the flour, granulated sugar, kosher salt, baking soda, baking powder and cocoa powder.
In another large mixing, whisk together sour cream, buttermilk, eggs, vanilla extract, and vegetable oil. Once the ingredients are combined pour in the hot coffee and continue to mix.
Next, take the wet ingredients and them to the dry ingredients. Whisk the ingredients using a hand mixture for about a minute.
Pour the cake batter into the prepared baking dish. Bake the cake for about 40 to 50 minutes or until a toothpick inserted comes out clean. Remove the cake from the oven and cool completely before frosting and topping with sprinkles.
for the frosting: 
In a stand mixer fitting with a paddle attachment whip the cream cheese and butter until light and fluffy. Next, add in the powdered sugar, cocoa powder, and kosher salt. Mix to combine and then add the vanilla extract. Stir and set aside until ready to frost.
All images and text ©
Other Memorial Day Dessert Recipes: