Roasted Tomato & Burrata Bread Toss
Roasted Tomato & Burrata Bread Toss is an easy and delicious appetizer or side dish made with tomatoes, toasted bread, and burrata!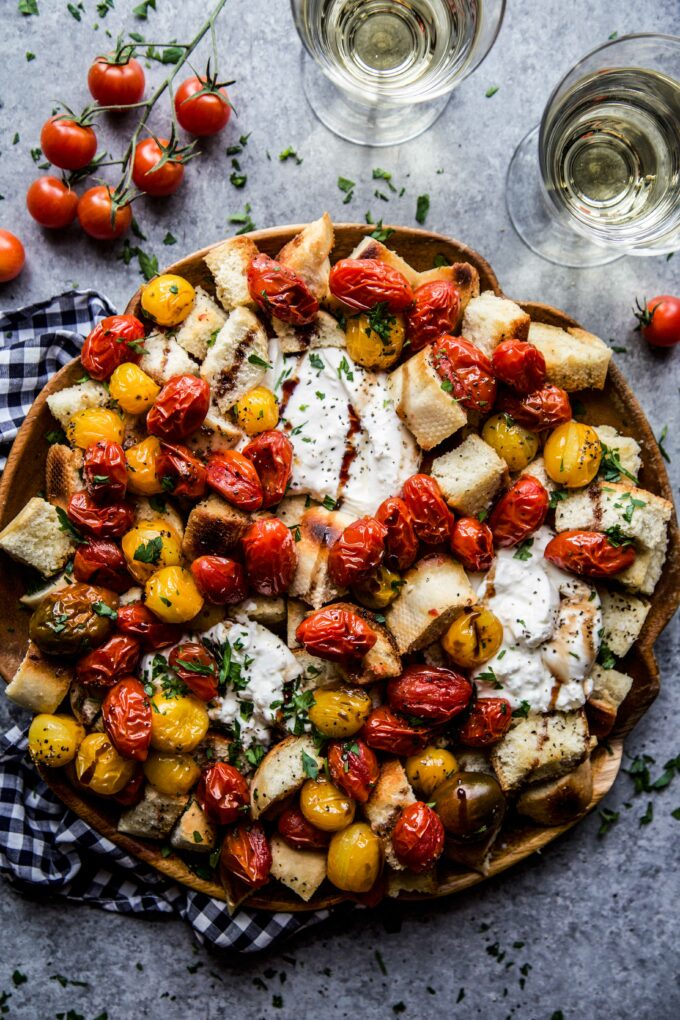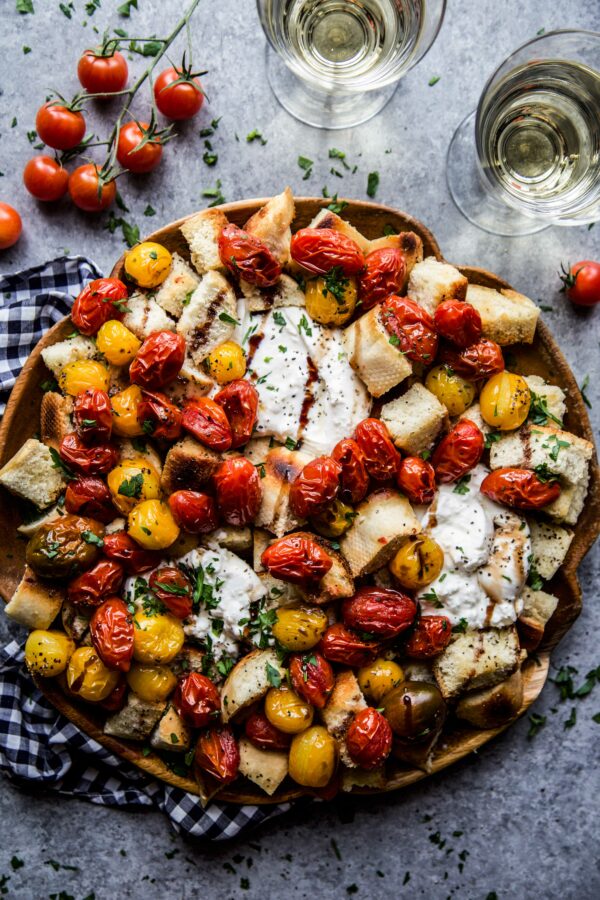 Warm weather.
Is it me, or do meals get simpler when the outdoor temperature rises?
All the produce is in its prime and food can be served family style on large backyard tables. Which means no fuss and less dishes.
One of the ways I like to enjoy the fruits of warm weather is by mixing a bunch of my favorite produce into a bread toss. Kind of like a panzanella. This Roasted Tomato & Burrata Bread Toss is embarrassingly easy to make, but comes packed with the flavor.
Made with roasted grape tomatoes, toasted baguette cubes, and fresh burrata. Mix all of these ingredients with fresh basil and a balsamic glaze and you'll have an easy appetizer, side dish, or dinner in 20 minutes or less!
I say we dive in and make this delicious warm weather approved dish!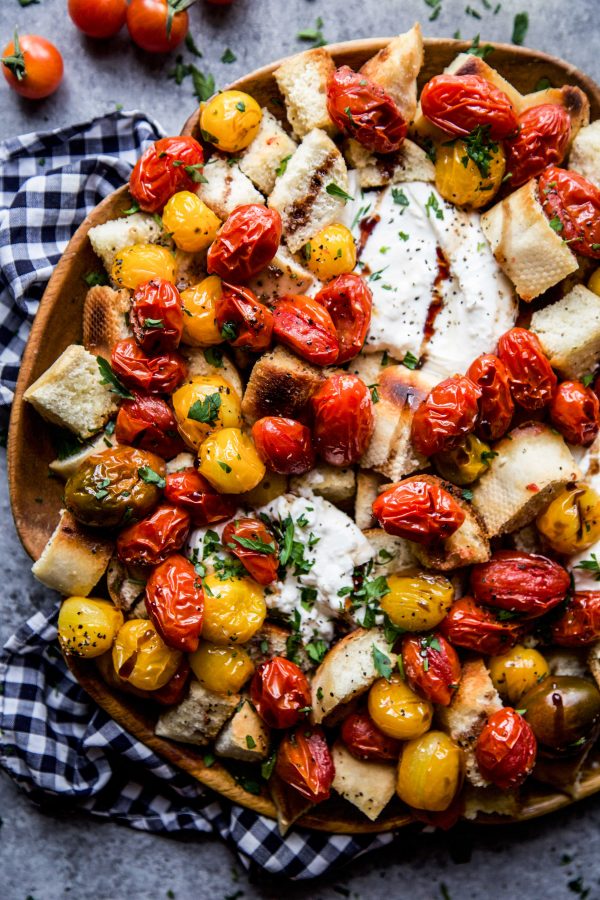 What's in this Roasted Tomato & Burrata Bread Toss?
Like I mentioned above this dish comes together in under 20 minutes and uses minimal ingredients. For this recipe you will need:
Grape tomatoes
Day old baguette
Burrata
Fresh Basil
Garlic
Balsamic Glaze
Tips for Making Roasted Tomato & Burrata Bread Toss:
1) Grape tomatoes. I try to find grape or cherry tomatoes that have different colors. It makes the dish prettier to have a rainbow of tomatoes. However, totally not necessary if you have just plain, red tomatoes on hand.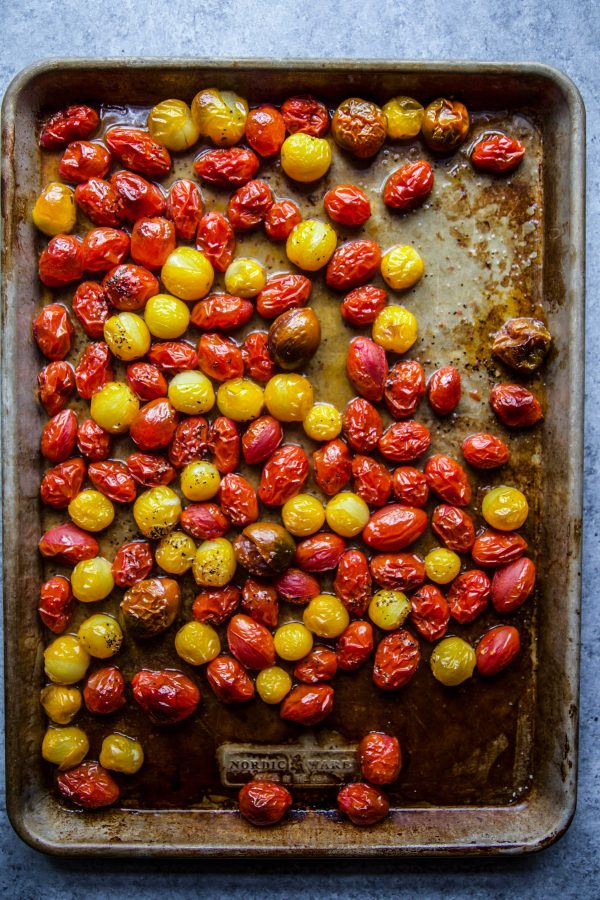 2) Baguette. When making your own croutons you want to use day old bread that way it's easier to crisp up. The less moisture the bread has the better. You can certainly use any bread you have in the pantry.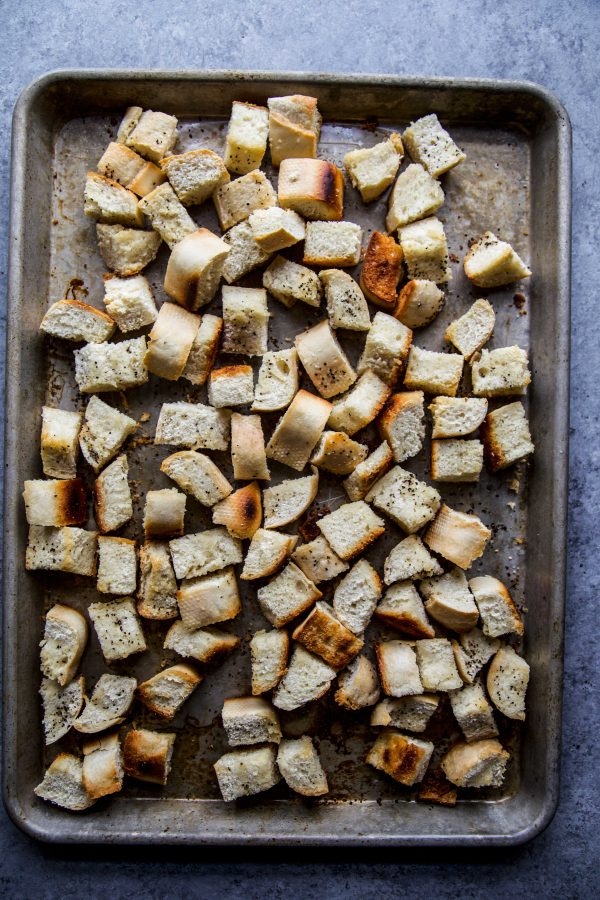 3) Burrata. Literally my favorite kind of soft cheese. I know that burrata isn't always available so you can always replace it with mozzarella slices or balls!
4) Balsamic glaze. Feel free to make your own. All you have to do is reduce balsamic vinegar in a saucepan over medium heat until reduced by half. However, save yourself some time and buy a bottle of balsamic glaze. You can find it next to the salad dressings in the grocery store.
Can I add a protein?
You bet! Grilled chicken would be amazing or shrimp!
Can I make this gluten free?
Absolutely! You can replace the bread for gluten free bread of your choice.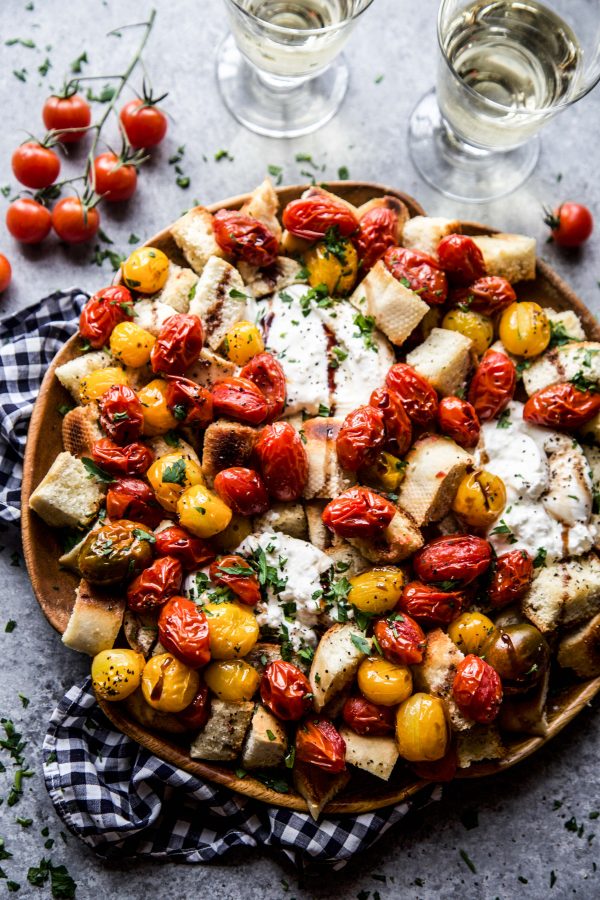 I don't have fresh basil, what are some other herbs I can use?
Great question! I would try fresh oregano, chives, or parsley. If you don't have fresh herbs you can always sprinkle some dried basil or oregano into the bread toss.
What can I serve this with as a side?
If you are making this Roasted Tomato & Burrata Bread Toss as a side I would suggest a grilled flank steak or any kind of chicken!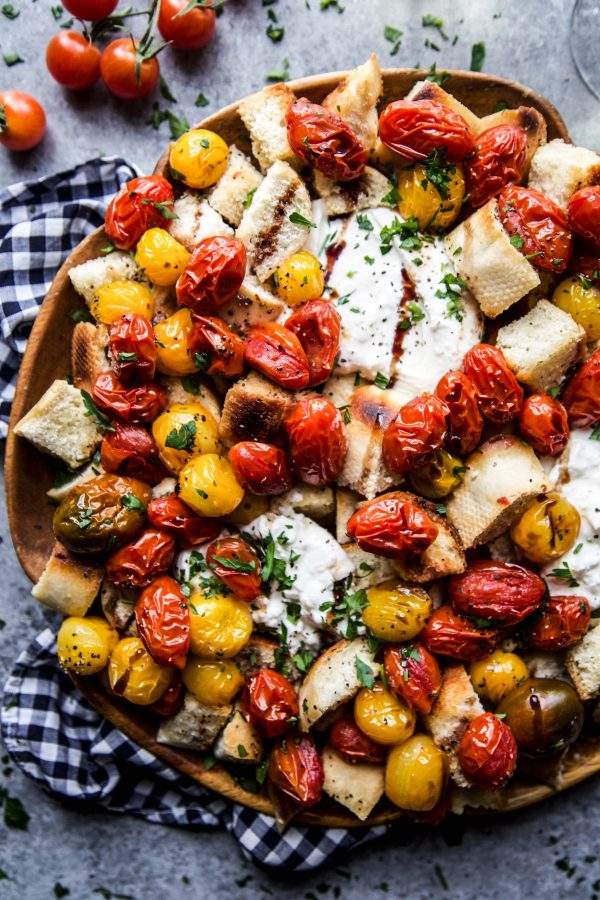 More Delicious Tomato Recipes to Enjoy: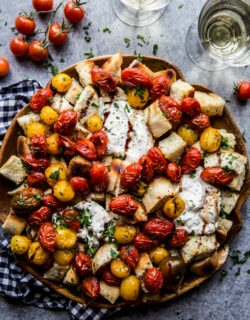 Roasted Tomato & Burrata Bread Toss
Ingredients:
2 lbs cherry or grape tomatoes
6 cups day old baguette torn into 1-inch cubes
2 tbsp olive oil
4 garlic cloves, minced
salt and pepper to taste
2 8oz burrata balls
Fresh basil, for garnish
Balsamic glaze, for garnish
Directions:
Preheat your oven to 400 degrees. Spray two baking sheets with non-stick cooking spray.
On one of the baking sheets place the tomatoes in an even layer. Drizzle with olive oil, salt, and pepper. Next, on the other baking sheet add the baguette cubes. Toss with olive oil, salt, and pepper.
Place the two baking sheets into the oven with the tomatoes on an upper rack. Cook the tomatoes for at least 20 to 25 or until the skins begin to wrinkle. You will want to keep an eye on the baguette cubes and toss midway through cooking. If you need to pull them earlier the tomatoes that's okay.
Once cooked, remove the bread and tomatoes from the oven. Toss them together on a serving platter and dollop with burrata on top. Garnish with basil and balsamic glaze. Enjoy!
All images and text ©