Salted Chocolate Chip Apple Skillet Cookie
Salted Chocolate Chip Apple Skillet Cookie is a delicious, autumn treat perfect for any occasion!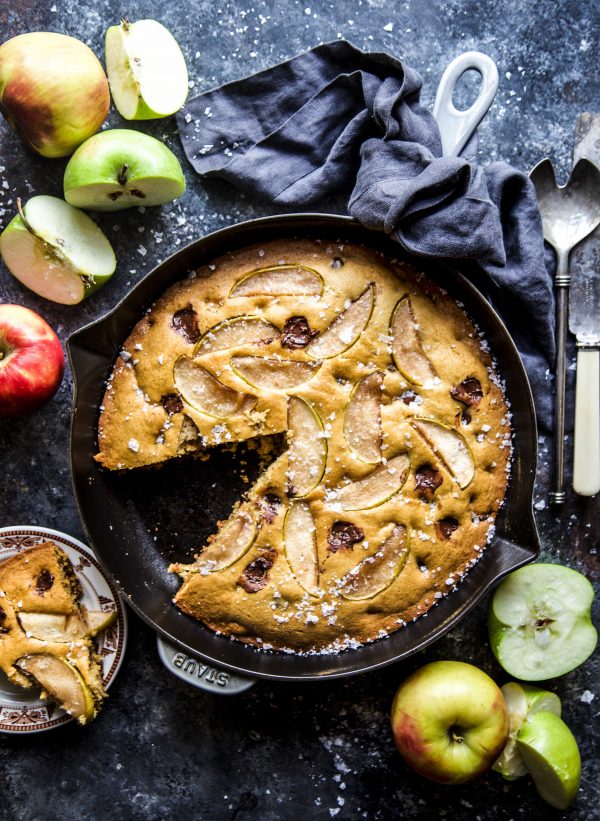 During my pregnancy I craved chocolate chip cookies.
Okay, that and cheeseburgers.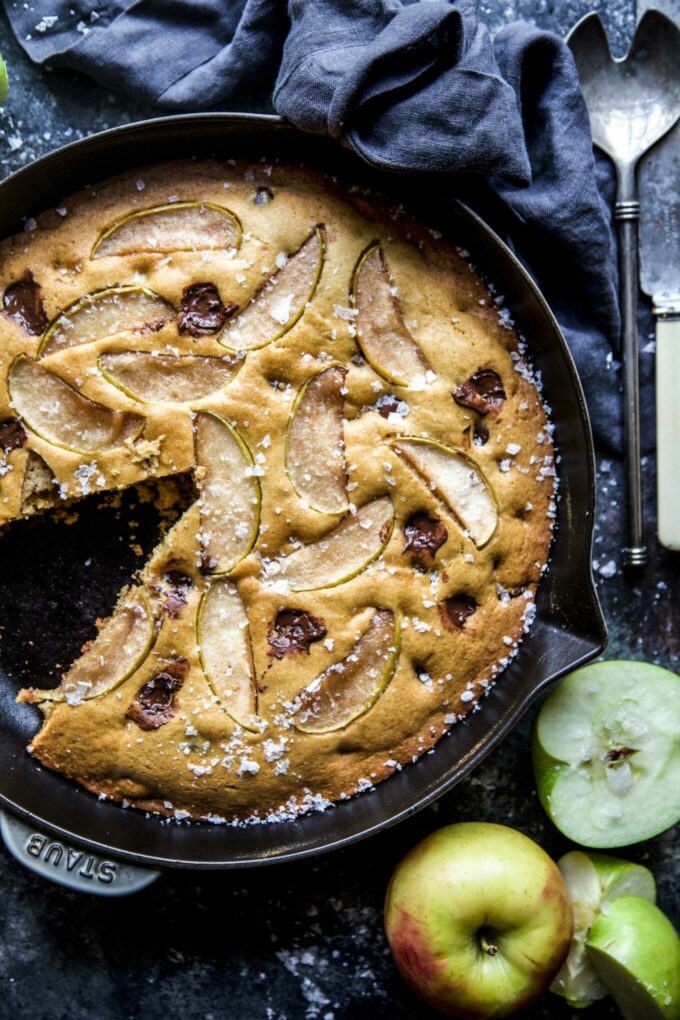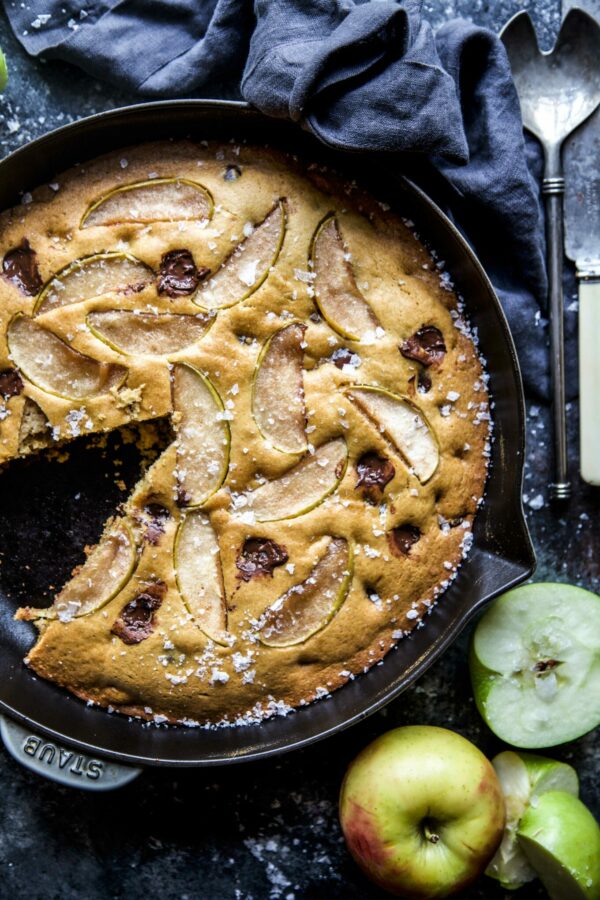 But does a cheeseburger really count as craving because I gobbled those up all the time even before I was preggo? I dunno. Either way, those were my two go-to's. Now that I'm not pregnant I still have a hunkering for a delicious, chocolate-y cookie at the end of the day.
Since it's Monday I figured we could all use a little treat. Am I right? This Salted Chocolate Chip Apple Skillet Cookie is the autumn cookie as far as I am concerned. Yes, the entire title is a mouthful. But I promise it won't matter the title when you devour a slice.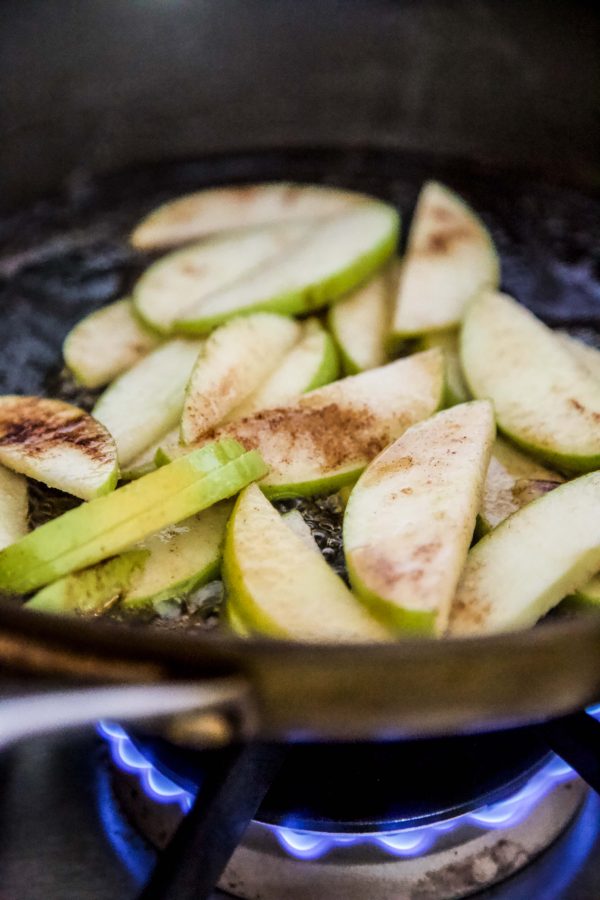 Skillet cookies might be the best thing ever invented. I mean why have a two-inch cookie when you can have a giant 10-inch sized all to yourself. I'm not good at math, but this seems like a better deal.
Besides the consumable size of this cookie, what I love about this dessert is it's seasonality. I have been dying to go apple picking, but Colorado lacks in the apple picking department. Peaches, covered. Pumpkins, everybody has these. But apples? I have yet to find an orchard I can prance through and take Instagram worthy photos in (wink, wink).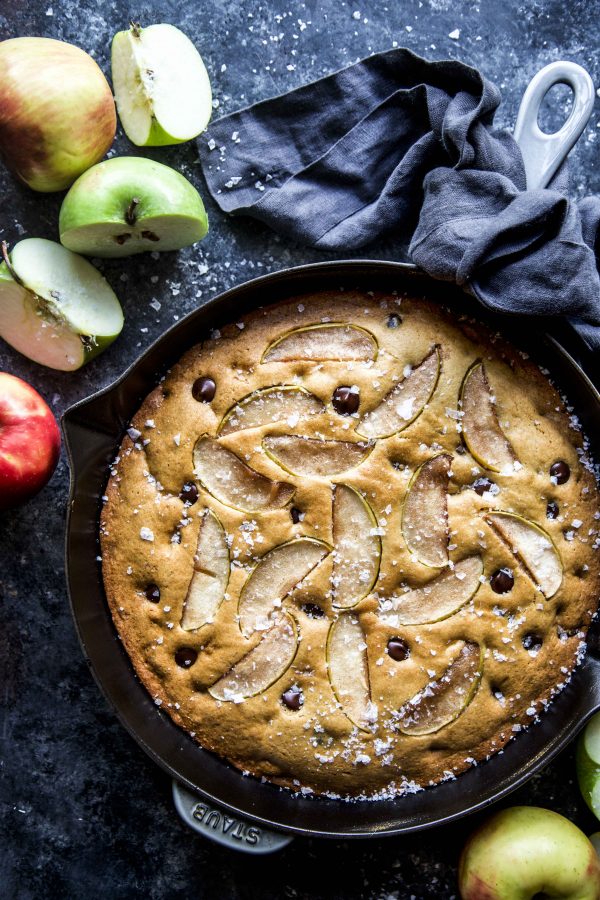 Anyway, as that hunt continues, I decided to throw in your average apple from the grocery store. I went with granny smith because it's tried and true. Plus, they taste delicious with caramel drizzled over the top. If you are apple picking in the next few weeks get into the autumn spirit by making this Salted Chocolate Chip Apple Skillet Cookie.
No judgement if you don't share.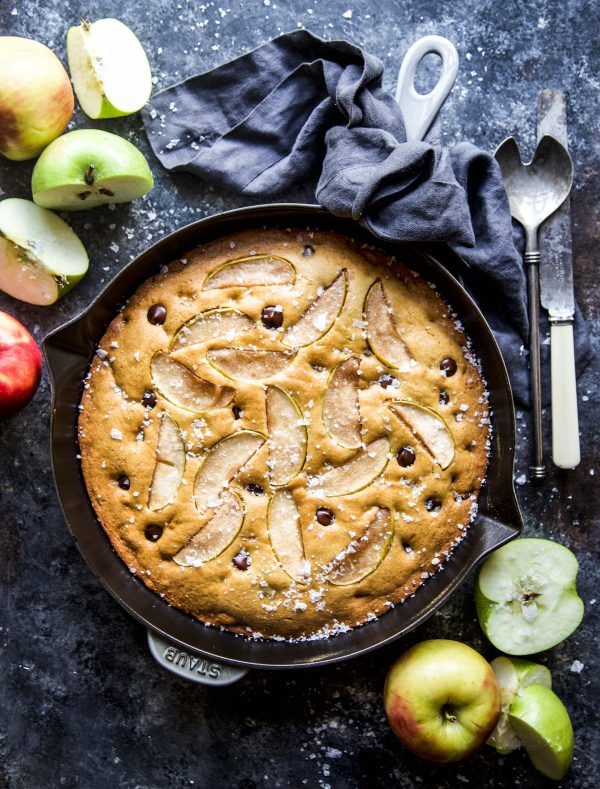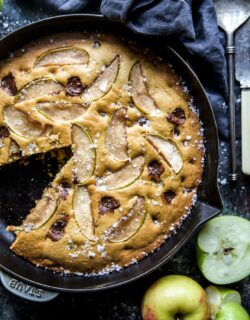 Salted Chocolate Chip Apple Skillet Cookie
Ingredients:
for the apples:
1 granny smith apple, sliced thinly
2 tbsp unsalted butter
1 tbsp granulated sugar
1/4 tsp ground cinnamon

for the cookie:
1 1/2 sticks unsalted butter
2 eggs
3/4 cup maple syrup
2 tsp vanilla extract
2 cups all-purpose flour
1 tsp baking soda
1/4 tsp kosher salt
1 1/2 cups dark chocolate chips
Sea salt flakes, for garnish
Caramel, for garnish 
Directions:
for the apples:
In a large skillet preheated to medium-high heat, melt the butter. Next, add in apple, granulated sugar, and cinnamon. Stir to combine and saute the apple for about five minutes. Remove the skillet from the heat and allow to cool before adding to the cookie batter. 
for the cookie:
Preheat your oven to 350 degrees. Spray a 10-inch non-stick skillet with non-stick cooking spray. In a stand mixer fitted with a paddle attachment, beat the butter until light and fluffy. Add the eggs, one at a time until well combined. Next, add the maple syrup and vanilla extract. Continue by adding the flour, baking soda, and salt making sure everything is well combined. Finally, fold in the chocolate chips. 
Take the cookie dough and spread it into an even layer in the prepared skillet. Top the cookie with the cookie apple slices. Bake for about 18 to 20 minutes. Remove from oven and garnish top with sea salt flakes and caramel. 
All images and text ©