Grilled Purple Wedge Salad
Discover the delightful twist of our Grilled Purple Wedge Salad. This playful variation on the classic wedge salad features eye-catching purple cabbage that not only captivates the eyes but also offers a satisfying crunch, making every bite a flavorful and exciting experience.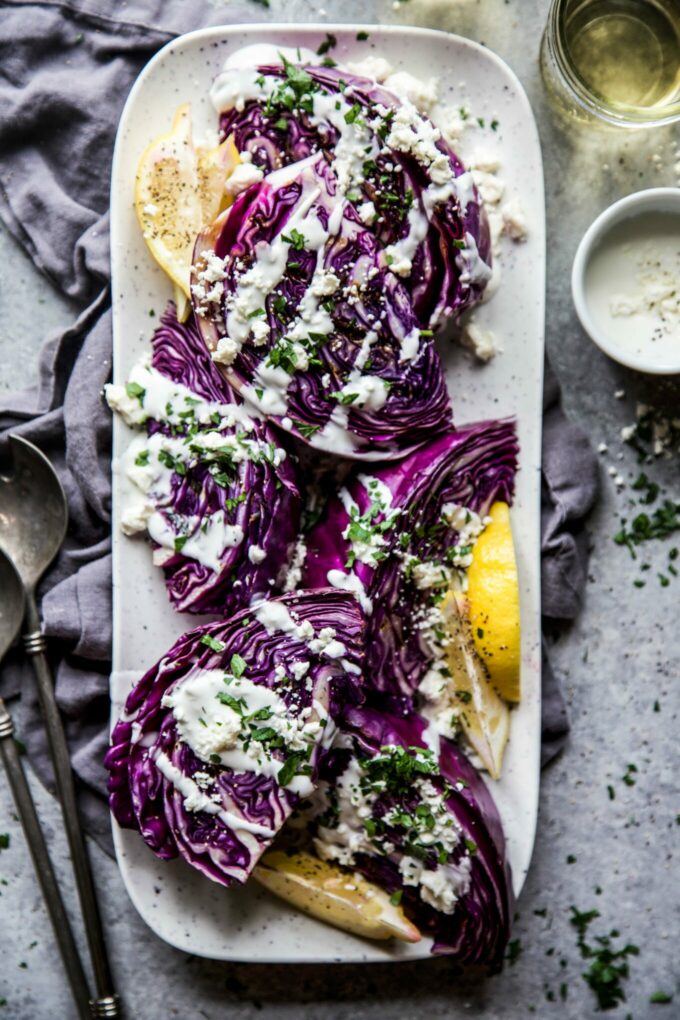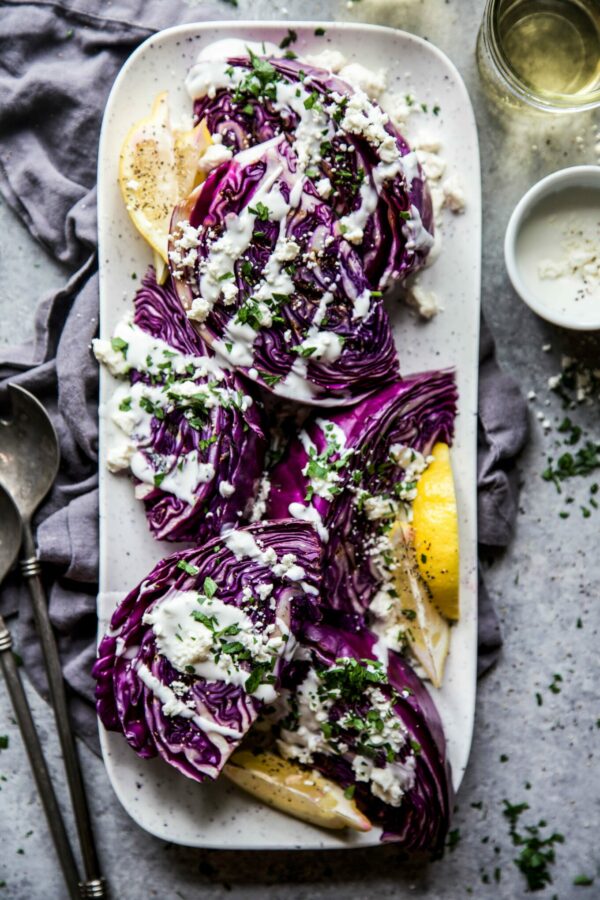 You do this, right?
Match your food to your favorite sports team.
Just me? Hey, I see some of you turning your head. Come on! There's nothing to be ashamed of. I say if you love your team, why not show your pride beyond apparel?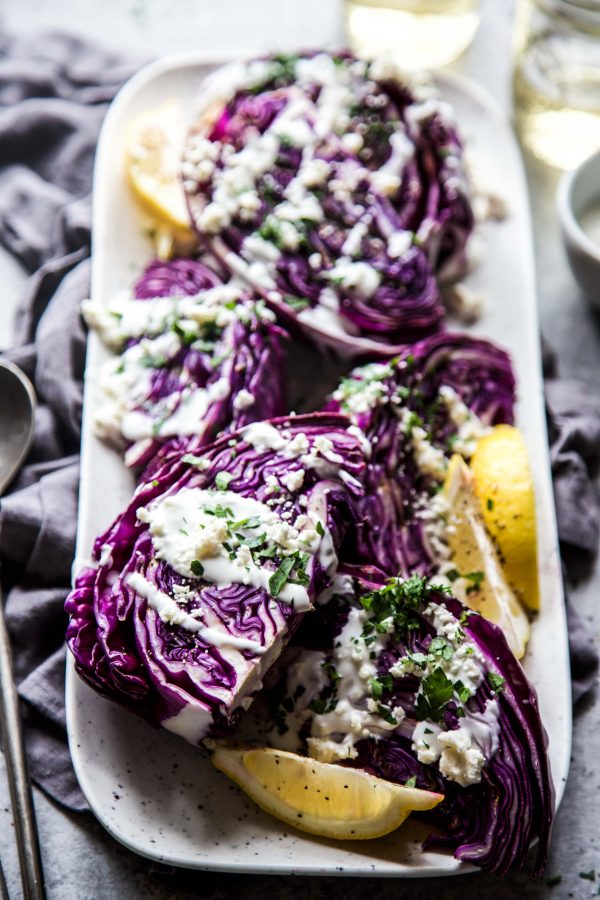 My beloved Wildcats are having a great football season so far. We do have a new coach which is amazing because we needed some new blood. Not that there was anything wrong with Bill Snyder, but it was time to pass the torch. I feel like the players are having more fun and have a ton more energy. Thus, making the whole experience more enjoyable.
Okay, with that I am celebrating our fun filled season so far by making a salad. Yes, a salad. Don't worry, I didn't fall off the turnip truck. I promise I am of full mental capacity. The salad I am speaking of is a twist on the classic wedge salad. Also, it's purple!!!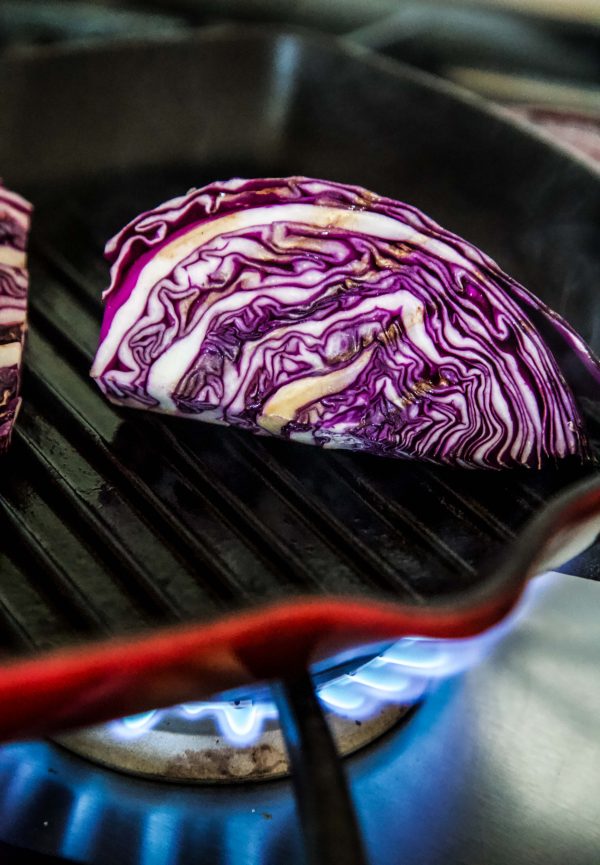 This Grilled Purple Wedge Salad will turn some heads. Cabbage can get a bad wrap, but I promise when grilled it takes on this smoky, crunchy texture that is amazing. Plus, top it with some Greek yogurt dressing and feta. Serve it at your next gathering and you will be scoring touchdowns left and right.
Say, it with me now: GOOOOOOOOOO State!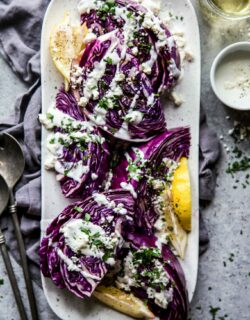 Grilled Purple Wedge Salad
Ingredients:
1 medium red cabbage, cut into wedges
3 tbsp olive oil, divided
1/4 cup plain Greek yogurt
3 tbsp mayonnaise
3 tbsp buttermilk
2 1/2 tsp lemon juice
1 garlic clove, minced
1/2 tsp kosher salt
1/2 cup crumbled feta, for garnish
1/4 cup chopped fresh parsley, for garnish
Directions:
Preheat an outside grill to medium-heat. You can certainly grill the cabbage inside on a cast-iron skillet if need be. Rub the cabbage wedges with 2 tbsp olive oil. Place the wedges on the grill for about 15 minutes, turning to ensure even grilling. Remove from grill and set aside.
In a medium mixing bowl, whisk together yogurt, mayonnaise, buttermilk, lemon juice, garlic, kosher salt and 1 tbsp olive oil. Place the grilled purple wedges on a serving platter. Drizzle the yogurt sauce over the top of the cabbage and garnish with feta and parsley.
All images and text ©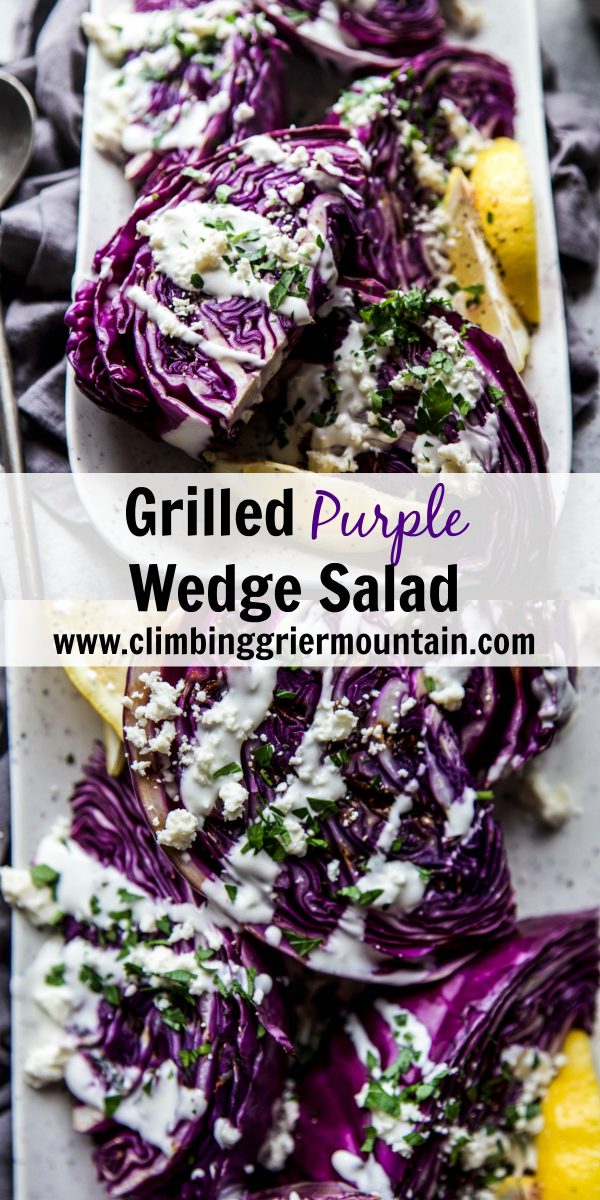 In conclusion, the Grilled Purple Wedge Salad offers a deliciously unique take on a timeless classic, promising a burst of flavor in every bite. It's a must-try for food enthusiasts seeking a culinary adventure.