Elote Corn Pudding
Elote Corn Pudding is a flavorful side-dish that will add a little spice to your weeknight dinner spread!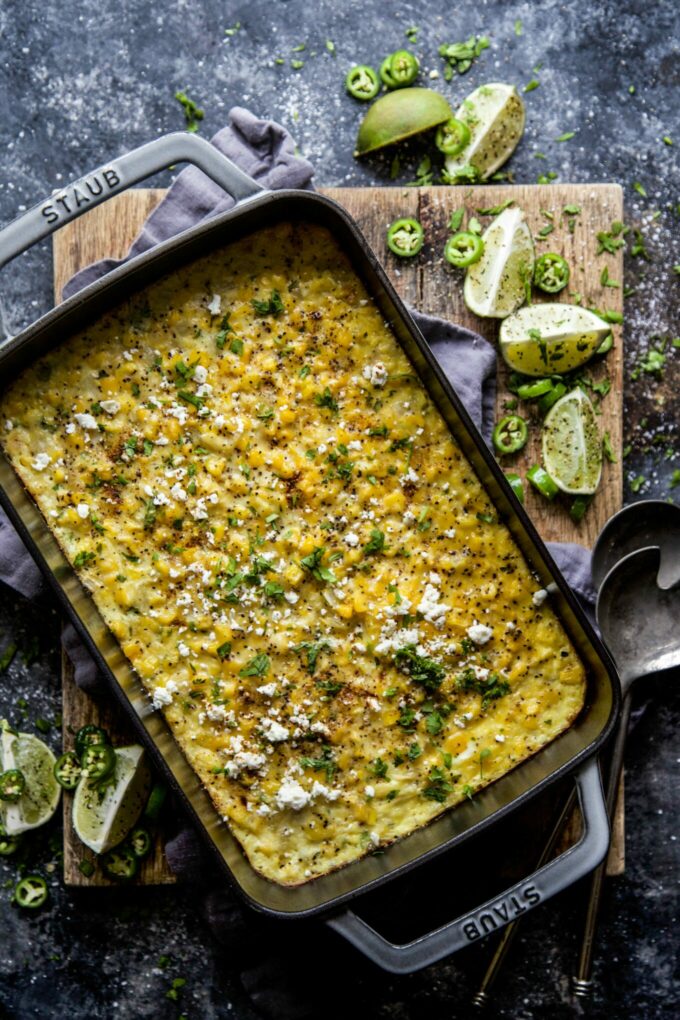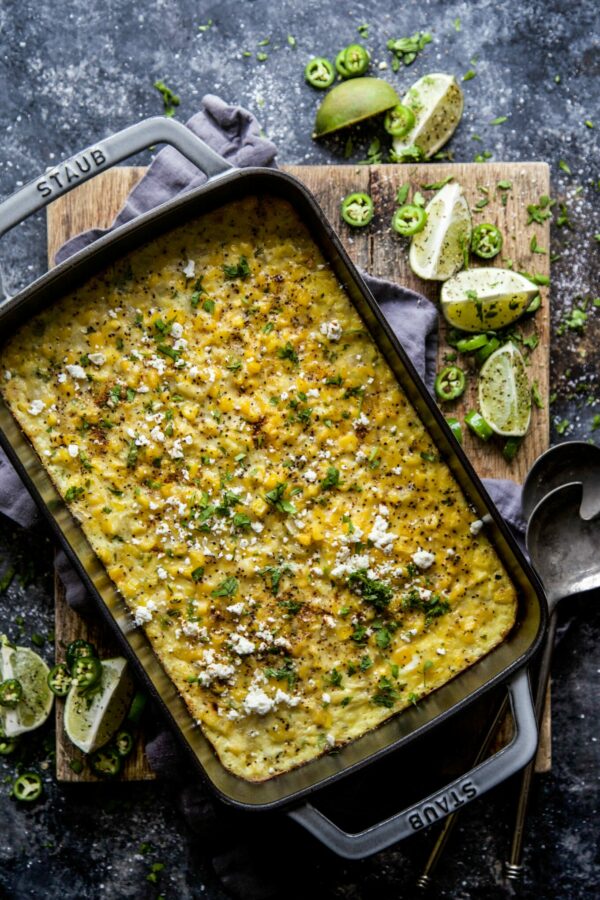 Um, how did that happen?
October 1st is tomorrow y'all.
I seriously can't believe it! You guys know my love for October and a particular holiday that falls on the 31st. And if you are wondering, yes, I have our Halloween costumes picked out. Just need to order them on Amazon. Can you remind me in case I forget?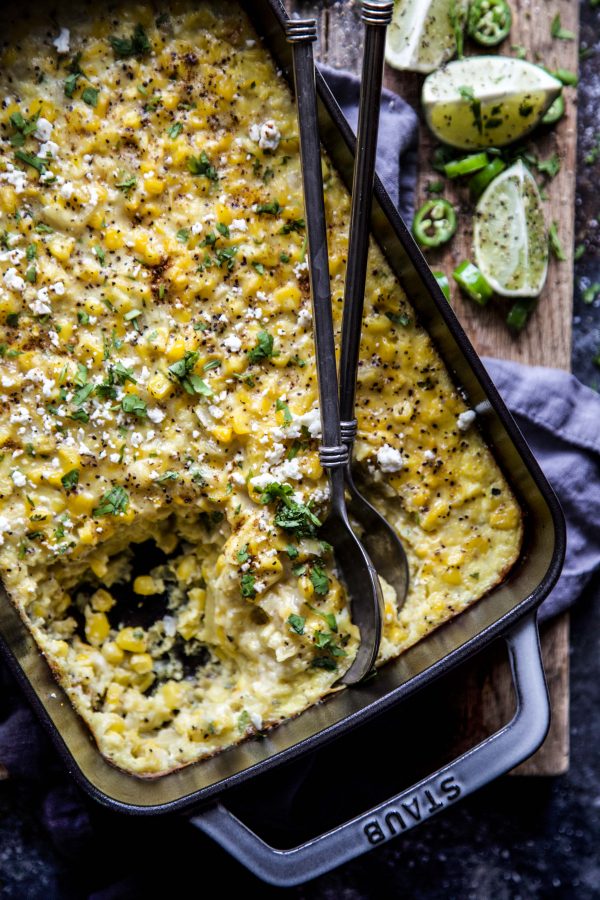 I can give you one hint as to what we will all be this year: cast of characters from a cult classic movie. Actually, trying to come up with costumes for the family was a little tricky especially with a newborn. BUT! Mr. B nailed this one though. Just wait until you see Juniper.
Speaking of Halloween, are you dressing up this year? If you are, what are you going to be? I bet superheroes are back again along with Stranger Things. I did see a baby avocado costume for a newborn that I almost bought. Shoot. Maybe I should have snagged it?!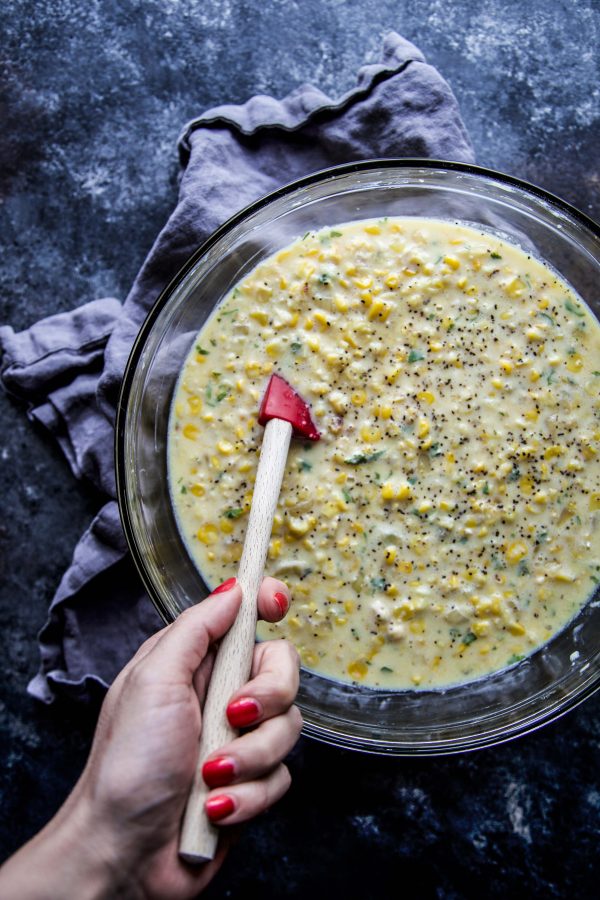 Anyway, our plan is to have another small gathering at our house for Halloween. Complete with a big a$$ chili bar, bowls of candy and I'm thinking this Elote Corn Pudding might need to make an appearance. This pudding is a more edible version of the famous Mexican-Style Elote street corn.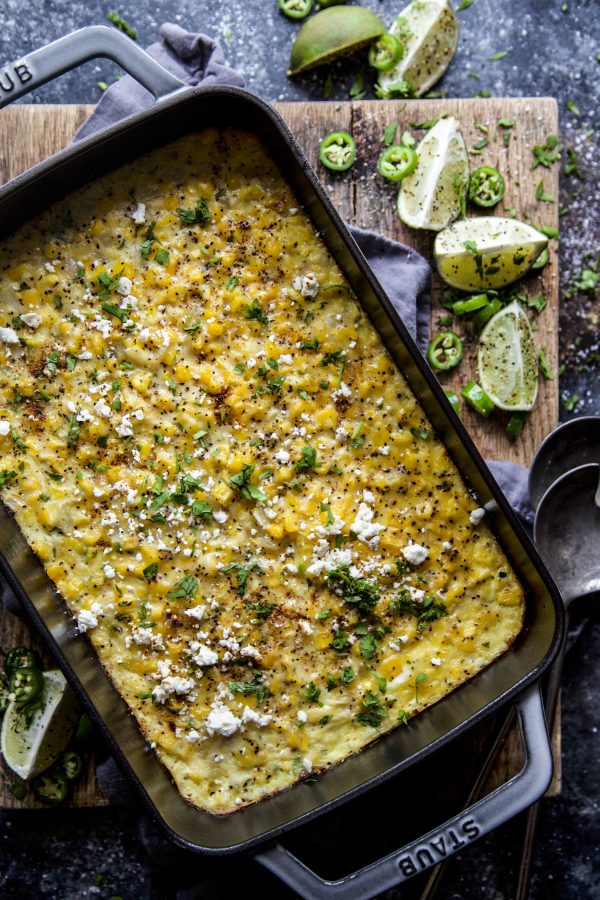 See, I'm one of those high maintenance people that slices the corn kernels off the cob with a knife. I hate the way my teeth feel when I bite into an ear of corn. Just so gross. This corn pudding is my way of having corn and eating it too. All the flavors of Elote Street Corn without the drama of corn strings.
It's a quick and easy side that will jazz up any weeknight dinner. Plus, you can make it ahead of time and feeds a crowd. Especially if said crowd is dressed like slutty Jasmine and the Hulk.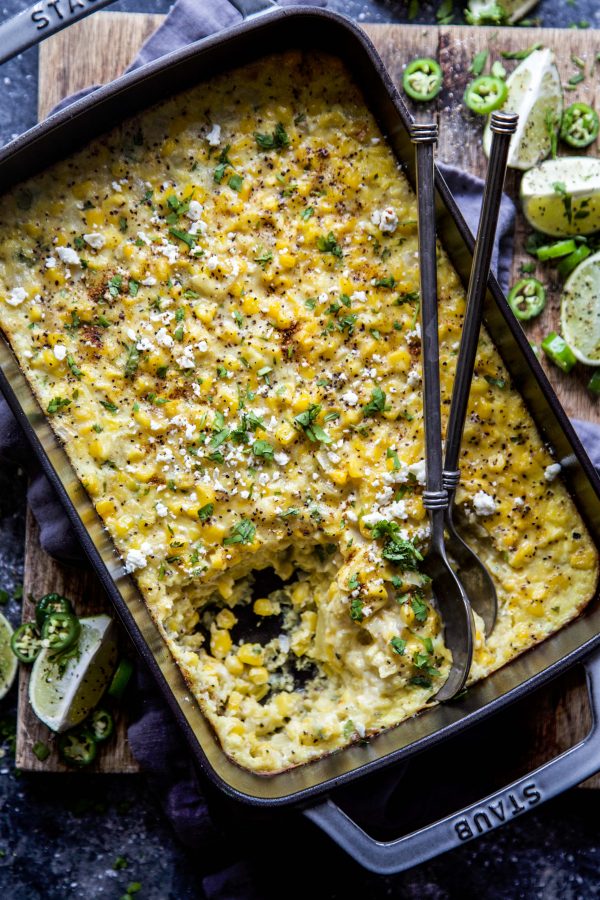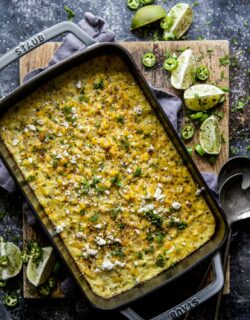 Elote Corn Pudding
Ingredients:
2 16oz bags frozen corn, thawed or 10 ears of fresh corn, shucked
2 tbsp olive oil, divided
1/3 cup white onion, diced
2 garlic cloves, minced
1/4 cup water
2 cups whole milk
2 large eggs, whisked
2 tbsp unsalted butter, melted
1/2 cup all-purpose flour
1 tbsp chopped fresh cilantro
salt and pepper to taste
Cotija cheese, for garnish
Chili powder, for garnish
Lime wedges, for garnish
Directions:
Preheat an oven to 350 degrees. Spray a 9X13 baking dish with non-stick cooking spray. In a large skillet or pot preheated to medium-high heat add the corn, one tablespoon of olive oil, salt and pepper. Saute the corn for a few minutes until slightly golden; about three or four minutes. Remove corn from skillet and place in a large bowl. In the same skillet as the corn, add another tablespoon of olive oil, onion, garlic, salt and pepper. Cook the onion and garlic until softened about three minutes. Once cooked add the onion and garlic to another large bowl.
 In a food processor add 2 cups corn kernels and 1/4 cup water. Process until coarsely ground. Transfer the corn to the garlic/onion mixture. Next, stir in the milk, eggs, melted butter and remaining corn kernels. Stir in the flour, cilantro, salt and pepper. Once everything is combined pour the mixture into the prepared baking dish.
Bake the corn for about 40 minutes. Remove from oven and let cool for about five minutes. Garnish the top with cotija cheese, chili powder, and lime wedges. Serve warm!
All images and text ©