Slow Cook Za'atar Steak Lettuce Wrap
Indulge in the ease of creating a delicious meal with Slow Cooker Za'atar Steak Lettuce Wrap. This dish is both hassle-free and bursting with flavor, offering a delightful dinner option that's simple to make and a joy to savor.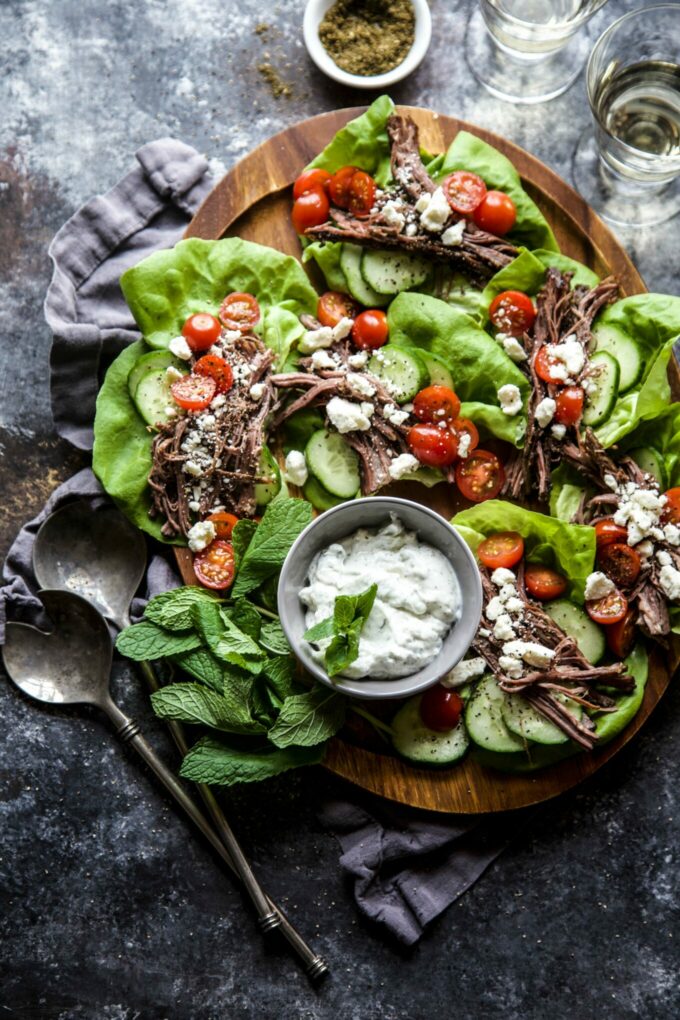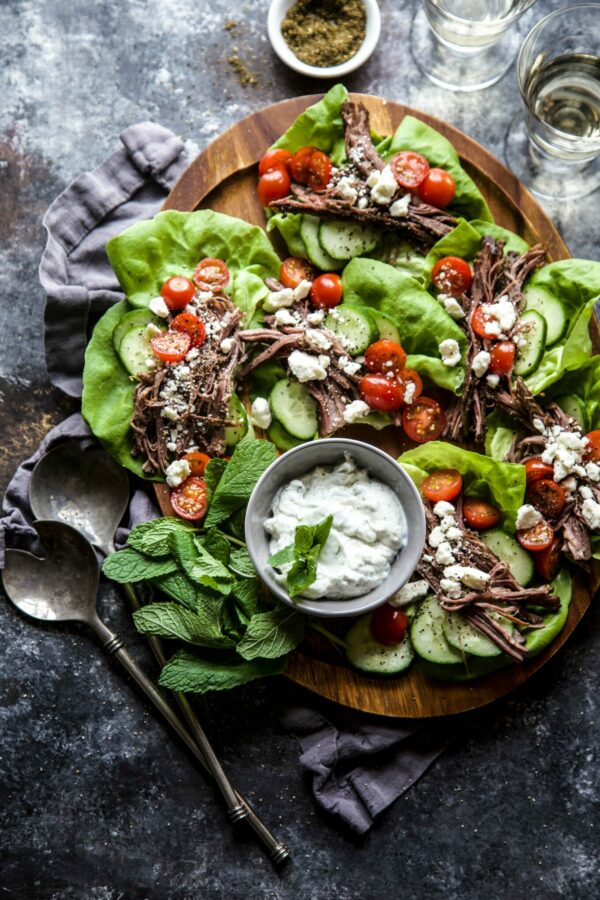 Appliance divided.
Or at least that's how I feel about the slow cooker vs. instant pot.
I adore my slow cooker. We have the best relationship. I put whatever said ingredients I want into the slow cooker to make a delicious meal and it never barks back. Not once. Oh! The best part? There's only two options to cook: HIGH OR LOW. It's just so simple!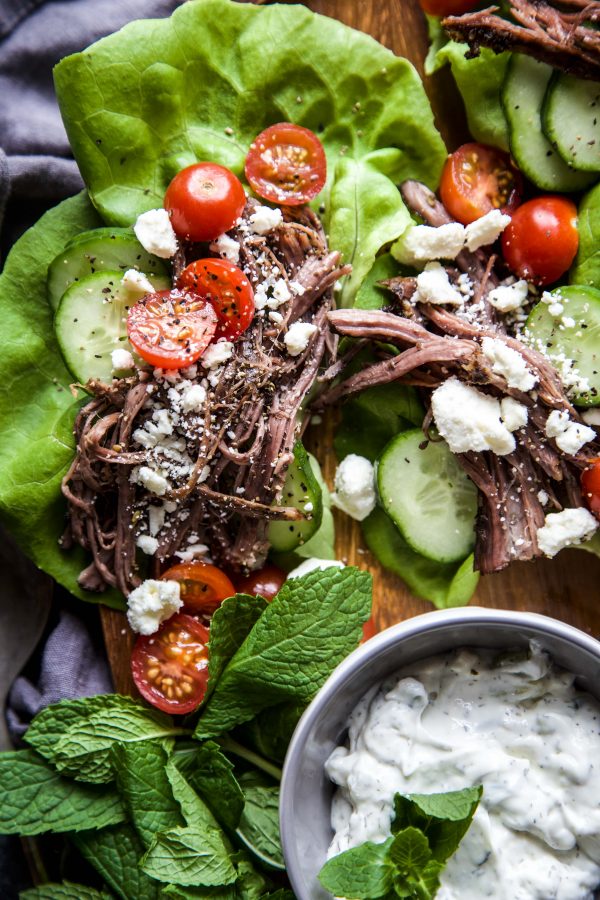 Now, the instant pot on the other hand is to complicated for me. I will be the first to admit that I don't need all the gadgets and gizmos when it comes to making dinner. I'm a no bullsh$t kind of person.
With the instant pot there's just to much going on. Between lowering settings, letting the pressure release and basket removal, I'm lost. I just want to SET IT and FORGET IT. Is that so wrong? I feel like I get the stink-eye sometimes because I'm not besties with my instant pot. Sigh.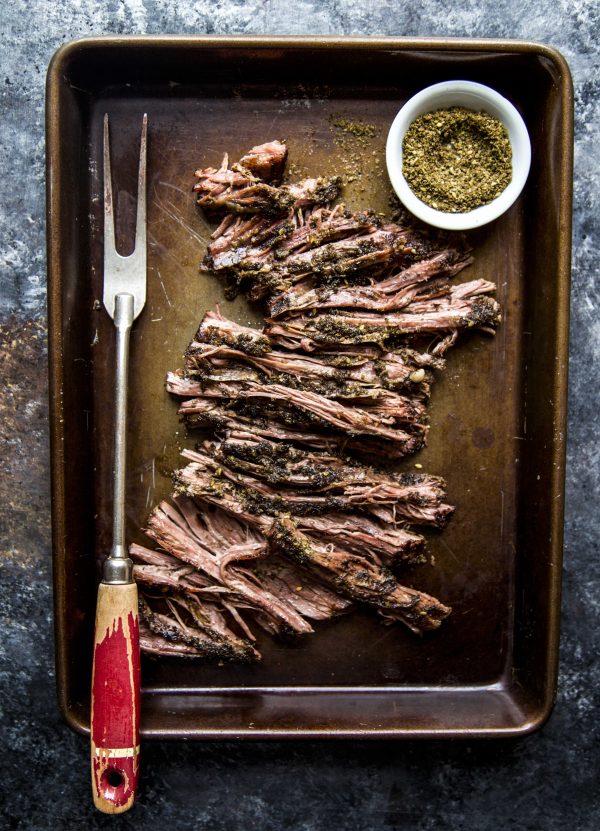 No matter what appliance team you side with I will say the food will always be tasty. And let's be real, I just want to thank God for modern cooking technology. Because these are the sort of things we now have a discussion about.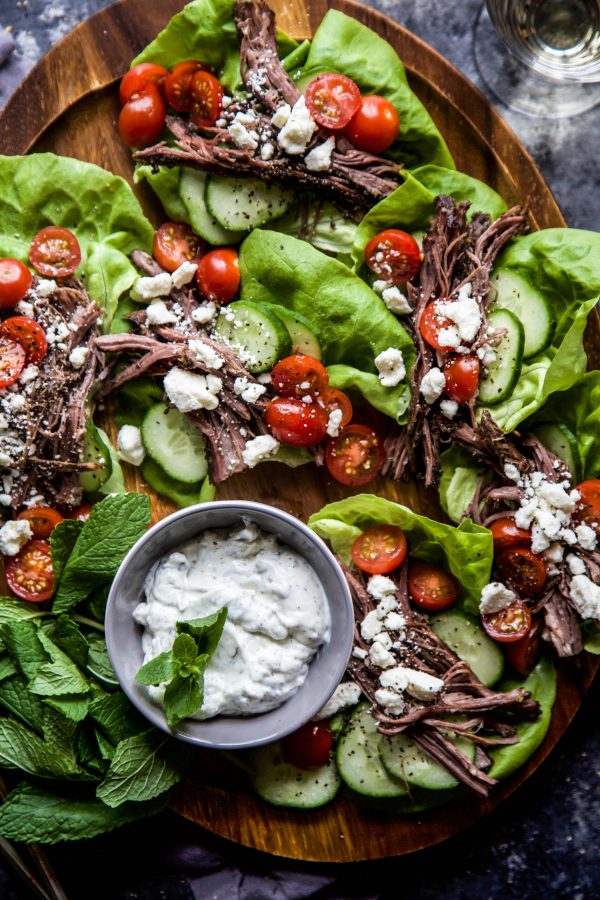 Okay! So, today's recipe as you can tell is for the slow cooker. Are you surprised? These Slow Cooker Za'atar Steak Lettuce Wraps happen at least once a week in our household because it's so damn easy to prepare. Simply place steak into the bottom of the slow cooker, add Za'atar spice (I highly suggest grabbing a bag to have on hand. I get my from Amazon here), and set on low to cook. Once cooked just shred, stuff into some butter lettuce leaves and top tzatziki!
See, super simple! Now, don't you want to play on team slow cooker? Thought so!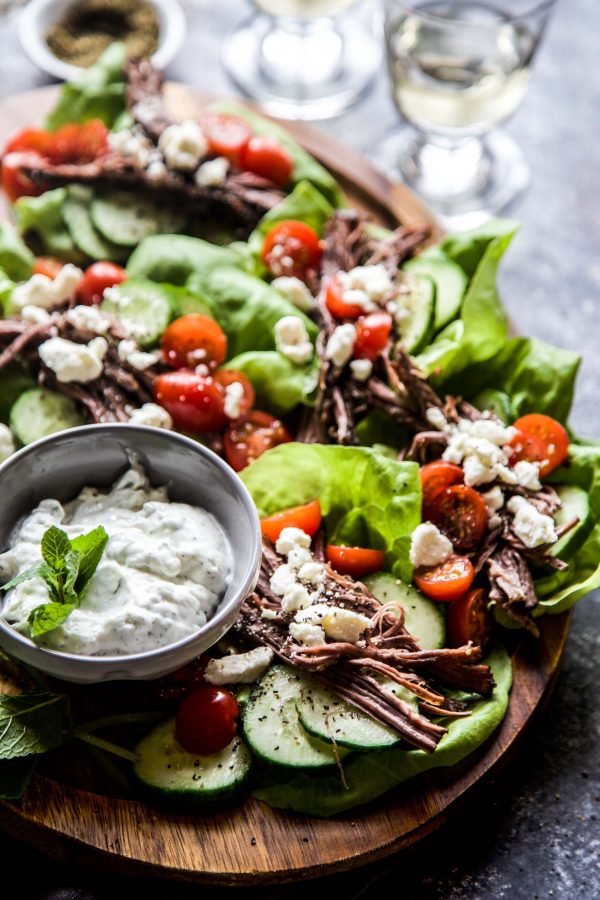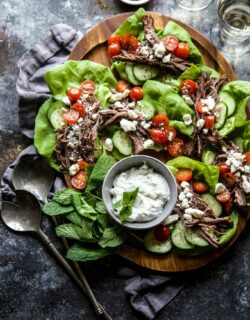 Slow Cooker Za'atar Steak Lettuce Wraps
Ingredients:
1 yellow onion, sliced thinly
2 lbs flank steak
2 tbsp Za'atar seasoning
1/2 cup beef stock
salt and pepper to taste
Butter lettuce leaves, for serving
Grape tomatoes, halved, for garnish
Cucumber rounds, for garnish
Red onion slices, for garnish
Tzatziki, for garnish
salt and pepper to taste
Directions:
In a slow cooker add the yellow onion to the bottom. Next, season the flank steak with the Za'atar spice, salt and pepper. Place the flank steak on top of the onions. It's okay if they overlap. Pour the beef stock around the steak. Cook the steak on high for 4 hours or on low for 8 hours.
Once cooked, remove the steak from the slow cooker to shred with a fork. To serve: place some of the steak on a butter lettuce leaf, top with grape tomatoes, cucumbers, red onion slices, and a dollop of tzatziki.
All images and text ©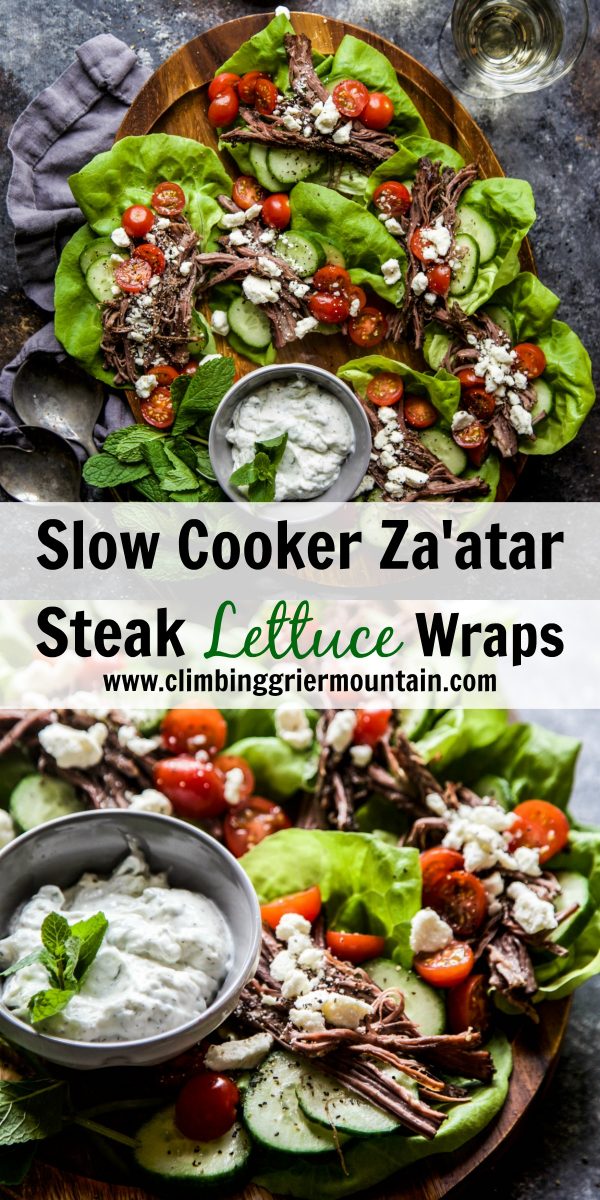 In conclusion, Slow Cooker Za'atar Steak Lettuce Wrap offers a flavorful journey with tender steak and aromatic spices, providing a mouthwatering dining experience that's both satisfying and exotic.