Santa's Trashed Up Cookies
Santa's Trashed Up Cookies have all your favorite ingredients in one cookie! Whether you've been on the naughty list or not these will be a huge hit with Santa!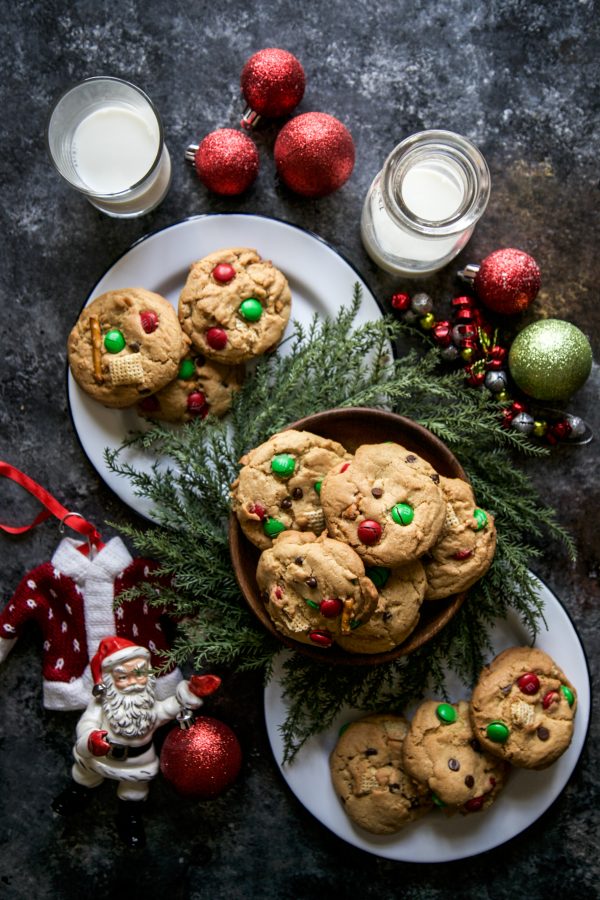 Santa is in for a treat this year.
I've got a dozen cookies that will make the jolly old soul twerk. Hey, if Santa can fit down a chimney than he most certainly can twerk.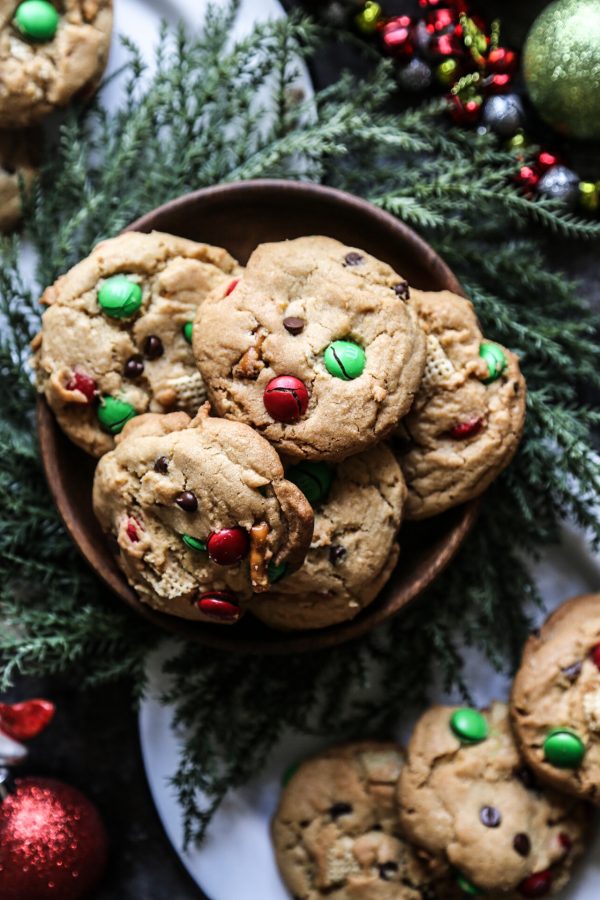 Or at least that's what my five year-old self would have thought. I always imagined Santa making a pit stop at our house to dance it out while Rudolph laid down some sick beats. Eggnog would be flowing and I would jump in with my "Fly Girls" for a quick dance off. Our house was the place to be come Christmas Eve.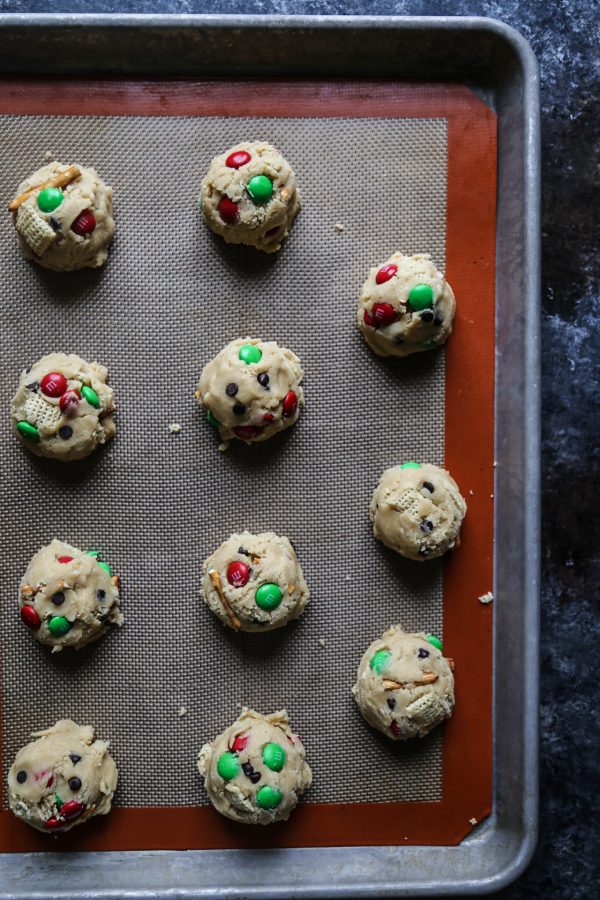 So you could imagine when I found out from my older brother that Santa wasn't real the music, well, stopped. Do you remember when you found out he wasn't real? I remember it like it was yesterday. I don't blame my brother at all for spilling the beans, but it definitely took the fun out as a little kid. Maybe they should have "Santa's Not Real" support group?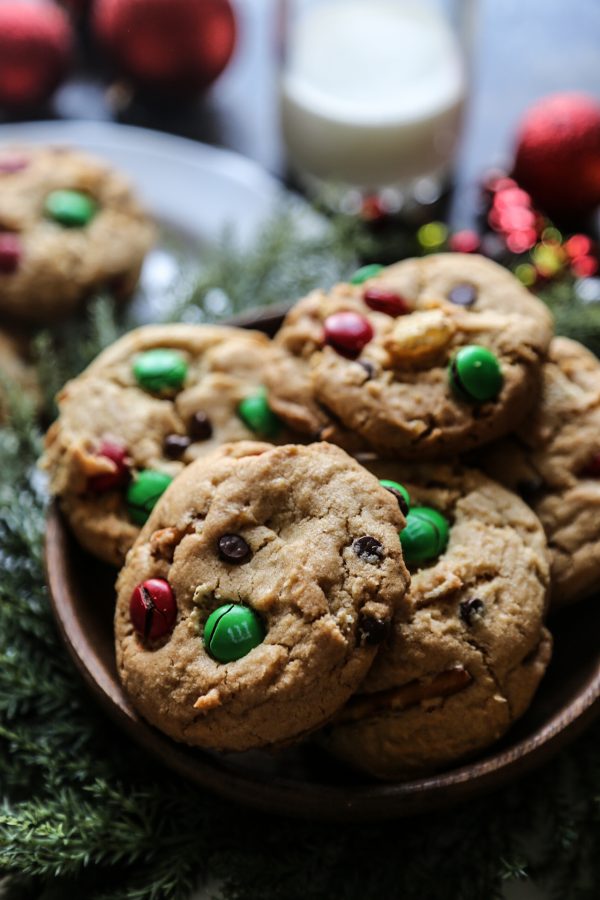 Even though Santa is not real, I still think it's fun to live vicariously through my nieces and nephews. Their faces when you talk about Santa is truly magical. So I thought it would be fun to make a big batch of Santa's Trashed Up Cookies. Whether you are on the naughty or nice list Santa will not turn these bad boys down.

Made with chocolate chips, M&M's, chex, and pretzels. These will make Santa grin from ear to ear. Now, let's crank the music up.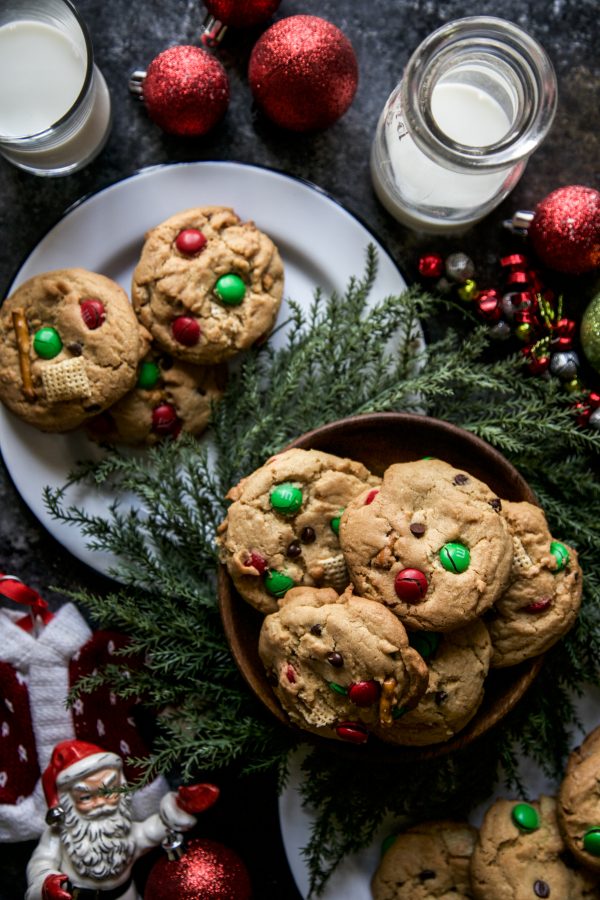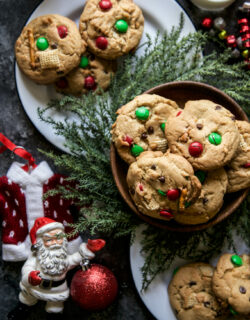 Santa's Trashed Up Cookies
Ingredients:
3/4 cup unsalted butter, room temperature
1/2 cup granulated sugar
1/2 cup brown sugar
1 large egg
2 tsp vanilla extract
2 1/4 cup all-purpose flour
1 tsp baking soda
1/4 tsp kosher salt
1/3 cup mini semi-sweet chocolate chips
1/3 cup crushed pretzels
1/3 cup green and red M&M's
1/3 cup crushed chex
Directions:
Preheat an oven to 350 and place a slip mat on a baking sheet. If you don't have a slip mat just use parchment paper.
In a mixer fitted with a paddle attachment, cream together butter, granulated sugar and brown sugar until light and fluffy.
Next, add in the egg and vanilla extra until combined.
In a large bowl combine the flour, baking soda and kosher salt. Next, add the dry ingredients to the wet ingredients. I find it better to add the flour in three batches. Once combined the batter will be THICK!
Add in the chocolate chips, pretzels, M&M's and chex. Using an ice cream scooper, scoop out the batter and place the cookie dough on the baking sheet. Repeat until all dough has been used.
Bake for about 10 to 12 minutes or until golden brown. Remove from oven to let them cool before setting them out for Santa!
All images and text ©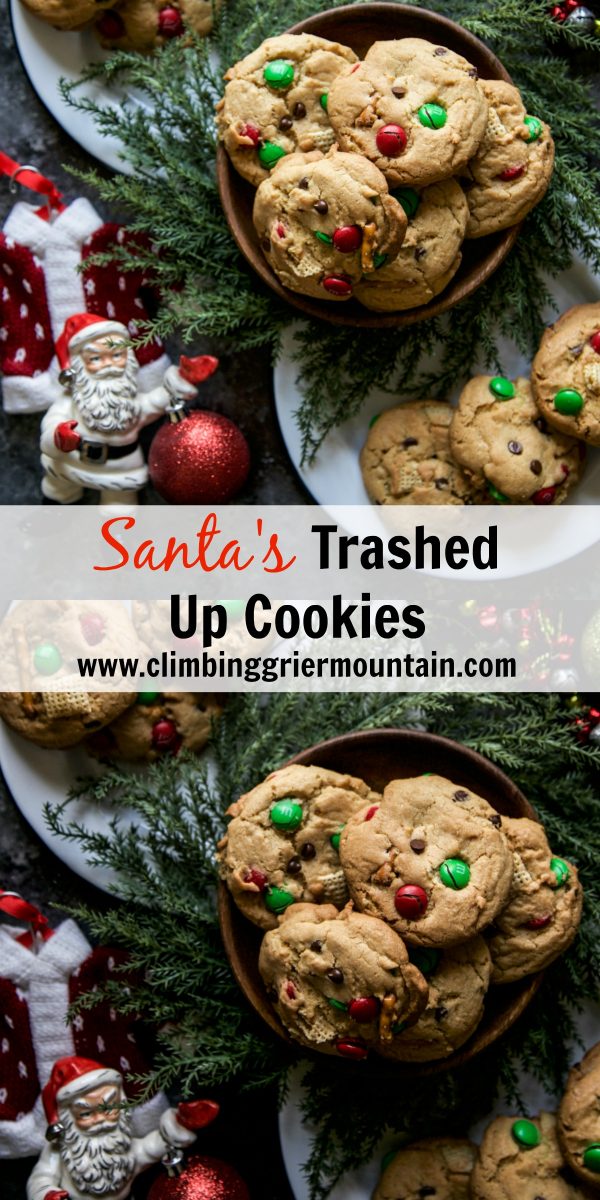 In conclusion, Santa's Trashed-Up Cookies are a festive and fun twist on classic treats that add a touch of holiday magic to your celebrations. Enjoy the whimsical flavors and share the joy with family and friends!