sausage & smoked mozzarella pizza with sweet potato bechamel
Sausage & Smoked Mozzarella Pizza with Sweet Potato Bechamel is an easy, decadent pizza that is a must-make for pizza night!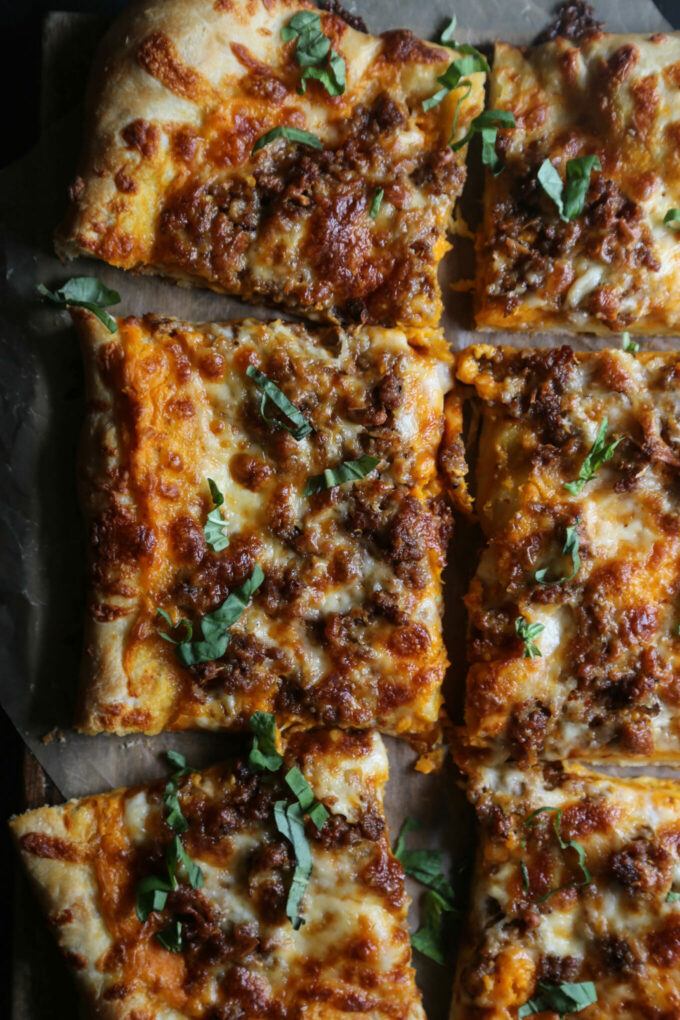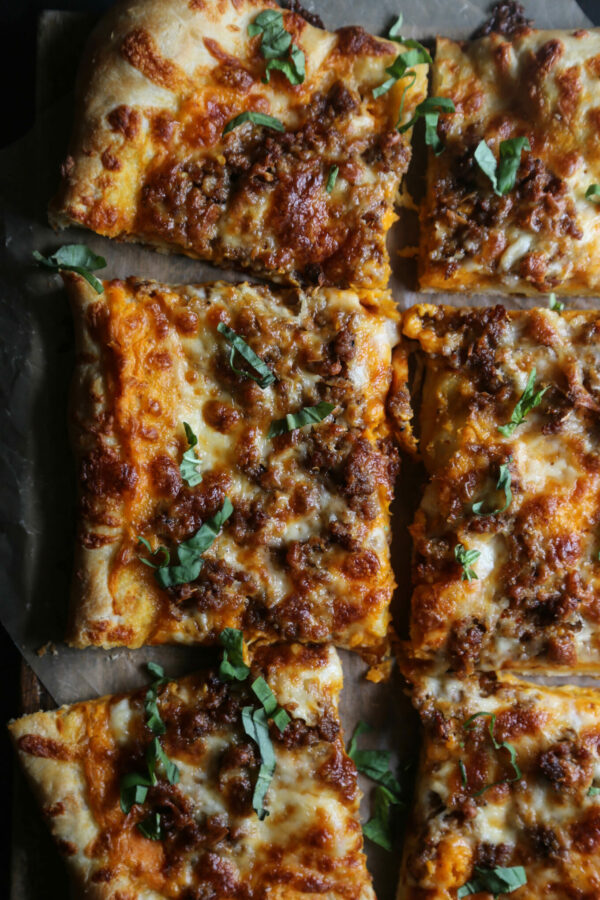 April Fools' Day is in t-minus two days. Are you armed and ready?
Is it just me, or did April Fools' Day feel like less work as a kid? I thought I was hot shite when I replaced granulated sugar with table salt one April Fools' morning. My father thought otherwise, but still, it was worth the five seconds of pure giggle bliss.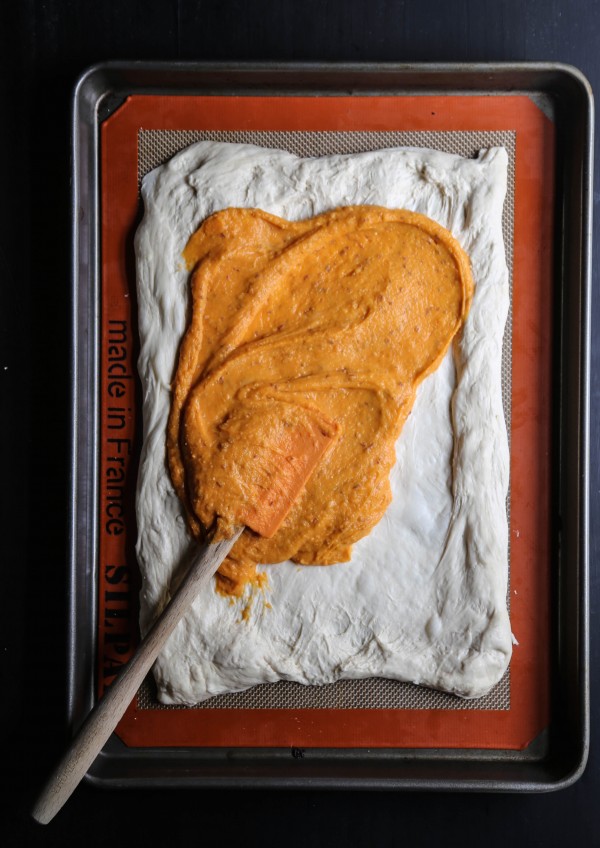 Now, as an adult, I feel like a prank has to be added to a to-do list in order for it to be completed, which defeats the purpose of doing said prank! Hmmmm….let me pencil in putting saran wrap over a toilet seat for Thursday at 2:32 pm. It's just weird!
If you have any quick April Fools' Day prank up your sleeves that take 2.2 nano seconds to complete, I am all ears. Until then, you can find me eating a copious amounts of this Sausage & Smoked Mozzarella Pizza with Sweet Potato Bechamel. That's right. Marinara sauce is so 2013 people. Let me introduce you to your new best friend: sweet potato bechamel.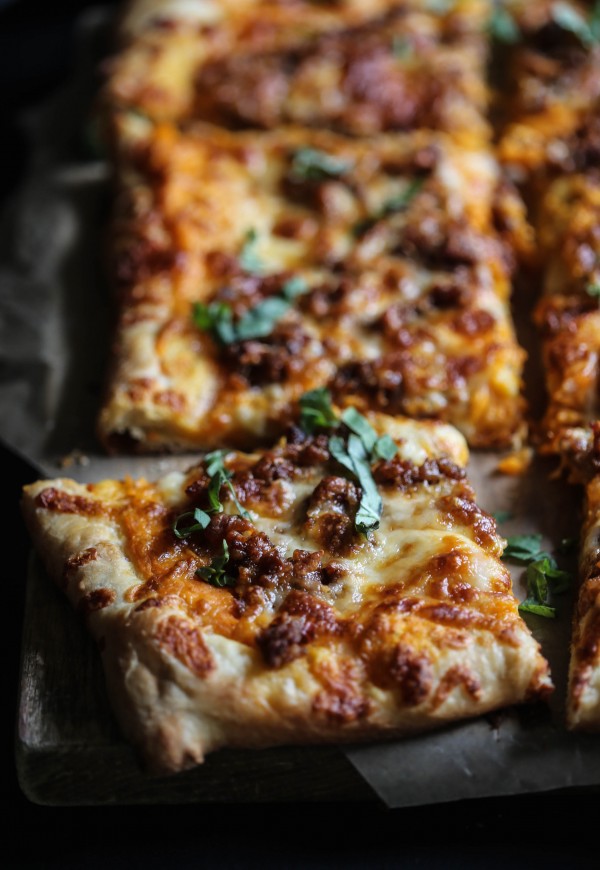 Think of it as a luxurious pizza sauce that's worth the labor of love. And when I say labor of love, waiting for sweet potatoes to boil for 20 minutes is absolutely painful when all you can think about is biting into this decadent pizza! Other than that the sauce actually comes together pretty quickly. Combine everything in the blender, add cheese, and then spread the mixture on some fresh pizza dough. Top with whatever ingredients you desire, but I am on a smoked mozzarella kick and can't recommend it enough.
This pizza is the bomb diggity.
And that's no lie…I mean prank.
Shite. Just eat the pizza, mmmkay?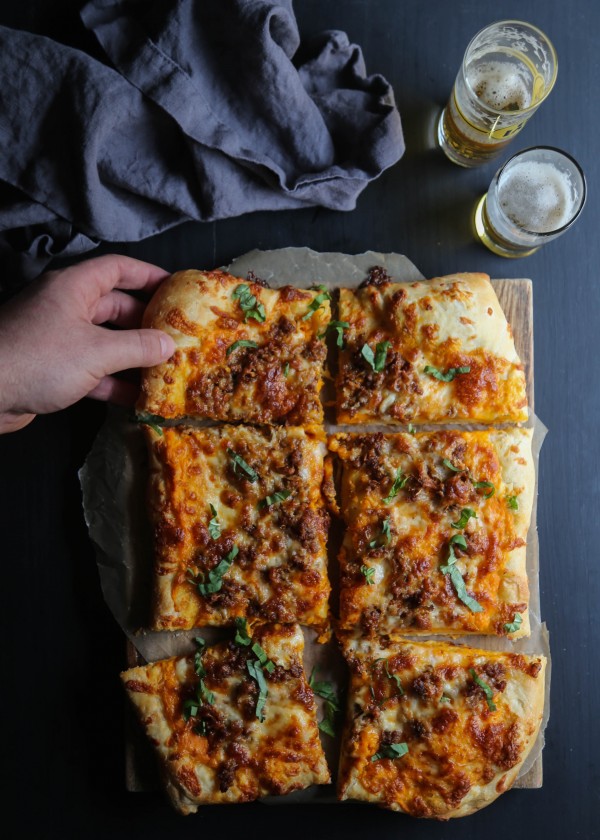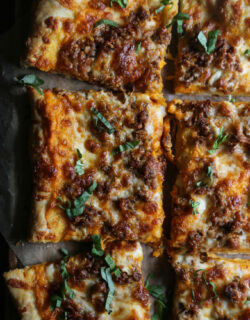 Sausage & Smoked Mozzarella Pizza with Sweet Potato Bechamel
Ingredients:
for the pizza:
1 homemade or store bought pizza dough
1 cup ground sausage, cooked
1 1/2 cups smoked mozzarella, shredded
Fresh basil, garnish
for the sweet potato bechamel:
3 cups cubed peeled sweet potatoes
2 cups chicken stock
1 1/2 cups whole milk
4 garlic cloves, chopped
1/4 teaspoon ground nutmeg
3/4 cup Gruyere cheese, shredded
3/4 cup Mozzarella cheese, shredded
1/4 cup Parmesan cheese, shredded
salt and pepper to taste
Directions:
Preheat oven to 400 degrees.
for the pizza:
Spread pizza dough into a large rectangle about 9 X 13. Take some of sweet potato bechamel sauce and spread it onto the pizza dough leaving a one-inch border. Top the sauce with sausage and smoked mozzarella. Bake pizza for about 20 minutes or until cooked through and cheese is golden brown. Remove from oven and garnish with fresh basil!
for the sweet potato bechamel:
In a large stock pot, combine sweet potatoes, milk, garlic, and stock. Bring to a boil and then reduce heat to a simmer. Cook until the sweet potatoes are soft (about 20 minutes).
In a food processor, add the sweet potato mixture, additional salt and pepper as needed, and nutmeg. Blend the mixture until smooth. Place the pureed sweet potato mixture into a large bowl and fold in the Gruyere, mozzarella, and Parmesan cheese.
sweet potato béchamel adapted from cooking light magazine
All images and text ©