beef puttanesca with garlic bread
This lightened-up Beef Puttanesca with Garlic Bread is easy to make for weeknight dinner or sassy enough for an impromptu party!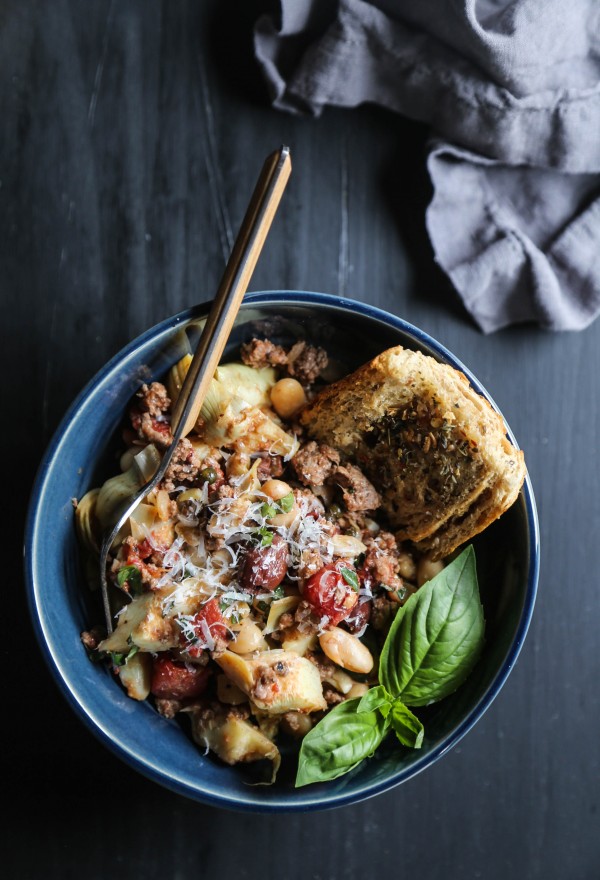 Someone once told me that I was an old soul.
At the time, I was the ripe old age of 26 when those words were thrust upon me.
I was immature, a little narcissistic, invincible, and had no idea what had just been said was indeed a compliment. The universe has a funny way of throwing little nuggets at you. Sometimes it sticks, while others are gone like a fart in the wind. Even though this universal nugget bounced off of me like a rubber ball and landed straight back in the "I have no idea what that means" section, it has stuck with me.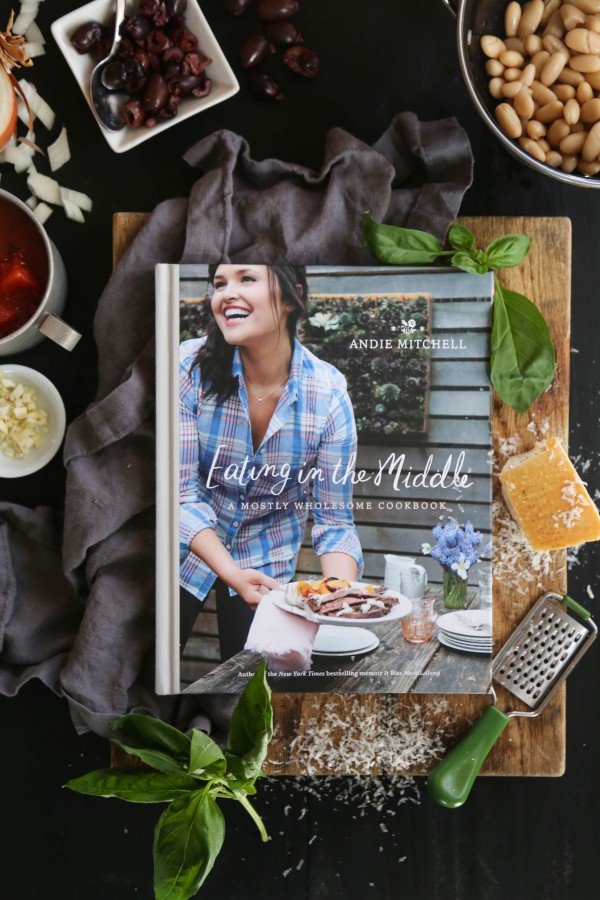 Now at the young age of 33 (wink, wink), I find myself running into other old souls. It's like a secret club, only there are no initiations or ceremonies to get into said club. Just a simple acknowledgment from one old soul to the other.
When I first started CGM, I read what felt like a zillion food blogs. Some have faded away, others I check in every now and again, but I always keep coming back to Andie Mitchell's blog (Can You Stay for Dinner?) now, AndieMitchell.com. Andie immediately captures your heart. Her ability to draw you in with her wisdom, laughter, care-free spirit feels as though you just sat down with your best friend. Or as I would say, another old soul.
Andie started out as a food blogger (and still continues today), but her true moment of shine is in her memoir, It was Me All Along. If you haven't read this gem, stop what you are doing now and RUNNNNN to pick up a copy because you are truly missing out. I identify a lot with Andie through her book not so much from a weight loss scenario, but more from a balance perspective. I am a true believer that you can have your cake and eat it too, but you can't consider a whole cake a slice, if you know what I'm sayin'?
Besides her memoir, Andie has now bestowed upon us a cookbook that will help us navigate and better yet, nourish our soul. To be honest, I had a hard time deciding what to make because everything in this book is perfection. From her stories to the recipes themselves, I am smitten with Eating in The Middle.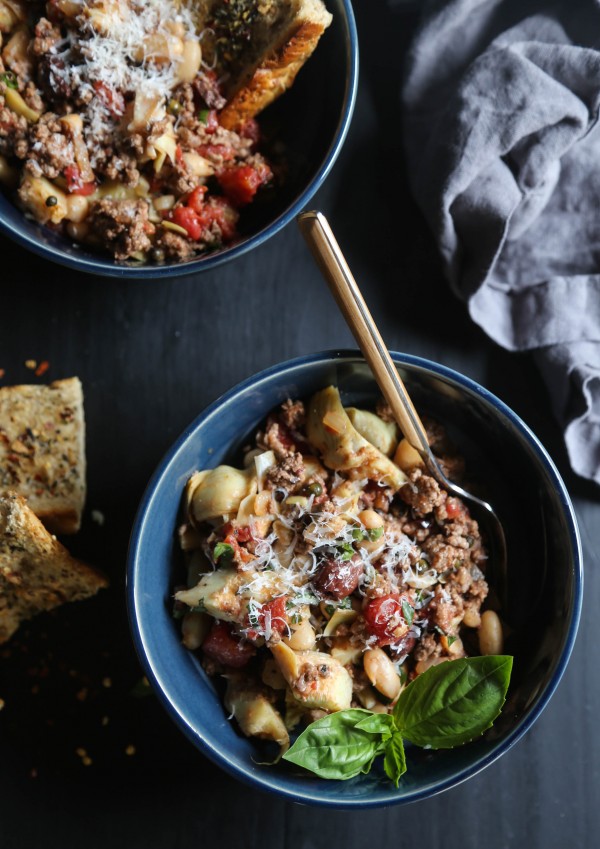 With that,  I dove in and decided to make Beef Puttanesca with Garlic Bread. The luxurious, yet healthy version is like taking a walk on the sinful side, but not having to go to confession. This dish will soak into your bones and keep you wanting more and more. If this bowl full of lean ground beef, salty capers, rich tomatoes, artichokes with a side of rustic garlic bread doesn't feed your soul, then you might have to go to confession after all.
Congrats again Andie on a beautiful cookbook! Cheers to all of your achivements and contintued success!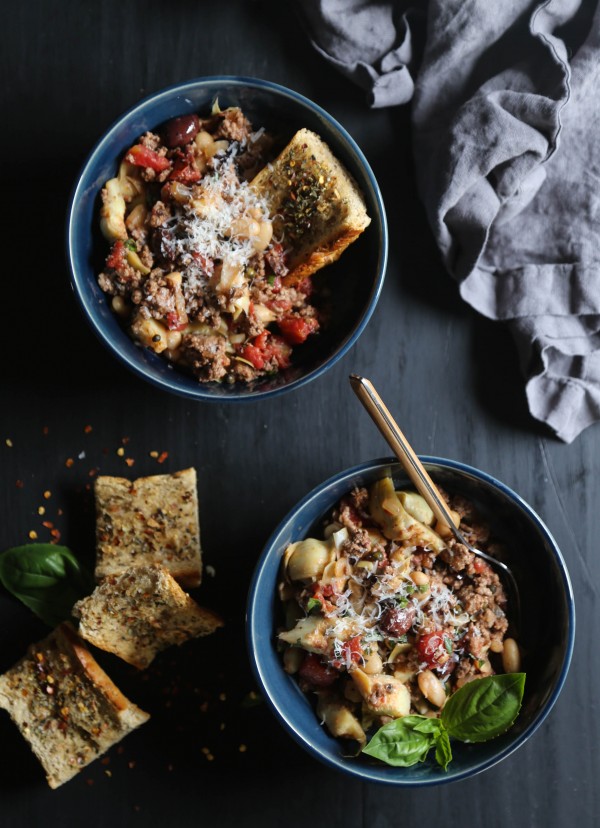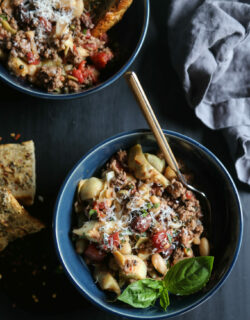 Beef Puttanesca with Garlic Bread
Ingredients:
for the beef:
1 pound ground sirloin (90% lean)
1/2 medium yellow onion, thinly sliced (about 1/2 cup)
3 garlic cloves, minced
1 15-ounce can diced tomatoes
1 15-ounce can cannellini beans, rinsed and drained
4 canned artichoke hearts (in water or brine), quartered
1 1/3 cup chopped pitted kalamata olives
2 tablespoons capers, rinsed and drained
1/2 cup packed chopped fresh basil leavers, plus more for serving
1/4 cup grated Parmesan cheese for serving
for the garlic bread:
1/2 of standard-size baguette or 1 semi-baguette (12 inches long)
2 tablespoons extra-virgin olive oil
3 garlic cloves minced
1 tablespoon dried oregano
2 teaspoons crushed red pepper flakes
pinch of salt
Directions:
For the beef, in a 12-inch nonstick skillet set over medium-high heat, satue the ground beef, breaking it up with a rubber spatula, until browned, 6 to 8 minutes. Using a slotted spoon, transfer the beef to a plate and tent with foil to keep warm.
Using the same skillet, add the onion to the beef drippings and cook, stirring frequently, until the onion is just beginning to soften, 2 to 3 minutes. Add the garlic and cook, stirring constantly, until fragrant, 30 seconds.
Add the diced tomatoes and their juices and bring the mixture to a simmer. add the beans and simmer for 3 minutes.
Add the artichokes, olives, and capers, and return the beef to the pan. Stir in the basil. Reduce the heat to love while you prepare the garlic bread.
For the garlic bread, preheat the oven to 400 degrees.
Slice the baguette in half lengthwise, and then in half widthwise, to create four 6-inch sections. Place the baguette pieces on a baking sheet cut sides up.
In a small nonstick skillet or saucepan, heat the olive oil over medium heat. Add the garlic and stir constantly until just faintly golden and fragrant, 1 to 2 minutes, lowering the heat if necessary so the garlic does not burn. Immediately remove the pan from the heat and pour the garlic oil into a small bowl.
In a small bowl, combine the oregano, red pepper flakes, and salt.
Using a pastry brush, brush each piece of the baguette with the garlic oil. Sprinkle liberally with the oregano-pepper-salt mixture. Bake until golden brown, 7 to 10 minutes.
To serve, divide the puttanesca among 4 bowls. Garnish each bowl with 1 tablespoon of Parmesan cheese and more fresh basil. Serve with garlic bread.
Full recipe is from Eating in the Middle Cookbook written by Andie Mitchell
All images and text ©