Smoked Salmon White Pizza
Smoked Salmon White Pizza is an easy, cheesy pizza perfect for a party or a weeknight dinner!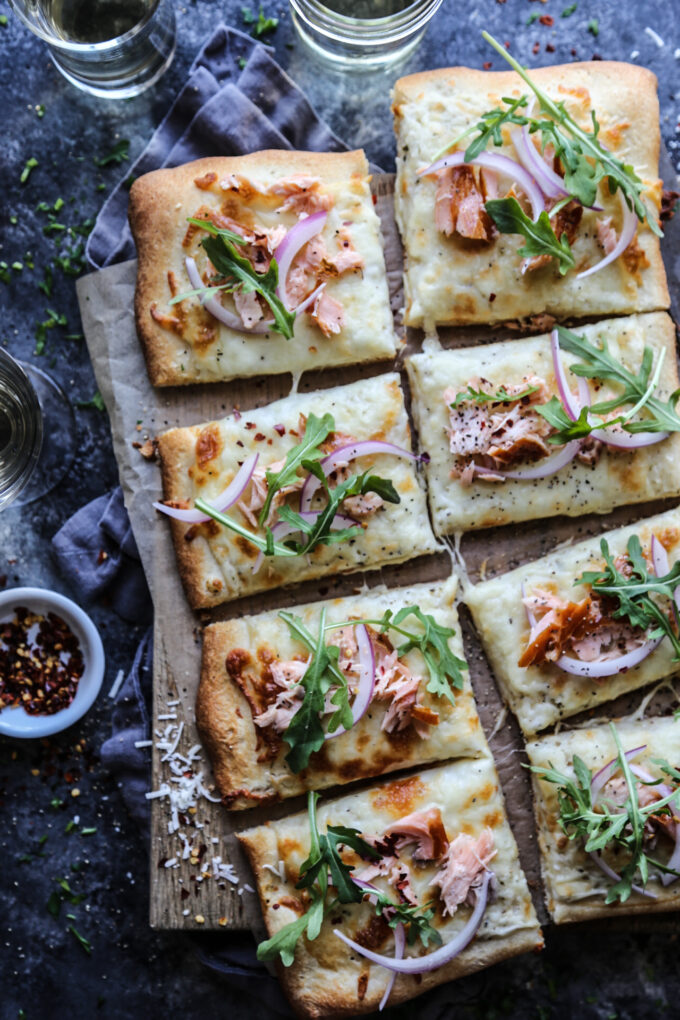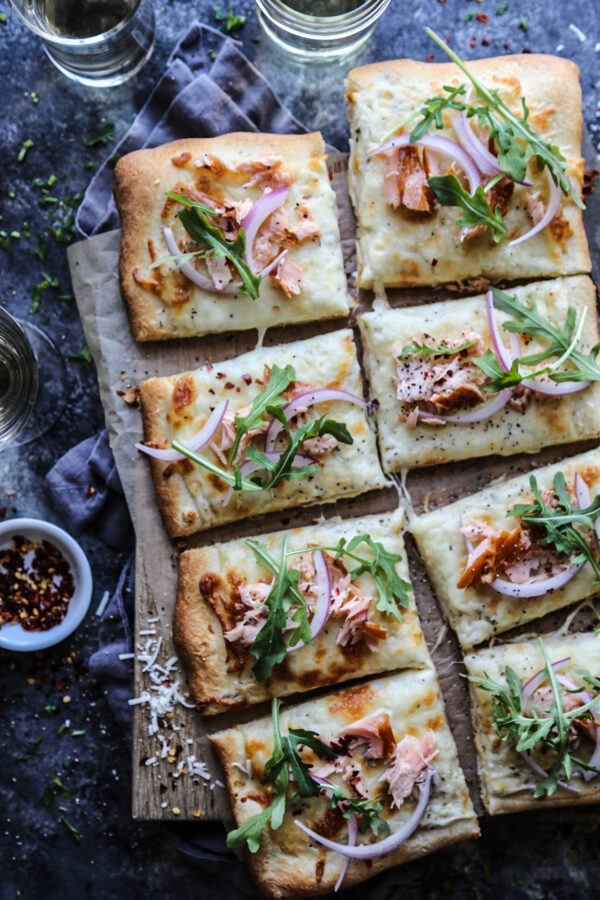 I went there.

Hey, don't knock it until you try it.

Smoked Salmon on a pizza will be a thing in 2019…trust me. The inspiration for this light yet delicious pizza comes from my travels to Ireland. Part of the reason why I love to jet set across the pond is to sample different dishes and then replicate said dishes at home.

Some examples you may have seen – Ramen Primavera inspired by our travels to Japan, Fish & Meat Board inspired by our travels to Scotland, Za'atar Lamb Panzanella Salad inspired by our travels to Jordan and Peri Peri Turkey & Rice Soup inspired by our travels to Portugal. Do you get inspired too? What are some of your favorite dishes to make from your travels?
Anyway, as my mother and I were walking around Dublin this gypsy women came out of nowhere and shoved a rose in my mom's face. My mom was blindsided and tried to give the rose back, but the lady played dumb and wouldn't leave until we gave her money. Total BS.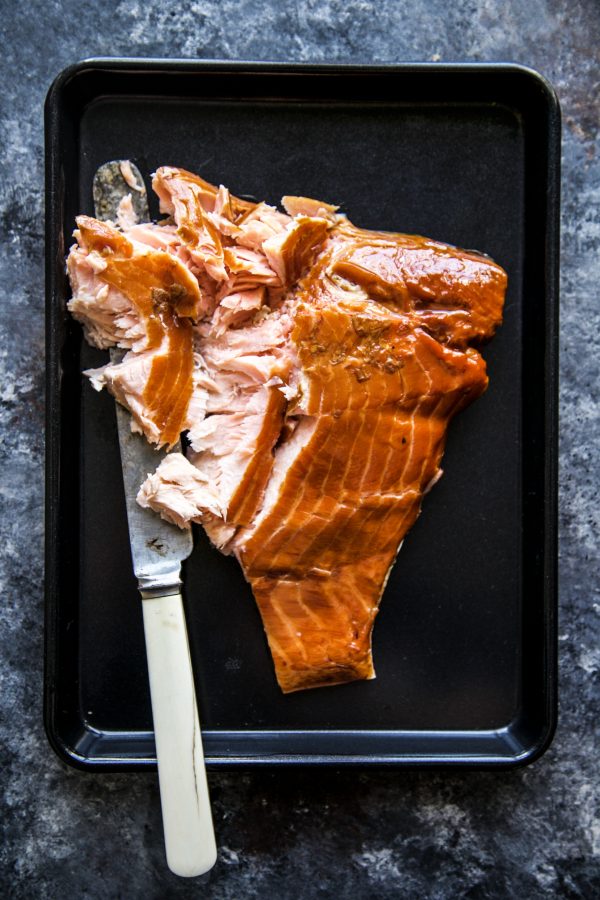 However, once we gave her some change she departed and left us standing in front of this restaurant with a special of "Smoked Haddock Pizza." I didn't know whether to curse the gypsy or praise her because I knew I had to make that pizza at home.

For this recipe you can use whatever smoked fish you can find. I ended up going with smoked salmon because I found it at Sprouts for a good price. Trout would be delicious on this pizza with the white sauce. Also, can we give some love to white sauced pizza?
I realize marinara gets way more attention, but it's good to mix things up ever now and then. Like having a gypsy shove a rose in your face.
Seriously though, she would slay on the Bachelor.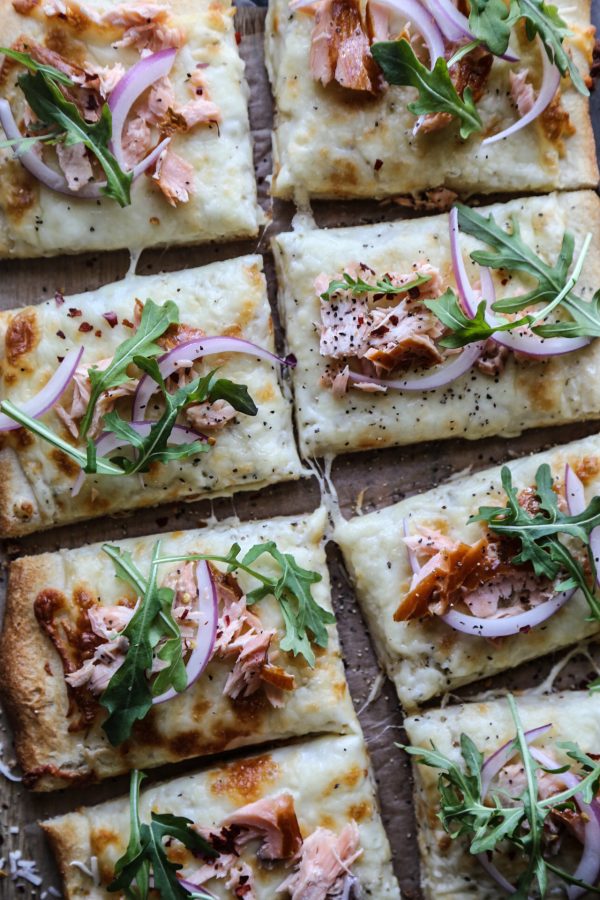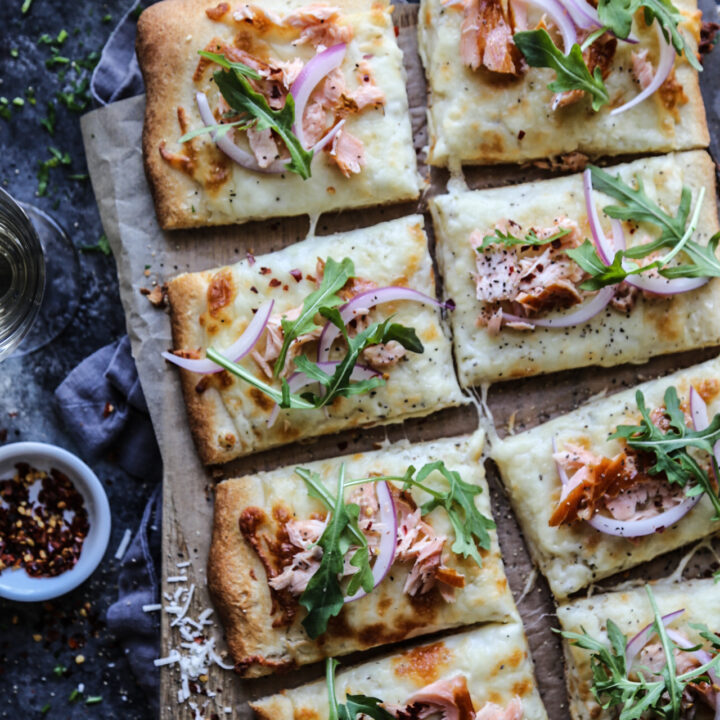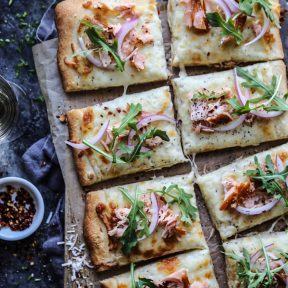 Smoked Salmon White Pizza
Smoked Salmon White Pizza is an easy, cheesy pizza perfect for a party or a weeknight dinner! 
Ingredients
1 pkg pizza dough or homemade
1 tbsp unsalted butter
3 tbsp all-purpose flour
1¼ cups whole milk
½ tsp garlic powder
1 tsp Italian seasoning 
salt and pepper to taste
⅓ cup grated fresh Parmesan cheese
1⅓ cup shredded mozzarella
8 oz smoked salmon
Red onion slices, for garnish 
Fresh arugula, for garnish 
Instructions
Preheat your oven to 400 degrees. Spray a baking sheet with non-stick cooking spray or use a slipmat. 

Roll the pizza dough into a 9X13 rectangle. Partially bake the pizza crust for about seven minutes. Remove from the oven and set aside. 

Meanwhile, make the white sauce. In a medium sauce over medium heat melt the butter. Next, add the flour and begin to whisk. Keep whisking until a roux forms about a minute. Gradually pour in the milk, keep whisking. Turn the heat to a medium low and keep whisking until slightly thickened about four minutes. 

Stir in the garlic powder, Italian seasoning, salt and pepper. Keep whisking. 

Remove the saucepan from the heat and stir in the Parmesan cheese. Taste again for seasoning. 

Next, take the sauce and spread it on top of the pizza crust leaving a one-inch border all the way around. Top the white sauce with shredded mozzarella and bake the pizza for about 15 to 20 minutes or until golden brown. 

Remove from oven and let cool slightly before topping with smoked salmon, red onion slices and arugula. Enjoy! 
Did you make this recipe?
Please leave a comment below and share a photo on Instagram with the hashtag #thecuriousplate!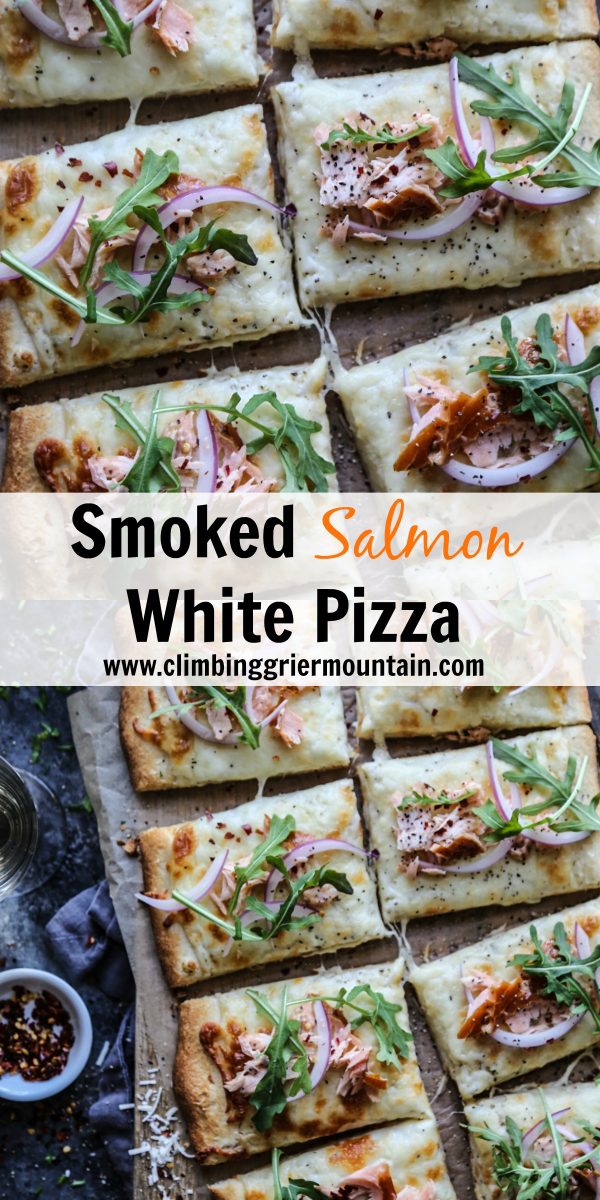 In conclusion, the Smoked Salmon White Pizza offers a savory, gourmet experience suitable for any occasion. Whether it's a casual weeknight dinner or a festive gathering, this flavorful pizza is sure to satisfy your cravings and impress your guests. Enjoy every cheesy bite!