squash & roasted cauliflower pasta with rosemary cream sauce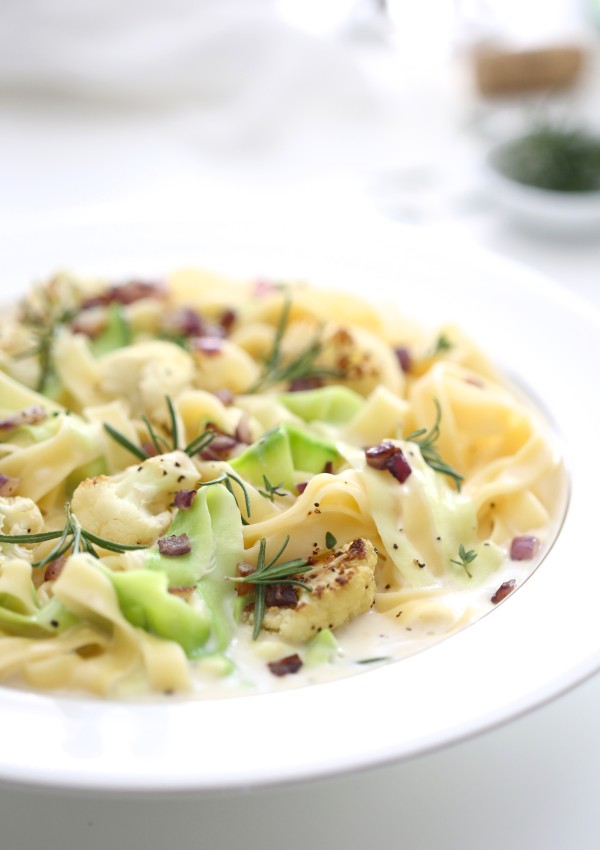 This time last week, I was in the delivery room.
Wait. Oh, not for me!! No, no, no, no, no.
Hey, if I was pregnant (I'm so not….sorry ma!) there is no possible way I could keep a secret like that from y'all. Plus, let's be real, you would all call bullshite because of the lack of #gigglejuice on Instagram. Am I right?
I was in the delivery room on a farm in Iowa to be exact. I honestly didn't know what to expect when it came to birthing a piglet. Apparently you don't need a fancy degree or a table full of instruments to "sleeve a sow." Who knew? All you need is a firm hand and a little courage to help pull out a piglet.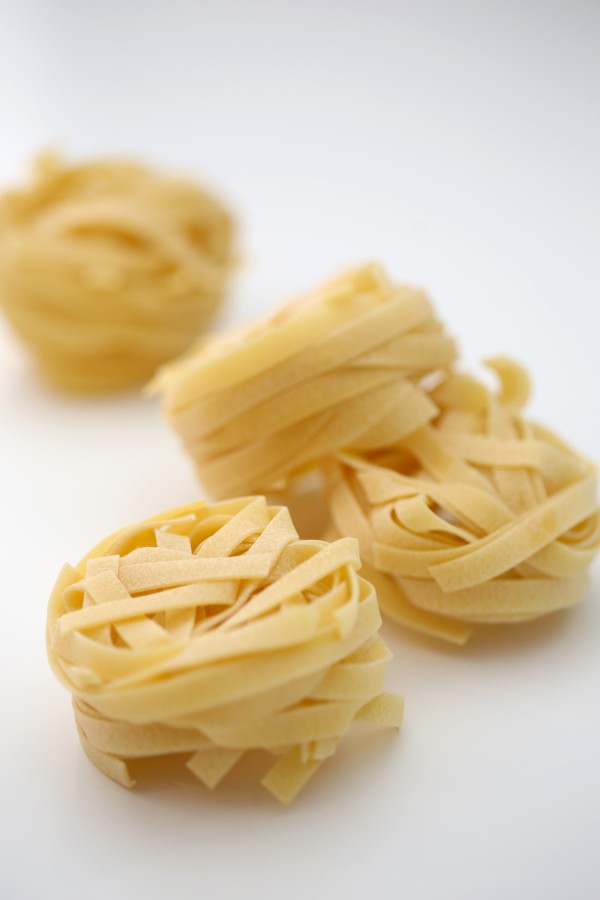 At first I was like there is no way in heck you are going to get me to stick my arm up a pigs hoo-hah. But after seeing a few other bloggers do it and they didn't fall over dead, I folded to peer pressure and sleeved-up. The whole pulling process doesn't take very long, which is good considering most litters average around 14 piglets. I stuck my arm in, felt around for a piglet, pulled gently, and BOOM. Hello, Wilbur!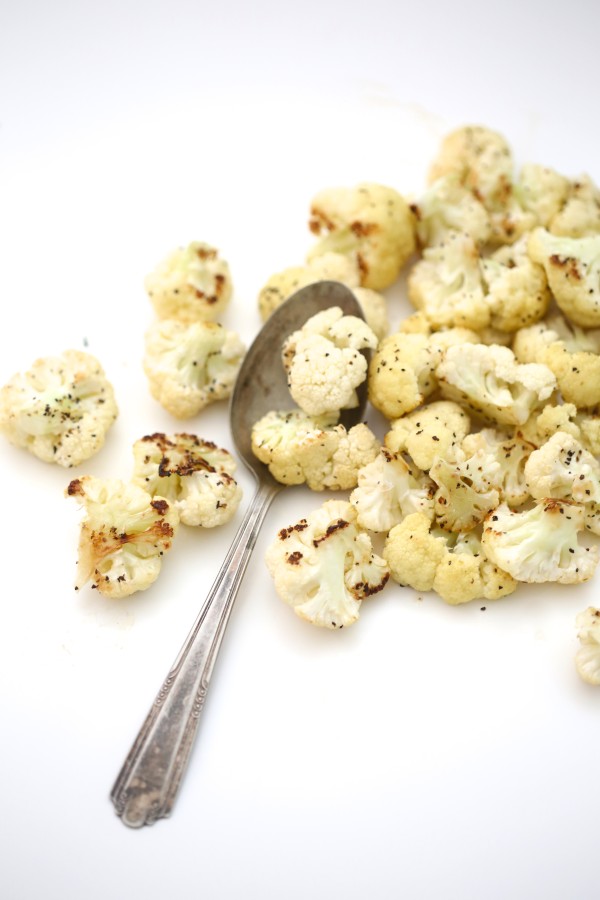 The whole process is pretty amazing and I am so glad I didn't chicken out. Because when is that chance ever going to happen again? So, to celebrate all that hard work, I made a carbalicious dish that is two-snaps up. This Squash & Roasted Cauliflower Pasta with Rosemary Cream Sauce is packed with super veggies and covered in my current favorite cream sauce. Note to self: use more rosemary! Also, throw in whatever noodles you'd like or add in some bacon for a heartier meal!
I'm telling you, it's three oinks up.
Send help.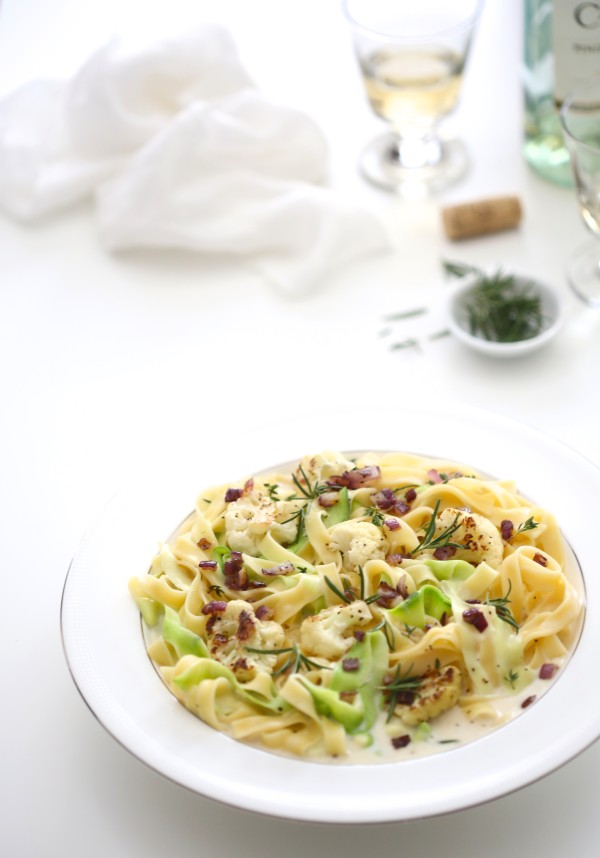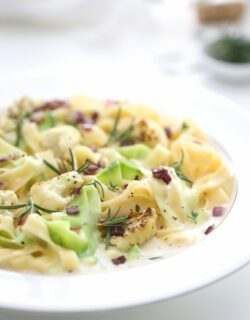 Squash & Roasted Cauliflower Pasta with Rosemary Cream Sauce
Ingredients:
1 small cauliflower, cut into florets
1 tablespoon olive oil
1 zucchini, shaved into ribbons
1 yellow squash, shaved into ribbons
2 cups fettutine noodles
3 tablespoons all-purpsose flour
3 tablespoons unsalted butter
1 1/4 cup whole milk
1/3 cup cream
1 teaspoon rosemary, chopped
1 teaspoon thyme
red onion, sliced thinly, garnish
salt and pepper to taste
Directions:
Preheat oven to 400 degrees. Line a baking sheet with foil and spray with non-stick cooking spray. Place the florets on the baking sheet and drizzle tops with olive oil, salt, and pepper. Bake for 15 minutes until golden brown.
Meanwhile, add water to a stockpot and bring to a boil. Add the fettucine and cook until al dente. Place the zucchini and squash in the bottom of the colander and drain the pasta over the zucchini & squash ribbons. Set aside.
In a large skillet preheated to medium heat, melt the butter. Add the flour and stir until a roux forms. Gradually add the milk and cream, whisking so the sauce stays smooth. Add the rosemary, thyme, salt and pepper. Once slightly thickened (should take about 3 to 4 minutes), add the noodles and zucchini. Toss to combine. Pour the noodles into a serving bowl and top with roasted cauliflower and red onion if desired. Serve immediately.
adapted from Cooking Light Magazine
All images and text ©