Turkey chorizo hatch chili
Embark on a culinary journey with our Turkey Chorizo Hatch Chili. Discover the perfect blend of lean turkey, spicy chorizo, and the bold flavors of hatch chilies in every hearty spoonful.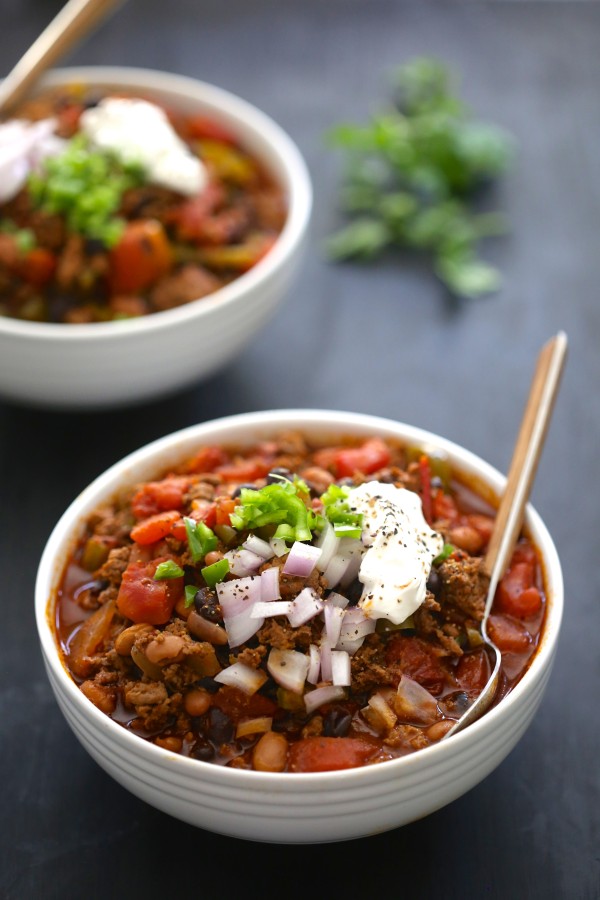 With October officially underway, can we PA-LEASE talk about Halloween?
It's my favorite holiday, yo.
Yes, Thanksgiving, Christmas, and 4th of July are up there in the mega fun category, but I'm telling you, Halloween is the best! Growing up my mom would start working on our Halloween costumes pretty early to get us in the spirit. One of my favorite costumes was being a Fly Girl from In Living Color? Remember that show?! Fun factoid: J-Lo was a Fly Girl.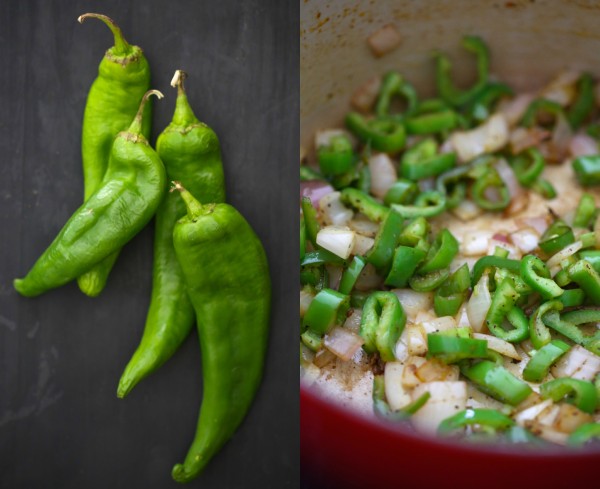 My mom would also start decorating the house with ghouls. goblins, and our famous stuffed dummy, Ferdinand. What? You didn't have a stuffed dummy growing up that you sat on the front porch the whole month of October? Just us? Sa-sweet. Besides decorating she would make big pots of chili, chicken noodle soup, and pumpkin bread. OH! And the best part, we would go on haunted hayrack rides, too!
If Halloween is low on your holiday favorite list, you should come spend the month of October with me, and I'll get you in the ghoulish spirit. Starting with this Turkey Chorizo Hatch Chili. Nothing screams (pun totes intended) fall and Halloween like a big batch of hearty chili. My mom would put on a big pot right before we went trick-or-treating as kids. Talk about fuel to keep us powered for hours of candy-hunting madness.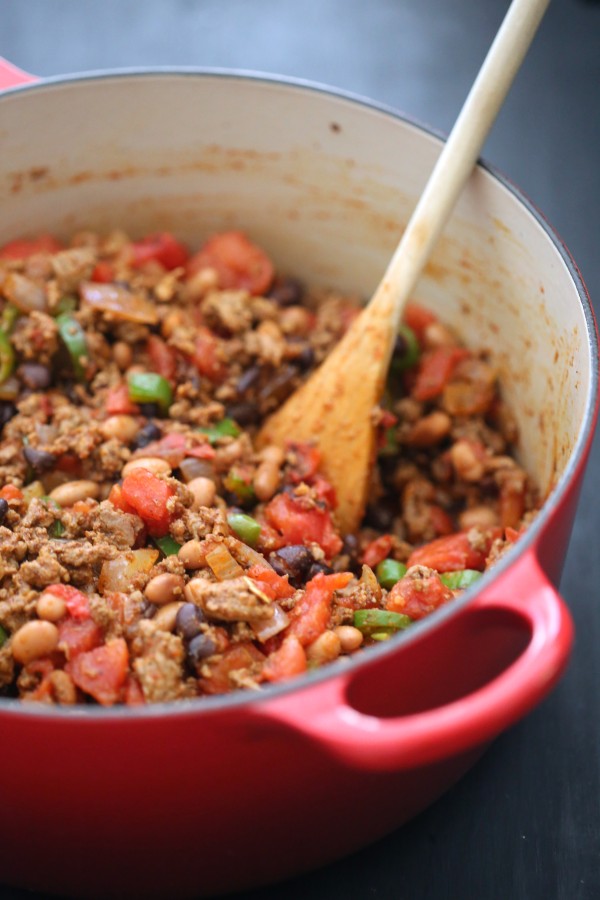 This version of chili still packs a ton of flavor with hatch chilies, but I kept it lighter with some turkey chorizo. You can use whatever kind of protein you like – ground beef, tofu, or chicken. Just don't skip on the hatch chilies because they are in season and the perfect addition to any chili.
Now, where is my Fly Girl costume? Wait……Ferdinand!!!!!!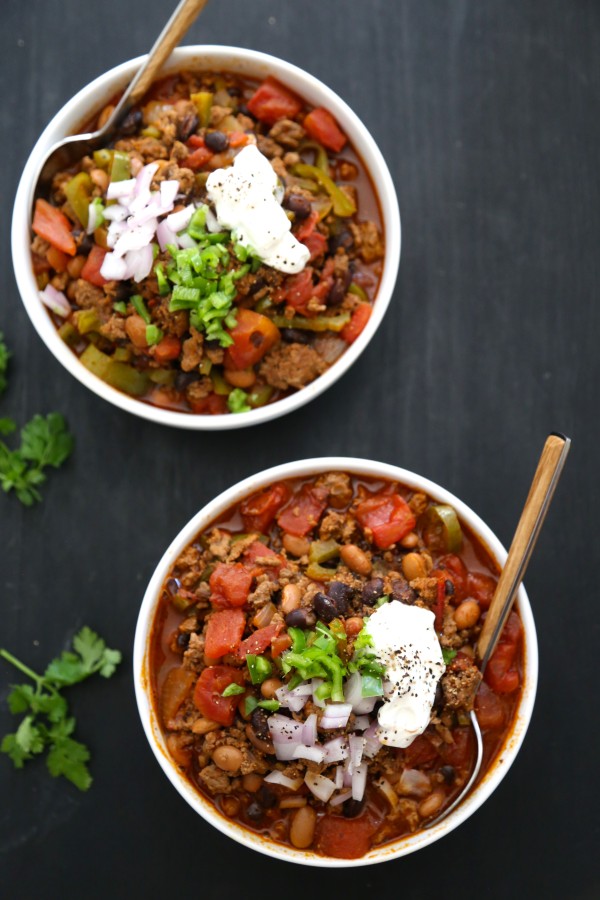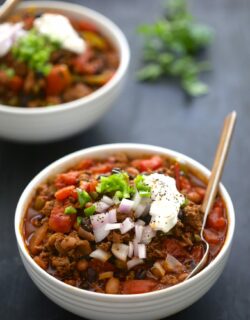 Turkey Chorizo Hatch Chili
Ingredients:
3 tablespoons olive oil
1 yellow onion, diced
2 garlic cloves, minced
1 1/2 pounds ground turkey chorizo
1 tablespoon chili powder
1 tablespoon cumin
1 teaspoon oregano
2 medium hatch chilies, deseeded, diced
1 28 ounce can fire roasted tomatoes, undrained
1 15 ounce can black beans, rinsed and drained
1 15 ounce can pinto beans, rinsed and drained
2 cups chicken stock
Red onion, diced, garnish
Sour cream, garnish
Jalapeno rounds, garnish
Cilantro, garnish
salt and pepper to taste
Directions:
In a large Dutch oven preheated to medium high heat, add the olive oil, onion, and garlic. Saute for a few minutes until soften. Next, add the chorzio and break it up with a wooden spoon. Add the hatch chilies, chili powder, cumin, oregano, salt and pepper. Stir to combine and continue to cook for another few minutes. Add tomatoes, black beans, pinto beans, and chicken stock. Bring to a boil and then simmer for at least 25 minutes. Serve with garnishes.
All images and text ©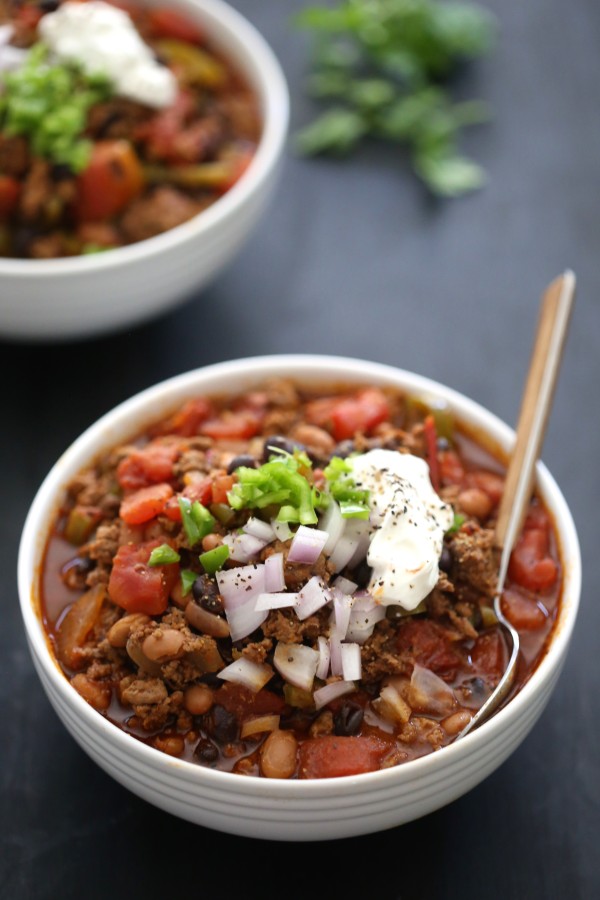 Conclude your savory adventure with our Turkey Chorizo Hatch Chili. A harmonious blend of lean turkey, spicy chorizo, and robust hatch chilies, every spoonful leaves a flavorful imprint of satisfaction.