Strawberry and Peach Tahini Cake
Strawberry and Peach Tahini Cake is an easy, delicious cake perfect for any occasion!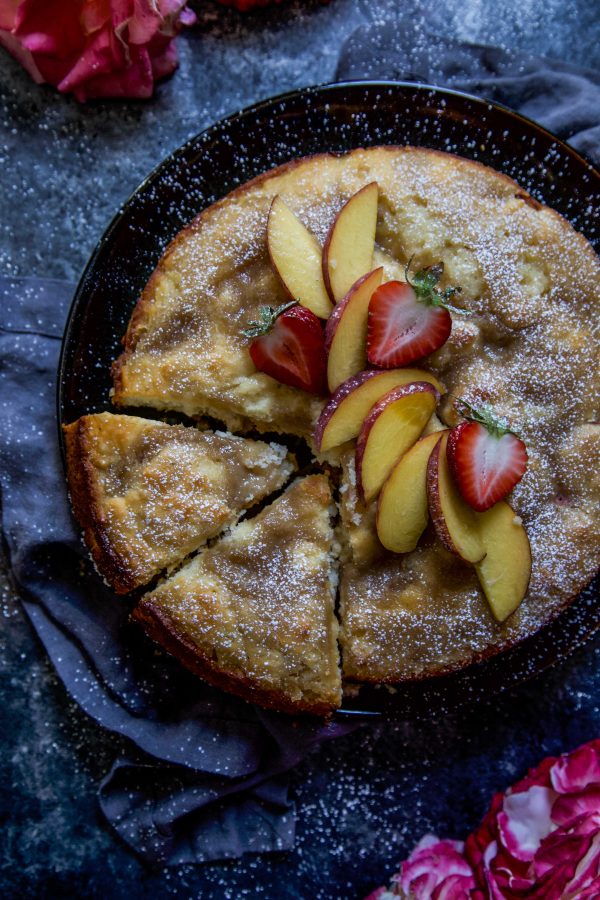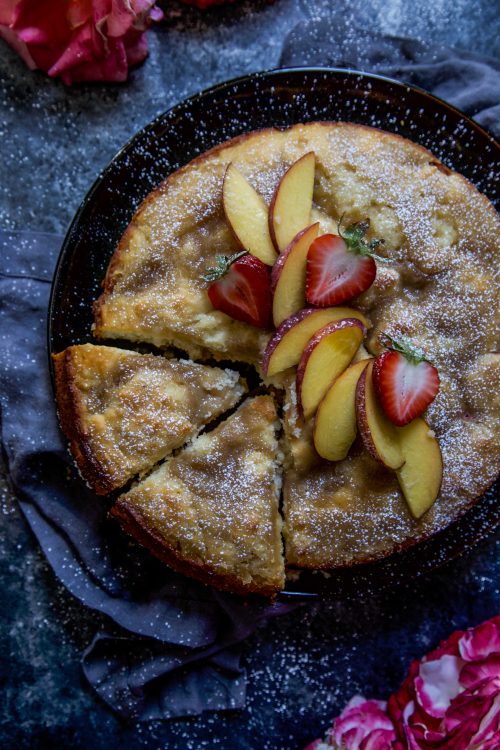 Mondays should come with cake.
Lots of cake.
Not just a slice. Oh, no. Give me the whole damn thing.
Now that summer is here we get to have things like cake for breakfast because, hello, all the fresh produce!! I know, I know, it's hard to contain the excitement. The options are endless – blueberries, peaches, cherries, strawberries, blackberries, lemons, limes, grapes, oh my!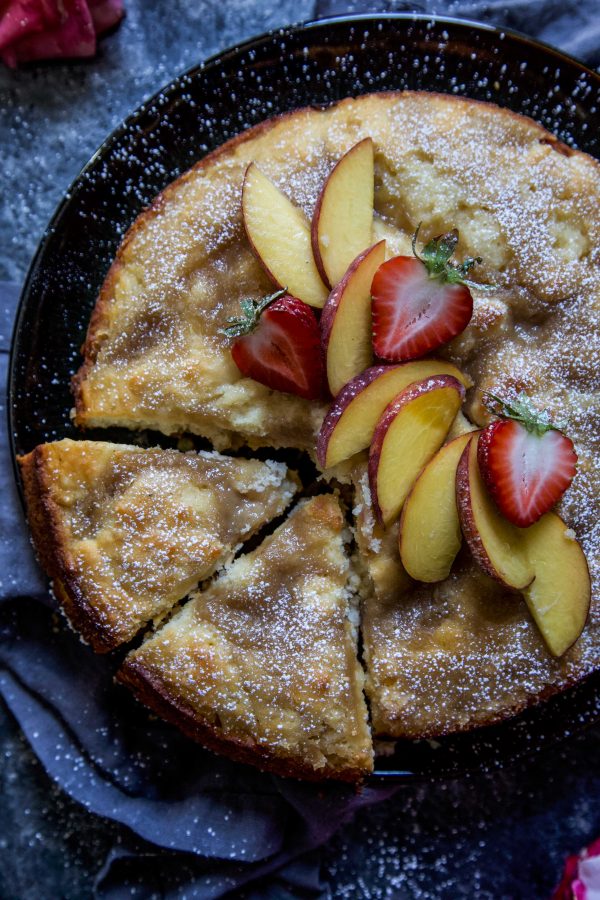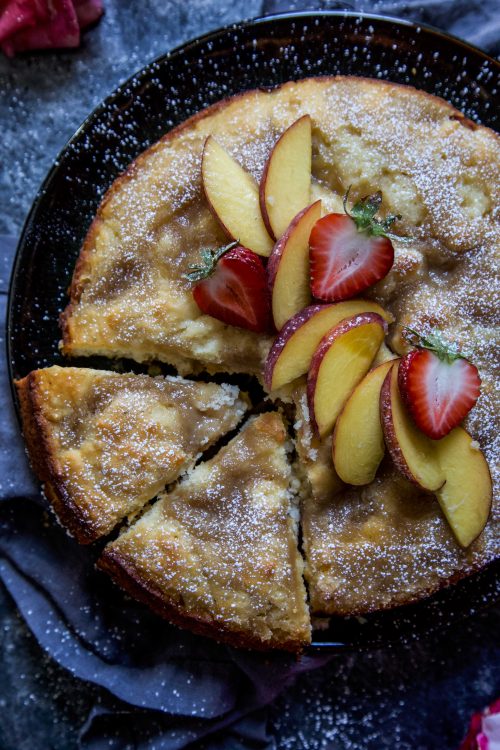 With that, I'm taking a cake I made last summer and giving it a new twist. Raise your hand if you adore strawberries and peaches?! Thought so. I feel like these two are old gal pals that whenever they get together get into a little trouble. Well, the best kind of trouble that is.
What I love about this Strawberry and Peach Tahini Cake is that it's whipped together in one bowl. Yep, one bowl. I mean, you basically have to make this cake like right meow.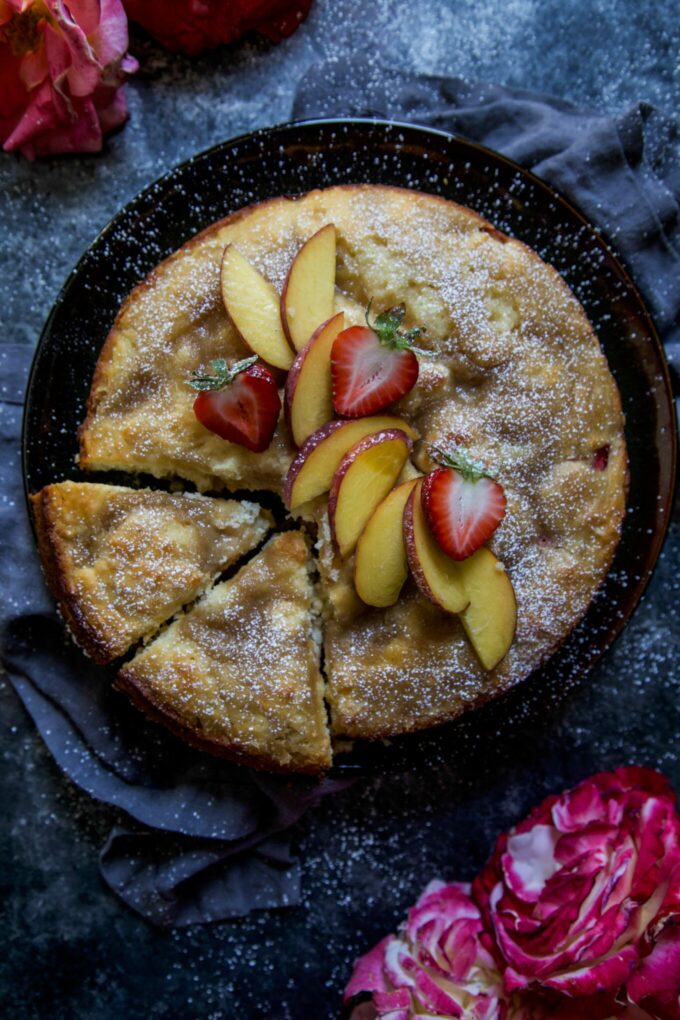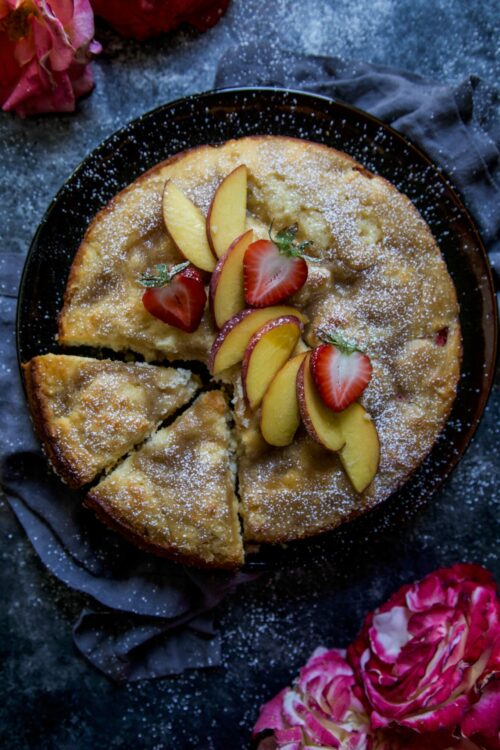 The batter is a simple mixture of flour, sugar, egg, lemon zest, Greek yogurt, strawberries, and peaches. Stir, pour and bake! You can definitely use whatever kind of produce you have on hand. Last year I used blackberries and blueberries which was an amazing combo!
So, what do you say? Let's kick Monday up a notch and make an entire effing cake! #chestbump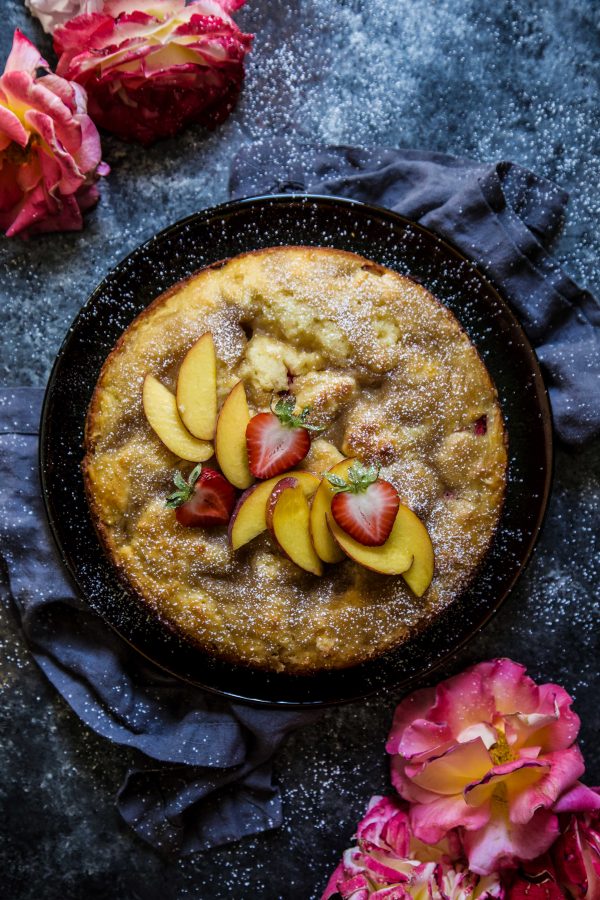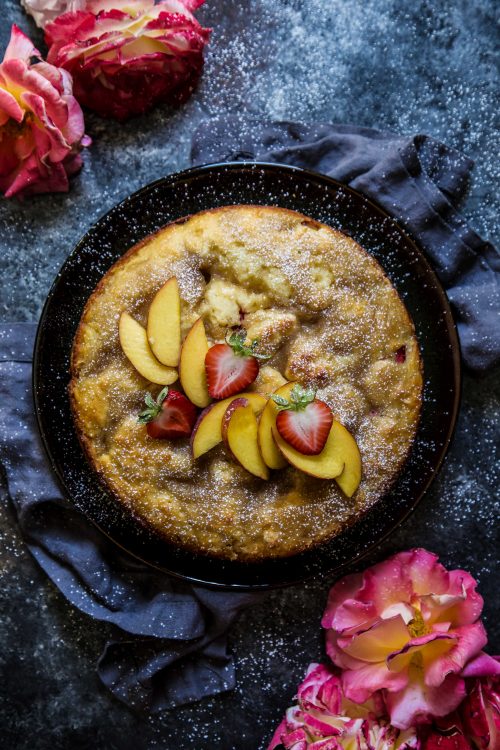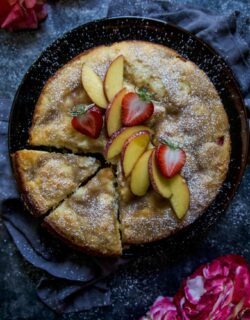 Strawberry and Peach Tahini Cake
Ingredients:
1 1/4 cups granulated sugar, divided
2 1/2 cups  all-purpose flour
2 tsp baking powder
1/2 tsp kosher salt
2 large eggs, whisked
1 cup plain Greek yogurt
1/2 cup vegetable oil
2 tsp lemon zest
1/2 cup fresh chopped strawberries + more for garnish
1 cup fresh chopped peaches + more for garnish
1/4 cup tahini
Confectioners sugar, for garnish
Directions:
Preheat an oven to 350 degrees.
Spray a 9-inch cake pan with non-stick cooking spray.
Meanwhile, in a large mixing bowl combine 1 cup sugar, flour, baking powder, and salt. Next, make a large well in the center of the bowl and add in the eggs, Greek yogurt, vegetable oil and lemon zest. Once combined, fold in the strawberries and peaches. Pour the batter into the prepared baking dish.
In a small mixing bowl add 2 tbsp granulated sugar, pinch of salt, and tahini. Mix to combine adding water if needed to make the tahini pourable. Pour the tahini over the cake and then sprinkle the remaining 2 tbs sugar on top of the tahini. Bake the cake for about 45 minutes or until a tooth pick inserted into the middle runs clean.
Remove the cake from the oven and let it cool before slicing. Dust each slice with confectioners sugar and serve.
All images and text ©