strawberry rhubarb mousse with meyer lemon whipped cream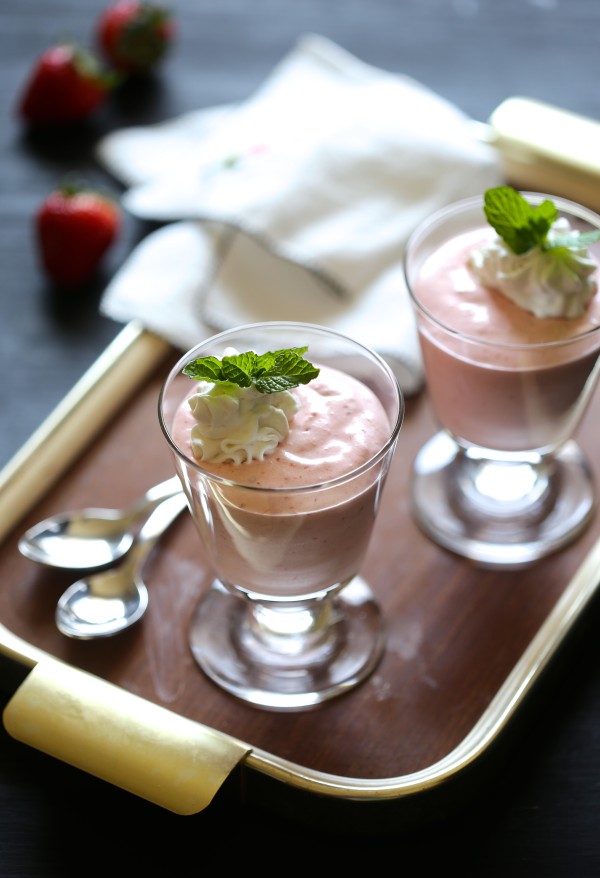 Always an after thought.
Well, at least for me.
Does anyone else feel like when spring rolls around you're all, "Ohhhhhh…..yeah, rhubarb. Forgot about that little fellow." One minute your pushing your grocery cart down the produce aisle and suddenly you think to yourself, I don't remember celery having a maroon hue. Then you proceed to palm slap your forehead and remind yourself, "Duh, it's effing rhubarb, yo."
Anyways, in these moments, I have to chuckle at myself because I just slapped my forehead in public without being carted off to the loony bin. Also, does anyone say yo anymore? Or did that die when Carson Daly left TRL? Please tell.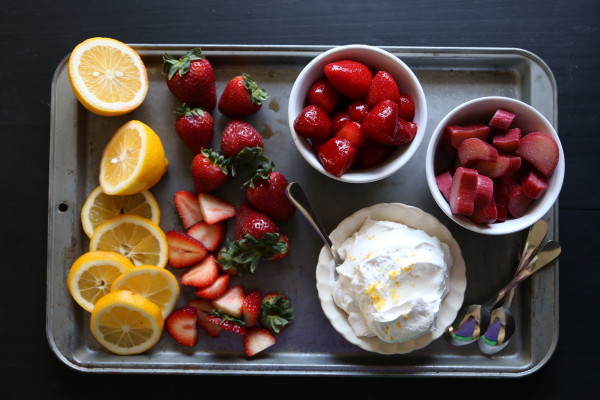 Shoot. Where was I going with this? Yes, rhubarb. I grew up in a sans rhubarb life. In fact, until I started cooking, I hadn't even tasted the trucker. GASP. There are many ways to eat rhubarb primarily in crisps, pies, or some sort of compote, but I say, why not put it in a mousse?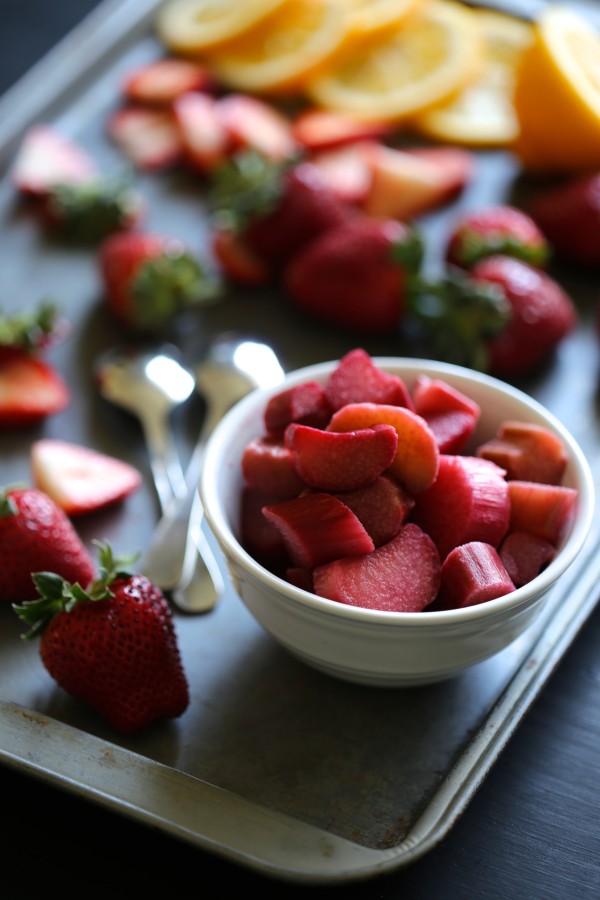 This is supercalifragilisticexpialidocious easy to make. Roasted strawberries and rhubarb, whipped cream, meringue mixed together and topped with a Meyer lemon whipped cream. You'll be all, "What is this celery you speak of?"
Seasonal Eating Series: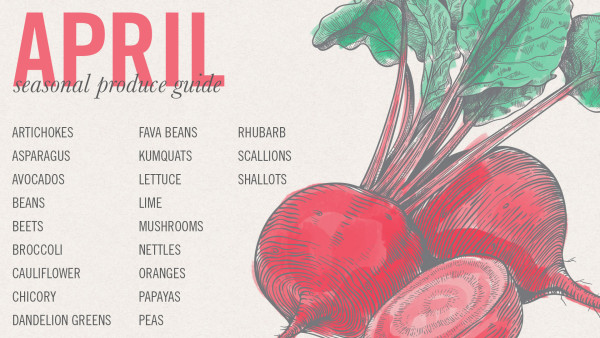 My talented and fantastic friend, Becky, author of The Vintage Mixer, is showing us that eating seasonally can be fun! Each month she provides a Seasonal Produce Guide, which you can save on your iPhone or desktop so you can get in the seasonal eating spirit.
Not only does she provide a beautiful illustration each month like the one above, you can also join me and a few fabulous food bloggers who are serving up seasonally inspired recipes. Follow us on Instagram and tag your photos with the #eatseasonal hashtag!
Roasted Broccoli Stuffed Shells Recipe by Vintage Mixer
Tangy Quinoa Spring Salad Cups by Simple Bites
Curry Asparagus & Cauliflower Rice by Cookin' Canuck
Healthy Key Lime Pie Smoothie by Bless This Mess
Roasted Asparagus with Caramelized Onions and Pine Nuts by Well Plated
Chicken Rice Stew with Leeks and Mushrooms by Cafe Johnsonia
Asparagus with Chive Vinaigrette by Project Domestication
Rhubarb Vanilla Bean Scones by Completely Delicious
Quinoa and Pea Shoot Salad with Cauliflower, Asparagus and Strawberries by Floating Kitchen
Garlic Mushroom Salad with Arugula and Wild Rice by Mountain Mama Cooks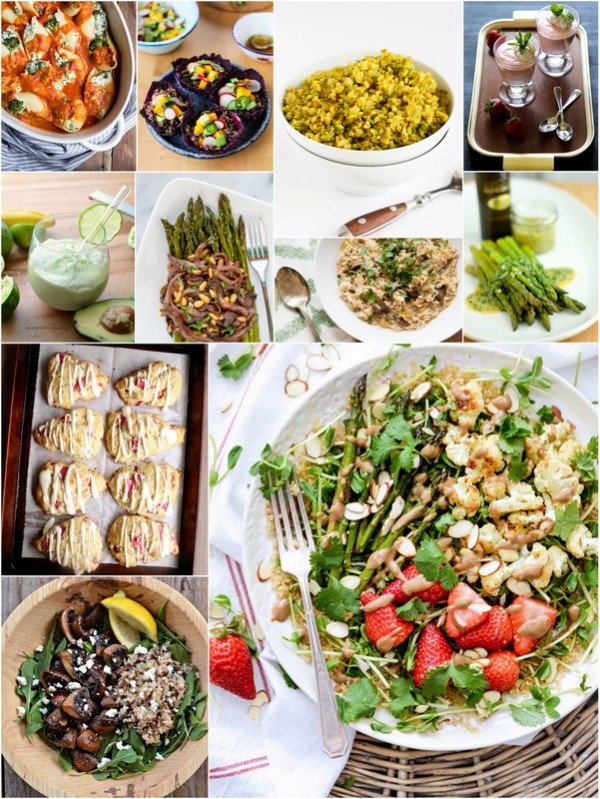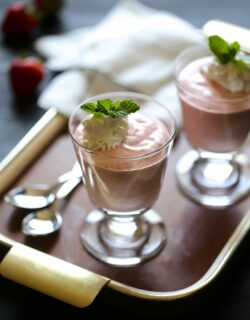 Strawberry Rhubarb Mousse with Meyer Lemon Whipped Cream
Ingredients:
for the mousse:
1 1/2 cups strawberries,cleaned, halved (leave a few for garnish)
1 1/2 cups frozen or fresh rhubarb (sliced if using fresh)
1 lemon, zested and juiced
1/4 cup honey
1 tablespoon butter, diced
1 1/2 cups whipped cream
Fresh mint, garnish
for the meringue:
3 egg whites
1/4 teaspoon cream of tartar
3/4 cup sugar
for the meyer whipped cream:
1 cup heavy whipping cream
1 tablespoon meyer lemon juice
2 tablespoons granulated sugar
1 teaspoon lemon zest
Directions:
for the mousse:
Preheat oven to 350 degrees. Spray a 9X13 baking dish with non-stick cooking spray. Place strawberries and rhubarb in the baking dish. In a separate bowl, combine lemon juice, zest and honey. Pour sauce over strawberries and rhubarb making sure that everything is evenly coated. Sprinkle butter on top. Roast strawberries and rhubarb for about 30-40 minutes. Remove from oven, cool completely. Once cool, strain strawberries and rhubarb through sieve; saving liquid if desired. Place strawberries and rhubarb in food processor and puree. To assemble:
in a large bowl, place 1/2 cup of the strawberry/rhubarb puree. Fold in a 1/3 cup of the meringue. Add more puree if necessary and keep folding meringue gently until all added.Gently fold in the 1 cup whipping cream. To serve; pipe mousse into serving glasses and top with meyer lemon whipped cream and garnish with fresh mint.
for the meringue:
In a stand mixer with a whisk attachment, place eggs and cream of tarter. Whisk until frothy. Slowly add the granulated sugar. Beat on high until stiff peaks appear.
for the meyer whipped cream:
In a stand mixer with a whisk attachment, whisk the heavy whipping cream, sugar, lemon juice and zest until medium peaks form. Set aside until ready to garnish.
All images and text ©