sweet potato bites with apple cider brussel sprouts & cranberry gastrique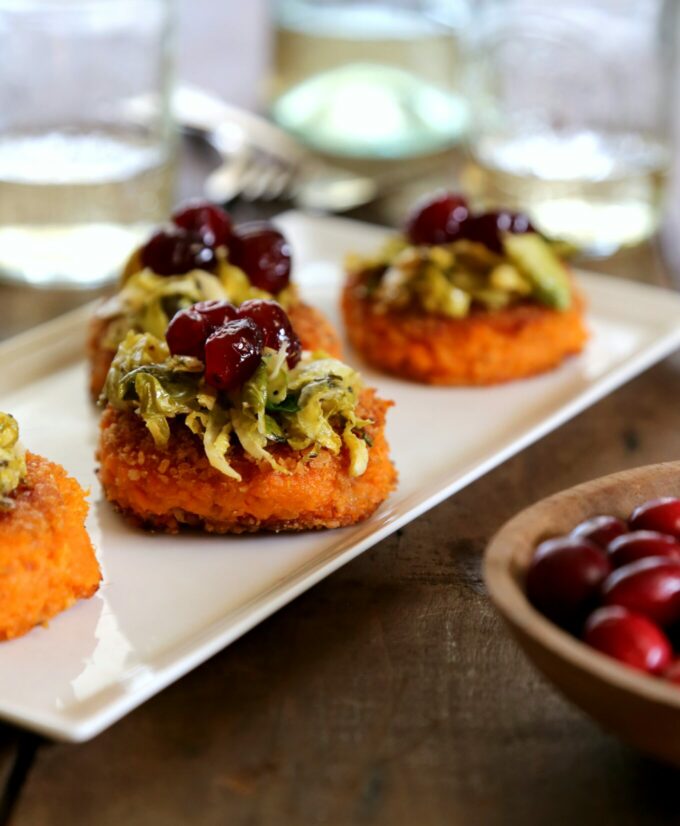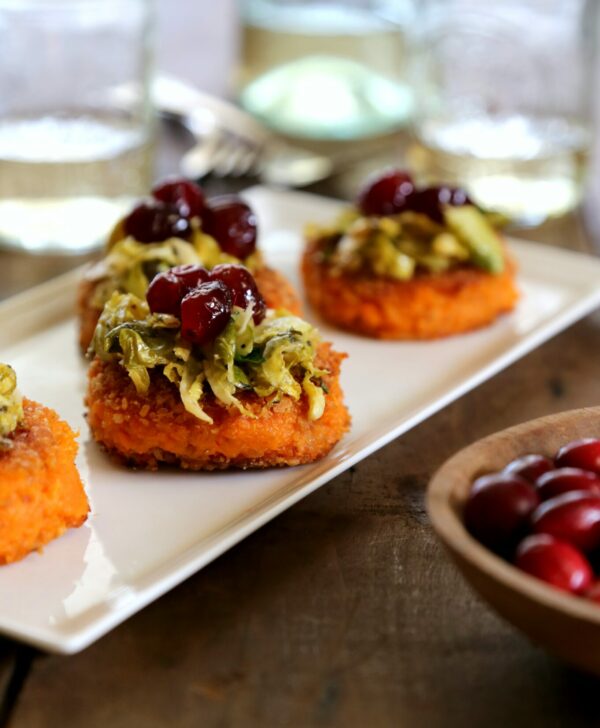 Tomorrow is Christmas Eve.
Growing up, I always looked forward to the night before Christmas. I have very fond memories of going to Mass in the evening (even if I kicked and screamed all the way because I hated wearing dresses, MA!) and heading over to my grandparents' house for dinner. Dinner was nothing fancy. We would order a couple of pizzzza pies from Pizza Hut and chit-chat around the table.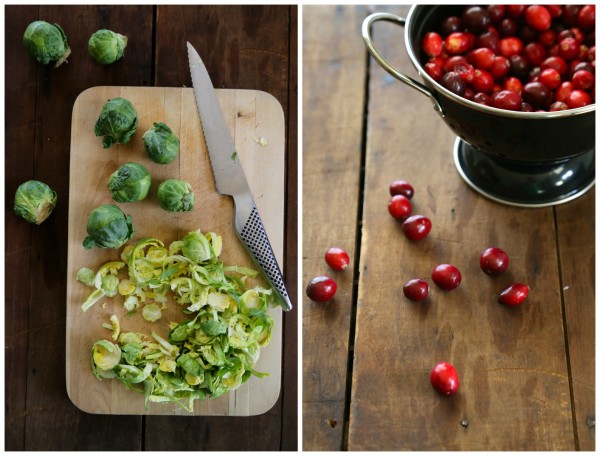 Besides getting to open presents the night before Santa arrived, my Uncle Mike, who is a wonderful artist and quite hysterical, would draw cartoon characters for my brothers and me. The characters would be different every year and we anxiously waited to see what kind of mischief they would find themselves in.
I really enjoy the simplicity of Christmas Eve.  The world begins to settle down after going a zillion miles an hour since Black Friday.  It's the one night of the year where everything comes together and I experience the true magic of Christmas.  I just want to pause Christmas Eve so I can take it all in.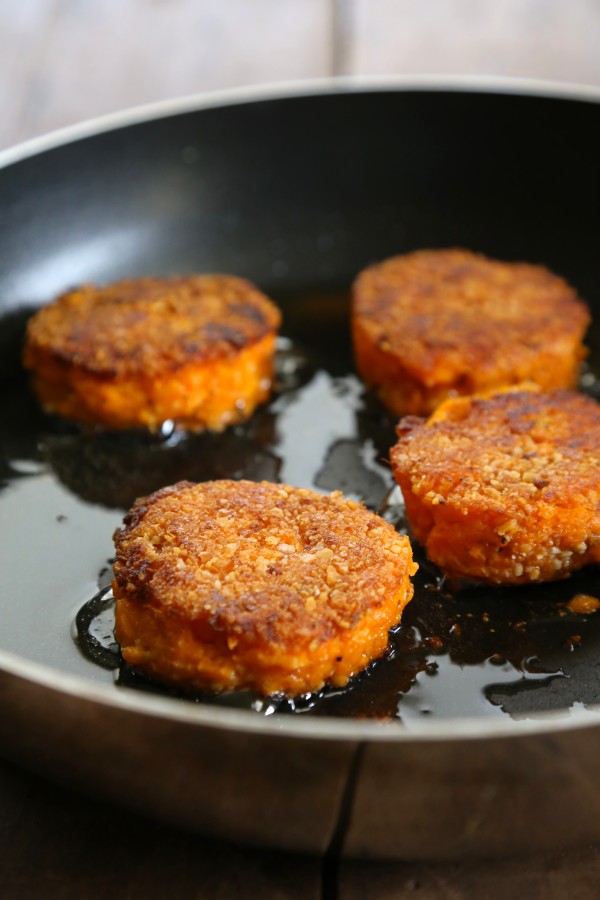 And when I say take it all in, I'm including food in that Christmas circle of love. These sweet potato bites with apple cider brussel sprouts and cranberry gastrique will make you pump the brakes. The bites do require a little labor of love, but are packed full of holiday magic. I bet you can't eat just one.
Merry Christmas, friends!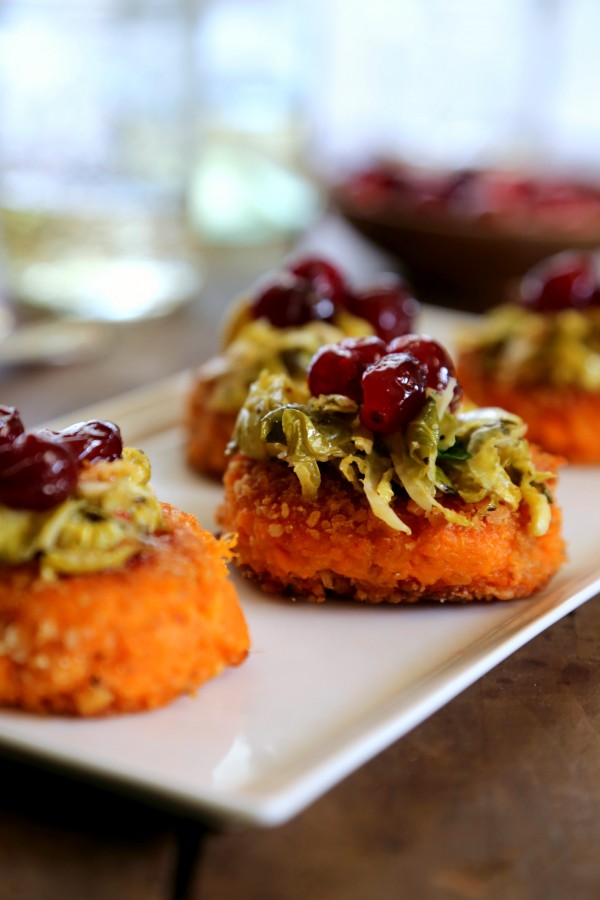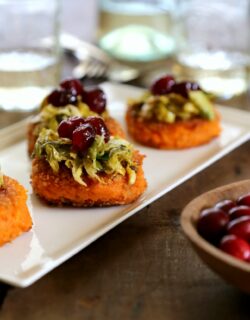 Sweet Potato Bites with Apple Cider Brussel Sprouts & Cranberry Gastrique
Ingredients:
for the sweet potatoes:
3 medium sweet potatoes
3 cups panko breadcrumbs
1 egg
pinch nutmeg
pinch of salt and pepper
1 tablespoon vegetable oil
for the brussel sprouts:
1 pound brussel sprouts, shredded
1 tablespoon olive oil
2 tablespoons apple cider vinegar
1/3 cup water
salt and pepper to taste
for the cranberry gastrique:
3/4 cup fresh cranberries
3/4 cup granulated sugar
1 cup red wine vinegar
1/4 red wine
Directions:
for the sweet potatoes:
Preheat oven to 400 degrees. Poke holes all over the sweet potatoes using a fork. Place on a baking sheet and bake for about an hour until cooked through. Remove from oven, let it cool, and then remove skin. Mash the potatoes in a large bowl. Add the egg, 1/2 cups panko, nutmeg, and s&p. Stir to combine. In another bowl add the remaining panko breadcrumbs. Take the sweet potato mixture and form 2 inch patties. Dredge the sweet potato patty in the breadcrumbs. Repeat until all the sweet potato mixture has been used. Preheat a skillet to medium heat, add the vegetable oil. Fry the sweet potato patties in the vegetable oil about 2 minutes on each side. Remove from skillet and place on a plate covered with a paper towel until ready to top with brussel sprouts and cranberry gastrique.
for the brussel sprouts:
In medium skillet preheated to medium-high heat, add the olive oil, brussel sprouts, and s&p. Saute the brussel sprouts for a few minutes. Add the water and apple cider vinegar. Continue cooking until the brussel sprouts have soften. Set aside to cool slightly.
for the cranberry gastrique:
In a medium saucpean, add all the ingredients. Bring to a boil and then reduce to a simmer for at least 15 minutes or until reduced by half. Remove from heat and strain through a mesh sieve. Set aside solid cranberries and pour the liquid into a dispenser.
to serve: place a sweet potato bite on a plate, top with brussel sprout, a sold cranberry and pour gastrique over the top. serve immediately.
cranberry gastrique recipe from Girl and The Goat
All images and text ©