Sweet Potato Moroccan Lamb Bowls
***This post was sponsored by the American Lamb Board. As always, all opinions expressed are 100% my own.*** "Savor the exotic aromas and flavors of our Sweet Potato Moroccan Lamb Bowls, a culinary journey to Morocco."
Comfort food.
Is there anything better?
Well, today's recipe is definitely a bowl of comfort with an international twist. These Sweet Potato Moroccan Lamb Bowls are packed with spices like cumin and cinnamon. Loaded with veggies like fennel and red onion. BUT! What makes these Moroccan bowls shine is the boneless lamb shoulder.
What is a boneless lamb shoulder?
A boneless lamb shoulder or lamb stew cubes come from the forequarter of the lamb and as the name suggests comes from the shoulder area. It's also a competitive cut which means the price point will dish out some savings!
How can I cook it?
Diced lamb shoulder is great for stews, casseroles, or curries. BUT! You can also use it in quick cooking meals which is how I prepared today's Sweet Potato Moroccan Lamb Bowls.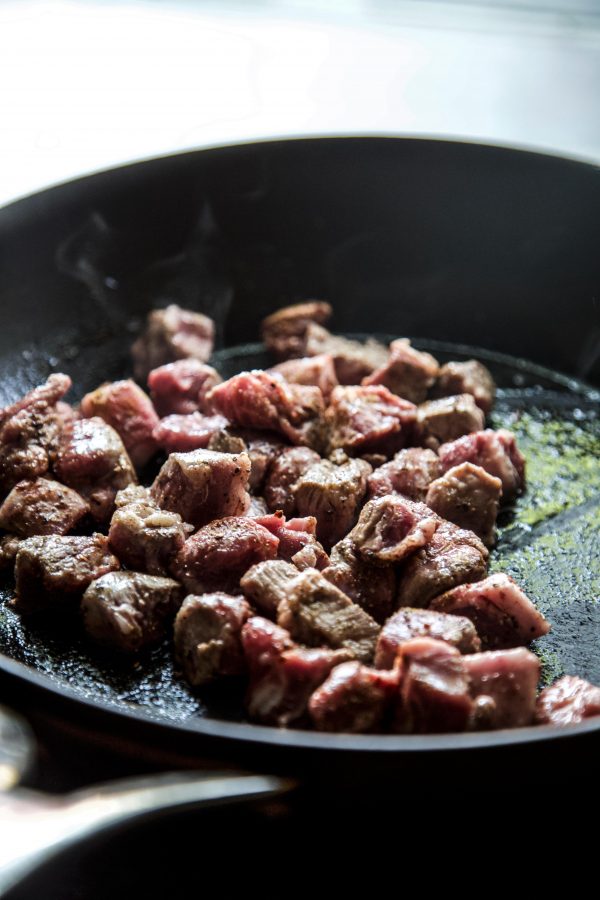 Tips for Cooking:
– Remove your lamb shoulder from the refrigerator at least 30 minutes before cooking
– Make sure you cut the lamb into one-inch cubes so it will ensure even cooking time
– Get a skillet hot, add oil, and then place a few cubes into the skillet . This will ensure the pan's heat doesn't drop and you'll get that nice crispy, golden lamb cubes.
Once you've got your lamb cooked you will assemble your bowls!
Can you dice your sweet potatoes?
Yes! You can slice, dice, or stuff the sweet potatoes with lamb and veggies. I chose to slice the sweet potatoes for a festive look!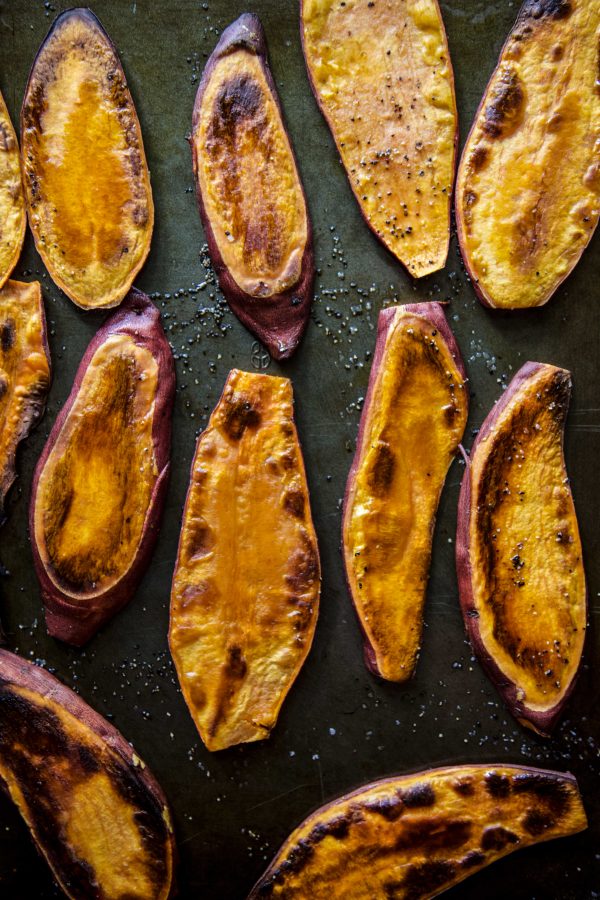 Substitutes for fennel
If you don't like fennel you can definitely swap it for green or red cabbage. Sliced white onion would be delicious on top of the lamb as well!
For more information about American Lamb make sure to check out the American Lamb Board website!
More Lamb Recipes to Enjoy:
Sweet Potato Moroccan Lamb Bowls
Ingredients
2 large sweet potatoes, sliced into 1/4-inch slices
olive oil
salt and pepper to taste
1 pound boneless lamb shoulder, cut into 1-inch cubes
1 tsp ground cumin
½ tsp ground cinnamon
1 tsp crushed red pepper flakes
1 small fennel bulb, sliced thinly
½ red onion, thinly sliced
¼ cup apple cider vinegar
½ cup Labneh
Fresh mint, for garnish
Instructions
Preheat your oven to 400 degrees. Spray a baking sheet with non-stick cooking spray. Place the sweet potatoes on a baking sheet and drizzle with olive oil, salt, and pepper. Cook the sweet potatoes for about 20 to 25 minutes (flipping halfway through) or until golden brown. Remove from the oven and set aside

Meanwhile, preheat a skillet with a lid to medium-high heat. Add olive oil to the skillet and then the lamb. Sear the lamb for a few minutes on each side then add in the cumin, cinnamon, red pepper flakes, salt, and pepper. Stir to combine. Cover the skillet with a lid. This will help lock in the flavor and make sure the lamb doesn't dry out. Keep the lid on for about 7 to 10 minutes and then remove the lamb from the skillet and set aside on a plate.

In a bowl combine fennel, red onion, and apple cider vinegar. To serve: place three sweet potato slices on a plate. Top with lamb cubes, fennel mixture, a dollop of labneh, and fresh mint. Repeat process for remaining plates.
Did you make this recipe?
Please leave a comment below and share a photo on Instagram with the hashtag #thecuriousplate!