Tex-Mex Smoked Brats with Cilantro Slaw
Tex-Mex Smoked Brats with Cilantro Slaw are a juicy and flavorful meal that is quick to make during any night of the week!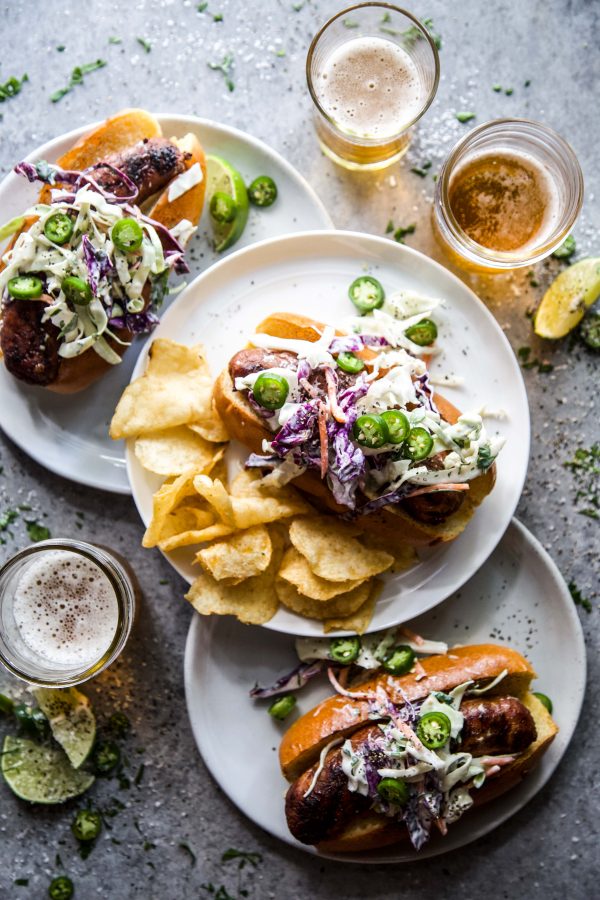 Raise your hand if you like baseball?
Growing up I loved going to the ballpark with my dad and watching America's favorite pastime. The lights, the cheers, and of course, the food! My dad always treated us to something when we attended a baseball game. Nachos and popcorn were always a hit.
However, you can't beat a good old fashioned brat! Load me up with all the fixings too. Well, today's recipe is my inspiration for what I would definitely consume while watching The Rockies play. These Tex-Mex Smoked Brats with Cilantro Slaw are flavorful and so juicy.
Packed with a little heat these brats will have you hitting a home run all year long! The best part? This whole meal comes together in 20 minutes. Shall we dive in?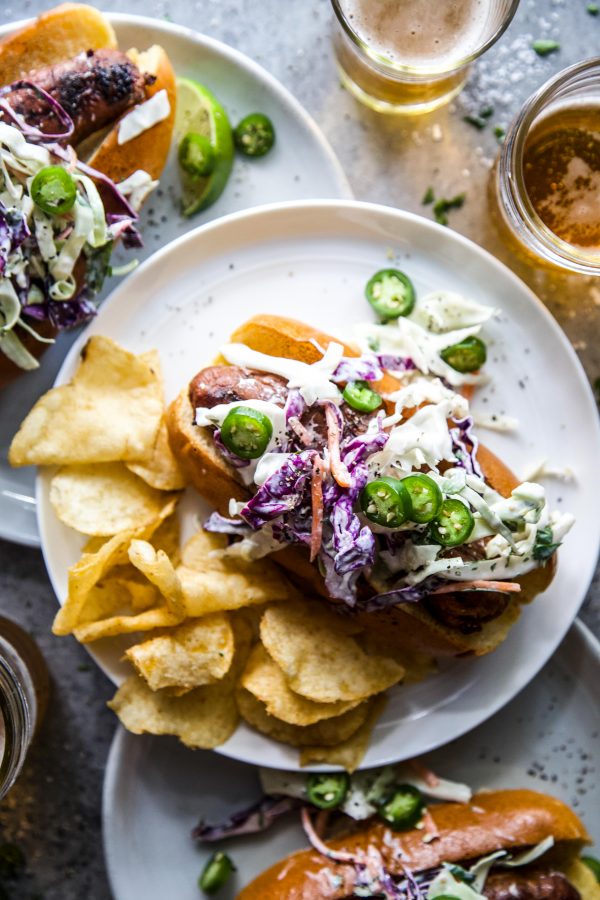 What's in these Tex-Mex Smoked Brats with Cilantro Slaw?
Whenever I grill, I like to keep the ingredients simple. You get so much flavorful from the smoke and fire that you don't need to fuss a whole lot of preparation. For this recipe you will need:
4 to 6 jalapeno stuffed brats (or any variety)
4 to 6 brioche hot dog buns
Bag of coleslaw mix
Sour cream
Salsa verde
Fresh Cilantro
Lime juice
Fresh jalapenos, for garnish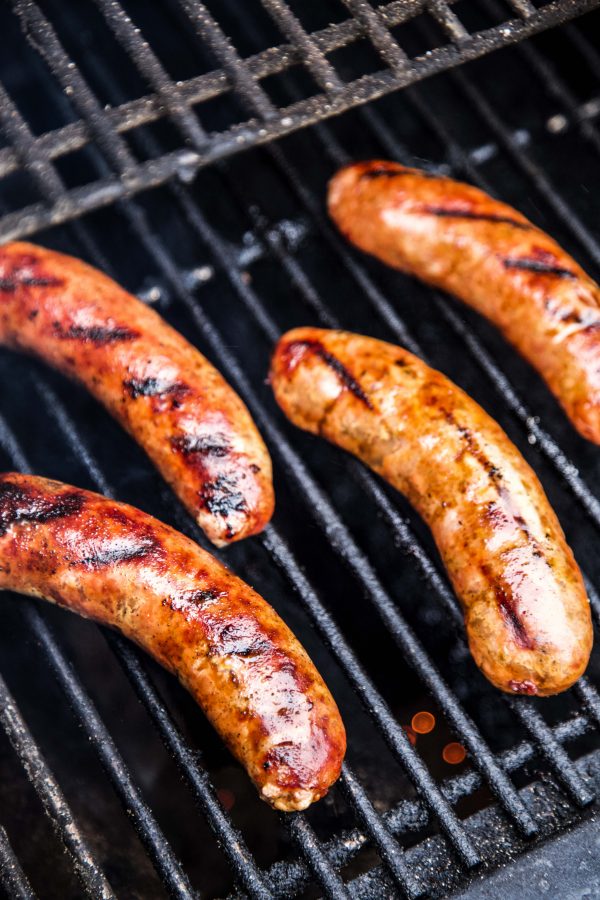 Tips for Making Tex-Mex Smoked Brats with Cilantro Slaw:
1) Brat. You can use any type of brat you find at the grocery store. However, if you can find brat stuffed with jalapenos, chiles, or chorizo flavors that would be ideal.
2) Brat Cooking Temp. Grilling brats is very easy. The max time depending on your grill takes about 10 to 15 minutes. The desired internal temperature you are looking for is 160 degrees.
3) Cilantro Slaw. This is a great topping to make a day ahead. The longer it sits in the fridge the more the flavors will have a chance to blend together.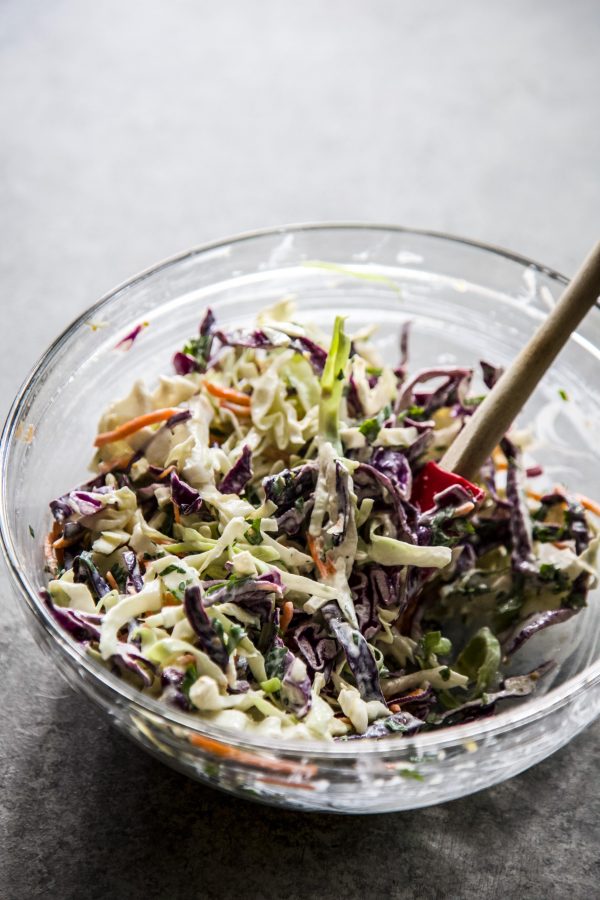 4) Grilling 101. Before you grill anything make sure your grates are clean! Nobody wants leftovers on their freshly grilled meal!
Can I make these Low Carb?
You bet! Simply serve the brat without the bun and top with extra cilantro slaw!
Not a cilantro fan. Any substitutes?
A great substitute for cilantro is parsley! Of course, please feel free to add in more herbs like basil!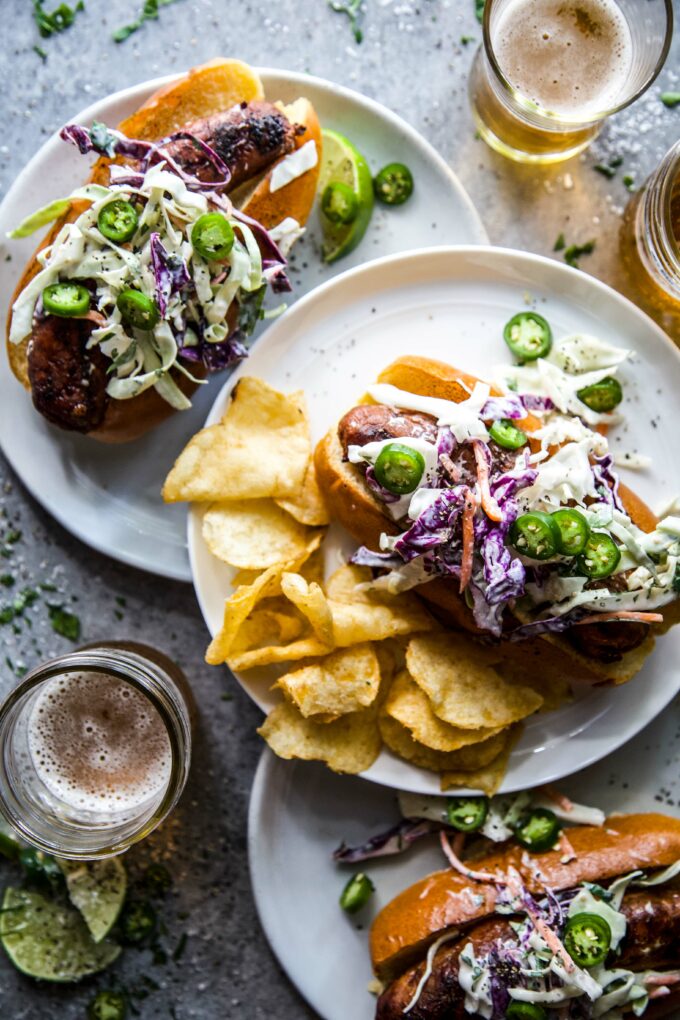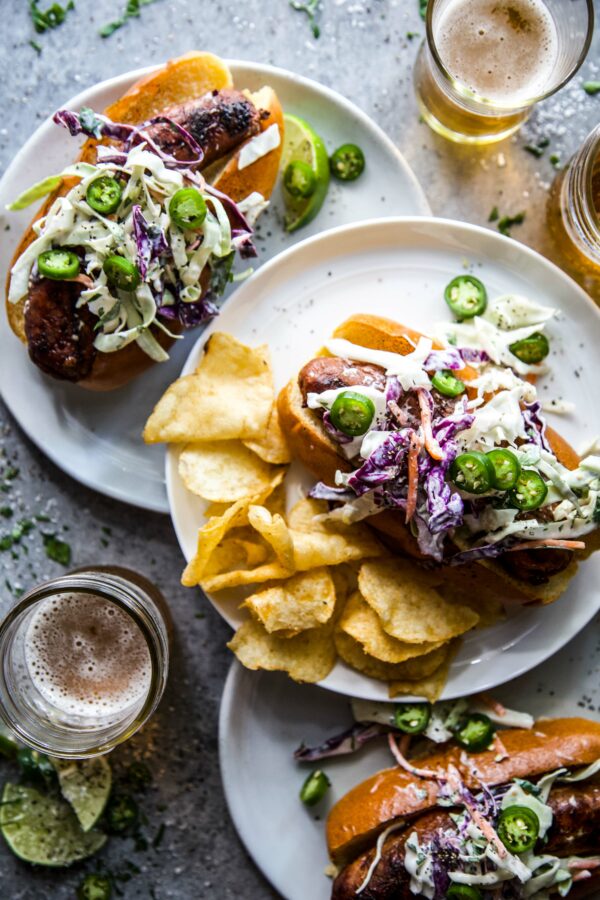 More Delicious Brat Recipes to Enjoy: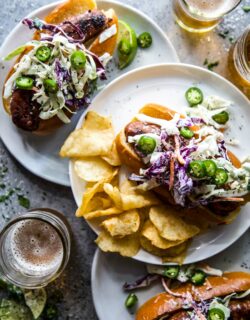 Tex-Mex Smoked Brats with Cilantro Slaw
Ingredients:
4 uncooked jalapeno or basic beer brats
4 brioche hot dog buns
2 cups coleslaw mix
1/3 cup sour cream
1/3 cup salsa verde
1/4 chopped fresh cilantro
2 tsp lime juice
salt and pepper to taste
jalapeno rounds, for garnish
Directions:
Preheat your grill to medium-high heat. Place the brats on the grill and grill for about 10 to 15 minutes or until the center of each brat reaches 160 degrees. If you would like go ahead and toast the brioche buns on the grill too.
Next, in a large bowl combine coleslaw mix, sour cream, salsa, cilantro, lime juice, salt, and pepper.
Serve the brats in the buns and top with cilantro slaw and jalapeno rounds.
All images and text ©