Grilled Steakhouse Lamb Pizza
***This post is in partnership with the American Lamb Board. As always, all opinions expressed are 100% my own.***
Summer is here, friends!
Or should I say summer HEAT is in full effect.
I don't know about you, but once those temperatures start to hang around, I want to bid adieu to my oven.
The best way to combat the heat is by making meals on the grill. There is nothing better than walking into my backyard, firing up the grill, cooking a delicious meal, and having zero dishes to wash.
Well, today's recipe combines two my favorite things that I love to grill: American Lamb Shoulder Chops and Pizza. When you combine these two you get this Grilled Steakhouse Lamb Pizza! Just think, all the flavors of a fancy steakhouse meal right in your home. Sound to good to be true? I say we dive in and see how to make this ultimate steakhouse pizza!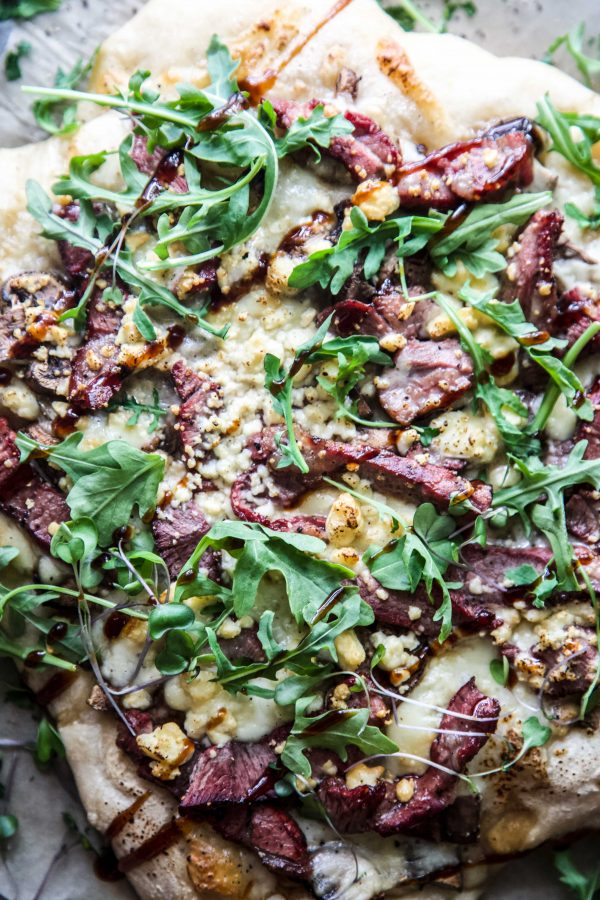 What's in this Grilled Steakhouse Lamb Pizza?
The key to making this pizza an 11/10 situation is the lamb! Let's chat real quick about the cut of lamb you will need to make this pizza.
Have you ever tried lamb shoulder chops? The lamb shoulder chop requires significantly shorter cooking than other cuts of lamb. The easiest way to prepare these lamb shoulder chops is grilling them over high heat. Cooking lamb outdoors on the grill is simple, delicious and adds adventure to your backyard BBQ.
Once you've grilled the lamb shoulder chops to an internal temperature of around 145 degrees Fahrenheit with a three minute rest, you will need to let them rest to finish cooking. This simple step will allow the flavors to combine. From there you will thinly slice the chops to add on top of the pizza.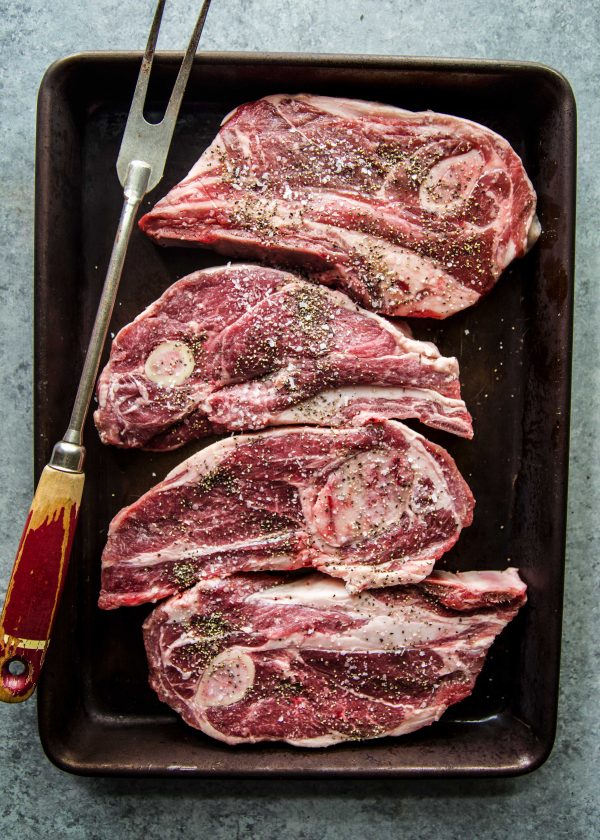 I know it may sound like an extra step, but the flavor you will get from the grill with these lamb shoulder chops is top notch. The rest of the ingredients are below:
1.5 lbs lamb shoulder chops
Pizza dough
Blue cheese
Mushrooms
Mozzarella
Arugula
Balsamic Glaze
Tips for Making the Grilled Steakhouse Lamb Pizza:
1) Lamb Shoulder Chop. Make sure to bring your lamb to room temperature for at least 1 hour prior to cooking. This simple step will help bring out more flavors of the lamb and ensure even cooking.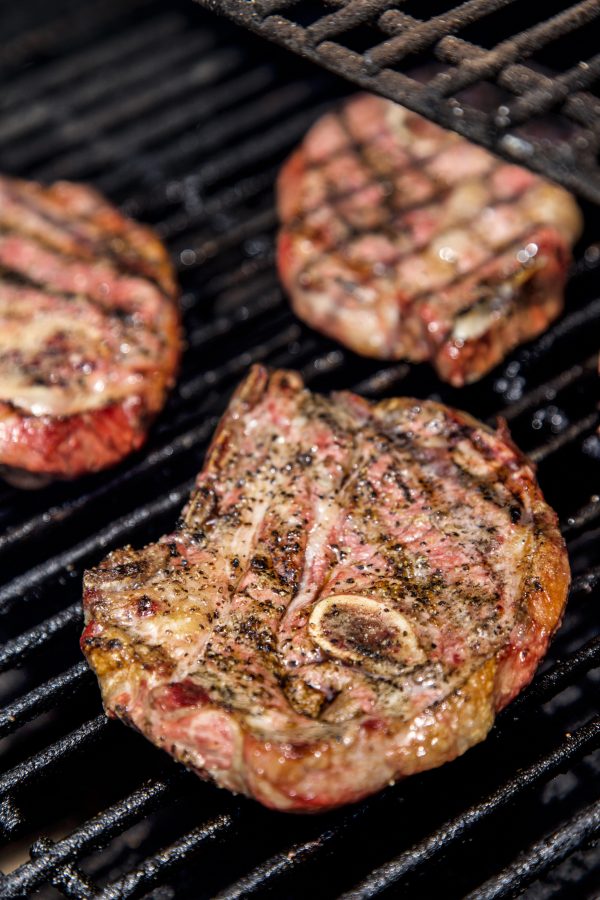 2) Pizza dough. If you want to save yourself a step during the cooking process you can certainly use store-bought pizza dough. Before you add the toppings, I would recommend rubbing some cornmeal on the bottom of the dough to help prevent it sticking to the grill grates!
3) Balsamic Glaze. To keep it simple, you can purchase ready-to-go balsamic glaze at the grocery store. It's always kept in the salad dressing aisle.
Where did you source your American Lamb?
I found my American lamb shoulder chops at Whole Foods. Most butcher shops will carry lamb, but you might need to order ahead of time so be prepared! Be sure to ask for American Lamb and if you need help finding a source you can always contact the American Lamb Board!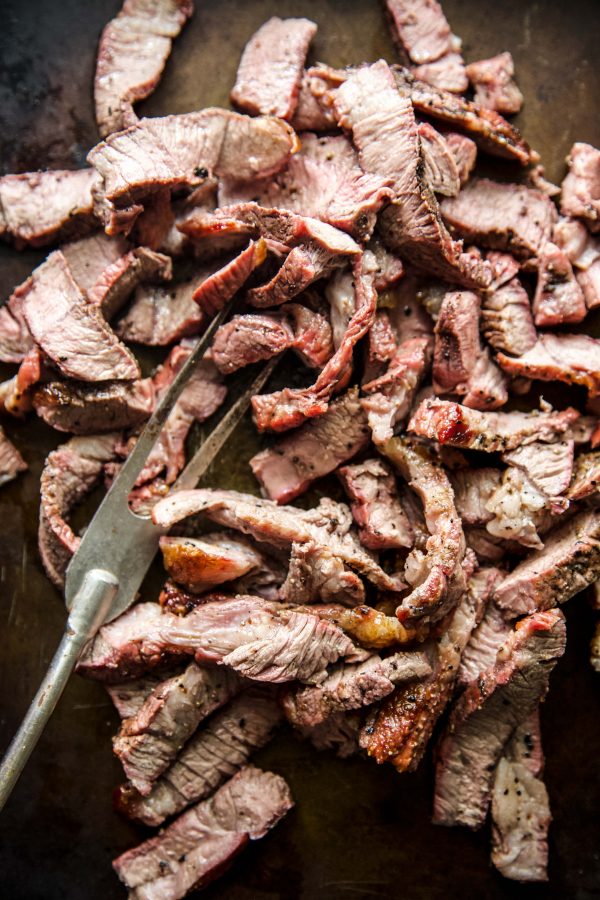 Can I Grill the Lamb Shoulder Chops ahead of time?
Yes! You can definitely grill the lamb shoulder chops a day or two prior. Once you are ready to assemble your pizza simply add the slices on top!
Need Some Extra Incentive to Make this Grilled Steakhouse Lamb Pizza?
Learn how grilling American Lamb this summer could win you some incredible prizes. Check out this summer contest from the American Lamb Board here!
In Search of More Lamb Recipe Inspiration?
Make sure you visit: www.americanlamb.com
Grilled Steakhouse Lamb Pizza
Ingredients:
1.5 lbs American lamb shoulder blade chops
2 tbsp olive oil
salt and pepper to taste
Store bought or homemade pizza dough
8 oz mushrooms
1 cup crumbled blue cheese
1 cup shredded mozzarella
1 cup fresh arugula
Balsamic glaze, for garnish
Microgreens, for garnish
Directions:
Preheat your grill to high heat or smoker to 350 degrees. Remove your American Shoulder Blade Chops from the fridge and allow to come to room temperature at least for 30 minutes. Season the chops with olive oil, salt, and pepper. Place the chops on the grill and cook for about 5 minutes and then flip. Continue to cook until the internal temperature reaches 145 degrees, about 4 to 5 minutes. Remove from the grill and place on a plate to rest for 3 minutes before slicing thinly.
Once cooled, slice the lamb shoulder chops into 1/4 inch slices. Set aside. Meanwhile, spray a baking sheet with non-stick cooking spray. Sprinkle some cornmeal on the baking sheet. Just a light dusting will do the trick as this will help keep the dough from sticking to the grill. You can place the dough on the grill if you want! Spread the dough out into a circle and place on the baking sheet. Place the baking sheet onto the grill or smoker and parbake the dough for about 7 minutes. This helps keep the dough from becoming soggy.
Once the dough is parbaked, remove and add your toppings. Start with the mushrooms, mozzarella, lamb shoulder chop slices, and blue cheese. Place the pizza back on the grill to cook for about 10 minutes or until the pizza crust is golden brown. Remove from the grill and add the arugula, microgreens, and balsamic glaze on top. Serve and enjoy!
All images and text ©