Dark Chocolate Raspberry Drop Cookies

Dark Chocolate Raspberry Drop Cookies make for a simple and delightful dessert, perfect for satisfying your sweet cravings whenever they strike. Easy to make and bursting with rich flavor!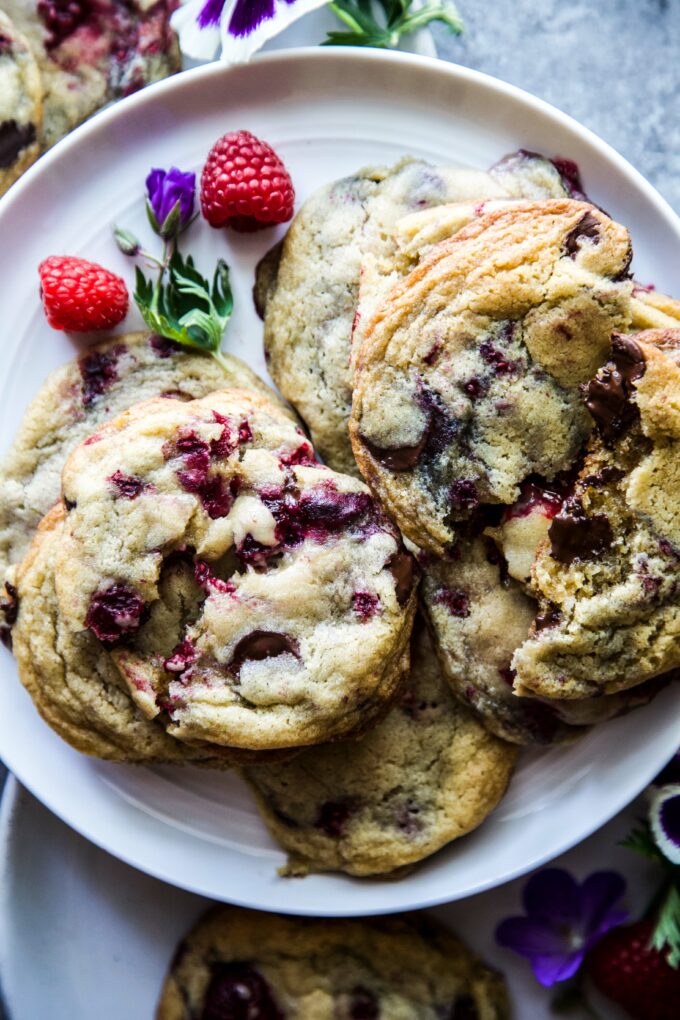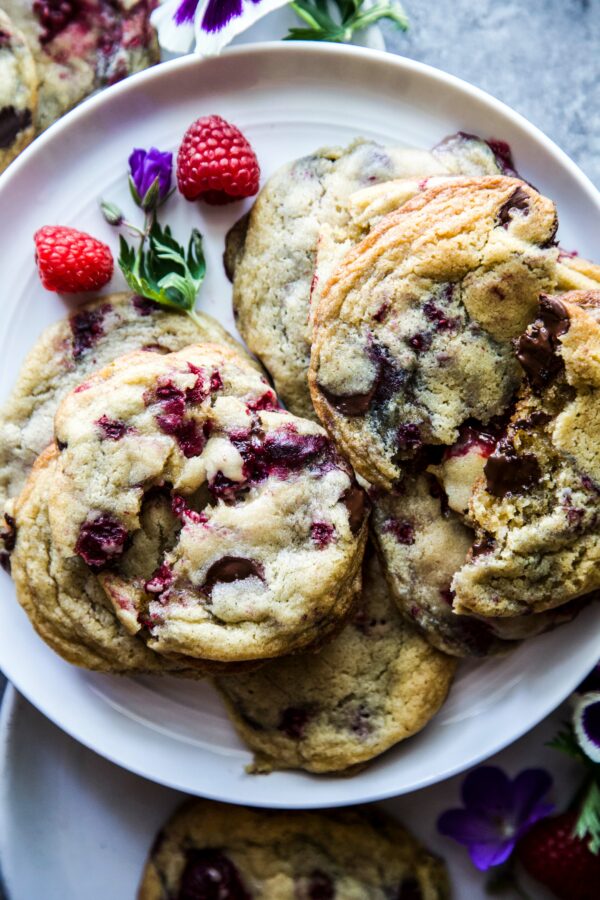 Raise your hand if you love a golden, gooey chocolate chip cookie?
Hard to pass up, right?
Even though a classic chocolate chip cookie will never disappoint, I'm always looking for ways to jazz it up. These Dark Chocolate Raspberry Drop Cookies are not to be missed. It has all the classic cookie ingredients with the addition of frozen raspberries. OH MY!
You will want to make a big batch or two because these sweet treats will go fast! Okay, ready to start baking?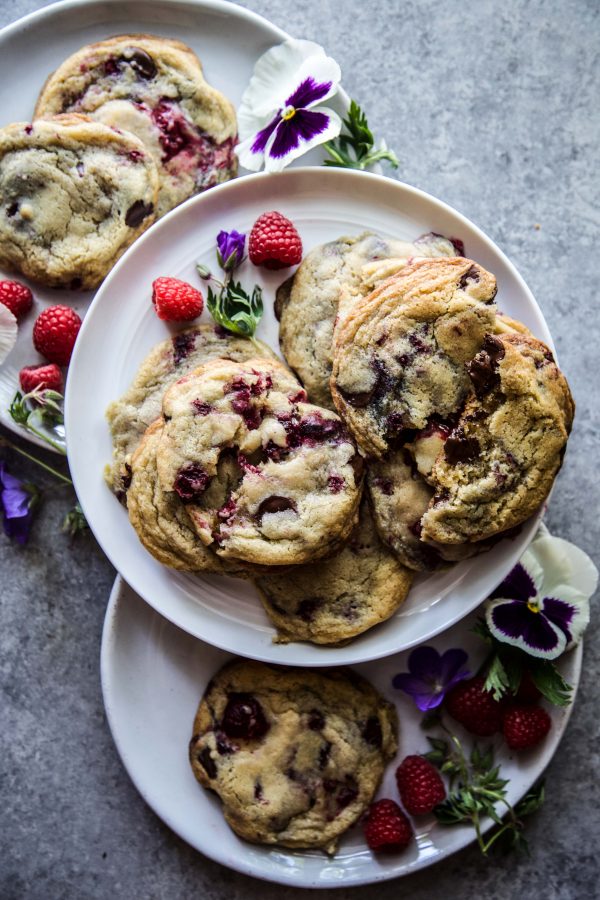 What are in these Dark Chocolate Raspberry Drop Cookies?
When it comes to making cookies, I'm a big fan of classic chocolate chip cookies. The dough comes together quickly and tastes amazing. Well, these cookies are quick to make like those classic cookies! For this recipe you will need:
All-purpose flour
Unsalted butter
Shortening
Egg
Brown Sugar
Vanilla Extract
Granulated Sugar
Chocolate chips
Frozen Raspberries
Tips for Making Dark Chocolate Raspberry Drop Cookies:
1) Room temperature ingredients. If you can set out all your ingredients you need to make these cookies (minus the frozen raspberries) do it. It will help to ensure that the cookies bake evenly.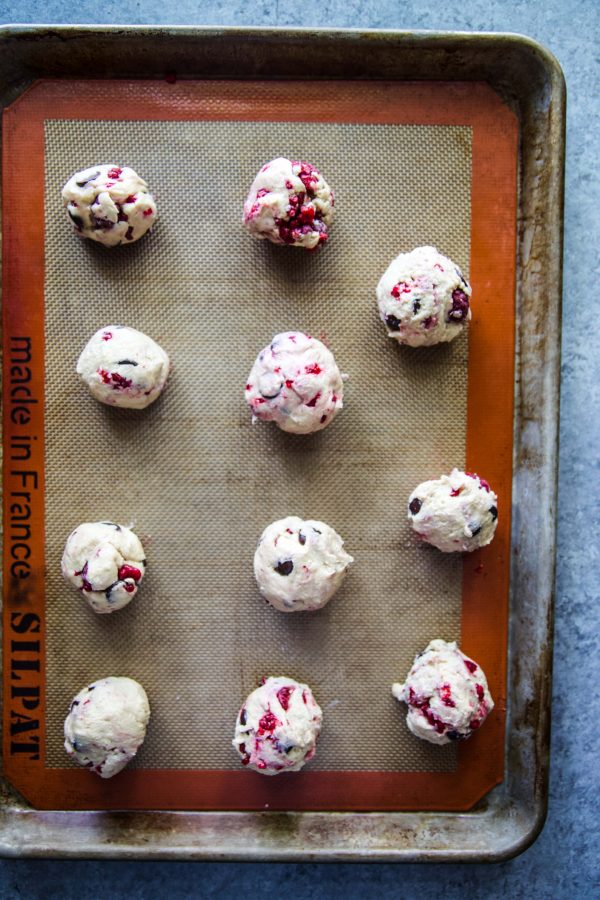 2) Raspberries. If you can't find frozen raspberries simply place fresh raspberries in the freezer overnight.
3) Dark Chocolate. The best kind of chocolate chips to use are at least 60% cacao. Not too bitter, but just enough to compliment the raspberries!
How do you store these Dark Chocolate Raspberry Drop Cookies?
Drop cookies store well. Up to a week in an airtight container and they will still taste great!
Can you freeze these drop cookies?
Yes! Place in an airtight container and will stay delicious for up to 3 months.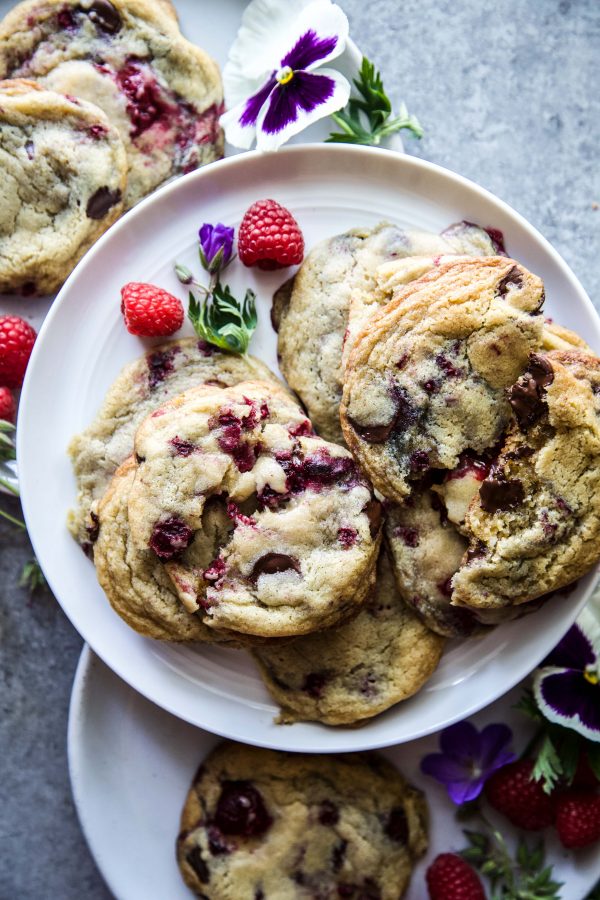 More Cookie Recipes to Enjoy: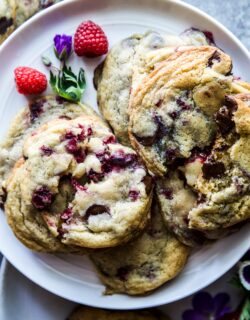 Dark Chocolate Raspberry Drop Cookies
Ingredients:
1/2 cup unsalted butter, room temperature
1/2 cup shortening
1 cup brown sugar
1/2 cup granulated sugar
1 tsp baking soda
1 tsp kosher salt
2 large eggs
1 tbsp vanilla extract
2 1/2 cups all-purpose flour
1 10-12 ounce package dark chocolate chips
1 cup frozen raspberries
Directions:
Preheat an oven to 375 degrees. Line two baking sheet with parchment paper and spray with non-stick cooking spray.
In a stand mixer fitted with a paddle attachment, beat the butter and shortening. Next, add in the brown sugar, granulated, sugar, baking soda, and kosher salt. Continue to mix for another minute.
Add in the eggs and vanilla extract, continue to mix. Next, add in the flour a bit at a time until well incorporated. Fold in the chocolate chips and the frozen raspberries.
Drop about 1 tbsp dough onto the prepared baking sheet. Bake the cookies for about 9 to 12 minutes or until light brown. Remove from the baking sheet and cool the cookies on the wire wrack before serving.
All images and text ©