Easy Pizza Pasta Salad
Easy Pizza Pasta Salad, a versatile and delectable dish, transcends seasons. Whether enjoyed as a meal or side, it delivers the beloved flavors of pizza in a pasta-based creation that's perfect year-round.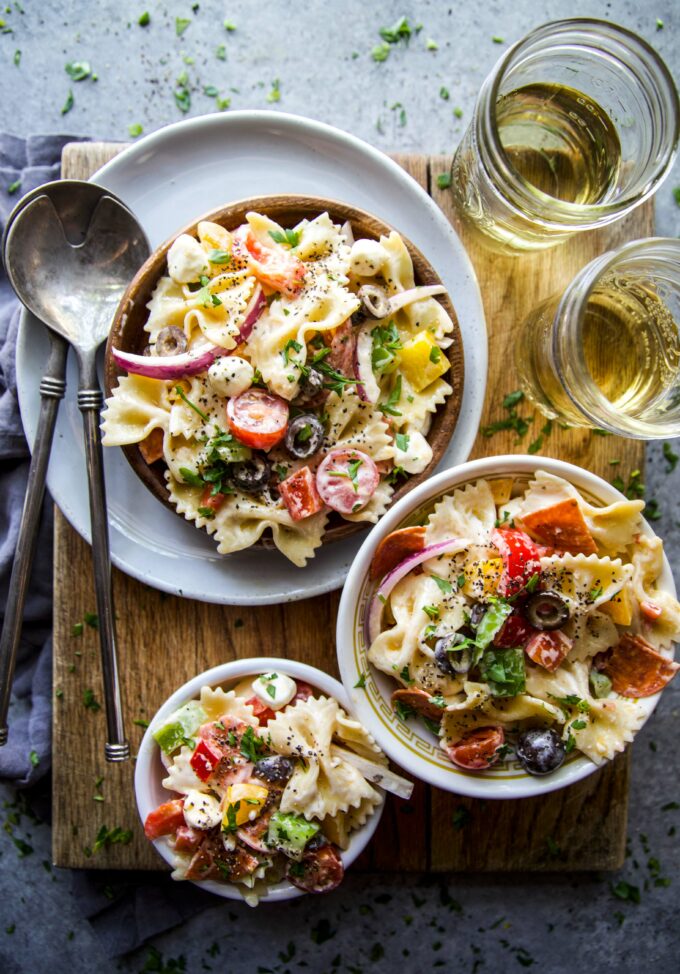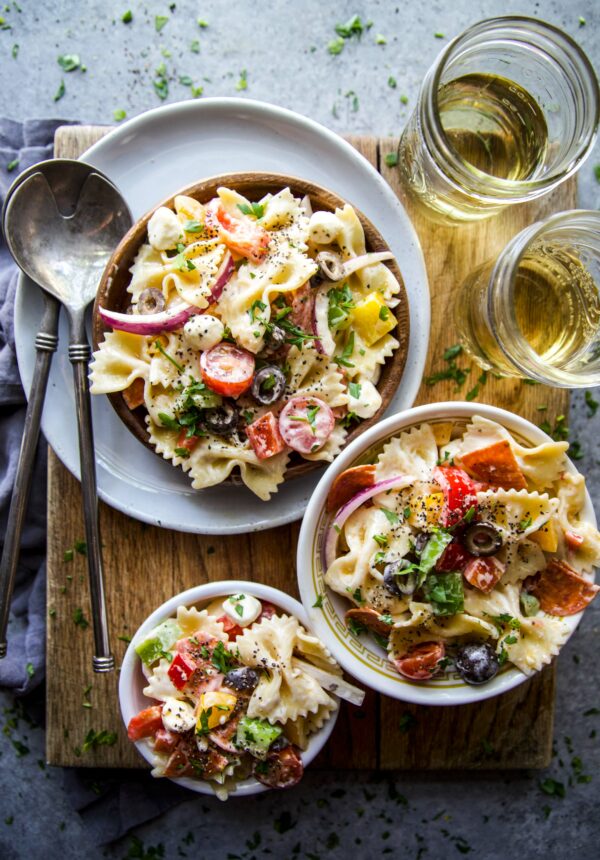 Summer is not complete unless you consume pasta salad.
It's like a right of passage.
Every backyard barbecue, picnic in the park, or dinner on the fly is accomanied with a bowl of pasta salad. Now, this is where things get sporty. What kind of pasta salad do you bring?
Well, if you love a good mash-up then this Easy Pizza Pasta Salad will win you over. A big bowl full of bowtie pasta topped with all the pizza making suspects and then tossed in a creamy Italian dressing.
I'm telling you this pasta salad will reign supreme all summer long!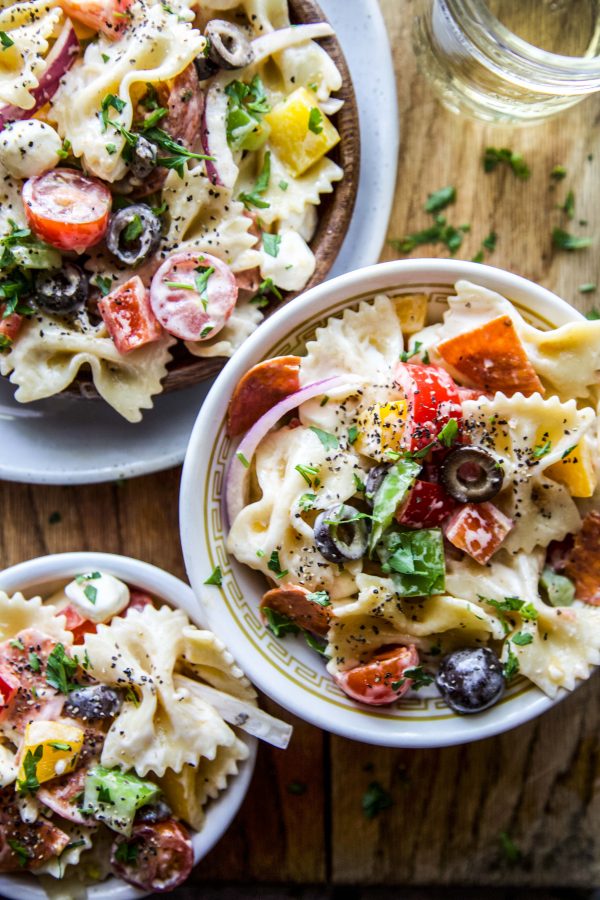 What's in this Easy Pizza Pasta Salad?
The beautiful thing about any pasta salad is that you can combine any of your favorite ingredients in one-bowl and serve. For this mash-up of flavors you will need:
Bowtie Pasta
Lemon Juice
Seasoning salt
Pepperoni
Olives
Peppers
Cubed mozzarella
Red onion
Grape Tomatoes
Creamy Italian Dressing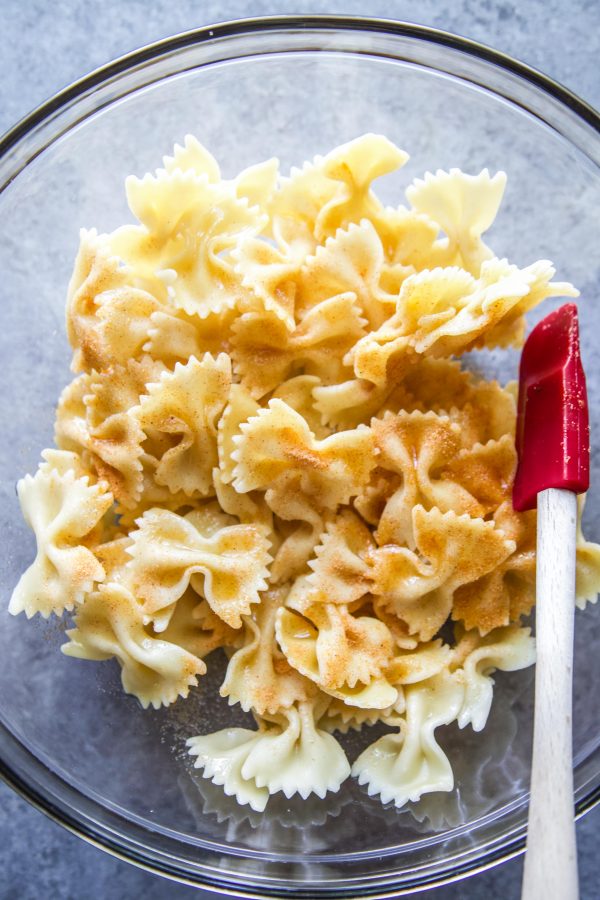 Tips for Making Easy Pizza Pasta Salad:
1) Bowtie Pasta. You can definitely use any pasta. However, in order to make the pasta salad taste like pizza you need to allow the seasoned salt and lemon juice to marinate on the pasta. This simple step will help those flavors blend and create a wonderful base for the pizza pasta salad.
2) Creamy Italian dressing. If you want to use a vinaigrette Italian dressing that would work as well!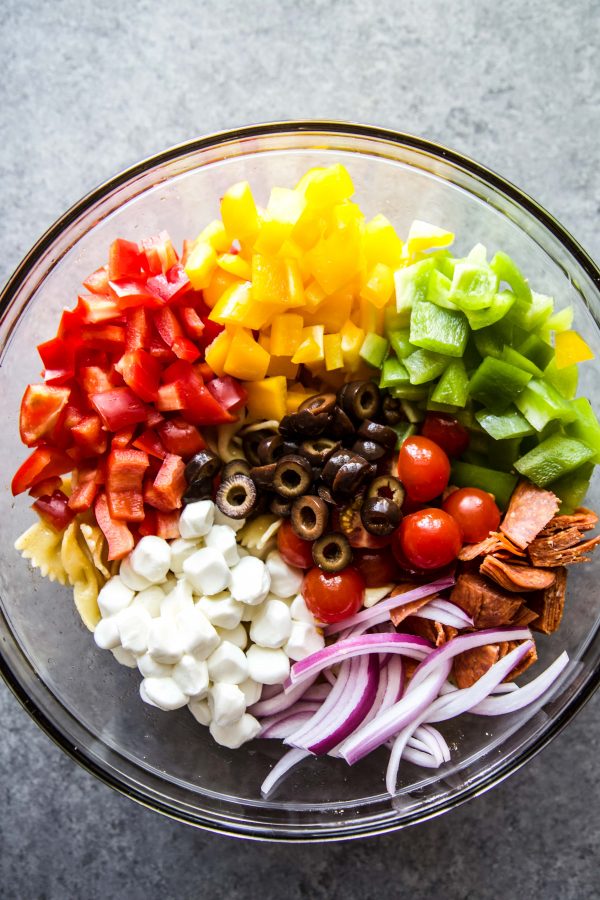 Can I make this gluten free?
Absolutely! Simply swap out the regular pasta for your favorite kind that is gluten-free.
Can I make this vegetarian?
Yes! Remove the pepperoni from the dish and add in more veggies if desired.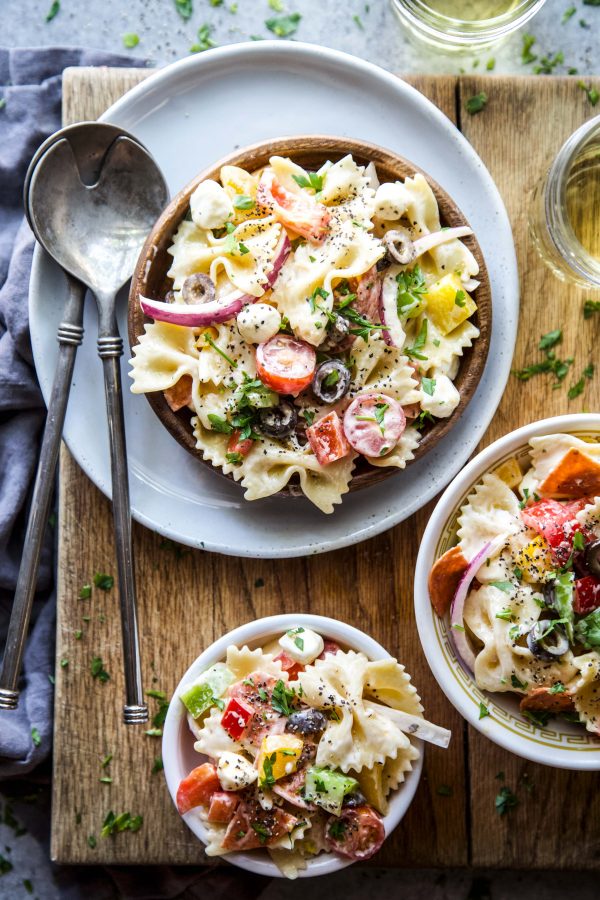 Can this be made ahead of time?
You bet! Actually it can be made a few days ahead of serving because the longer it sits in the fridge the better it will taste!
More Delicious Pasta Salad Recipes: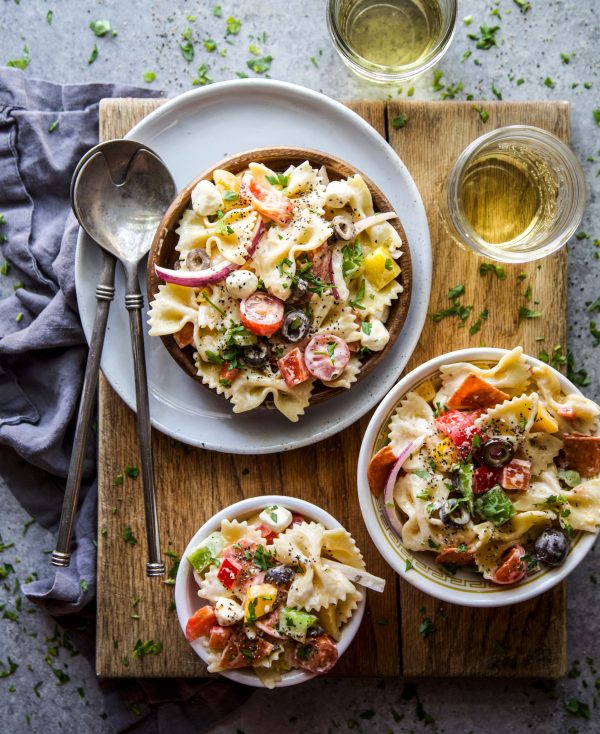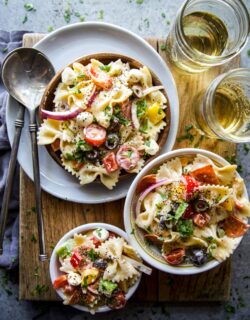 Easy Pizza Pasta Salad
Ingredients:
3 cups dried bowtie pasta
2 tbsp olive oil
1 tbsp lemon juice
2 tsp Lawry's seasoning salt
3 cups chopped peppers (green, red, or yellow)
8 ounces mozzarella pearls
1 cup halved grape tomatoes
1 cup halved pepperoni slices
1/2 cup sliced red onion
1/2 cup sliced black olives
1 cup creamy Italian dressing
fresh chopped parsley, for garnish
Directions:
Fill a large stock pot with water and bring to a boil. Add in the pasta and cooking according to the package directions. Drain the pasta and place in a large bowl.
Drizzle the olive oil, lemon juice, and seasoning salt over the pasta. Toss to combine. Cover the pasta with plastic wrap and place in the fridge for at least 30 minutes or overnight for better flavor.
Remove the pasta from the fridge. Add in the peppers, cheese, tomatoes, pepperoni, red onion, olives, and parsley. Toss to combine and either serve or chill for another 30 minutes to allow the flavors to blend. Enjoy!
All images and text ©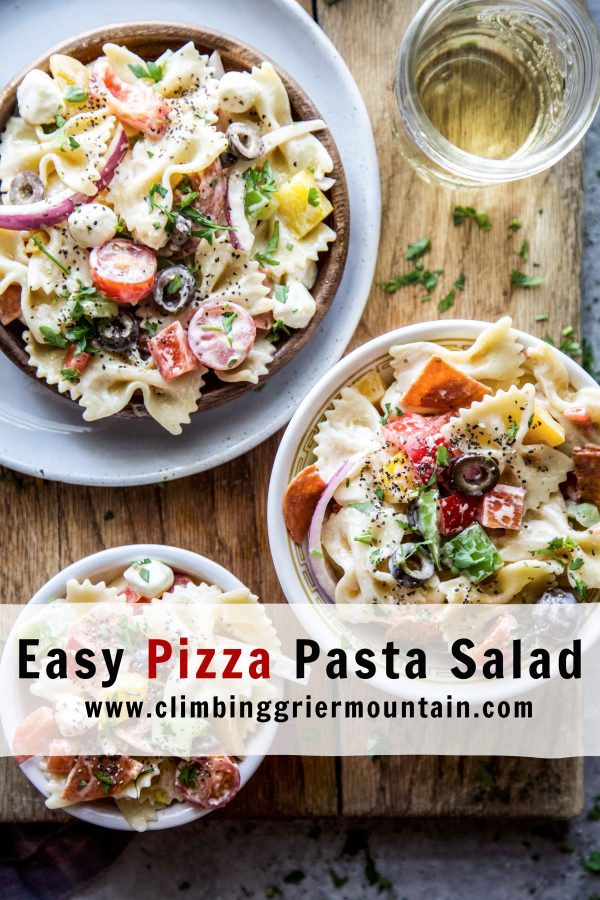 In conclusion, Easy Pizza Pasta Salad is a year-round culinary delight that captivates the palate with its flavorful fusion of pizza and pasta, offering both simplicity and satisfaction.