Thai Basil Beef Stuffed Zucchini
***This post is a collaboration with Beef. It's What's for Dinner. on behalf of the Beef Checkoff.  I was compensated for my time, but as always, all opinions expressed are 100% my own.*** "Embark on a culinary journey with our Thai Basil Beef Stuffed Zucchini, where the vibrant flavors of Thailand meet the comforting embrace of zucchini boats."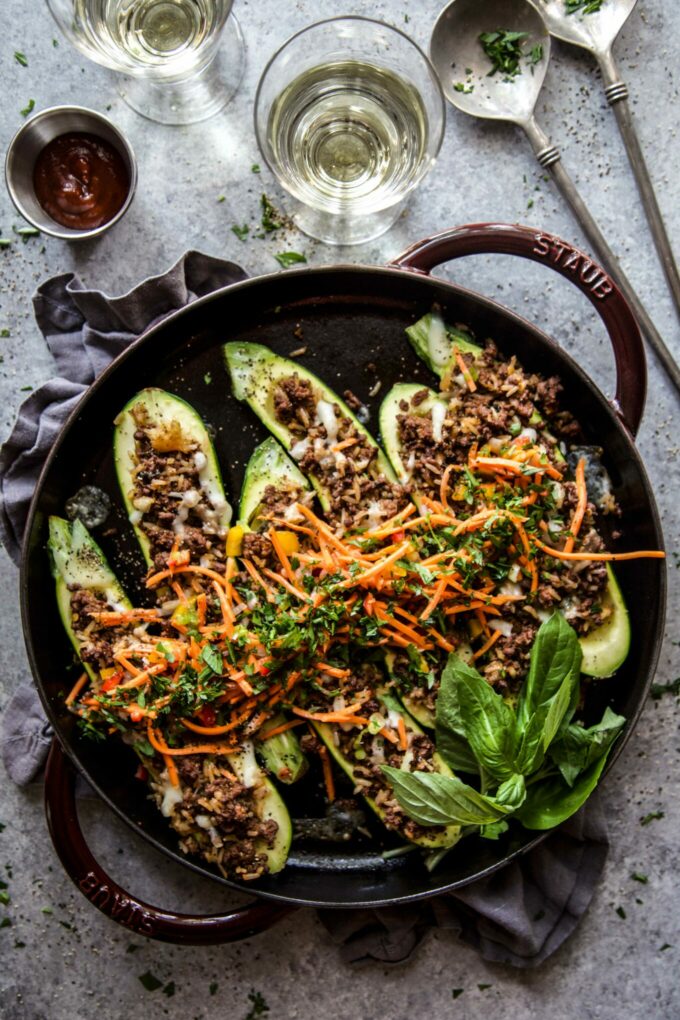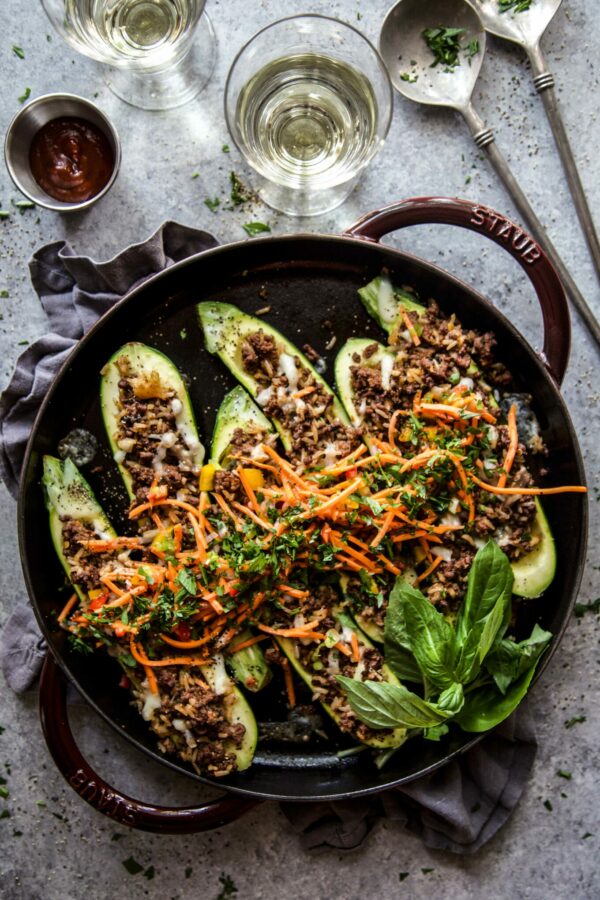 What to do. What to do.
This time of year can feel overwhelming.
What does one do with all the summer produce? The Farmers' Market is bursting at the seams with tomatoes, corn, peppers, potatoes, and zucchinis. It's hard to know what to pick, cook, and eat!
Well, today I'm helping you put that produce to good use. The answer to our problem: ground beef. Literally the most versatile protein. I always have a few packages in the freezer or keep a pound in the fridge to add to any dish throughout the week. Which is why these Thai Basil Beef Stuffed Zucchini Boats were easy to make!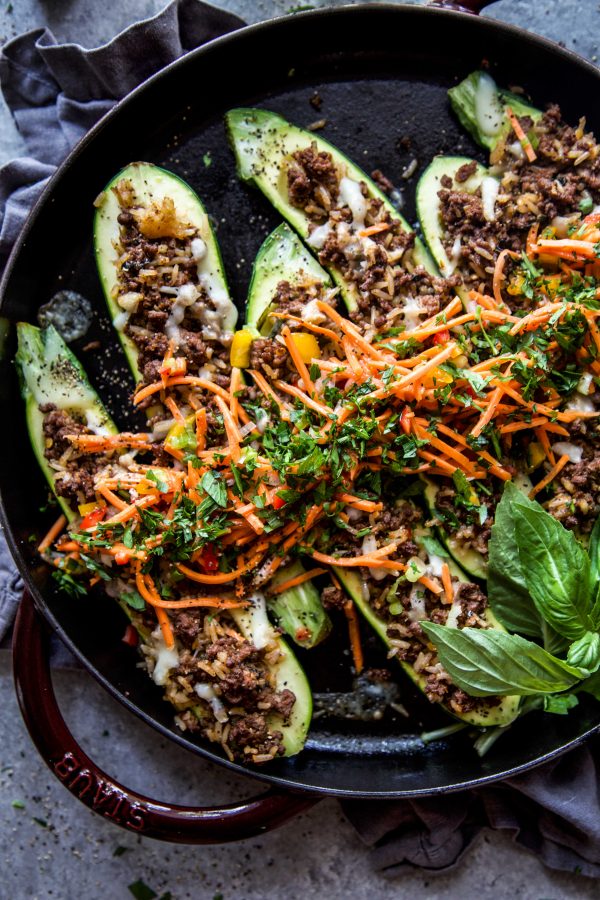 Why use Ground Beef?
Like I mentioned above, Ground Beef is extremely versatile. It's also budget-friendly, and doesn't need time to marinate like other cuts of beef. Ground Beef can be turned into burgers and used on the grill. Ground Beef can be sautéed and added to a spaghetti sauce. Ground Beef can even be formed into a meatloaf and then smoked.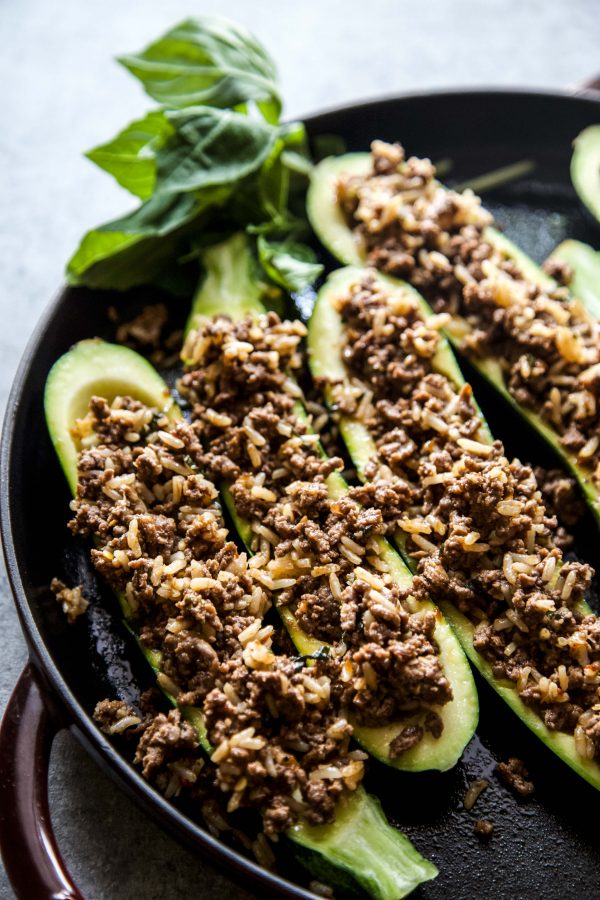 How Do You Know Which % to Purchase?
Most groceries stores will have available at minimum 80%, 90%, and 93% Ground Beef. These percentages mean how much fat is included in the ground beef. I typically purchase 80% because I like the taste of 20% fat content. Once you get above 90% you start reducing the amount of fat which does make the Ground Beef taste leaner.
For the Thai Basil Beef Stuffed Zucchini Boats recipe that I'm sharing today, I used 80% and let me tell you, it packs a whole lot of flavor!
Tips for Prepping Ground Beef
If you have a frozen pound of Ground Beef make sure to defrost in the fridge overnight. This will ensure a safe defrosting.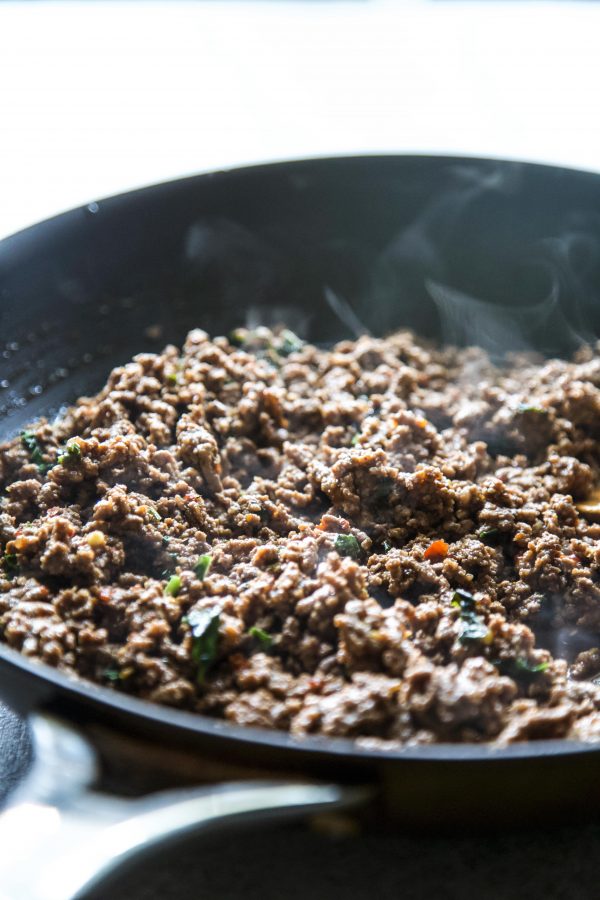 Cooking Ground Beef
Again there are many ways to cook Ground Beef, but for today's recipe I simply sautéed a pound of Ground Beef in a skillet. Pro tip: heat is your friend! Once you've got a nice hot skillet add the Ground Beef and let it brown a bit. That brown crisp is where you develop flavor!
Once you've got your Ground Beef cooked with spices and fresh herbs, you will stir in some coconut rice. Then simply stuff the ground beef mixture into some hollowed out zucchini halves. Place the dish in the oven to cook for a few minutes. Remove and garnish with carrot-pepper topping. That's it!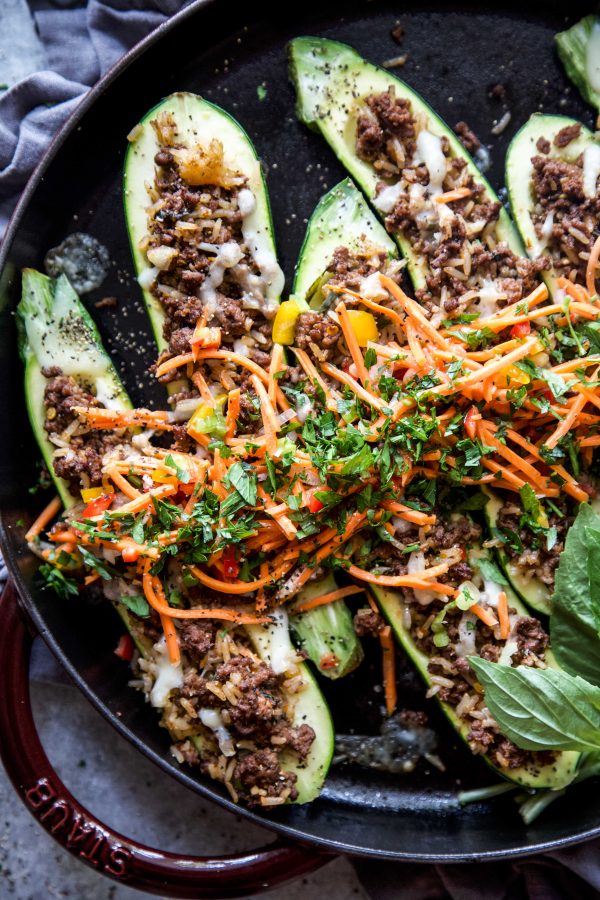 Other Ways to Use this Thai Basil Beef:
– Stuff into bell peppers
– Stuff into eggplants
– Stuff into mushrooms
– Stuff into russet potatoes
Ground Beef is so wonderful and delicious! I hope this Thai Basil Beef Stuffed Zucchini Boats will find its way onto your dining room table! For more information and recipe information make sure to visit www.beefitswhatsfordinner.com!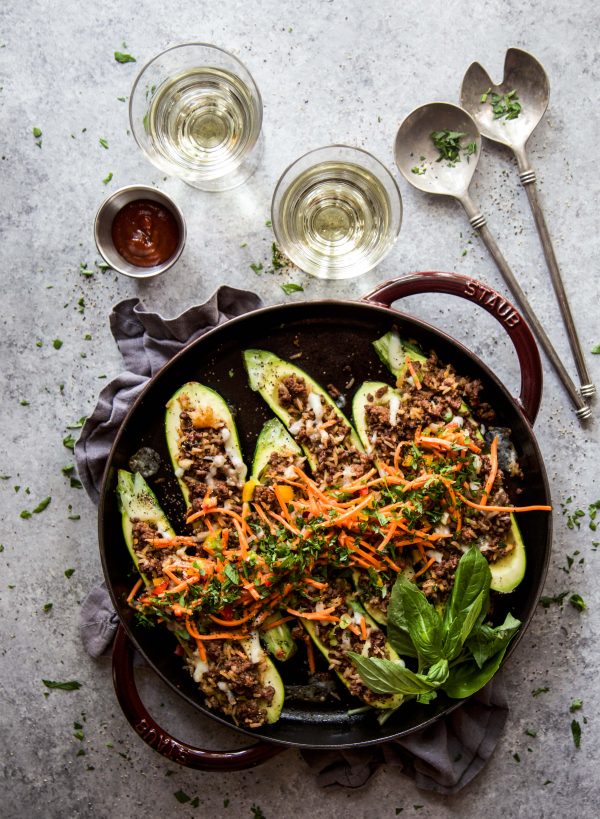 More Ground Beef Recipes to Enjoy: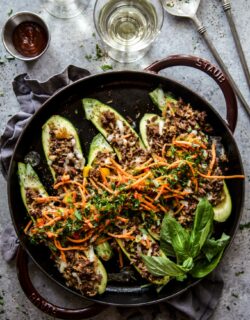 Thai Basil Beef Stuffed Zucchini
Ingredients:
for the zucchini:
4 to 5 large zucchini, halved lengthwise
1 tbsp olive oil
salt and pepper to taste
1/3 cup shredded mozzarella, divided
for the coconut rice:
1 cup jasmine rice
1 cup water
1 cup unsweetened coconut milk
1/4 tsp kosher salt
for the Thai basil beef:
1 lb Ground Beef
2 garlic cloves, minced
2 tsp freshly grated ginger
1 tsp ground pepper
1/3 cup soy sauce
1/3 cup sweet Thai chili sauce
1 cup chopped fresh basil 
for the carrot-pepper topping:
1 1/4 cups shredded carrots 
1 red pepper, finely chopped
2 green onions, chopped
1 tbsp fish sauce
1/2 tsp honey
2 tbsp sesame oil 
1 tbsp lime juice
Directions:
for the zucchini: 
Preheat an oven to 400 degrees.  Spray a large baking sheet with non-stick cooking spray. Take a small spoon or mellon baller and hollow out the center of each zucchini halve. Place the zucchini halves on the baking sheet along. Drizzle the tops with olive oil, salt, and pepper. Cook the zucchini for about 10 to 15 minutes or until softened. Remove and set aside. 
for the coconut rice:
Rinse and drain the rice in cold water. In a saucepan add the rice, water, coconut milk, and kosher salt. Place the saucepan over high heat and bring the liquid to a boil. Stir and reduce the heat to simmer, cover the saucepan, and continue to cook for 15 minutes. Remove the pan from the heat and let stand for 10 minutes, covered. Fluff with fork before combing with beef. 
for the Thai Basil Beef:
In a large skillet preheated to medium-high heat add some olive oil, garlic, and ginger. Sauté for a few minutes and then add in the Ground Beef. Using a fork break up the beef. Add ground pepper and continue to cook for about five minutes. Once the beef has browned, add in the soy sauce, chili sauce, and basil. Bring the mixture to a simmer and cook for another few minutes or until sauce has thickened. Next, add the coconut rice to the skillet and stir to combine. 
for the carrot- pepper topping:
Combine all ingredients in a bowl.
To make the stuffed zucchini, take the Ground Beef/ rice mixture and place into each zucchini halve. Top the zucchini with some of the mozzarella and place back into the oven to allow the cheese to melt about five minutes. Remove the zucchini from the oven and garnish with carrot-pepper topping! 
All images and text ©