Sheet Pan Shrimp Boil
Sheet Pan Shrimp Boil is an easy and flavorful meal that tastes just like your backyard shrimp boil, but is quicker and can be made all year round!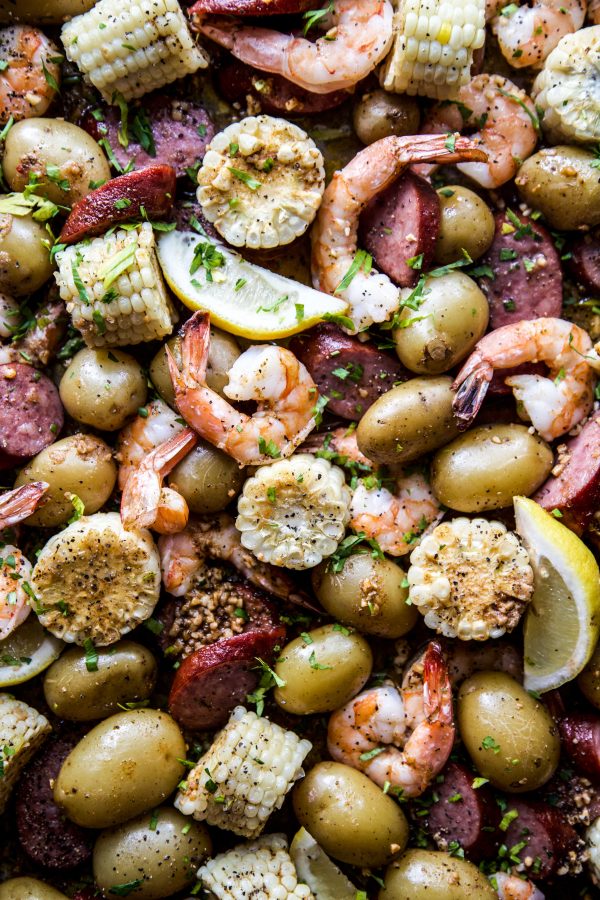 My love for Southern food runs deep.
Between fried chicken, shrimp and grits, shrimp creole, and anything with pimento cheese, I will gladly devour it all. Now, one of favorite Southern traditions to partake in is a shrimp boil. I actually had a chance to do a crayfish boil in Louisiana and it was life changing.
What is a Shrimp Boil?
It's a traditional Southern meal prepared of shrimp, sausage, corn, red potatoes, and more! The meal is cooked outside in large pots and is commonly served by dumping the whole boil out onto a newspaper lined table. It's quite the feast for the eyes.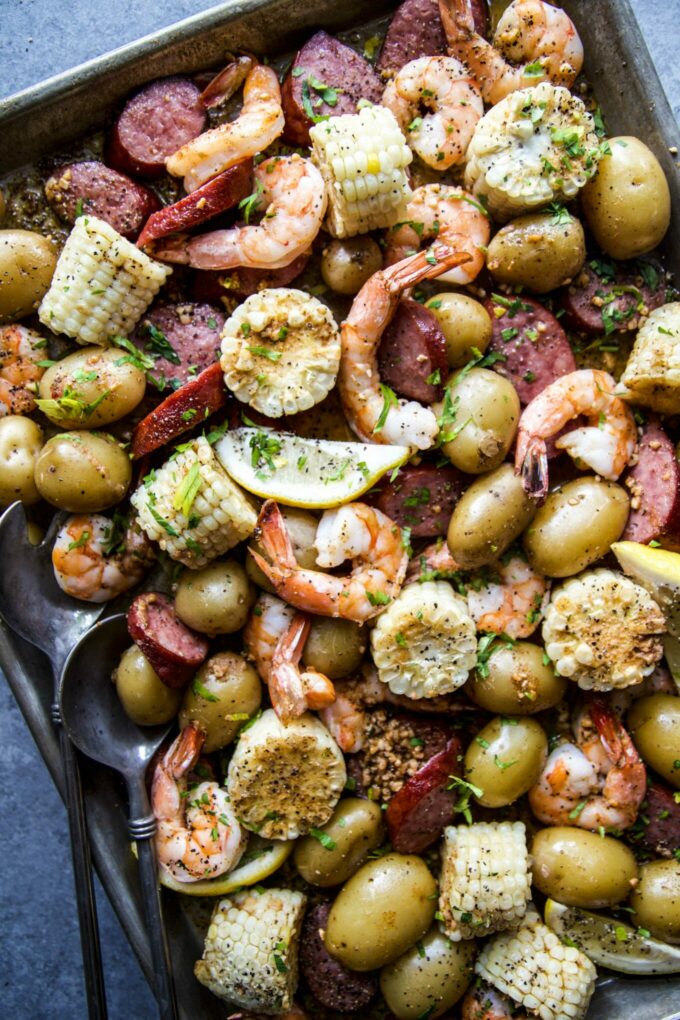 What Ingredients are in a Shrimp Boil?
Traditionally the boil contains shrimp, other seafood like crayfish, corn, potatoes, vegetables, and sausage (my favorite being andouille).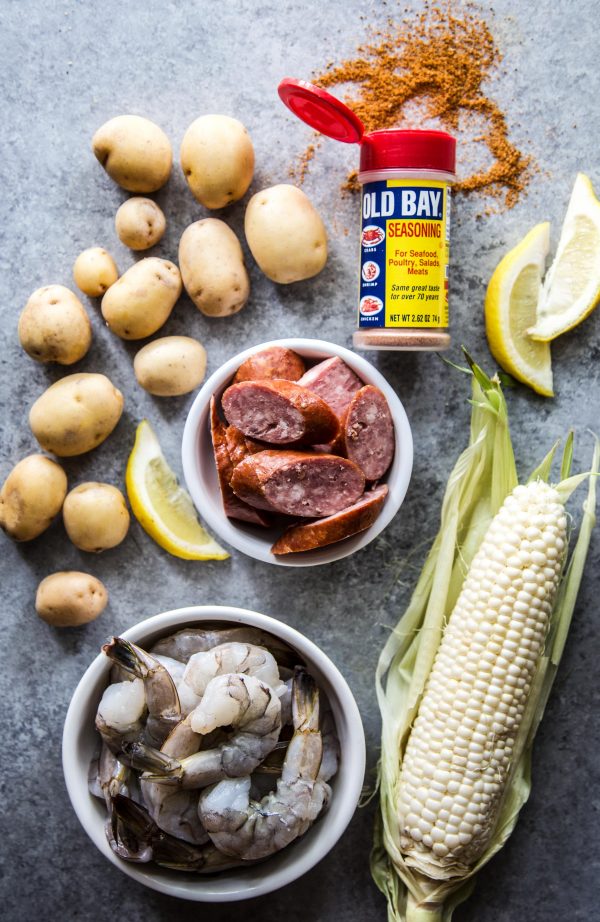 How to Make Shrimp Boil in the Oven
Like I mentioned above the traditional way to make a shrimp boil is outside in large pots. Well, it snows here in Colorado so I wanted an option to be able to make this meal year round. Enter the oven method.
Take all your ingredients – sausage, corn, potatoes, shrimp, and other veggies if you would like and place them on a large baking sheet. Next, mix together Old Bay Seasoning, garlic, and butter. Pour the garlic butter over the ingredients and toss. Place the baking sheet in the oven and cook for about 15 minutes. That's it!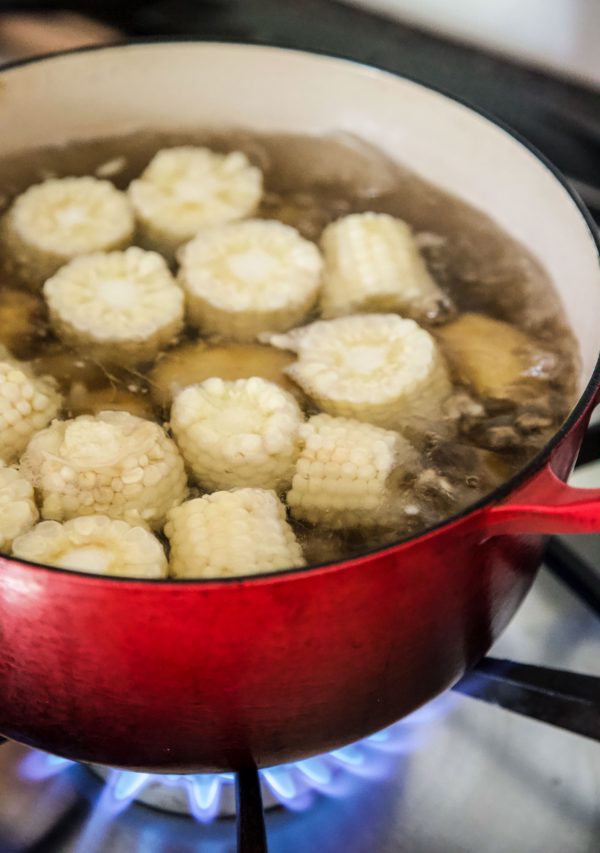 Tips for Making the Sheet Pan Shrimp Boil:
– Parboil the potatoes. I know, I know. The recipe says sheet pan, but I promise you this will make the recipe taste 100% better.
– Be mindful of adding extra salt to the meal. Old Bay Seasoning has a lot of sodium already in the seasoning so just be careful when adding additional salt.
– Shrimp per person should be around quarter pound per person.
So, are you ready to try this Sheet Pan Shrimp Boil? If you do make the recipe leave a comment below letting me know if you enjoyed the meal!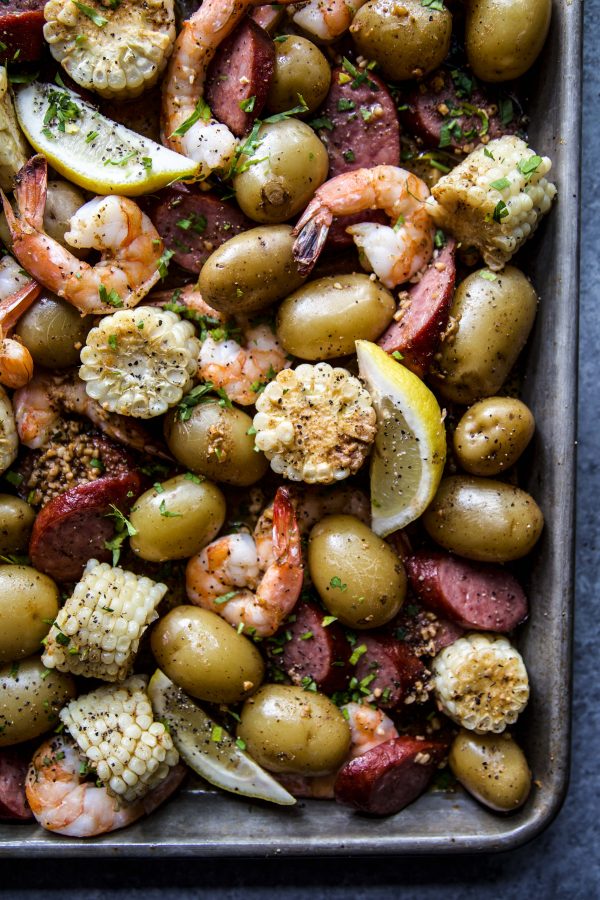 More Southern Recipes to Enjoy: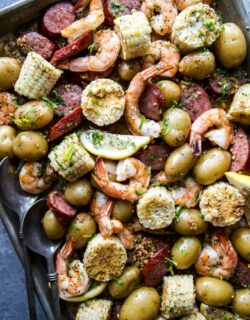 Sheet Pan Shrimp Boil
Ingredients:
1.5 lbs baby gold or red potatoes
3 ears of corn, cut into 3-inch rounds
1/4 cup unsalted butter, melted
1 tbsp minced garlic
1 tbsp Old Bay seasoning
1 lb large shrimp, peeled, deveined
1 pound andouille smoke sausage, sliced into rounds (or any sausage you like!)
1 lemon wedge, for garnish
Fresh chopped parsley, for garnish
salt and pepper to taste
Directions:
Preheat an oven to 400 degrees. Spray a large baking sheet with non-stick cooking spray.
Fill a large stock pot full of cold water. Add the potatoes to the pot and bring to a boil. Cook the potatoes until tender and parboiled; about 8-10 minutes. If you want you can add in your corn the last couple of minutes to help soften. Again not mandatory.
Drain the potatoes and corn and set them on the prepared baking sheet.
Next, in a small bowl combine butter, garlic, and Old Bay seasoning.
Add the shrimp and sausage to the baking sheet with the potatoes and corn. Take butter mixture and pour it over the ingredients. Toss gently and spread everything out so it's in a single layer.
Cook for about 15 minutes or until the shrimp has cooked through and corn is tender. Remove the baking sheet from the oven and garnish with lemon wedge and fresh parsley!
All images and text ©