trip recap: biarritz, france – part four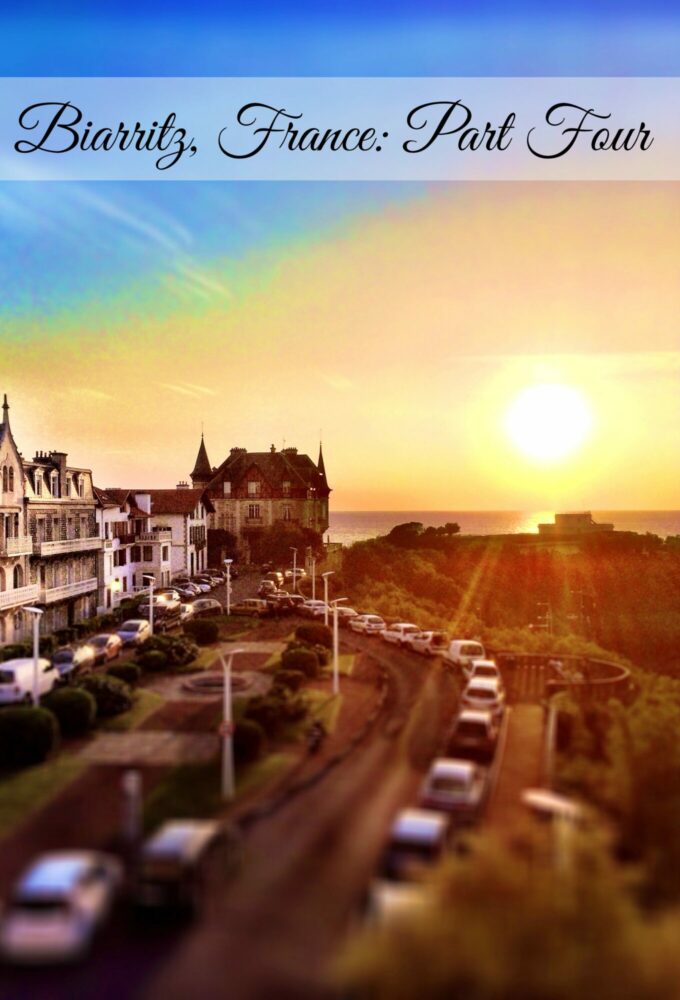 Bonjour!
Welcome to part four of our fun-filled trip to Biarritz, France. If you are just joining us, make sure and catch up on parts one, two, and three. You don't want to miss a beat!
Friday morning we scheduled surf lessons at the world famous Cote des Basque. Surfing was first introduced to Europe via Biarritz back in the 1950's. Cote des Basque is the area's most famous beach for surfing. Large cliffs frame it with little to no beach during high tide, making it the perfect spot to catch some waves.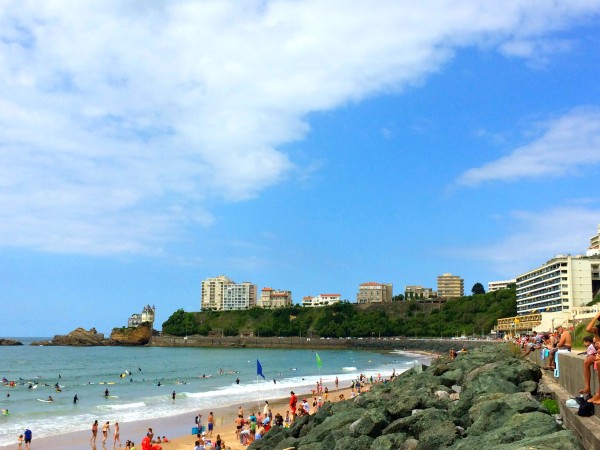 Truth: Mr. B and I had zero expectations of getting up on the surfboard. I honestly thought we would flounder and end up swallowing half the ocean. After some freshly pressed coffee and buttery croissants (breakfast of champions!), we met our instructor on the boardwalk. The boardwalk is lined with surf shops, dive restaurants, and hotels.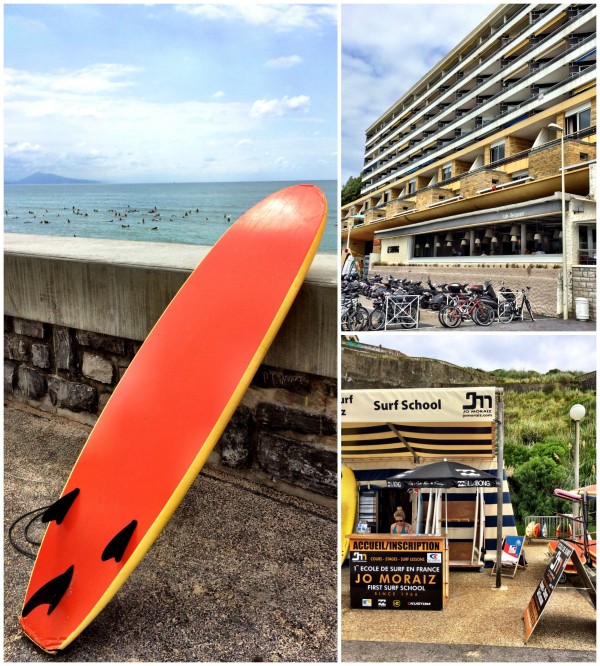 We checked in and were told to change into our wet suit. Now, the French aren't modest whatsoever. The changing rooms were actually one large room.. Thankfully, all I had to do was pull on my wet suit over my sports undies without showing the unmentionables. After we suited up, our surf instructor, Jean, handed us what looked like a giant, neon-yellow nerf board. For a second, I thought we were all bad ass, but then Jean explained this is what is used to teach the kiddos. Awesome.
As I mentioned earlier, Mr.B and I had no expectation of getting up. Jean first demonstrated the four-step process while on land. Lie flat, do a weird downward dog, pop up/plant feet, and balance. Easy peasy, right? After our 4 1/2 second land lesson, we entered the water. We ventured to the kiddie section but the waves still felt like they were nine feet tall. Jean had us lay on the board and he would yell, "PADDLE, PADDLE, PADDLE."
So, we started to paddle like an uncoordinated dog. Somewhere in that paddle Jean yelled. "UP. UP. UP!" We stood up…or attempted to stand up and then face planted into the salty ocean. It took Mr. B about three times and he stood up. Yours truly took about six with another land lesson squeezed in for good measure.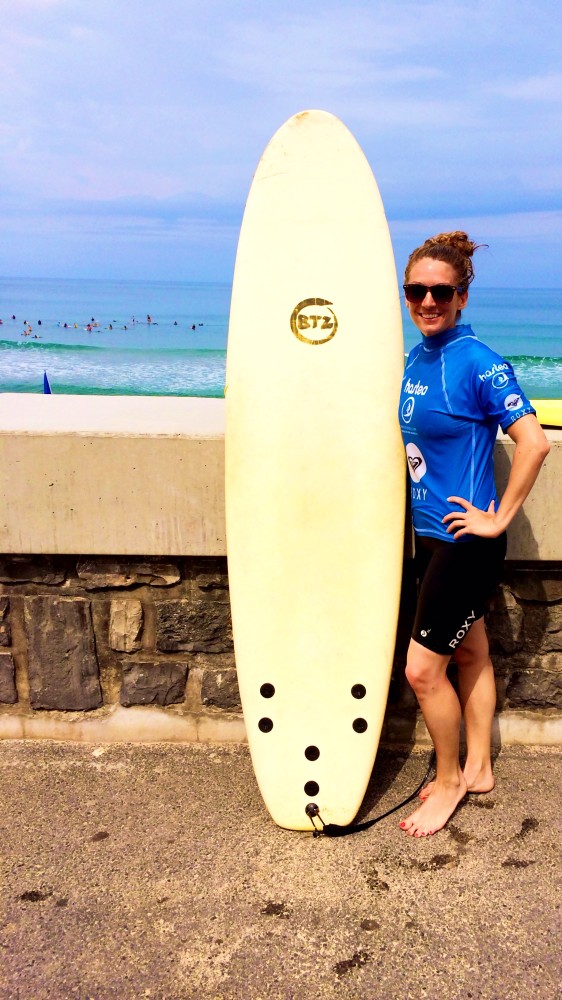 I still can't believe we finally stood up and rode the wave all the way into the beach. You would have thought I won the lottery after I reached the beach and starting yelling, "Eff yes, EFF, heck, yes!!" Jean was very impressed and for me, that was good enough.
We bid farewell to Jean and headed to find some eats. Dude, its no wonder surfers have eight-packs because paddling between waves is exhausting. We stopped by Little Beach just down the street at a pizza parlor just before we started to gnaw our arms off.
Beer, and a runny egg on a pizza was just the thing to cure my sore, rubbery arms.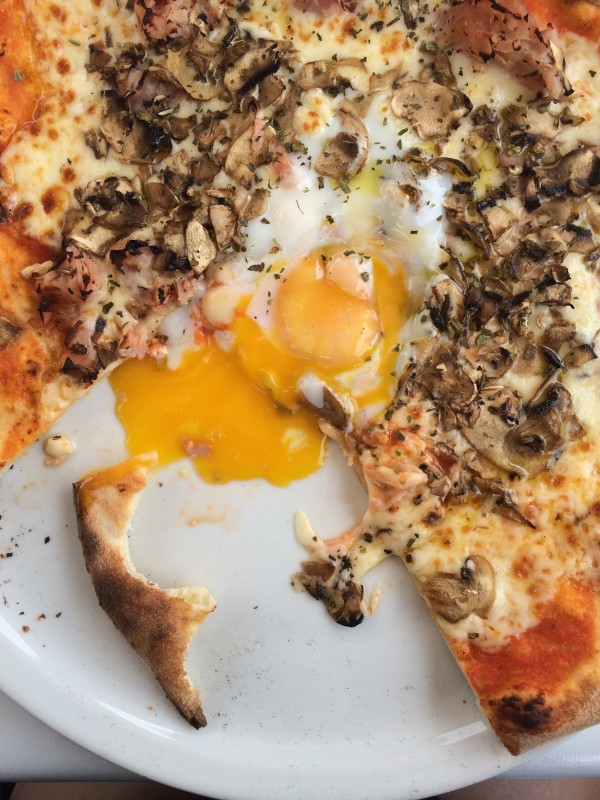 And to help celebrate our surfing conquest, gateau basque ice cream…FTW!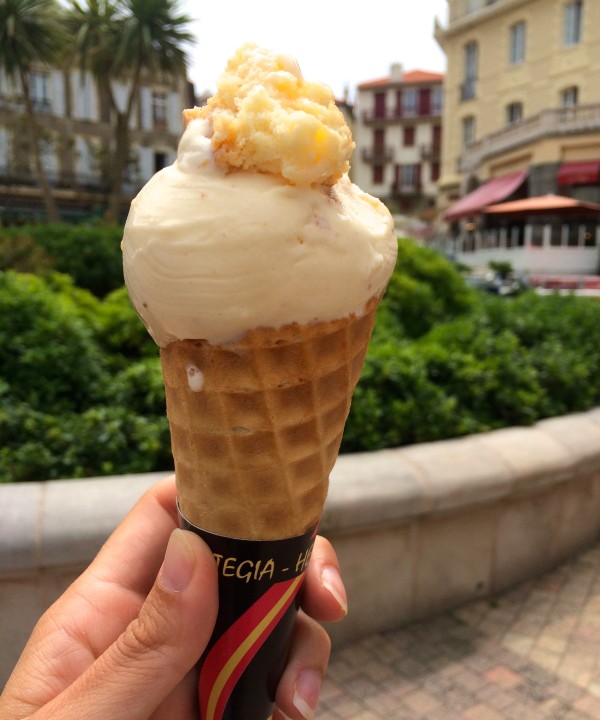 Thankfully we didn't have anything planned for the rest of the afternoon. We laid around the house and caught up on some reading. I kept telling Mr. B, "remember when people actually had time to read?!!" After our little siesta, we poured a class of rose, another habit we picked up on this trip. I never, ever, drink rose wines, but I must say, wine tastes better when you're in France.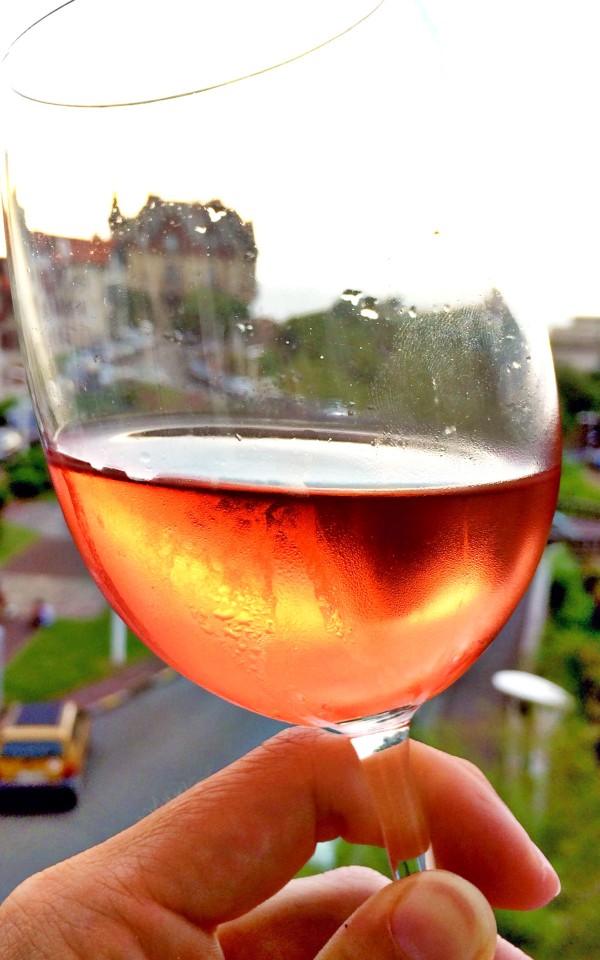 We quickly changed and headed to our evening event. – rugby! Okay, I love American football, but its got nothing on rugby. The players were the size of oak trees. One dude's leg was as big around as of two of my heads put together. Whoa.
We watched one of the local teams play against Paris. Can you guess who's players are in pink? The game was exciting and intense. In the first three minutes, we saw a player tackled and get the wind knocked out of him.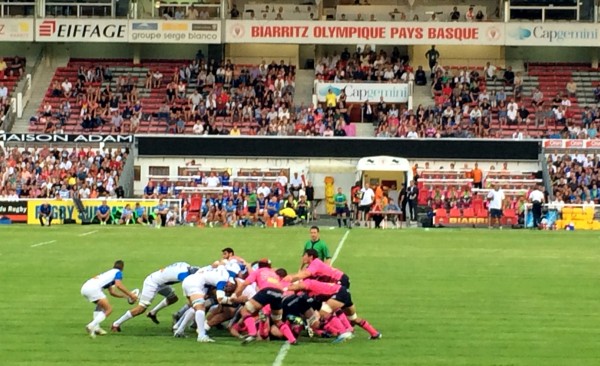 Saturday was scheduled for a pool day since we had to head back to Paris on Sunday. What pool do you go to in Biarritz that comes with an ocean view? Hotel du Palais, of course! We marinated in the sun, drank wine, gossiped about all the royalty that were walking about, and soaked up every last ounce of rays on a blue bird day.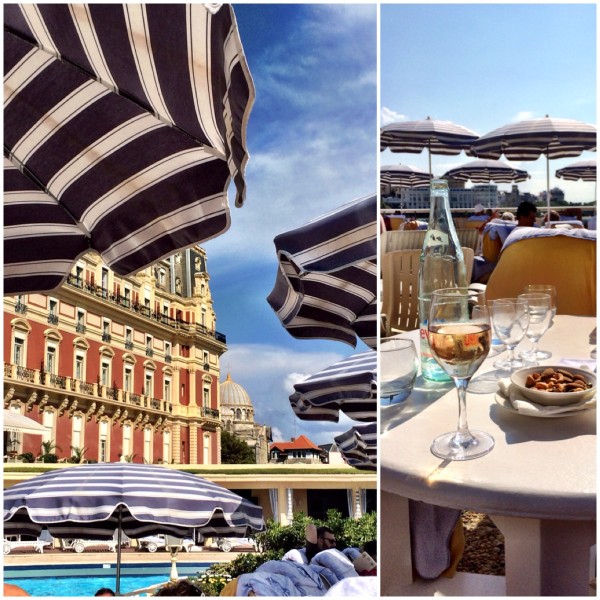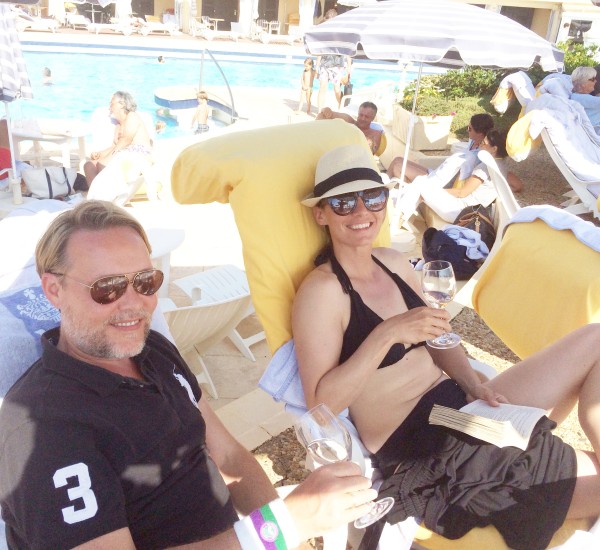 Dinner that night was in Bidart at La Cucaracha. I know, I know, this isn't Mexico, but it kind of felt like it. We dined al fresco under the stars. Red wine, fried oysters, and family-style fish and steak was served. Which apparently was so tasty that I didn't snap a single pic. But let's be honest. The conga line in the middle of dinner was much more entertaining! Oye!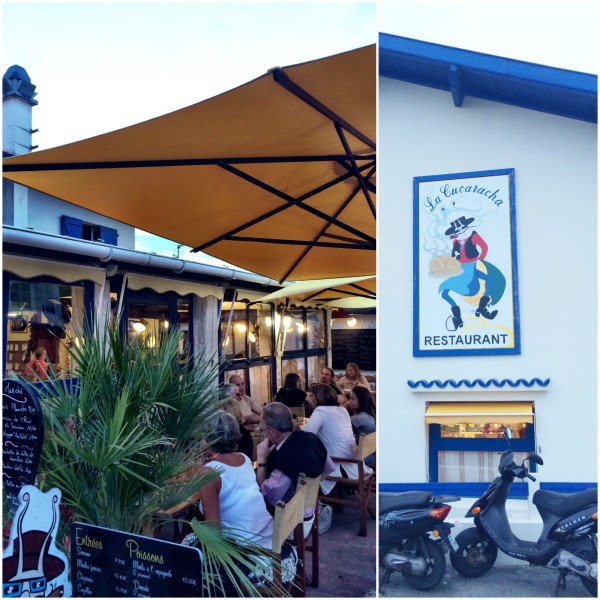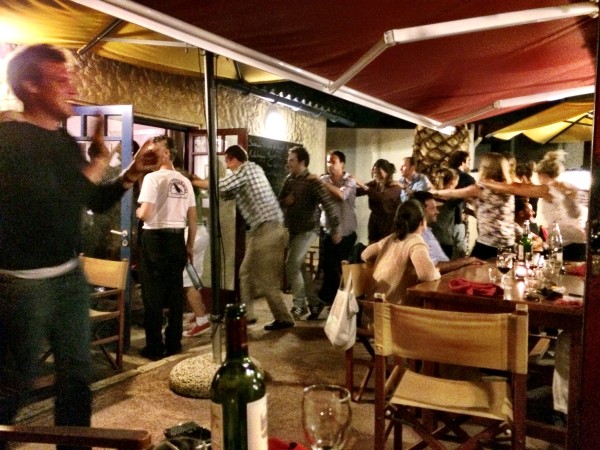 And that, dear friends is a wrap.
We jetted off to Paris the next day to spend 24 hours in the City of Love before we headed back to the states. Remind me to tell you the story about oysters and champagne.
Our time in France was unforgettable. Can't wait to go back next year.
Until then, avouir, Biarrtiz!