trip recap: ohio american dairy adventure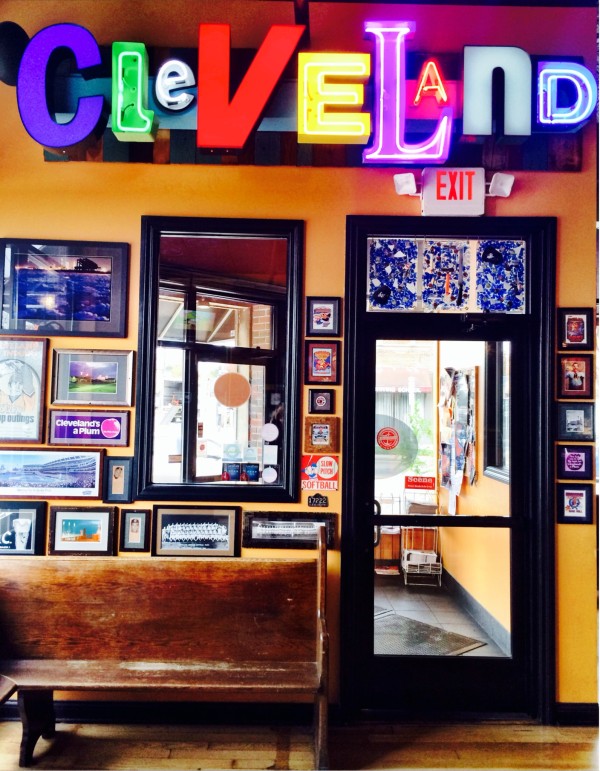 "Cleveland, ROCKS!"
No, really it's true.
A couple of weeks ago, I headed to Cleveland, Ohio to hang out with a gaggle of food bloggers (Heather, Megan, Courtney, Taylor, Emily, Jamie, Liz, and Ashley) and get the 411 on the dairy industry.
Over the course of two days, the lovely folks over at American Dairy Association Mideast showed us the ropes from learning how to milk a cow (spoiler alert: udders were squeezed!), making Swiss cheese, feeding baby calves merely minutes old, and how milk plays an important role in America's breakfast diet.
So, grab your boots, milk jugs, favorite cheese sandwich, and let's take a look back on this legen-DAIRY adventure!
Our hotel headquarters was the stunning Arcade Hotel located in downtown Cleveland. This would be our digs for the next two days. Isn't the architecture stunning? I think it would be super fun to have a wedding reception here.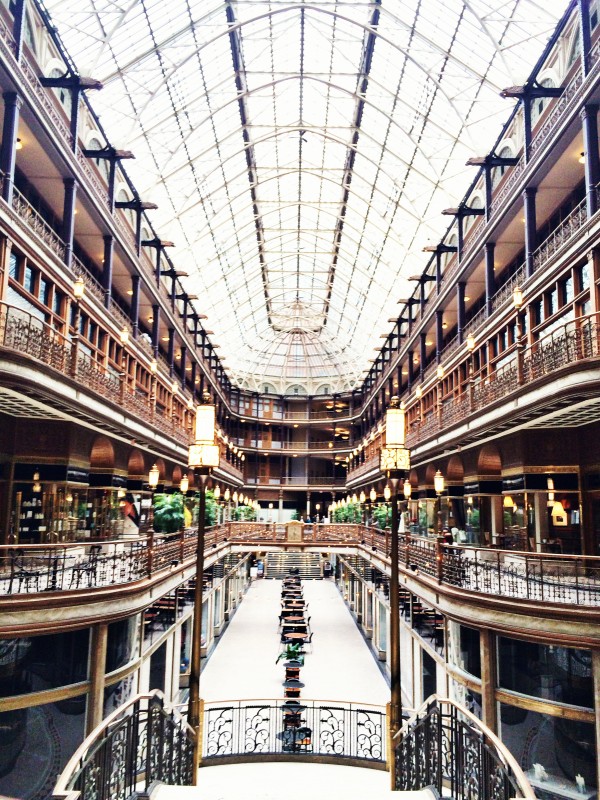 After a quick change, we were off to the famous House of Blues for a wine and cheese pairing. We were accommodated in a private room with a beautiful balcony overlooking 4th street. Each table had a specific cheese and wine to sample. The sommelier explained the in's, outs, and what-haves you when it comes to pairing wines with cheeses. My favorite pairing was the vegetable yogurt cheese from Sugarcreek, Ohio and the Cakebread Cellars chardonnay.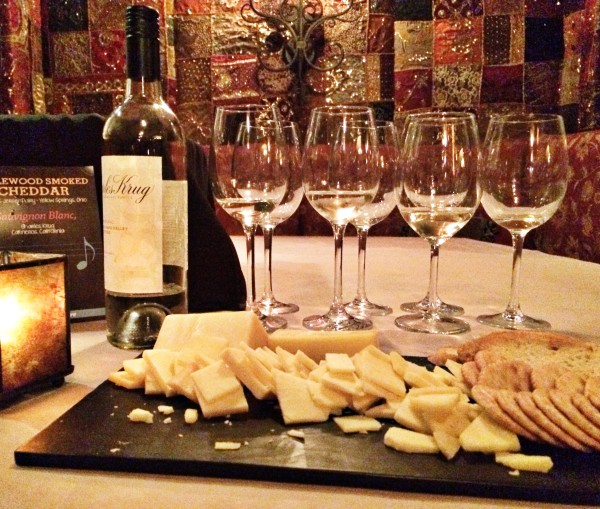 We didn't dive too far into the giggle juice because we were up and out the door by 6am the next morning! Whewwww bessie. I seriously have so much respect for farmers who get up before the sun rises because yours truly would rather pound dirt.
To the farm!
The Richman Farm operated by the Indoe family was our first stop. Richman farm has been farming for nearly five generations and milk nearly 80 head of dairy cattle. We arrived just in time for the first milking. Now, growing up in Kansas you would think I would have squeezed an utter or two, but no! So, I was super eager to try. They told me to grab hold and pull…and six squeezes later, milk finally came out. Clearly, I was not meant to squeeze utters for a living.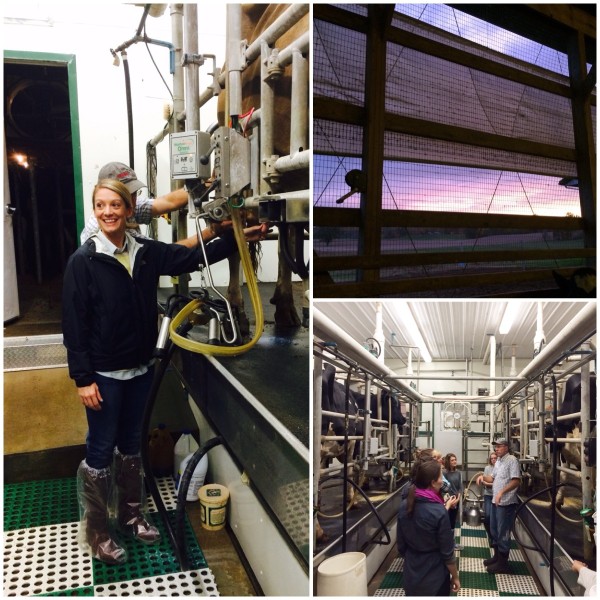 The sun finally rose and we were on to our next adventure, Pearl Valley Cheese. Or should I say, mega-cheese land. Pearl Valley Cheese is a fourth generation company. They went from producing 200 lbs. of cheese a day to 20,000 lbs. Also, they are one of the largest producers of Swiss cheese in America! David gave us a wonderful tour of the plant…. sanitary hair nets first!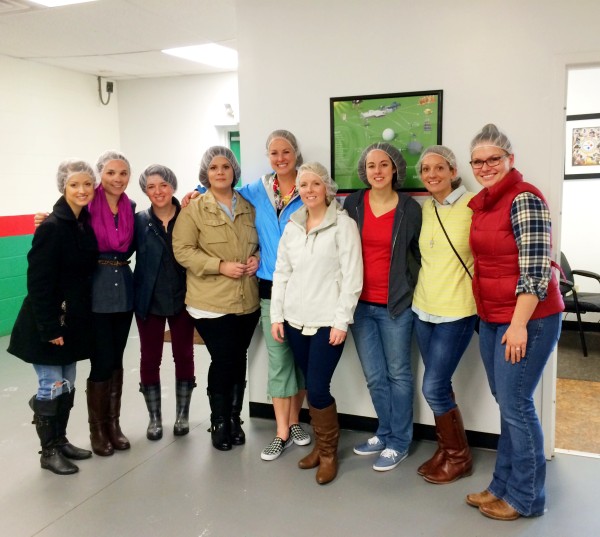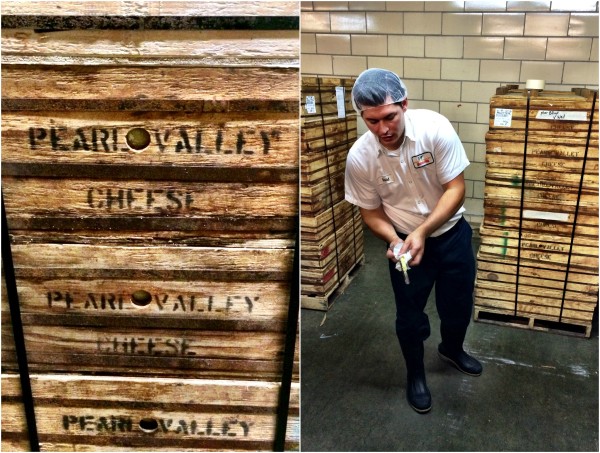 Afterwards, we dove into their "cheese gift shop" to take home some samples. Bacon cheese, yes please!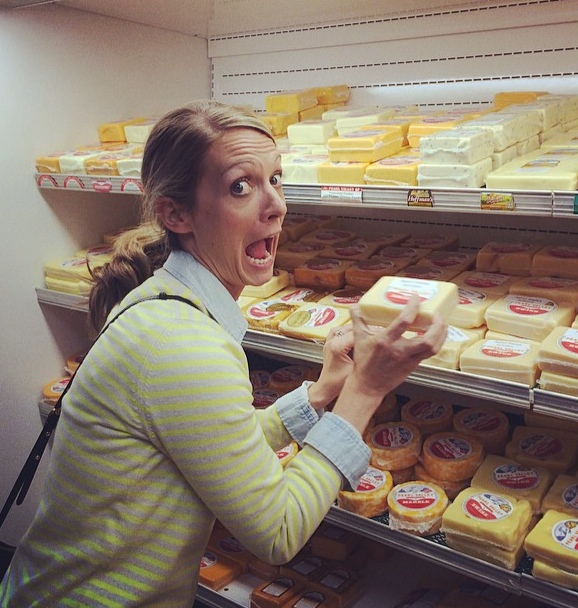 With our cheese fix satisfied, we headed deep into Amish country for some homemade grub. The Amish welcomed us which is no easy task considering you are feeding a bunch of food bloggers. Well, my inner phat kid danced with joy at the homemade meal. I mean, can we please talk about the homemade fried chicken, noodles, gravy, and the best effing bread EVER!.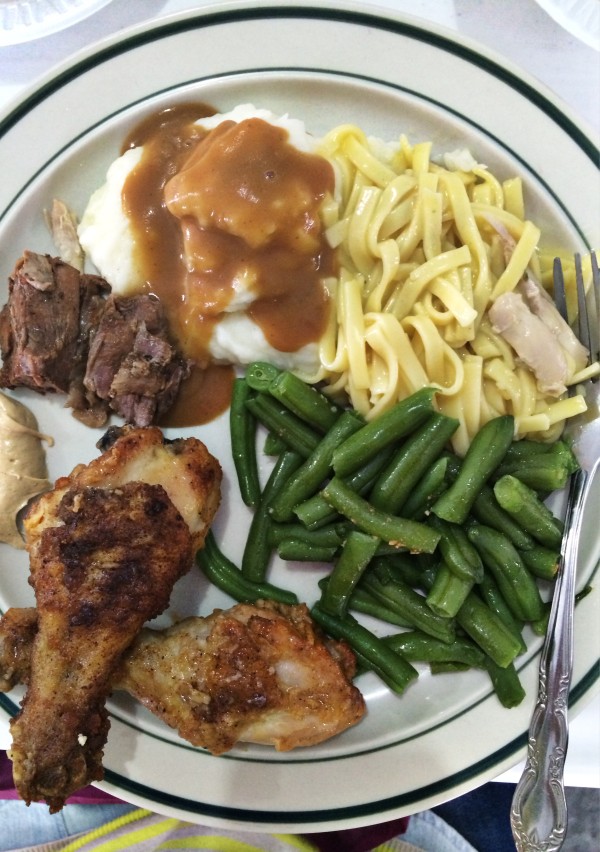 We bid adieu to Amish country and headed to a second dairy farm operated by the Andreas family. This family farm is seventh generation owned and has been operating since 1881.They have over 1300 head of cattle. That's a lot of teets!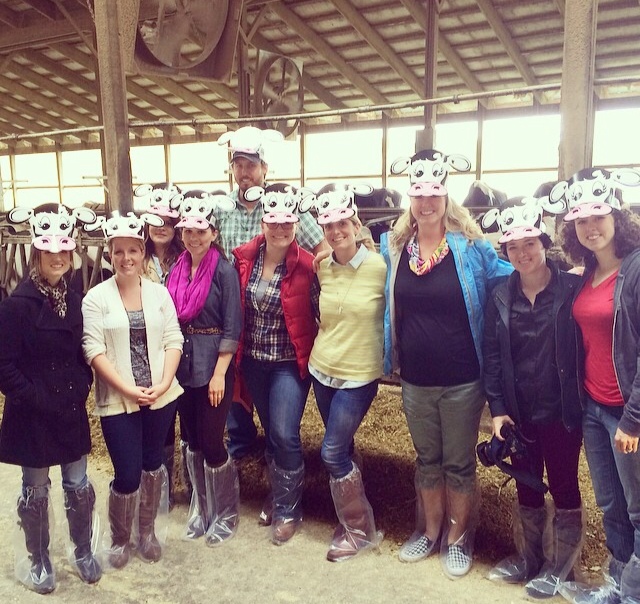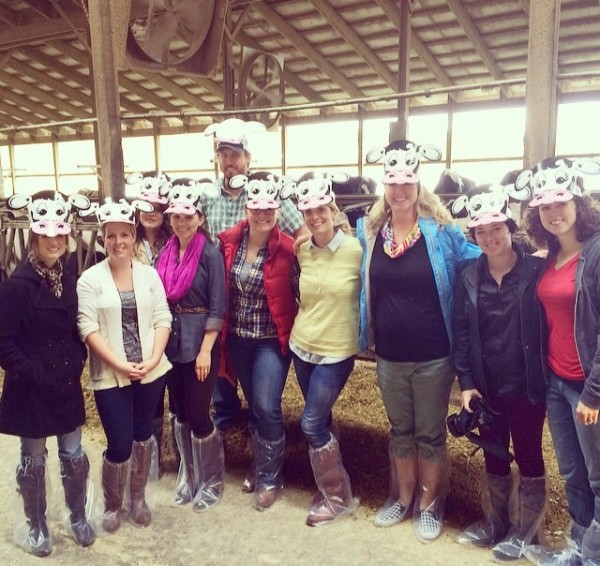 Dan and his son, Matt gave us the full tour. I thought it was interesting that the employees carry around iPads to keep accurate information on each cow. Gotta' love technology! We even got to see a baby calf that was only 30 minutes old. But the highlight was getting to give a bottle the youngin'. Don't I look like a natural?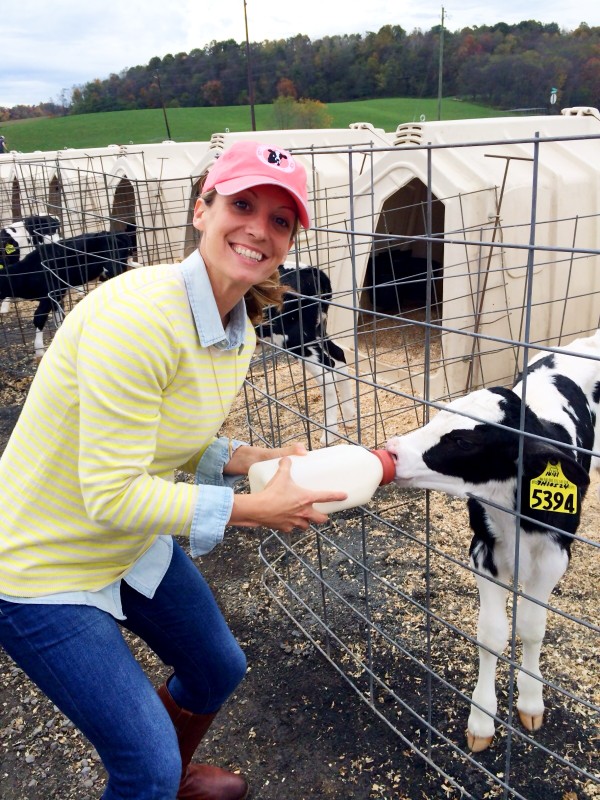 Back to the city!
With a quick hose wash to get the farm smell off and change of clothes, we were back on the bus again. This time, we were off to the Cleveland Browns' stadium for dinner with a very special guest.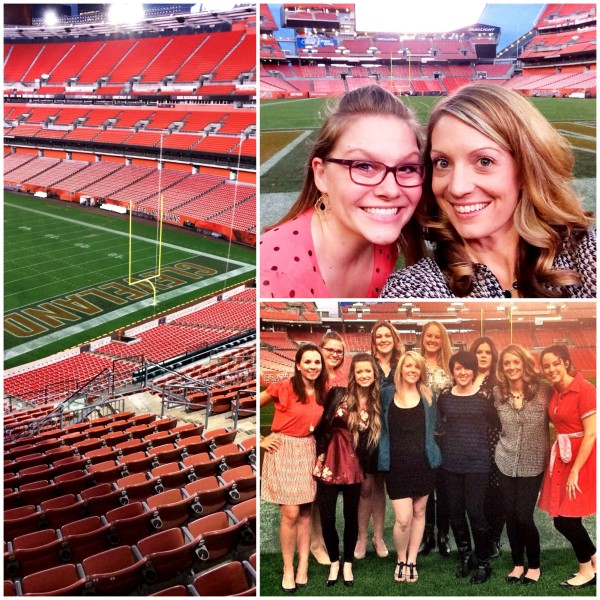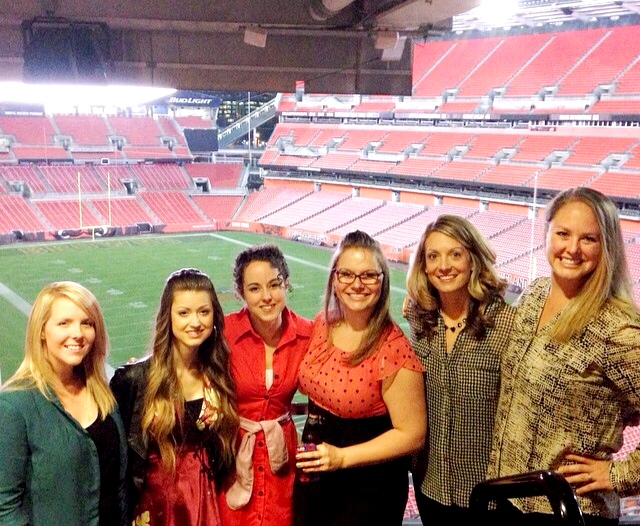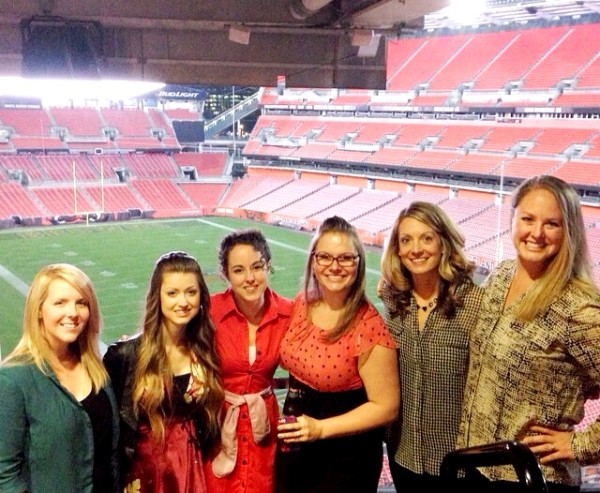 Joe Thomas, an offensive left tackle for the Cleveland Browns,teams up with the American Dairy Association to get kids active 60-minutes a day. Fuel Up to Play 60 is a program geared for kids in school teaching them the importance of good health and exercise. Pretty cool, huh? Joe was a perfect gentleman and let the whole gaggle take a picture with him and sign a couple of footballs. Not only was Joe super down to earth, he stayed for dinner and we all dined on roasted pig provided by another famous Clevelander, Chef Michael Symon.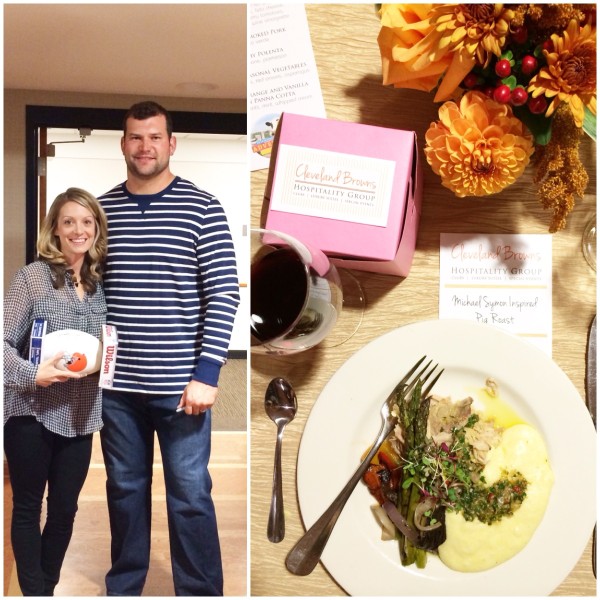 The next morning, we were off to school. Specifically, a grade-school to have breakfast with a couple of kiddos. The American Dairy Association Mideast is trying to educate schools across the state about the importance of a well-balanced breakfast to start the day. If a child has a full breakfast (p.s. did you know that you are supposed to have 30 grams of protein a day?) they are more likely to have better energy and focus throughout the day.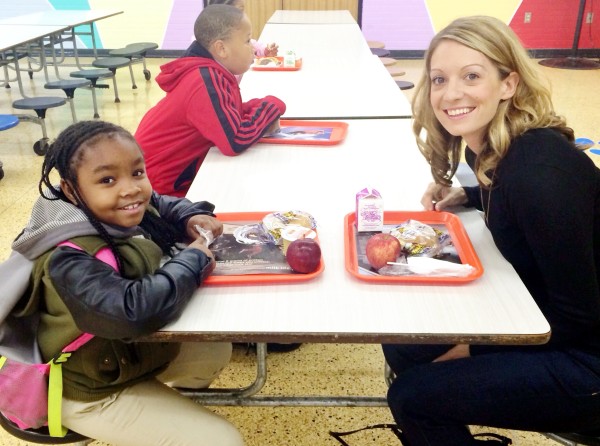 I had breakfast with Niesha. She is eight years old and loves blueberry pancakes. She wanted me to know that she could spell Mississippi. Also, I asked her if she likes LeBron James, she said, "Um, no."
The final stop on our legen-DAIRY adventure was Melt. If you haven't been there, drop what you are doing and fly to Cleveland immediately. Imagine the most decadent grilled-cheese sandwiches you have ever laid your eyes on. I'm talking Deep Fried Monte Christo, Godfather Lasagna, and Potato & Onion Pierogi. And if that doesn't tickle your cheese craving, you can always try the Melt Challenge. I was in cheese heaven as they rolled us all out there.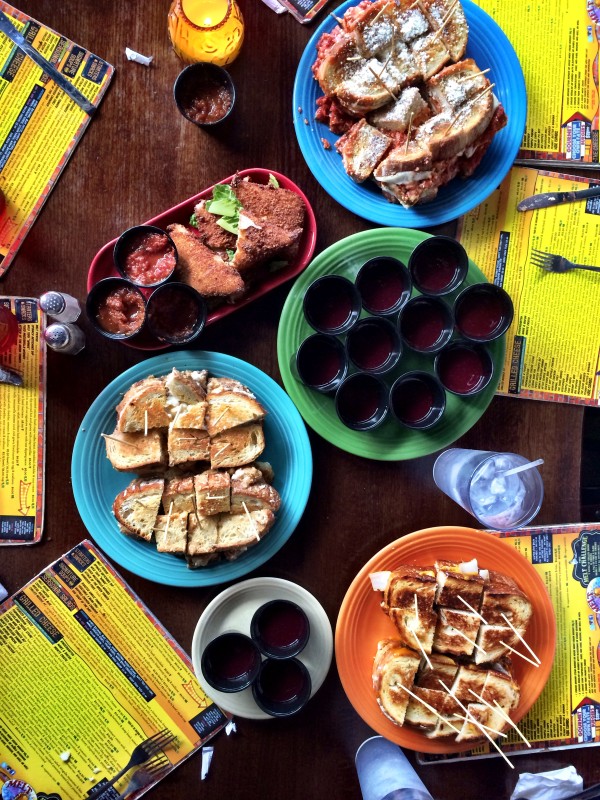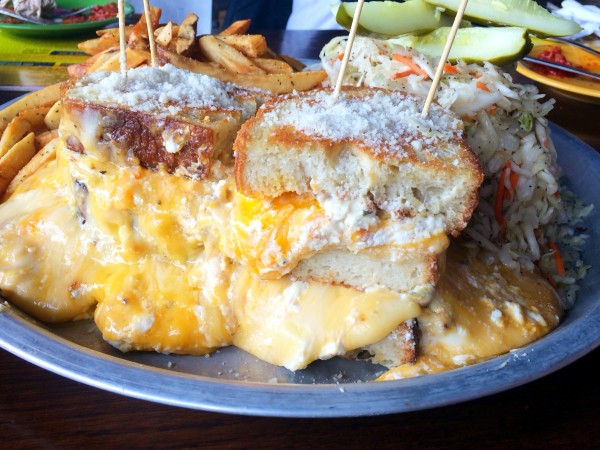 And that's a wrap. A big thanks to America Dairy Association Mideast for hosting us!
It was a Moovalous time!