Ultimate Dark Chocolate Cake with Marshmallow Frosting
Ultimate Dark Chocolate Cake with Marshmallow Frosting is a family birthday favorite! Fluffy chocolate cake covered with a light, sugary marshmallow frosting. It's the best way to celebrate any occasion! Embark on a culinary journey with the Ultimate Dark Chocolate Cake, adorned with decadent Champagne Marshmallow Frosting. Indulge in the richness of dark chocolate and the luxurious touch of champagne, setting the stage for an unforgettable dessert experience.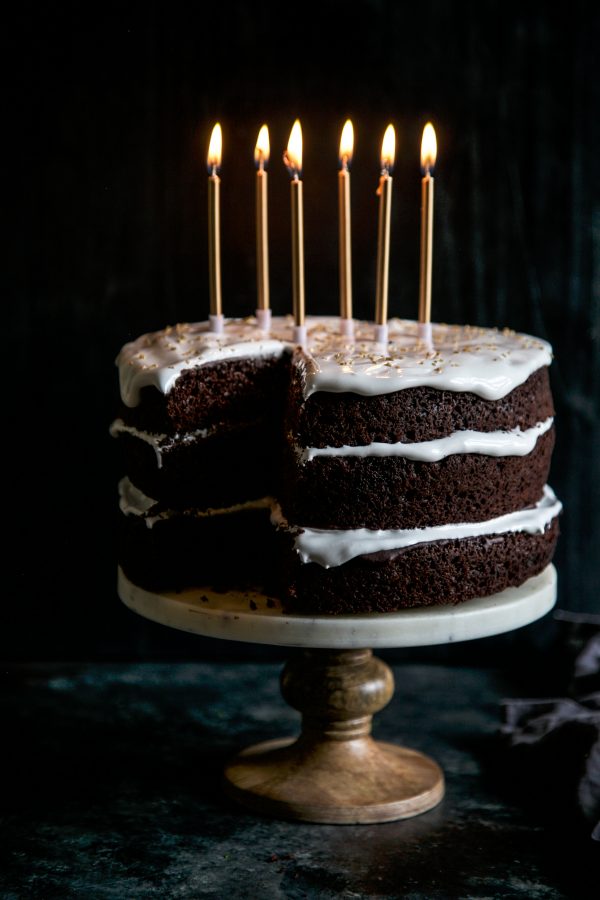 Today is the day.
Today I turn the BIG 3-6.
Truth: I'm excited to be another year older. GASP! In the long line of birthday celebrations I can honestly say turning 36 is the least jarring. Maybe jarring isn't the right word, but if you know me celebrating your true birthday can feel like pulling teeth.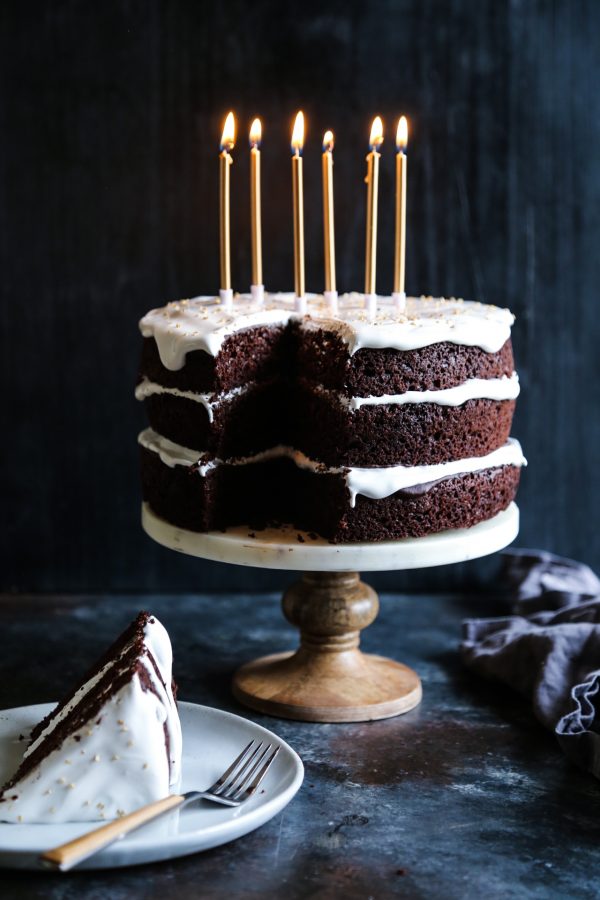 Anyway, I have so much to be thankful for. And that's what really matters, right? First of all, I have my health. Something I've always put before everything because like my mom says, "If you can't take of yourself, you can't take care of others." Second, I have Mr. B and Juniper who make me a better person every day. Third, I have a family who loves and supports me. Oh, and by the way the parental units are coming to town today which makes me so freaking giddy. Fourth, I have a group of friends who are always up for any amount of shenanigans.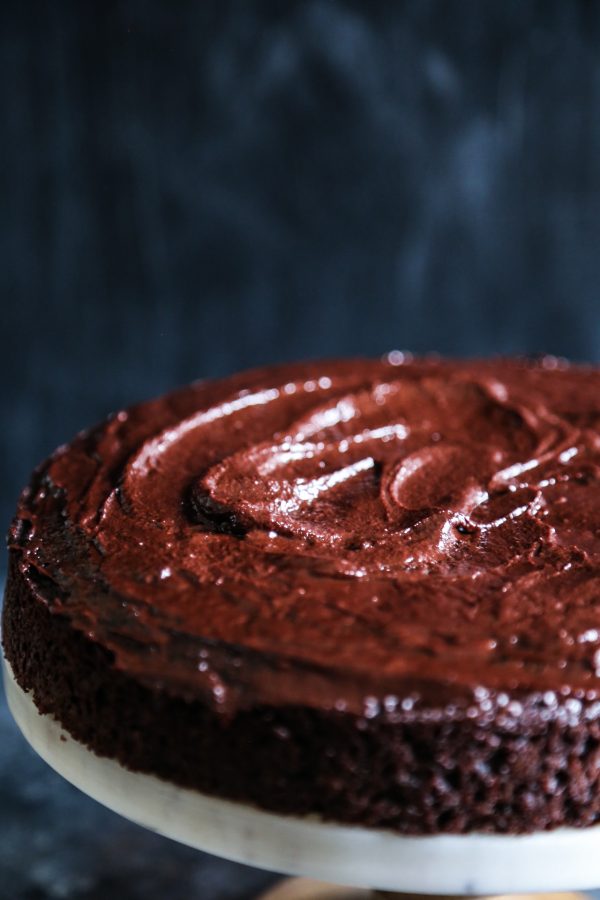 Lastly, I have this blog which is my job, but so much more. To rise each morning and get to create recipes, work with amazing clients, connect in community that loves flavor (and adventurous food) makes me truly grateful. So, turning 36 really isn't that bad.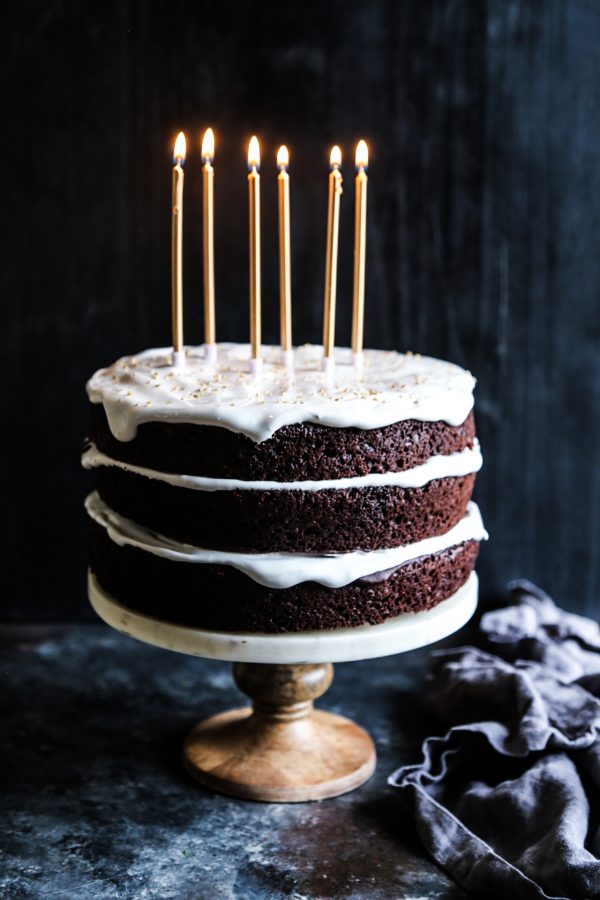 A bit of wisdom I've learned over the years its all about framing what you see. I could look at my life and see a house that is super needy and will never get done. Or I could channel some patience because the underlying beauty of this home is worth the wait. I could look at my business and say, "Why am I not a Food Network star?" Or I could see that upcoming cooking demos will give me a chance to truly connect with people who love to cook. I could look at turning 36 as inching closer to 40. Or I could look at 36 as, "shit, I've got so much more time to accomplish some big things." See, framing. If you don't believe me, try it sometime. Let me know what you think.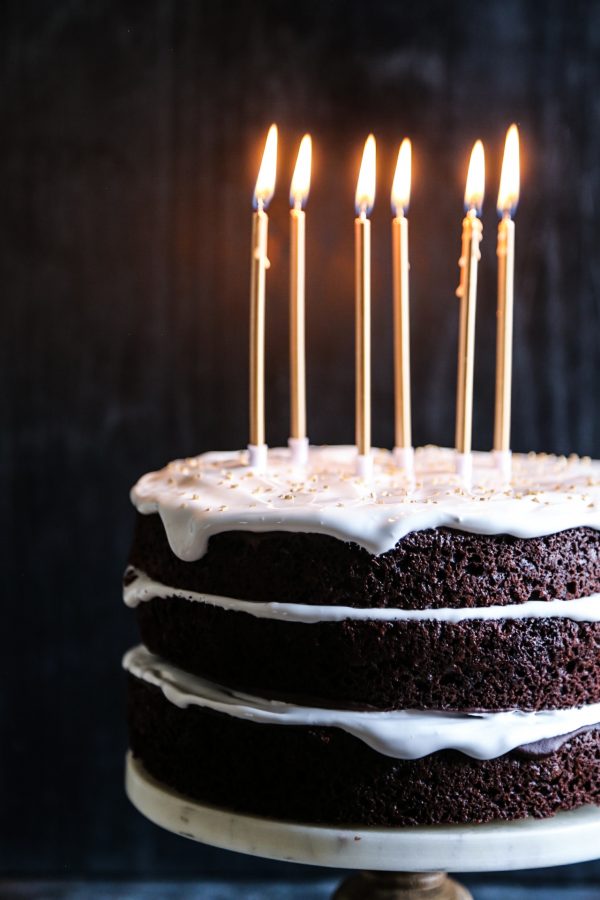 Okay, enough words of wisdom on my birthday because we really need to get this celebration going. Now, you can't have a celebration without cake and I'm pumped because my mom is making me this Ultimate Dark Chocolate Cake with Marshmallow Frosting. GAH! She has been making this cake since my brothers and I were little. It's the BEST CAKE EVER!!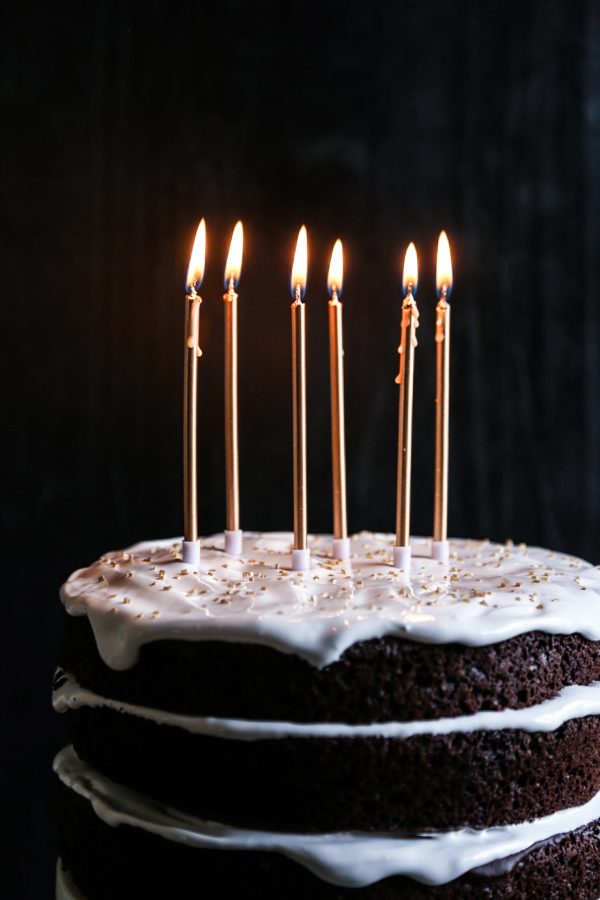 Fluffy, dark chocolate cake with a light, sugary marshmallow frosting. OMG. I might eat the whole freaking thing. Also, thoughts on doing a Insta Stories with mom making the cake? LMK. Alright, I'm off to enjoy the day! xoxo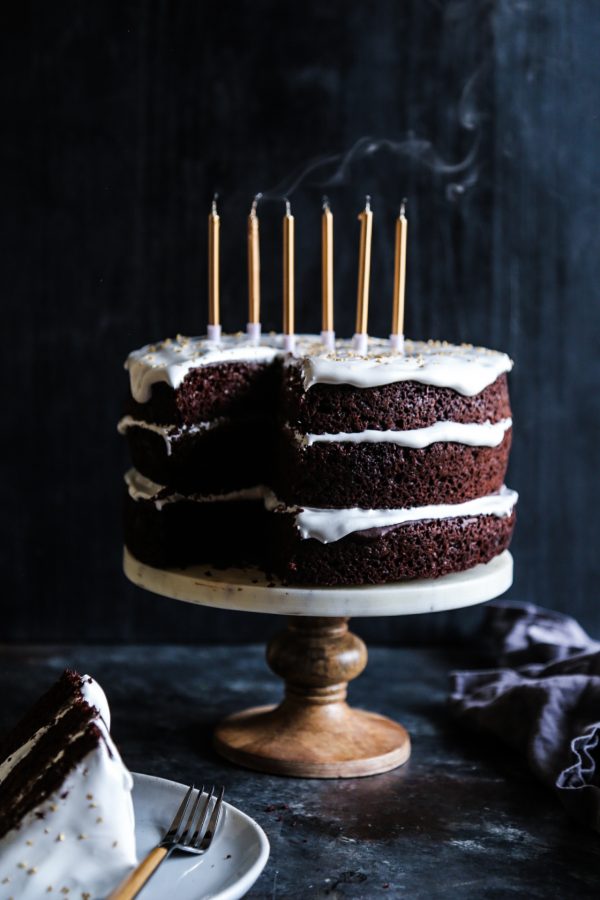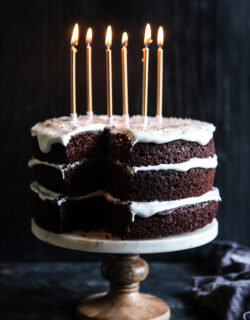 Ultimate Dark Chocolate Cake with Marshmallow Frosting
Ingredients:
for the cake:
4 cups all-purpose flour
2 cups granulated sugar
1 cup brown sugar
2 1/4 cups unsweetened cocoa powder
3 tsp baking soda
3 tsp baking powder
1/4 tsp kosher salt
1 1/2 cups melted unsalted butter
6 large eggs
2 1/2 cups brewed black coffee
2 1/2 cups buttermilk
1 tbsp pure vanilla extract
for the ganache:
1 12oz bag dark chocolate chips
1/3 cup heavy whipping cream + more
for the marshmallow frosting:
2 egg whites
1/4 tsp kosher salt
1/4 cup granulated sugar
3/4 cup corn syrup
1 tsp vanilla extract
Directions:
for the cake:
Preheat an oven to 350 degrees. Take three 8-inch or 9-inch cake pans and spray with non-stick cooking spray. Set aside.
In a large bowl combine together all-purpose flour, granulated sugar, brown sugar, cocoa powder, and kosher salt.
In another large bowl whisk together the melted butter, eggs, coffee, buttermilk, and vanilla. In thirds add the dry ingredients to the wet ingredients until well combined.
Divide the batter between the three prepared cake pans. Bake the cakes until a toothpick inserted in the middle comes out clean about 30 to 35 minutes. Remove cakes from oven and cool completely before covering with ganache.
for the ganache:
In a medium saucepan add the chocolate chips and heavy cream. Turn the heat to medium low and gently melt the chocolate. If you need to add more cream. Keep stirring until smooth. Once smooth spread on the tops of each cake. Let the ganache set either at room temperature or in the fridge for a faster results.
for the marshmallow frosting:
In a stand mixer fitted with a whisk attachment beat 2 egg whites with kosher salt until frothy. Gradually add sugar, beating until soft peaks form. Heat corn syrup in a glass microwaveable dish until it boils. Pour syrup in a thin stream over egg white mixture, a little at a time. Beating on high speed until harder peaks form. Add vanilla and beat until glossy.
Frost the tops of each cake covering the ganache. Take the layers and place one on top of each other on a cake stand. Using the leftover frosting you can frost the sides or add more on top of the cake and let it drip down the side. Add sprinkles for a more festive look and enjoy!
All images and text ©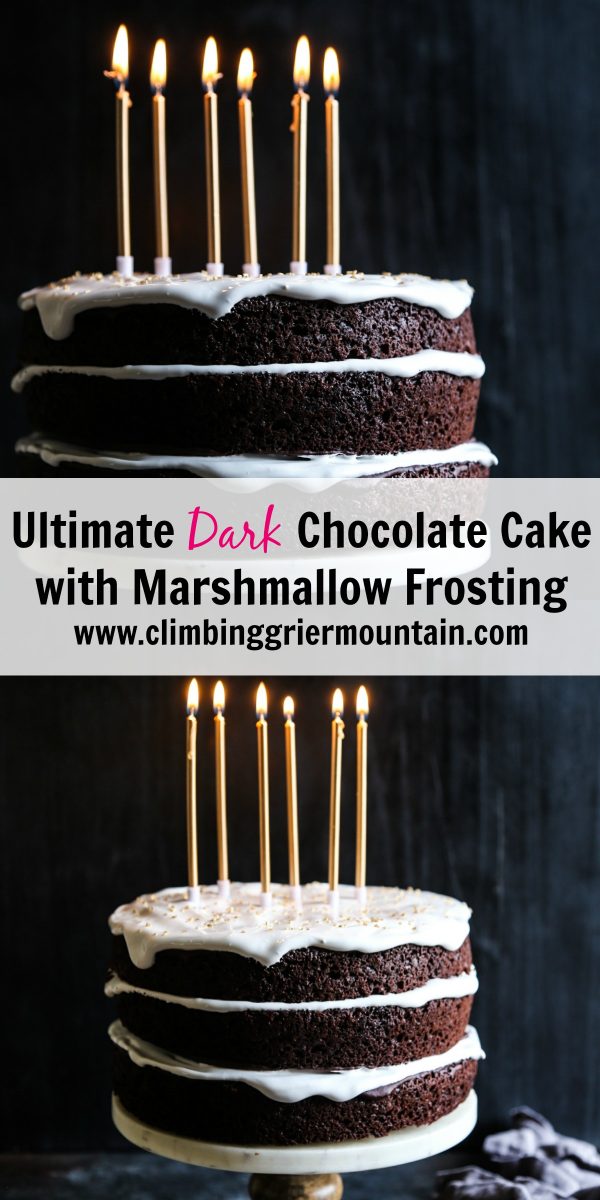 Conclude your dining experience on a sweet note with the Ultimate Dark Chocolate Cake, complemented by Champagne Marshmallow Frosting. A harmonious blend of rich flavors, creates a decadent and luxurious finale to satisfy your sweet cravings.