vanilla baked doughnuts with cadbury ganache icing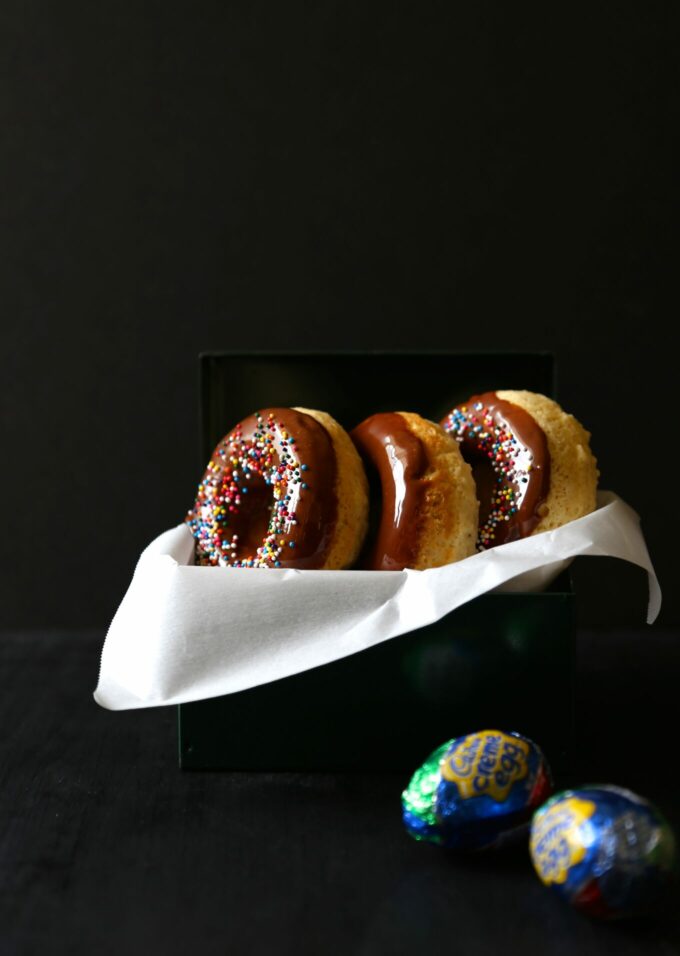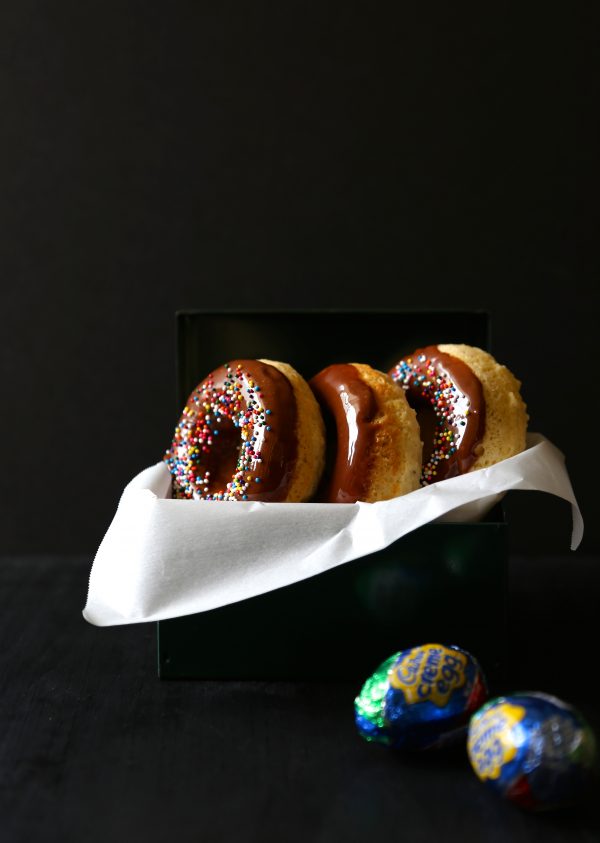 This isn't a joke.
I wouldn't dare fool around on you. Wait. That's not right. Shoot.
What I am tryin' to say, I wouldn't dare bake y'all these gorgeous vanilla doughnuts with cadbury ganache icing and proceed to say, "April Fools'." If I had said that, then I surely would deserve a Chuck Norris uppercut to the jaw.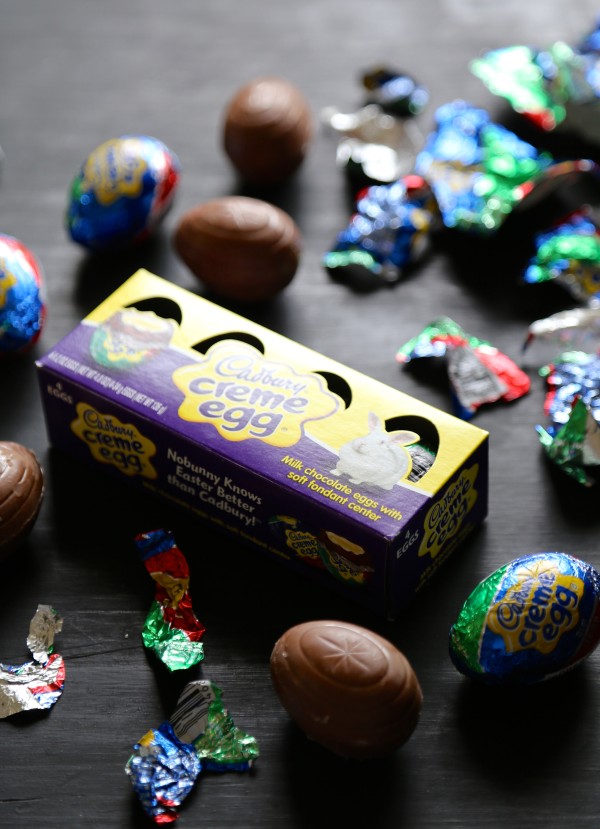 Do you celebrate April Fools'? Does one "celebrate" this day or is it just a participate/not participate kind of day with no celebration required? I'm confused. I actually loved April Fool's day growing up. My father not so much. I was the asshole replacing the sugar with salt, which led to my almost near death one Monday morning. As an adult, I see the need for punishment now. Don't mess with another person's coffee. Word up.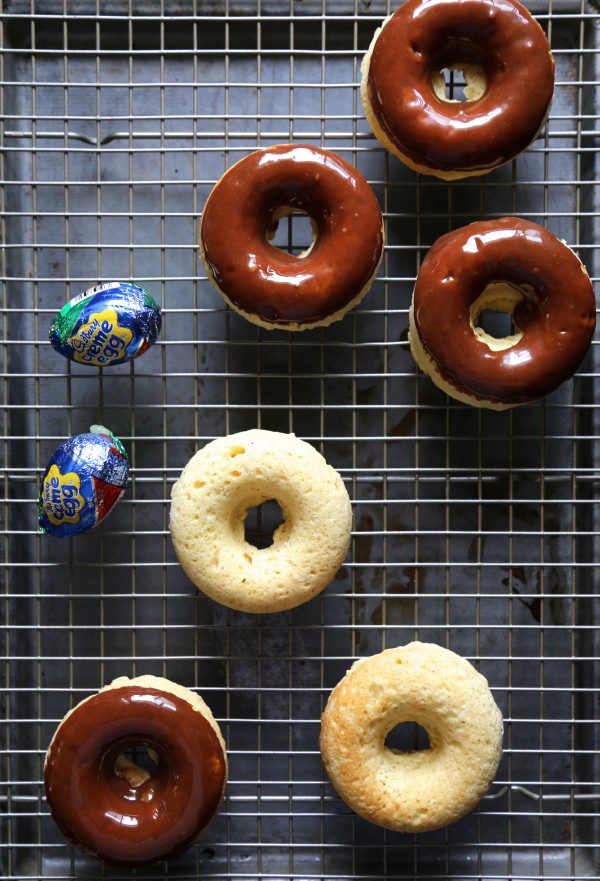 Come to think of it, I probably should send my dad a doughnut or two for the attempt to place saran wrap under the toilet seat lid. Seriously, looking back, I would have made me sit permanently in the corner slobbering on a bar of soap until I was 18. Sorry, dad!
So, maybe these doughnuts are for April Fools' Day apologies? Serve these lovely, fluffy baked vanilla doughnuts topped with a decadent cadbury ganache icing to someone that maybe you shouldn't have fooled. Or, just keep them distracted with a box of these while you take your fooling to the next level!! (cue maniacal laugh).
This is isn't a joke.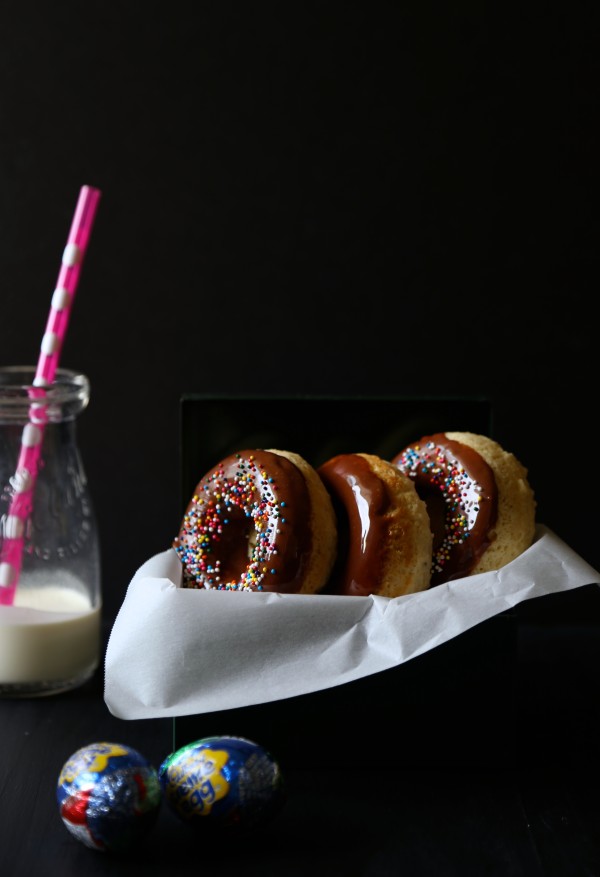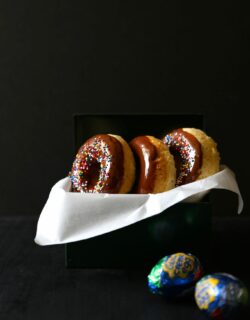 Vanilla Baked Doughnuts with Cadbury Ganache Icing
Ingredients:
for the doughnuts:
2 cups cake flour, sifted
3/4 cup granulated sugar
2 teaspoons baking powder
1/4 teaspoon ground nutmeg
1 teaspoon kosher salt
1/2 teaspoon vanilla extract
3/4 cup buttermilk
2 eggs
2 tablespoons butter, melted
sprinkles, garnish
for the ganache:
6 cadbury creme eggs, halved
1/4 whipping cream
Directions:
for the doughnuts:
Preheat oven to 425 degrees. Spray doughnut pan with nonstick cooking spray. In large mixing bowl, sift together cake flour, sugar, baking powder, nutmeg and salt. Add buttermilk, eggs, vanilla extract, and butter. Beat until just combined. Fill each doughnut cup approximately 2/3 full. Bake for about 7 to 9 minutes or until golden brown. Cool completely before icing. Add sprinkles if desired.
for the ganache:
In a medium sauce pan, add the cadbury creme eggs and whipping cream. Bring to a simmer and continue to stir so the chocolate doesn't' burn. The chocolate should start to thicken after a few minutes. Remove from heat and let cool slightly before icing doughnuts.
All images and text ©