white chicken naan pizza with sauteed pears & gorgonzola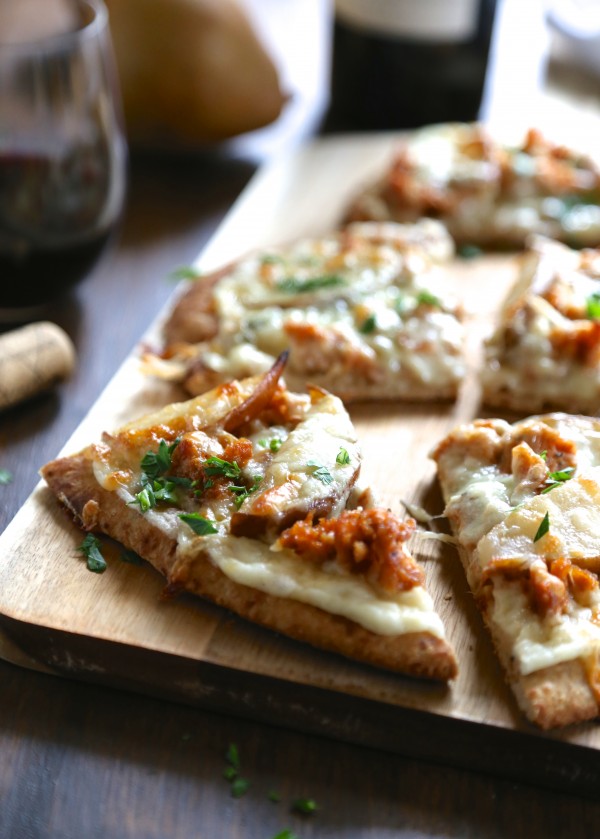 Helllllllllooooooo, summer!
(tackle hugs summer)
I am a big hugger. If you've met in real life you know this. I try not to make it awkward, but I like to invade your space for 2.2 seconds because hugs are the best.
You guys, I can't tell you how flipping excited I am that summer is officially here! Of course, I say that and when it's 18,000 degrees in the middle of August, I might change my mind. But until those super sweaty days are in full swing, I am going to embrace these longer and warmer days.
Besides the weather and ability to wear flip-flops 24/7, I am really excited about the bountiful produce that is going to be filling up my counter space and fridge. I recently received a mega crate of pears from Taylor's Gold pears. Aren't they gorgeous?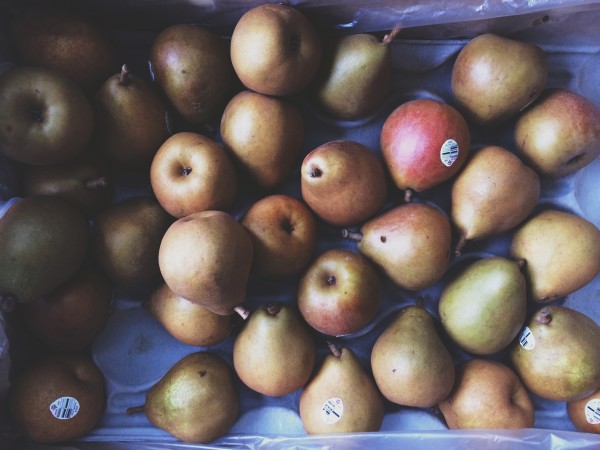 Taylor's Gold pears are grown in New Zealand and are in season between April and July. Taylor's Gold pears are related to the Comice pear and have a juicy sweet flesh, and golden brown exterior. So, what'a girl to do with all these pears? Make pizza, of course!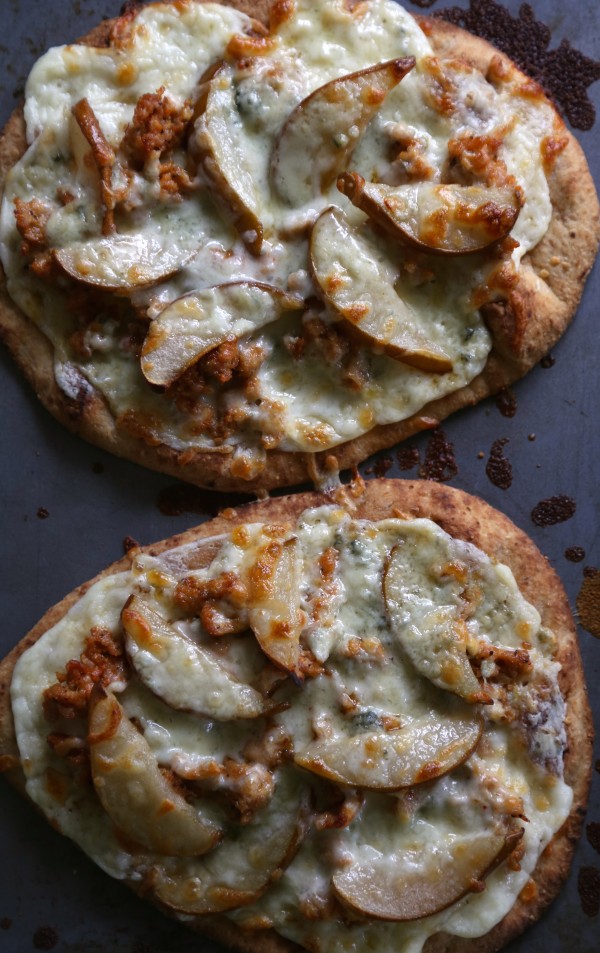 Dudes or Dudettes, if you had to eat only one kind of pizza for the rest of your life, this is your pizza. Caramelizing the pears, melting Gorgonzola and Mozzarella on top of buttery Naan. GET. OUT.OF. TOWN. It's an 11/10 situation.
BUT! The epic goodness doesn't stop there. Oh, no. Eight other food bloggers and I are hosting a fun giveaway, too!
Here are the details:
– Enter your information below in the Rafflecopter. 
– One lucky winner will receive a mega case of these amazing Taylor's Gold pears and a $150 Visa gift card. Dollar bills, y'all. AND!!! Since this is a three month campaign of delicious fruits, your monthly entry will also give you an entry towards a GRAND PRIZE of a new Vitamix blender and a $100 Whole Foods gift card. OMG. So, be sure to head back this way again on June 25th and July 30th to enter for other great prizes.
Make sure and check these fab recipes using pears from my blogging buddies!
Grilled Pears Filled with Caramel and Chocolate by Cook the Story
Cranberry Pear Scones with Orange Glaze from It's Yummi!
Pickled Pear Sorbetto by Pastry Chef Online
Spicy Grilled Pear Ketchup by Cooking with Books
Mini Pear and Blackberry Pies by Big Bear's Wife
Chocolate Dipped Pear Popsicles by Around My Family Table
Pear Caramelized Onion and Brie Bites by Real Housemoms
White Chicken Naan Pizza with Sauteed Pears & Gorgonzola  by Climbing Grier Mountain
Muddled Pear Moscow Mule by Doughmesstic
Pear Gorgonzola Easy Ravioli by Nutmeg Nanny
Also, we will be hosting a live Twitter chat tomorrow (5/29) at 8pm EST to talk all things pears. Come chat with us because you could win some fun pear swag and VISA gift cards. Follow along the hashtag #loveNZfruit!
***This post was sponsored by Taylor's Gold pears. As always, all opinions expressed are 100% my own.***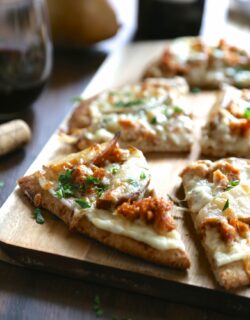 White Chicken Naan Pizza with Sauteed Pears & Gorgonzola
Ingredients:
4 pieces Whole Wheat Naan
1 tablespoon olive oil
1 lb ground chicken sausage
2 large Taylor Gold Pears, sliced thinly
1 cup Gorgonzola
1 cup Mozzarella
4 tablespoons unsalted butter
3 tablespoons all-purpose flour
3/4 cup whole milk
pinch of nutmeg
salt and pepper to taste
Directions:
Preheat oven to 400 degrees.
Spray two baking sheets with non-stick cooking spray. Place two pieces of Naan on each baking sheet. Preheat a medium skillet to medium-high heat, add the olive oil and chicken sausage. Saute chicken sausage until cooked through. Using a slotted spoon, remove chicken sausage and place in a bowl. Set aside. In the same skillet preheated to medium heat, add 1 tablespoon of butter. Add the pears and saute until golden brown. Turn off heat and set skillet aside.
In a medium saucepan preheated to medium heat, melt three tablespoons of butter. Add the flour and whisk until the flour is cooked out and you have roux. Gradually add the milk and a pinch of nutmeg. Whisk until the sauce has thickened about five minutes. Stir in a little s&p too.
To make the pizzas, spread about 1/4 cup of the white sauce onto each piece of Naan. Then top with chicken sausage, sauteed pears, 1/4 cup Gorgonzola, 1/4 cup mozzarella. Repeat process for remaining three pieces. Bake pizzas for about 15 minutes or until golden brown. Serve immediately!
All images and text ©