winter white chocolate peppermint truffle s'mores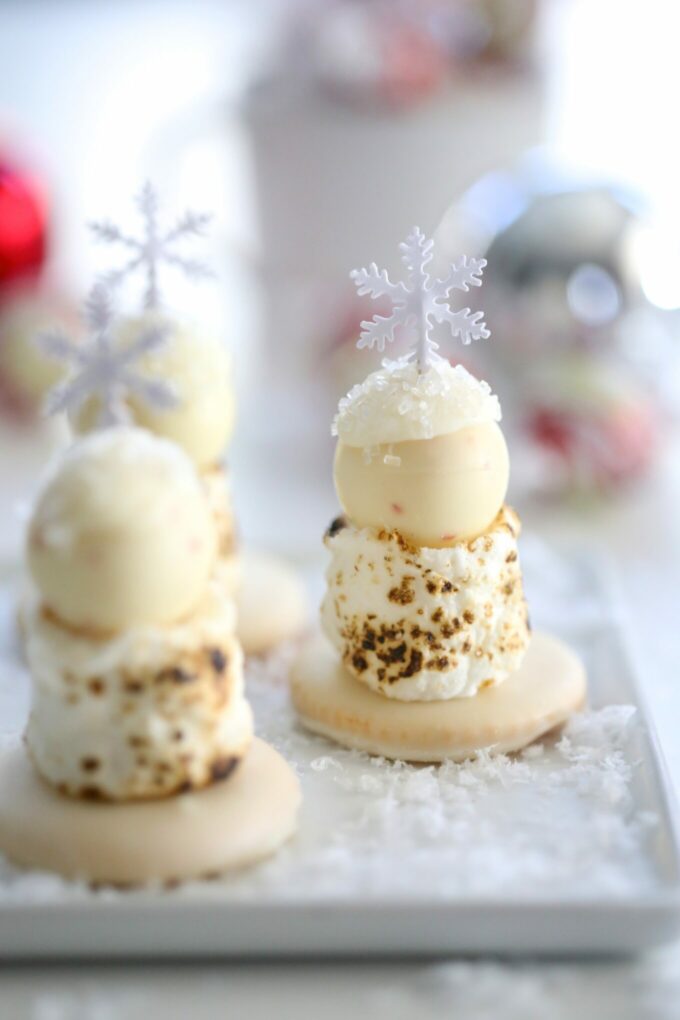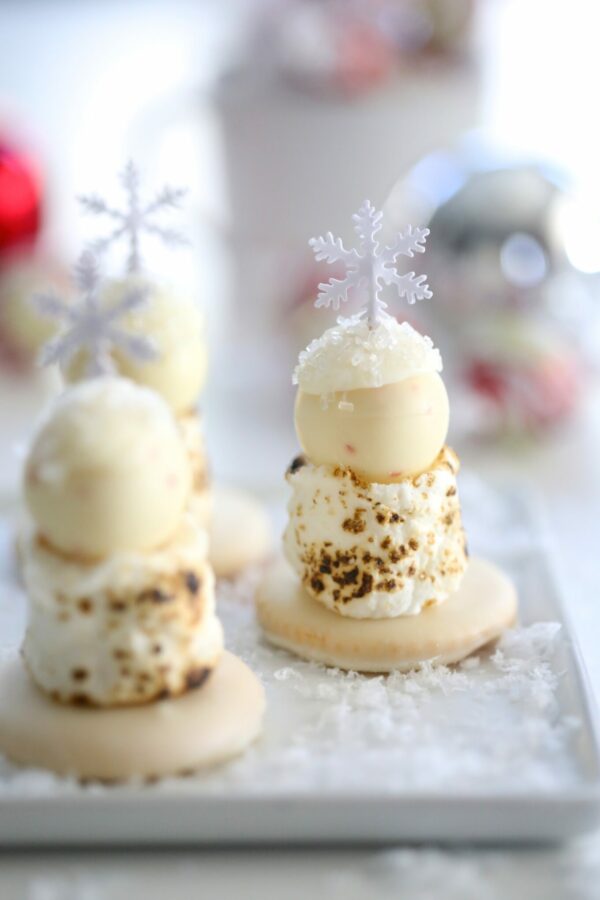 My love for s'mores knows no bounds.
As a kid, I used to take a graham cracker square put some chocolate chips on top followed by mini marshmallows. I'd place this non-campfire s'more in the microwave for about 10 seconds and watch the marshmallows balloon while the chocolate slightly melted. For an eight year-old, 10 seconds was a lifetime when waiting for my favorite treat.
I must have made this s'mores version over bazillion times. And sometimes, when I am desperate for s'more flavors, I still make them as an adult. GASP! But that's just between you and me, right?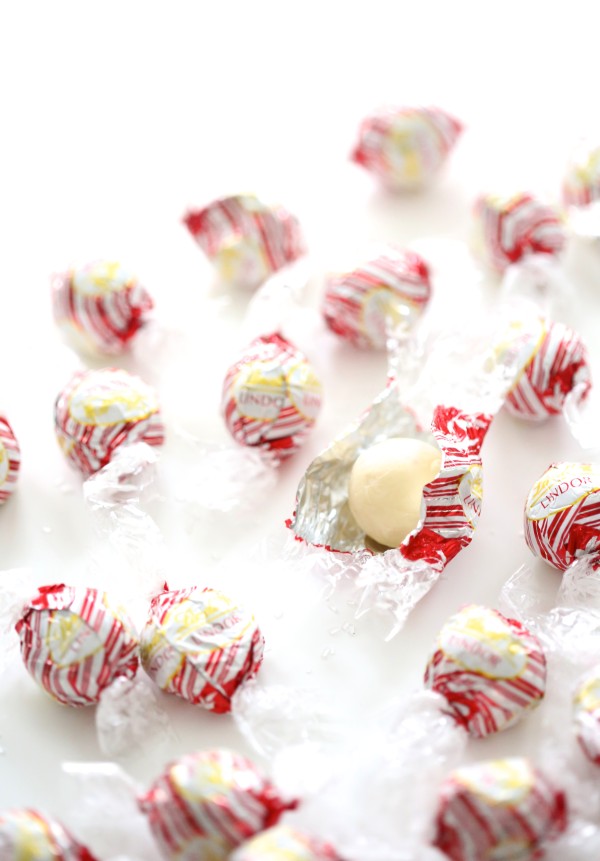 Since we are t-minus five days away from the Winter Solstice, which means Old Man Winter will soon be parking his tookus permanently for the next three months, I thought I would make us a festive winter white s'more version that doesn't require building a giant bonfire.
Now, these s'mores wouldn't be complete without a little help from our friends at Lindt Chocolate. I might have a slight obsession with their LINDOR truffles. I am big fan of their milk chocolate truffles, um hello, Pumpkin Spice Tarts with Milk Chocolate Truffles. BUT! Can we please talk about their white chocolate peppermint truffles? Life changing may be an understatement.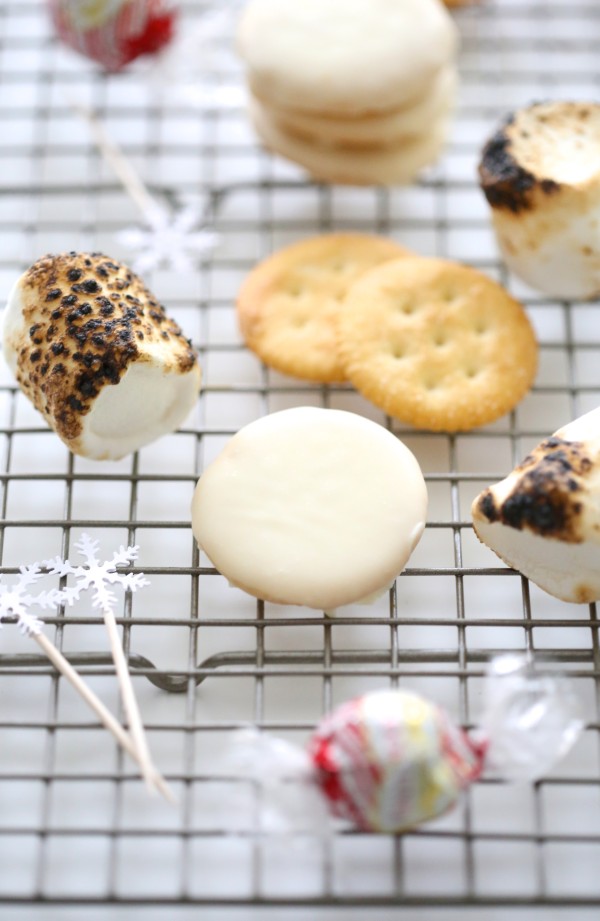 Peppermint is one of my top three flavors when it comes to celebrating the holidays. Naturally, the Lindt Master Chocolatiers have gotten this flavor down to a perfect bite-sized truffle. So, what's a girl to do with these festive fellows? Take a white chocolate covered cracker top it with a crispy, slightly burnt marshmallow (for authenticity) followed by a white chocolate peppermint truffle that has been bedazzled with more white chocolate and sprinkles, and garnish with a super cute snowflake toothpick to hold it altogether.
Seriously, what's not to like? Here have s'more. As if you didn't see that coming.
***This post was sponsored by Lindt Chocolate. As always, all opinions expressed are 100% my own.****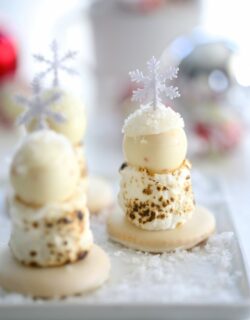 Winter White Chocolate Peppermint Truffle S'mores
Ingredients:
12 round crackers (*I use Ritz)
12 large marshmallows
12 White Chocolate Peppermint Lindt LINDOR Truffles
2 cups semi-sweet white chocolate chips
2 tablespoons heavy cream
White edible sprinkles, garnish
Snowflake toothpicks, garnish
Directions:
In a medium saucepan, add 1 cup white chocolate chips and 1 tablespoon cream. Melt the chocolate over low heat, stirring to make sure everything is combined and it doesn't burn. Remove saucepan from heat and begin to dip the whole cracker into the melted chocolate and place the cracker on a sheet of parchment paper. Repeat process until all 12 crackers have been covered in white chocolate.
In another medium saucepan, add the remaining white chocolate chips and cream. Melt the chocolate over low heat, stirring to make sure everything is combined and it doesn't burn. Remove saucepan from heat and begin to dip the tops of the peppermint truffles into the white chocolate. Place the truffle on a wire rack and garnish top with white sprinkles. Repeat process until all 12 truffles have been topped with chocolate and covered in sprinkles.
Once the chocolate has set on the crackers and truffles (typically takes about an hour or more), using a torch with a small flame crisp the outside of the 12 marshmallows. Set aside once complete on parchment paper.
To assemble the s'mores, place a cracker on a plate, top with marshmallow followed by a white truffle. To keep the truffle from rolling off, take a snowflake toothpick and stick it down the center of the truffle so it connects with marshmallow and cracker. Repeat process until all 12 s'mores have been made.
All images and text ©