turnip gratin with parmesan truffle crumb topping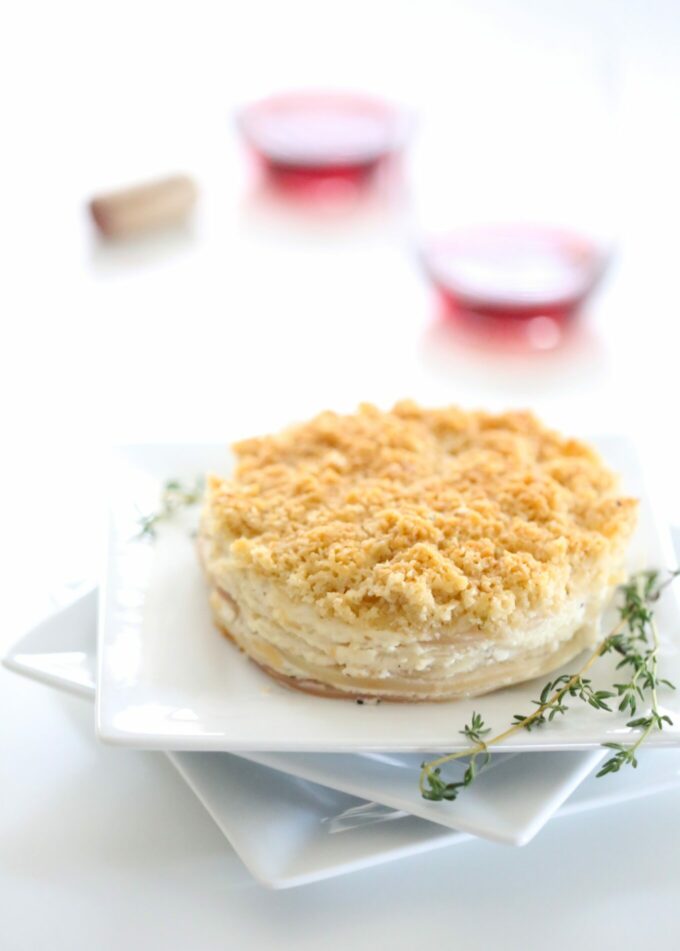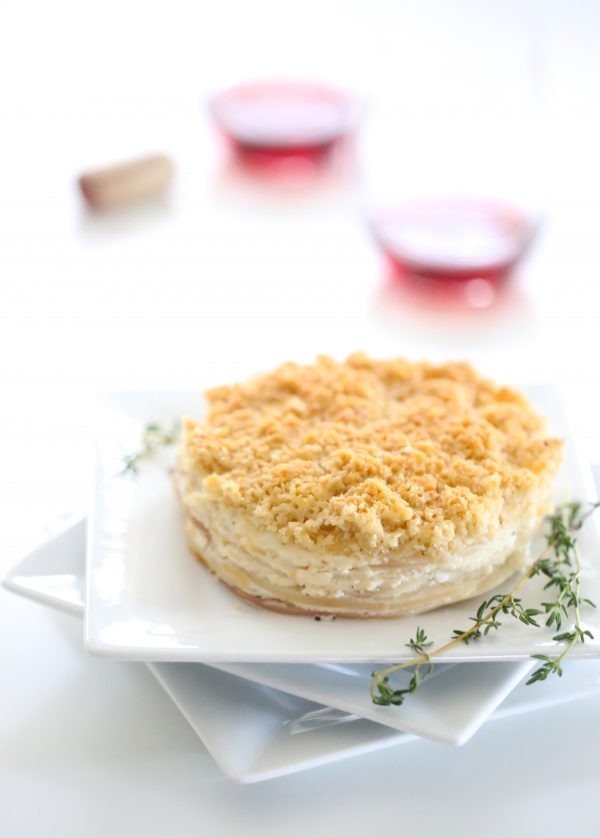 What is on your holiday feast menu this year?
Are you going Christmas Grinch style with a roast beast and feeding a town of Whoos? Or maybe you are mixing it up this year and going for spaghetti and meatballs with maple syrup option like on Elf? Whatever you are making just make sure you do not dry out the turkey like on Christmas Vacation. YIKES.
I am still working out the kinks to our holiday feast menu. Our schedule this year is a little wonky because we will be in Kansas City over the holidays, fly home to Denver on Christmas Day, and then on to San Diego for a family reunion. I have a feeling Christmas is going to be one giant blur.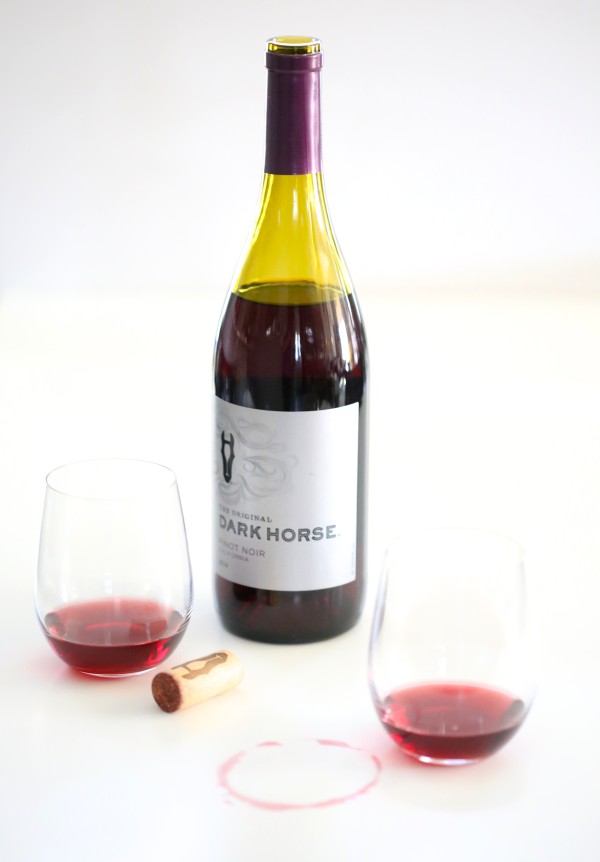 So to help keep me on my toes until the new year, Dark Horse Wine challenged me to reinvent a classic holiday recipe that delivers the unexpected. You've had a gratin, right? I've eaten my fair share over the years, but have never actually made one from scratch. Sometimes I wonder how I survive.
Anyways, with the struggle of Christmas menu planning becoming a reality, I accepted their challenge. Who knew all I needed to get the juices flowing was a little pressure? With that, I searched the grocery aisles for a veggie that could deliver great taste like a potato, but was something a little different. Enter the turnip. Um, where has the turnip been all my life? This is where you say, "Lauren, did you just fall off the turnip truck yesterday?"  Why yes, I did, thank you very much."
This Turnip Gratin with Parmesan Truffle Crumb Topping is two snaps up and the turnip definitely holds it own as the star of this gratin. The cream, Dijon and Parmesan give this vegetable a lovely smoothness with a cheesy bite. Pair it with a Dark Horse Pinot Noir, food-friendly wine with soft tannins that cut through richness and you've just solved your holiday menu problems.
Now all you have to do, according to Elf, is smile.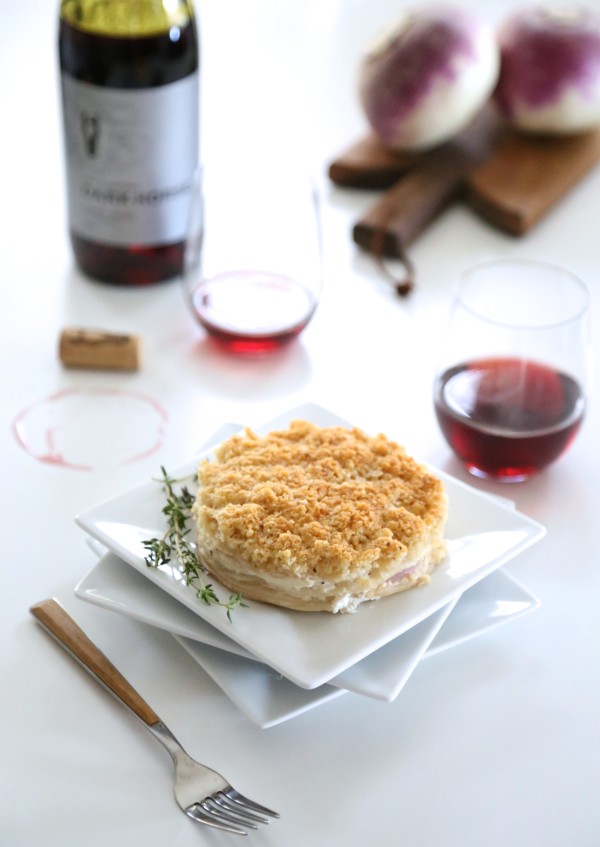 ***This post was sponsored by Dark Horse Wine. As always, all opinions expressed are 100% my own.***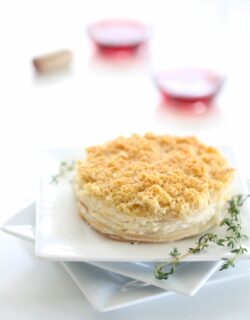 Turnip Gratin with Parmesan Truffle Crumb Topping
Ingredients:
2 medium turnip roots, sliced into 1/8 rounds
2 cups heavy cream
1 garlic clove, minced
1 teaspoon Dijon
1 cup Parmesan cheese, grated
Thyme sprigs, garnish
salt and pepper to taste
for the truffle topping:
1/2 cup panko
1/4 cup oats
1 tablespoon Parmesan, grated
1 tablespoon all-purpose flour
1 teaspoon truffle oil
3 tablespoon unsalted butter
Directions:
Preheat oven to 375 degrees. Spray two, 6-inch round cake spring form pans with non-stick cooking spray. In a saucepan add heavy cream and bring to a simmer. Next, whisk in the garlic, Dijon mustard, salt, and pepper. Turn to low to keep the sauce warm.
Take half of the turnip slices and place them into the cake pans making sure they overlap. Next, pour half of the cream mixture between the two cake pans and garnish the tops each with 1/4 cup of the Parmesan cheese. Repeat the step with the remaining turnips, cream, and cheese. Cover the cake pans with foil and bake for about 40 minutes. Remove gratin from the oven and disgard the foil. Next, place the truffle crumb topping on top in an even layer and place back in the oven for about 10 to 11 minutes or until golden brown. Once cooked, remove gratin from oven and let it cool slightly before removing from spring form pan about five minutes. When it's cooled remove from pan and serve with a garnish of thyme.
for the truffle topping:
Add all ingredients into a food processor. Pulse until small pea-sized portions start to form. Set aside in bowl until ready to top gratin.
All images and text ©