Za'atar Spiced Tomatoes & Chickpea Flatbread
Za'atar Spiced Tomatoes & Chickpea Flatbread is a refreshing, no-bake snack or appetizer that is perfect any day of the week!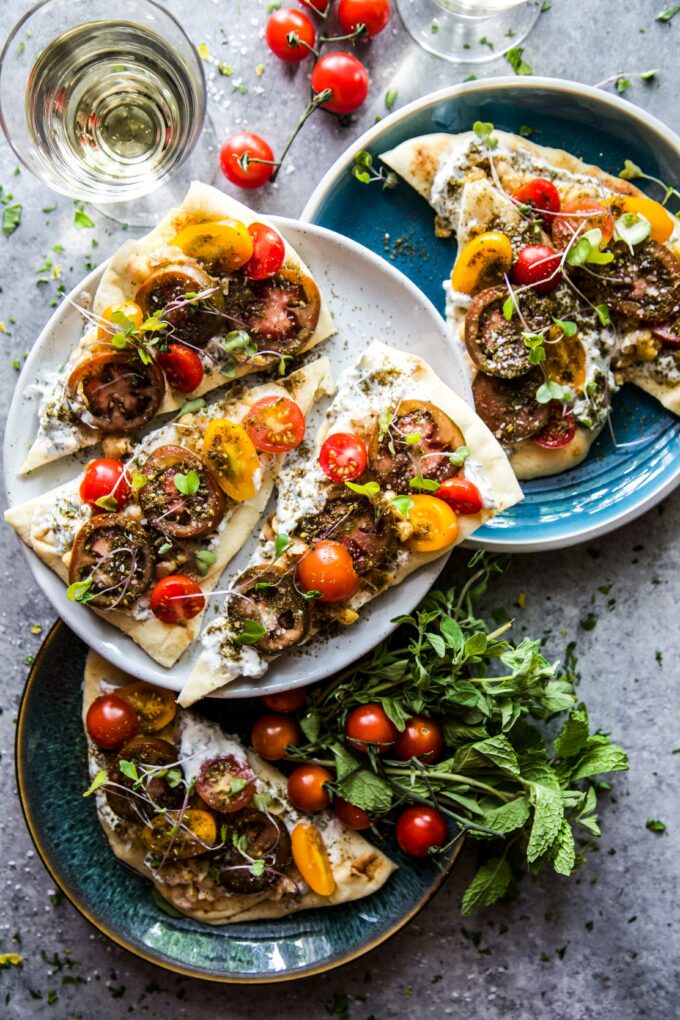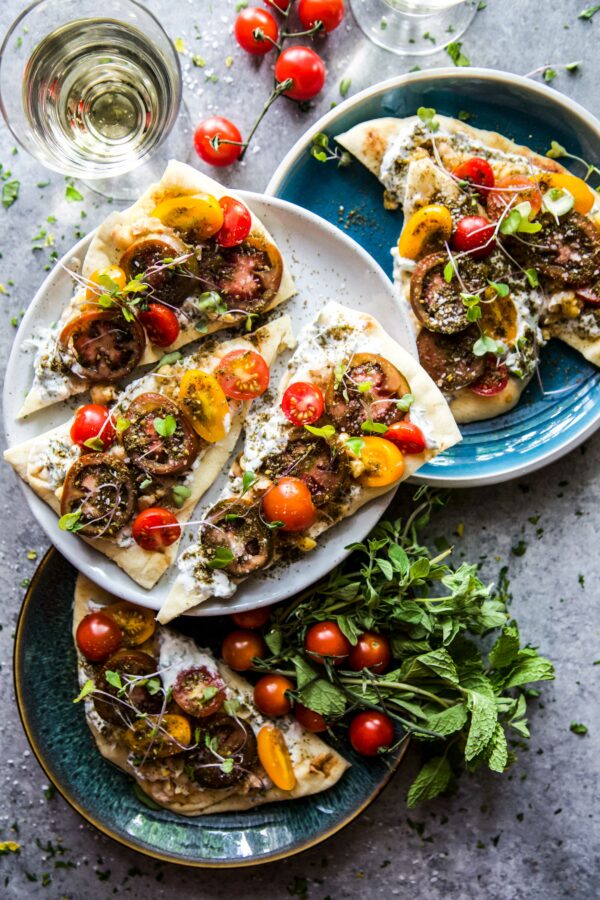 Reset.
Sometimes you just need to hit the reset button.
Whether you've had an overludgent weekend or been away on vacation, starting the week off with a fresh, healthy snack is all you need. Now, when it comes to making snacks I like to keep the ingredients simple. Definitely use what's in season and right now tomatoes are crushing it!
Let me introduce you to a super simple flavorful snack – Za'atar Spiced Tomatoes & Chickpea Flatbread. Juicy tomatoes pile-high on fluffy naan flatbread and dolloped with a za'atar spiced yogurt sauce. The flavors are incredible! Trust me, you won't give Doritos another look!
Alright, let's whip this snack up!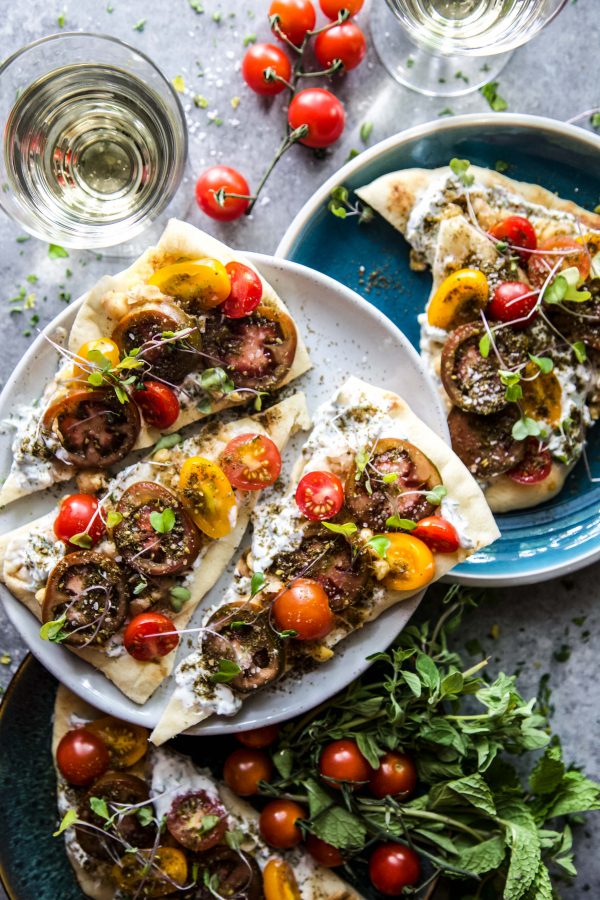 What's in this Za'atar Spiced Tomatoes & Chickpea Flatbread?
Like I mentioned above, healthy snacks don't need to be fussy nor complicated. Just a few simple ingredients will have you craving fresh vegetables and more! For this snack recipe you will need:
Za'atar seasoning
Heirloom tomatoes
Chickpeas
Red wine vinegar
Shallot
Parsley
Greek yogurt
Fresh mint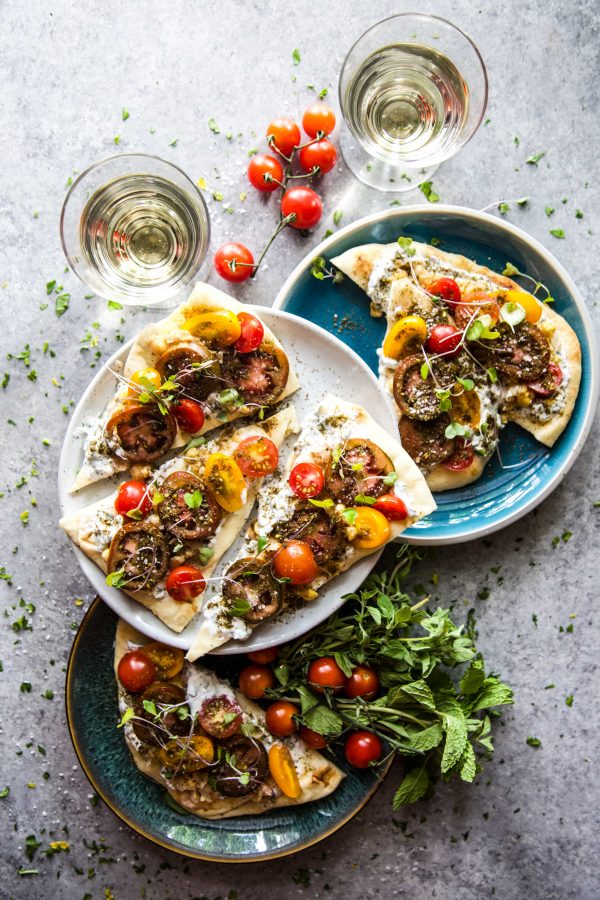 Tips for Making this Za'atar Spiced Tomatoes & Chickpea Flatbread:
1) Za'atar Seasoning: you can find this at any local spice shop or buy yourself a big ass bag on Amazon. Za'atar is a Middle Eastern spice blend made up of oregano, thyme, marjoram, sumac, and toasted sesame seeds. It's not spicy, but packs a lot of flavor.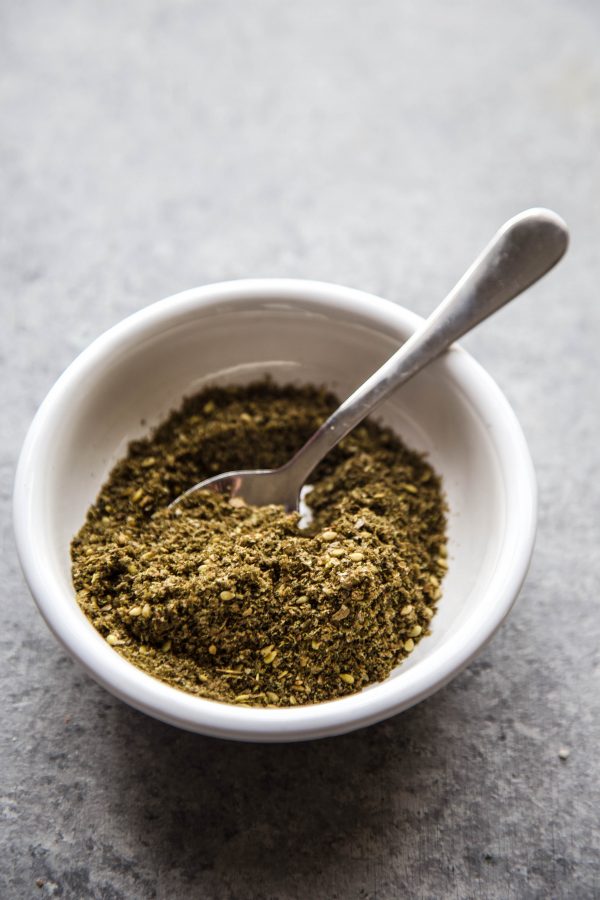 2) Tomatoes. Heirloom tomatoes will always reign supreme. However, if you can't find them at the grocery store any juicy, red hued tomato will do. All grape tomatoes of different colors would be lovely as well.
3) Naan. Naan is a leavened, oven-baked flatbread found in the cuisines mainly of Western Asia, It's delicious and can be found in most grocery stores. If you can't find Naan, you can definitely use pita or a sliced baguette.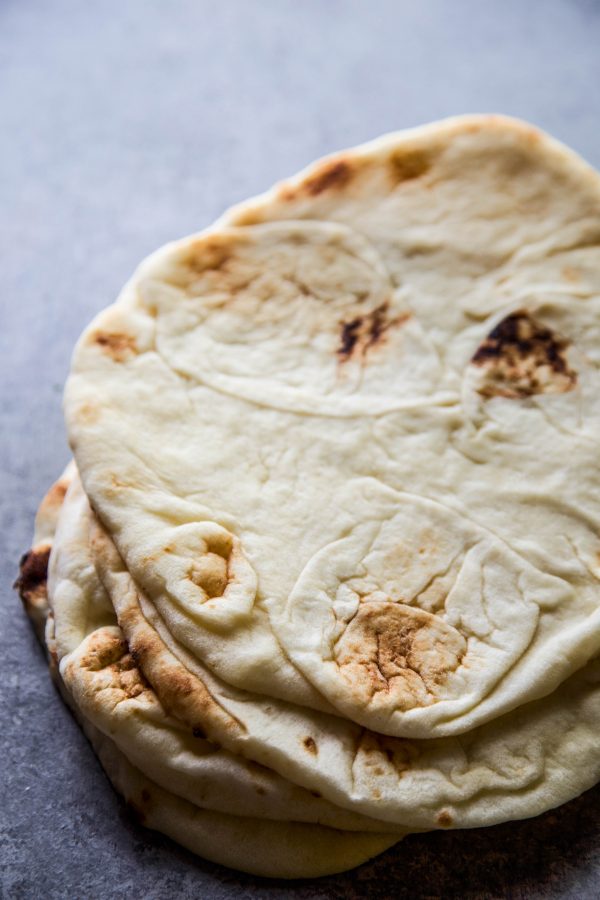 Can I make this low-carb?
Absolutely! Serve the tomato slices and toppings without the flatbread.
What if I can't find Za'atar seasoning?
No worries! I would mix together some lemon zest, red pepper flakes, coriander, cumin, salt, and pepper. Sprinkle this mixture on the tomatoes instead for a quick alternative.
What are some additional toppings I could add?
I would try adding feta or avocado slices!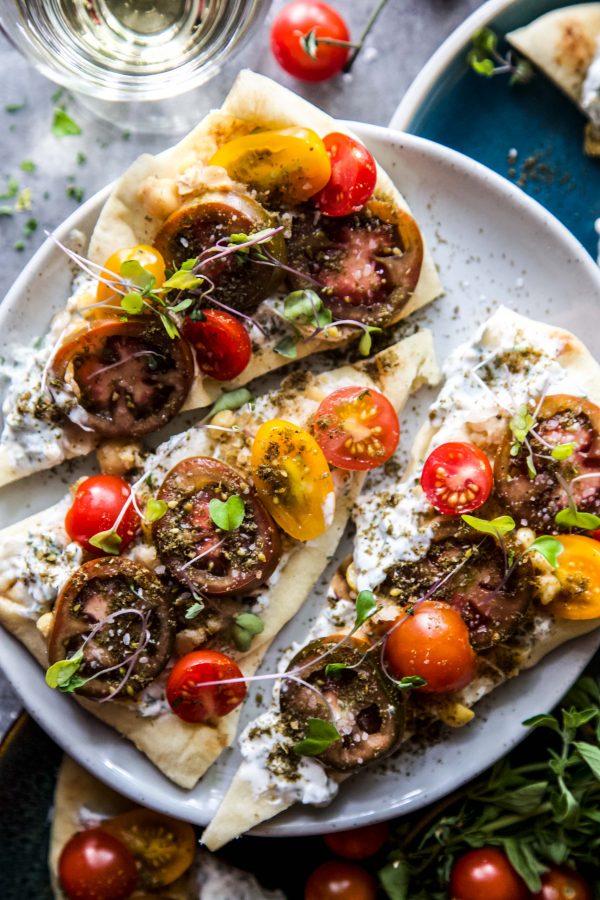 More Delicious Snack Recipes to Enjoy: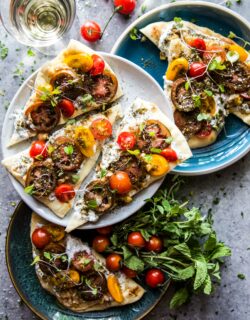 Za'atar Spiced Tomatoes & Chickpea Flatbread
Ingredients:
2 large heirloom tomatoes, thinly sliced (or a mixture of halved grape tomatoes)
1 tbsp Za'atar seasoning
1 15 oz can chickpeas, rinsed
2 tbsp red wine vinegar
1 small shallot, thinly sliced
2 tbsp olive oil
3/4 cup plain Greek yogurt
1 cup chopped, peeled cucumber
1/2 cup chopped fresh mint
1 cup chopped fresh parsley, divided
splash of hot sauce
2 to 3 Naan slices, toasted
salt and pepper to taste
Directions:
 In a large bowl combine the chickpeas, vinegar, salt, and pepper. Mash the chickpeas using a fork or potato masher. Add in the shallot, 1/2 cup parsley, and olive oil. Toss to combine.
In another bowl combine the yogurt, cucumber, mint, and remaining parsley. Add in the hot sauce, salt, and pepper; stir to combine.
Next, take the pieces of Naan bread and lay them on a plate or serving platter. Top each Naan flatbread with yogurt sauce, chickpea mixture, and tomato slices. Drizzle the tops of the tomato slices with olive oil and Za'atar seasoning. Serve and enjoy!
All images and text ©