Jalapeno-Marinated Grilled Pork Chops
Jalapeno-Marinated Grilled Pork Chops are a tasty meal that is quickly made by marinating pork chops in a spicy filled marinade and then grilled!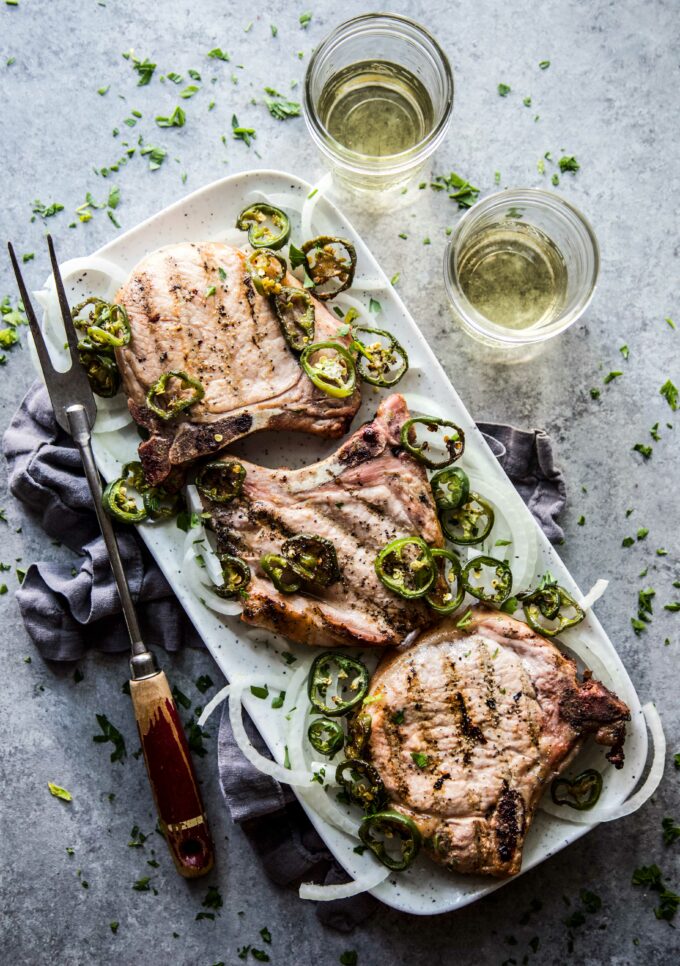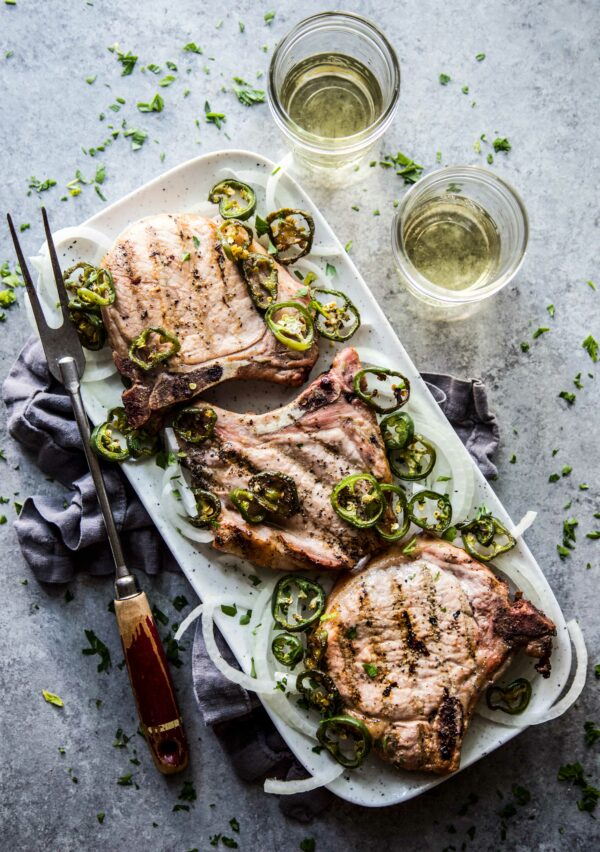 As a mom, I'm always looking for ways to get dinner on the table faster. One of my foolproof ways to ensure a successful, tasty meal is by marinating meats.
You can either use prepared store-bought marinades (hello, barbecue sauce) or make your own! For today's recipe we are diving into a homemade marinade that packs a lot of flavor and spice.
The base of this marinade uses fresh jalapenos. BUT! Don't be scared. I promise you won't breathe fire. The jalapenos give it some heat while the vinegar and sugar help cool it down, and bring a refreshing twist to pork chops.
So, are you ready to get grilling?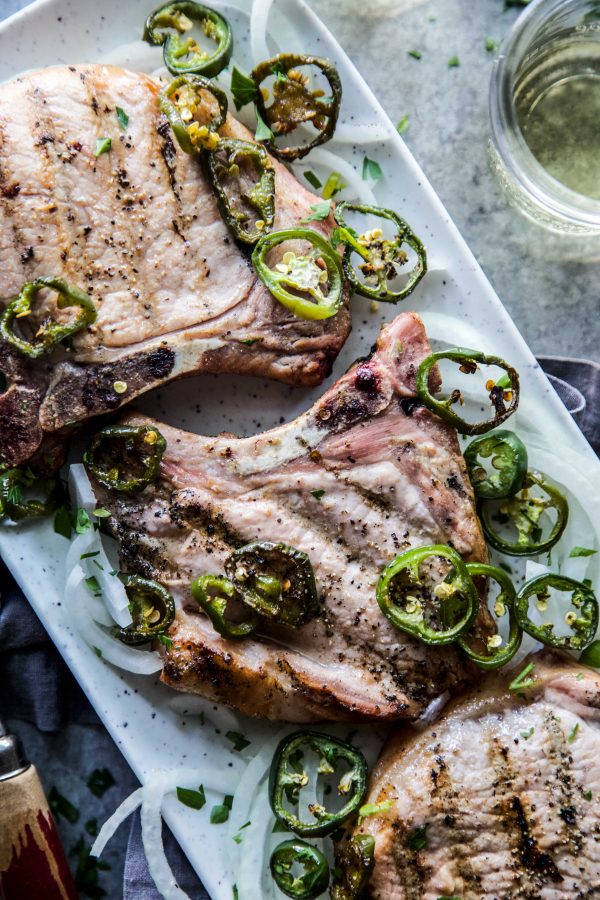 What's in these Jalapeno-Marinated Grilled Pork Chops?
When it comes to marinating meat I like to use minimal ingredients. Like I mentioned above, simply using a bottle of barbecue sauce to marinate chicken is always a hit. Now, for this marinade you will need to the following:
4 bone-in pork rib chops
Ground coriander
Apple cider vinegar
Granulated sugar
Jalapenos
Tips for Making Jalapeno-Marinated Grilled Pork Chops:
1) Pork Chops. Make sure the pork chops are roughly the same size to ensure even cooking time when grilling. Once you've marinated the pork chops you will need them to come to room temperature at least an hour before cooking.
2) Jalapenos. To add a smoky flavor to the marinade, grilling the jalapenos prior to adding them to the mixture will enhance the flavor.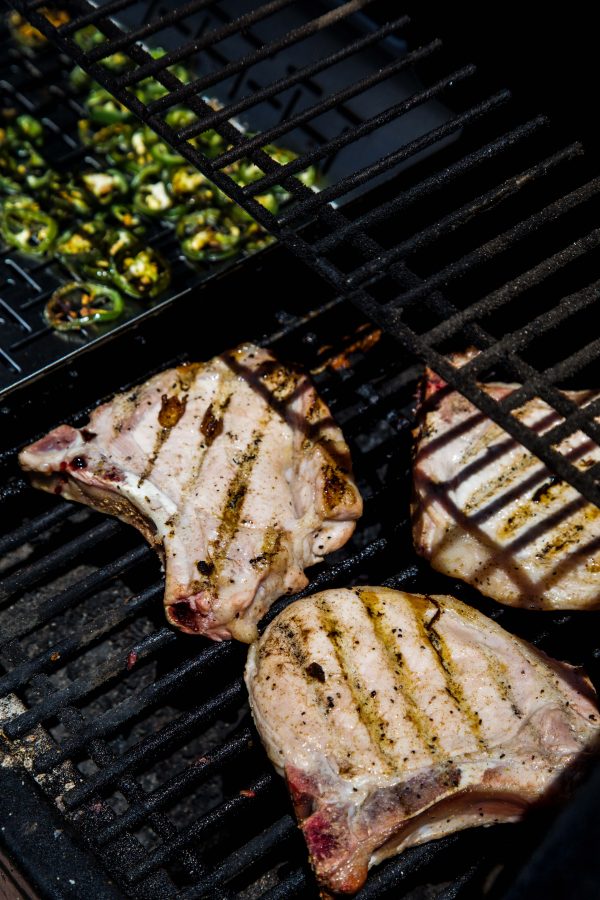 How far in advance can I marinate the pork chop?
You can marinate the pork chops up to a day in advance.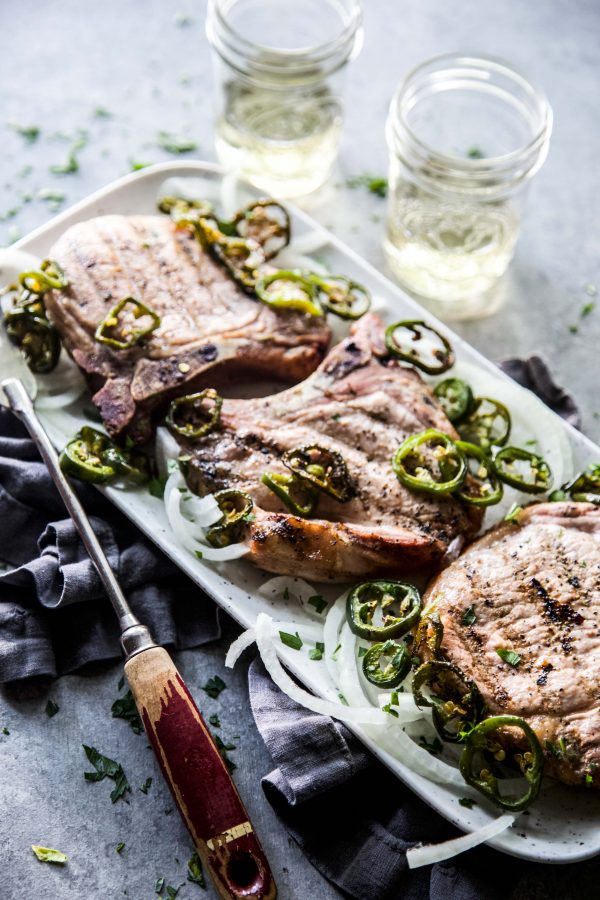 How long does it take to grill bone-in pork rib chops?
I grill my pork chops to an internal temperature of 145 degrees with a 3 minute rest. You will want to grill the pork over medium high heat and flip only once. Average cooking time is about 15 minutes.
More Grilled Meat Recipes to Enjoy: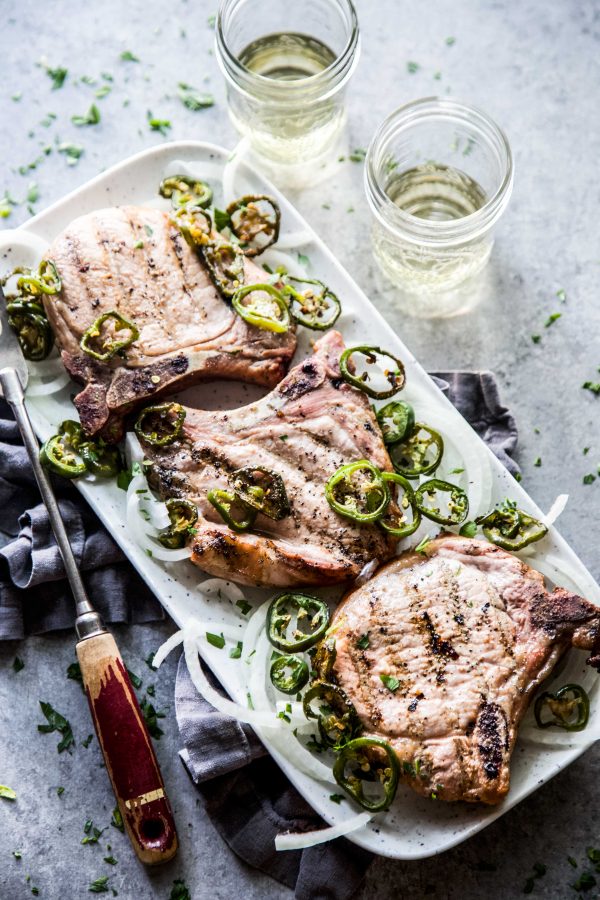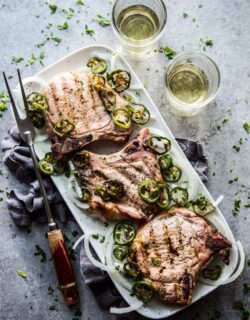 Jalapeno-Marinated Grilled Pork Chops
Ingredients:
1/2 cup olive oil
1 tsp ground coriander
1/4 cup apple cider vinegar
1 tsp granulated sugar
salt and pepper to taste
2 large jalapenos, sliced into rounds
4 bone-in pork rib chops
White onion slices, for garnish
Directions:
In a medium bowl combine the olive oil, vinegar, sugar, coriander, salt and pepper. Whisk until the sugar and salt are dissolved. Pour the marinade into a large Ziploc bag. Take the pork chops and jalapeno rounds, and place them in the Ziploc bag. Zip close and rub the marinade all over the pork and jalapenos.
Place the bag in the fridge for at least 30 minutes to up to 2 hours for better results.
Next, preheat a grill to medium-high heat. Place the pork chops and jalapenos on a large baking sheet and let sit at room temperature for at least 30 minutes before grilling.
Grill the pork chops, turning every 2 minutes or until a thermometer reads 145 degrees. Transfer to a cutting board tp rest for at least 10 to 15 minutes. Meanwhile, you can either grill or sauté the jalapenos in a skillet. You want them to be slightly browned.
To serve, place the pork chops on a serving platter, top with jalapenos and slices of white onion.
All images and text ©