Tuscan Turkey Burger
The Tuscan Turkey Burger, a simple and delectable choice for your grill or stovetop, offers a burst of Italian-inspired flavors, making it a delightful addition to your burger repertoire.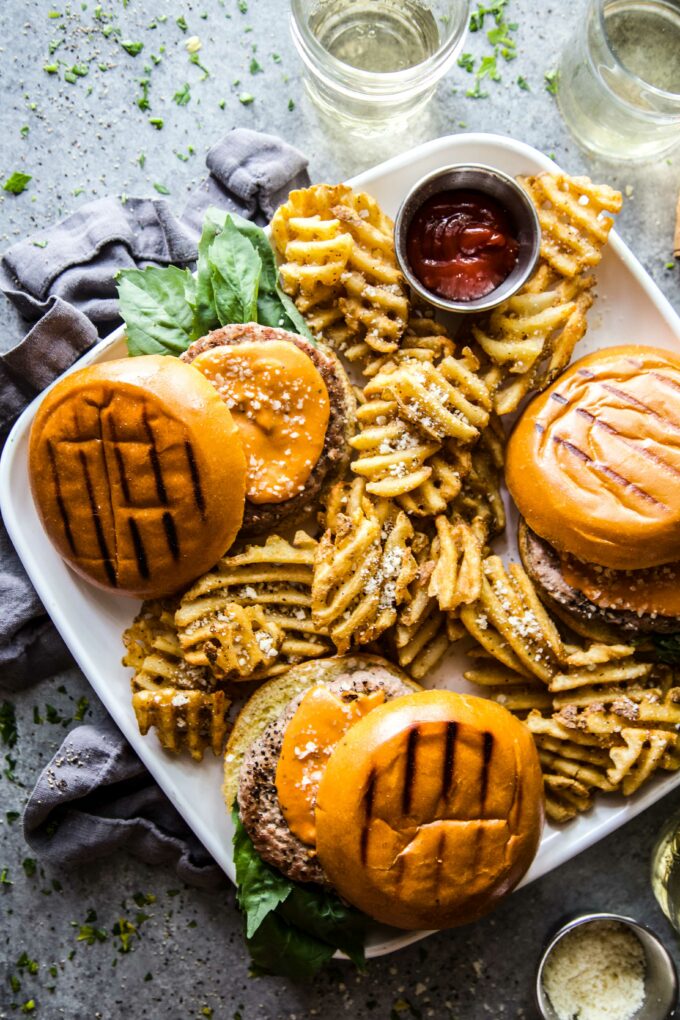 I crave a juicy burger constantly.
Whenever I was pregnant with Charlie that's all I wanted. A big juicy burger with cheese stuffed between a brioche bun. Oh, and let's not forget the plate of fries too.
Some of my favorites that I like to make on the fly are Summer Guacamole Burger, Spiced Chicken Burgers with Special Sauce, and Lamb Burger with Frites!
Honestly, you can't go wrong with a burger which is why I'm adding another one to the arsenal. This Tuscan Turkey Burger is a new fav and is bursting with flavor. GAH! The Tuscan butter sauce adds an extra level of indulgence to these simple burgers.
Ready to fire up the grill?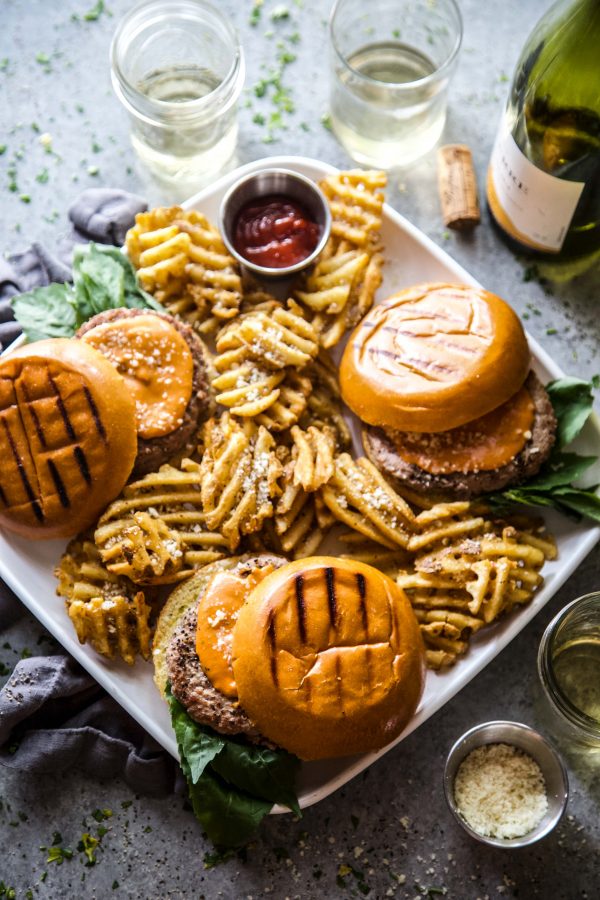 What's in this Tuscan Turkey Burger?
This burger kind of sounds a bit complicated, but let me tell you that it is quite simple to put together. Other than forming patties, the secret to this burger is the sauce which takes only a few minutes to whisk together. Okay, you will need:
Ground Turkey
Panko or regular Italian breadcrumbs
Butter
Tomato paste
Heavy cream
Parmesan
Fresh basil
Brioche buns
Tips to make these Tuscan Turkey Burgers:
1) Ground turkey. Any time you make burgers you always want the meat to come to room temperature before you assemble the patties. This will help make forming of the burger patties easier, but will also ensure they cook evenly too.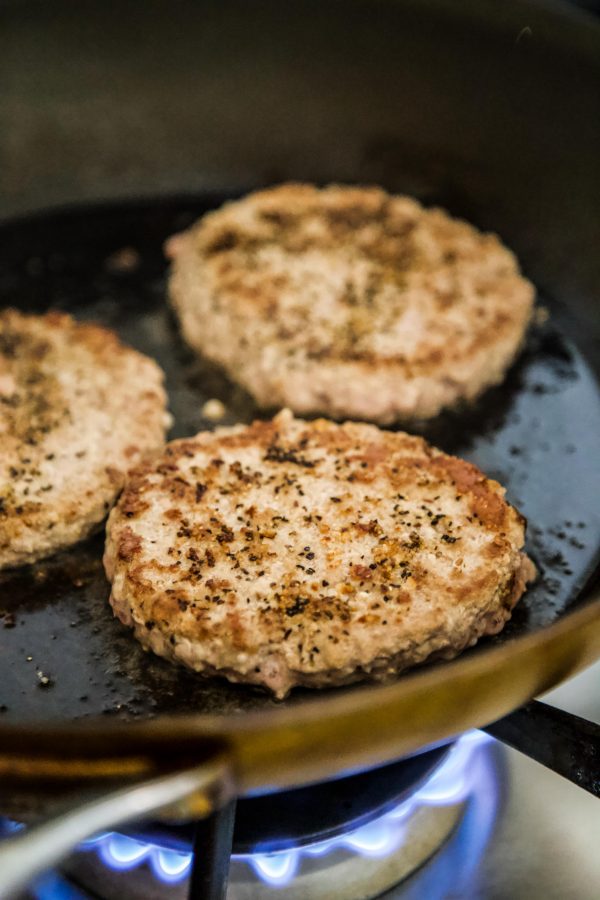 2) Tuscan butter sauce. While the burgers rest for a minute is when I would start making the sauce. This way when you add it on top of the burger it's warm and delicious.
3) Grill or Stovetop. Either form of cooking will work with these burgers! Just make sure to cook over high heat.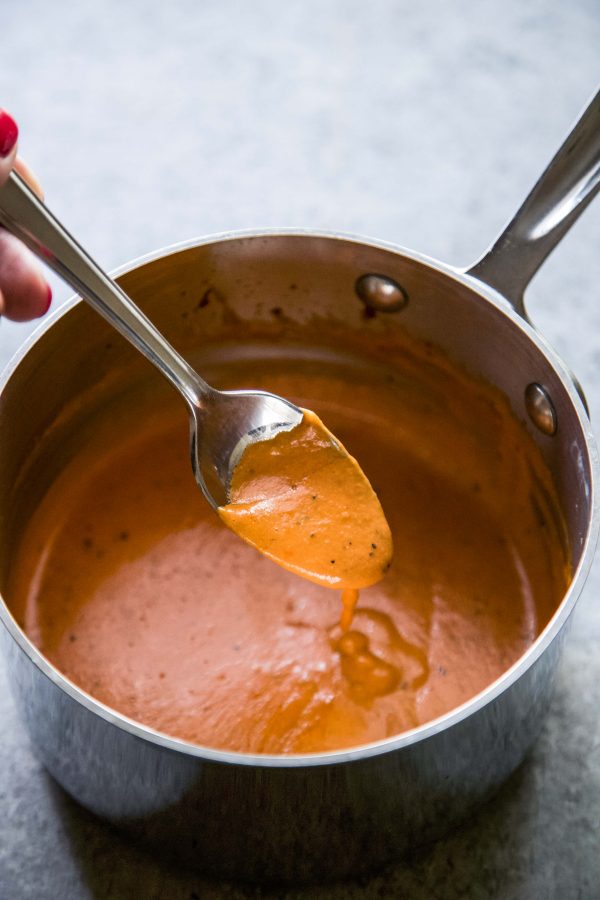 Do you have to use turkey?
Nope! You can certainly substitute the turkey for ground beef, pork, chicken, or lamb!
What's the best temperature to cook the turkey burgers?
The turkey burgers will be done when a thermometer inserted into the patties reaches 165 degrees!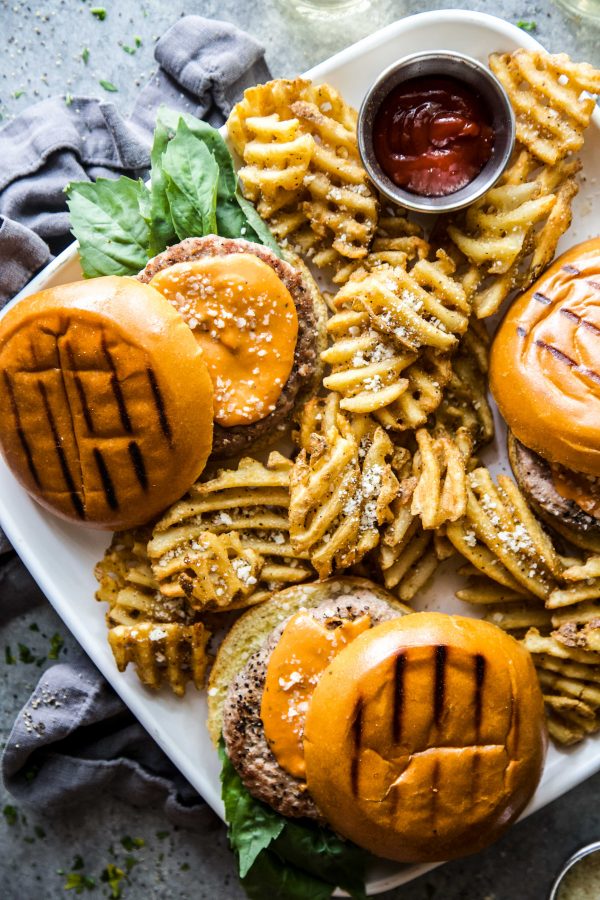 What sides do you recommend serving alongside?
Just about anything! I have so many options that you should take a look around our side dish section!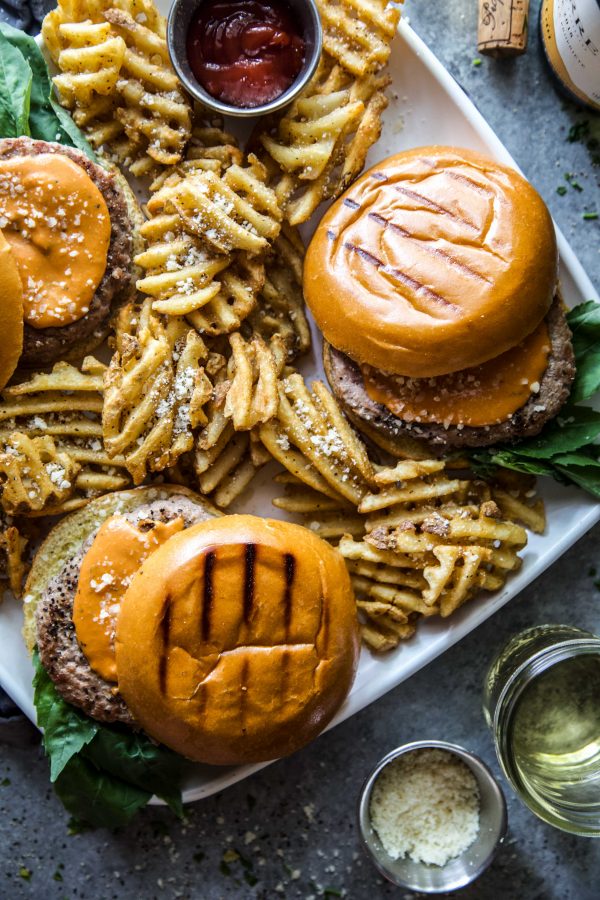 Tuscan Turkey Burger
Ingredients:
for the turkey burger:
1.5lbs ground turkey
1 cup panko
4 green onions, finely chopped
1 tsp garlic powder
salt and pepper to taste
2 tbsp olive oil
Fresh basil leaves, for garnish
4 brioche buns, lightly toasted
for the Tuscan butter sauce:
2 tbsp unsalted butter
1 tbsp tomato paste
1/2 cup heavy cream
1/4 cup finely grated Parmesan
1 tsp garlic powder
salt and pepper to taste
Directions:
In a large mixing bowl combine the ground turkey, panko, green onions, 1 tsp garlic powder, salt, and pepper. Form four turkey patties and set aside on a plate.
In a large skillet over medium heat add the olive oil. Once the skillet is hot, add the turkey patties. Cook, flipping once, until a thermometer inserted into the turkey burger reaches 165 degrees, about 8 to 10 minutes. Remove the burgers from the skillet and allow to rest.
In a medium saucepan preheated to medium heat, add the butter and tomato paste. Cook, whisking for about a minute. Next, whisk in the heavy cream, Parmesan, and 1 tsp garlic powder. Salt and pepper as needed. Reduce the heat to low and simmer until the sauce is slightly thickened and Parmesan has melted. Remove saucepan from heat.
Place the turkey patties on the bottom buns. Spoon the Tuscan butter sauce over each patty, top with basil and remaining bun. Serve and enjoy!
All images and text ©