30-Minute Fire Roasted Chicken Ragu
30-Minute Fire Roasted Chicken Ragu is an easy, flavorful dish that's perfect for dinner any night of the week!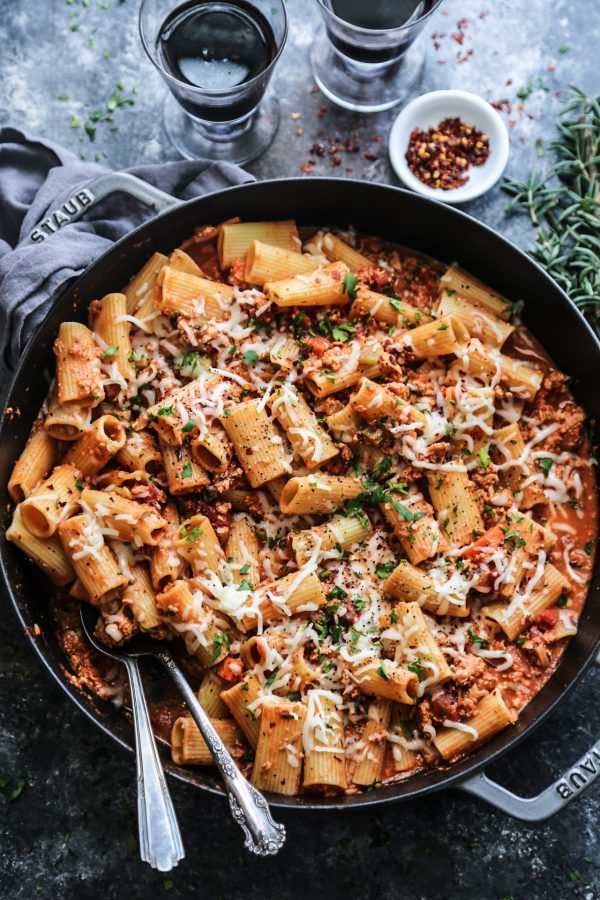 What's the deal?

Or should I say what's the hype?

Every Instagram Story I've watched lately has someone gulping down a glass of celery juice. Why? Does it give you super powers? How is celery different from other veggies like kale? And what happened to just eating a plate of roasted veggies? I'm confused.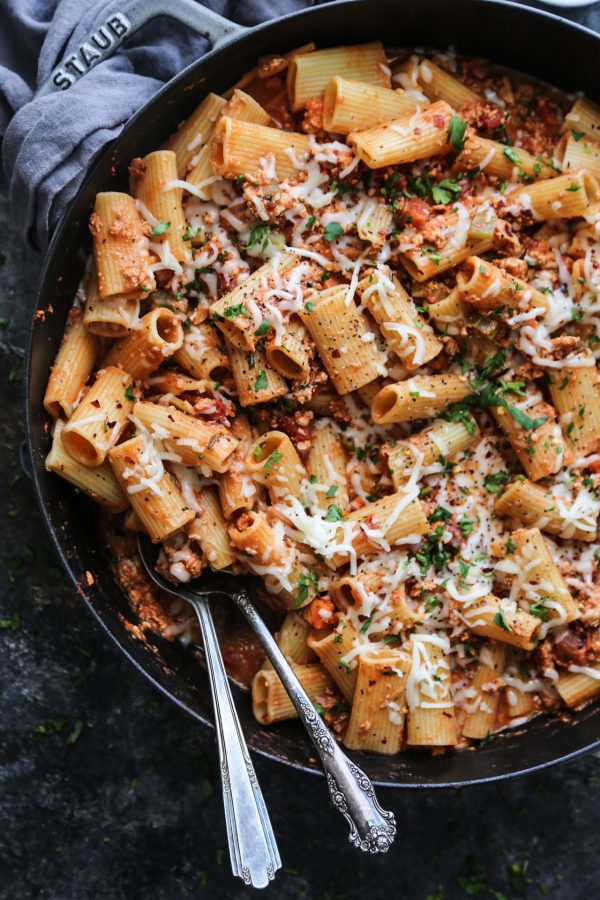 Clearly I have way to many questions regarding this health trend, but if you guys know the secrets to this magical juice, I"m all ears. Maybe I should do an Instagram Story of me trying celery juice for the first time? Asking for a friend.
Anyway, moving on from the controversial green stuff to a topic more my speed, dinner! I've mentioned this before on the blog about providing recipes for you guys that are fast, fresh and flavorful. I really want you to be excited about cooking when you're in the kitchen yet not spend all day over the stove.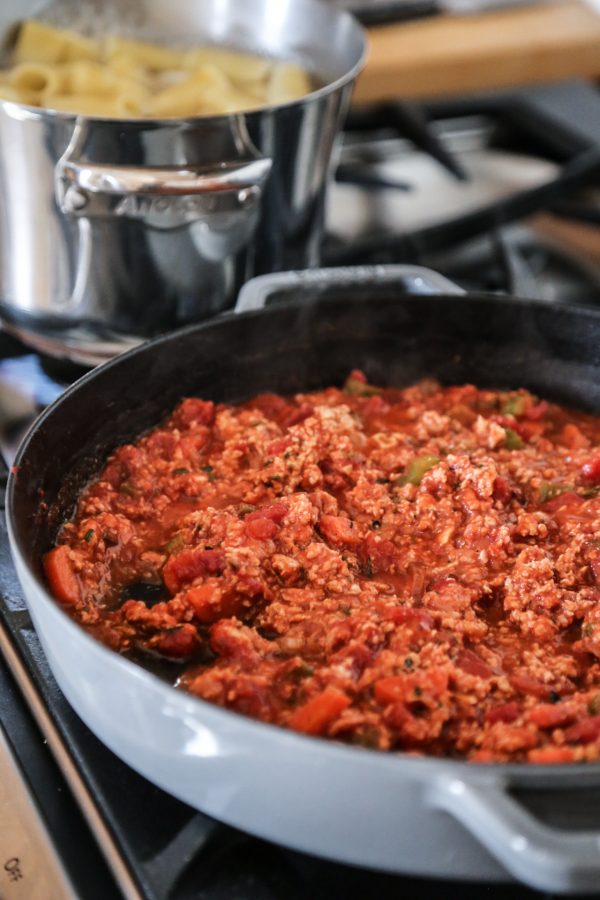 So, meet your new weeknight, tried and true recipe – 30-Minute Fire Roasted Chicken Ragu. This one-pot culinary delight tastes like it's been simmering for hours on the stovetop, but in fact, only takes 30 minutes to make! Plus, most of the ingredients in this recipe you probably already have in the fridge or pantry. Booyah!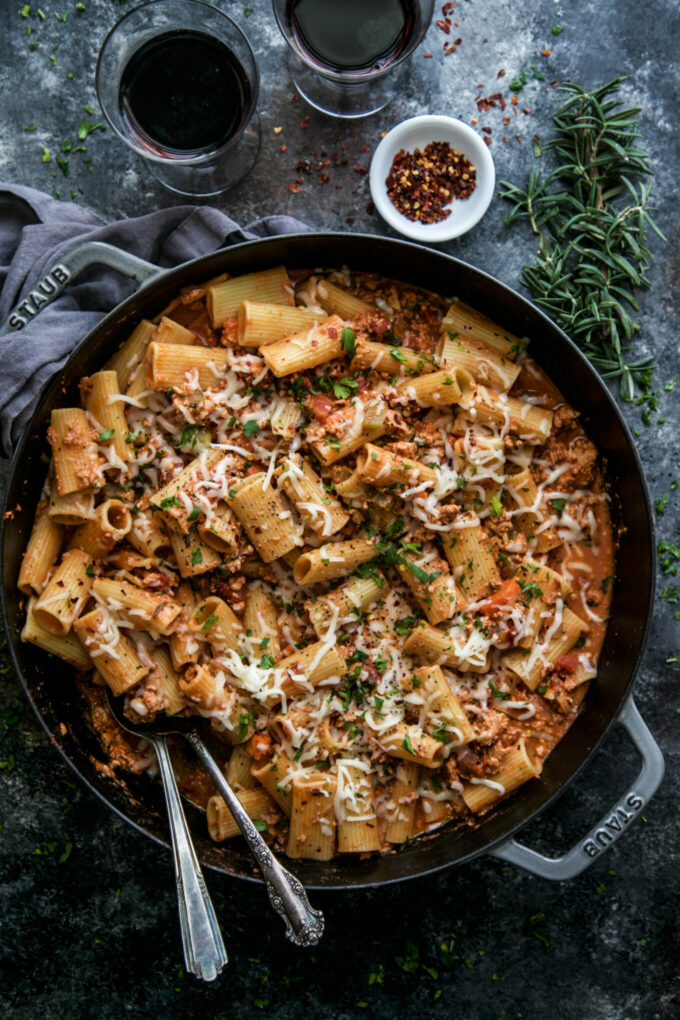 I think we can put a hold on the celery juice and just dive right into this 30-Minute Fire Roasted Chicken Ragu. Who's with me?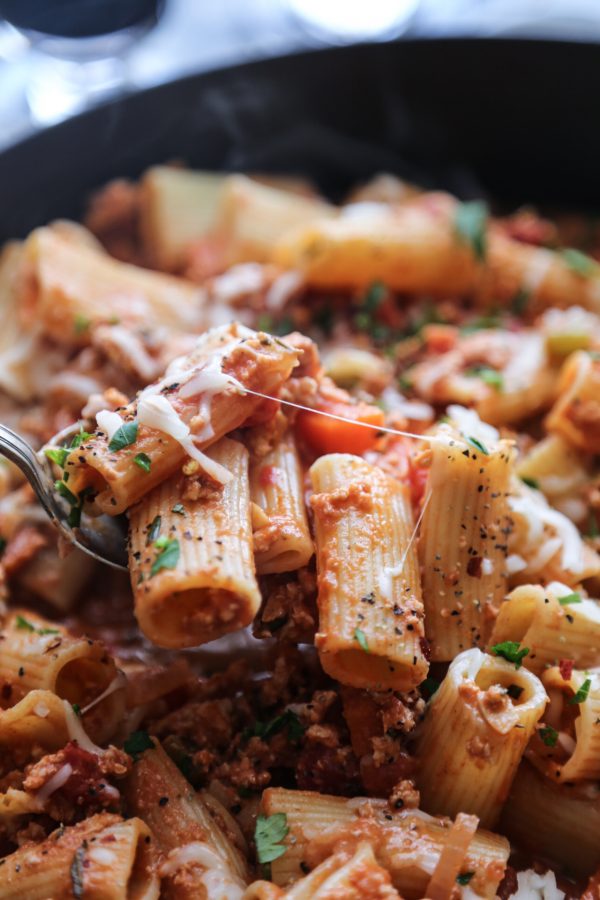 30-Minute Fire Roasted Chicken Ragu
Ingredients:
2 tbsp olive oil
1 shallot, diced
1 celery stalk, chopped
1 carrot, peeled and chopped
2 garlic cloves, minced
1 tbsp freshly rosemary chopped
1 bay leaf
2 tbsp tomato paste
1/2 cup chicken stock
1/2 cup white wine
1 lb ground chicken
2 cups fire roasted tomato sauce
1/4 cup heavy cream
1 lb rigatoni pasta
Shredded mozzarella, for garnish 
salt and pepper to taste
1 cup grated Parmesan 
Directions:
Fill a large pot with water and bring to a boil.
Meanwhile, in a large skillet preheated to medium-high heat add the olive oil, shallot, celery, garlic, salt and pepper. Stir to combine and then add in the rosemary and bay leaf. Cook until the vegetables have softened about two minutes. 
Next, stir in the tomato paste, chicken stock and white wine. Bring the mixture to a boil and then add add the chicken. Cook the chicken for about five minutes or until 2/3 of the liquid has been absorbed. 
Add the tomato sauce and continue to stir reducing the heat to simmer. Let the sauce simmer for about five minutes and then stir in the heavy cream. 
Now you can add the rigatoni to the boiling water. Cook according to package instructions. Before you drain the pasta, remove about 3/4 cup of the starchy water. Drain the pasta and add it to the sauce. 
Next mix in 1 cup of Parmesan, add the cooking water as need to thin the sauce. Get rid of the bay leaf and divide the chicken ragu among four bowls. Top with shredded mozzarella if desired. Enjoy! 
recipe inspired from Rachel Ray Magazine 
All images and text ©