Sheet Pan Chicken Shawarma Fajitas
Sheet Pan Chicken Shawarma Fajitas are an easy and delicious meal to make in 30 minutes! Pile all the ingredients onto a baking sheet and roast! Dinner will feel like a breeze!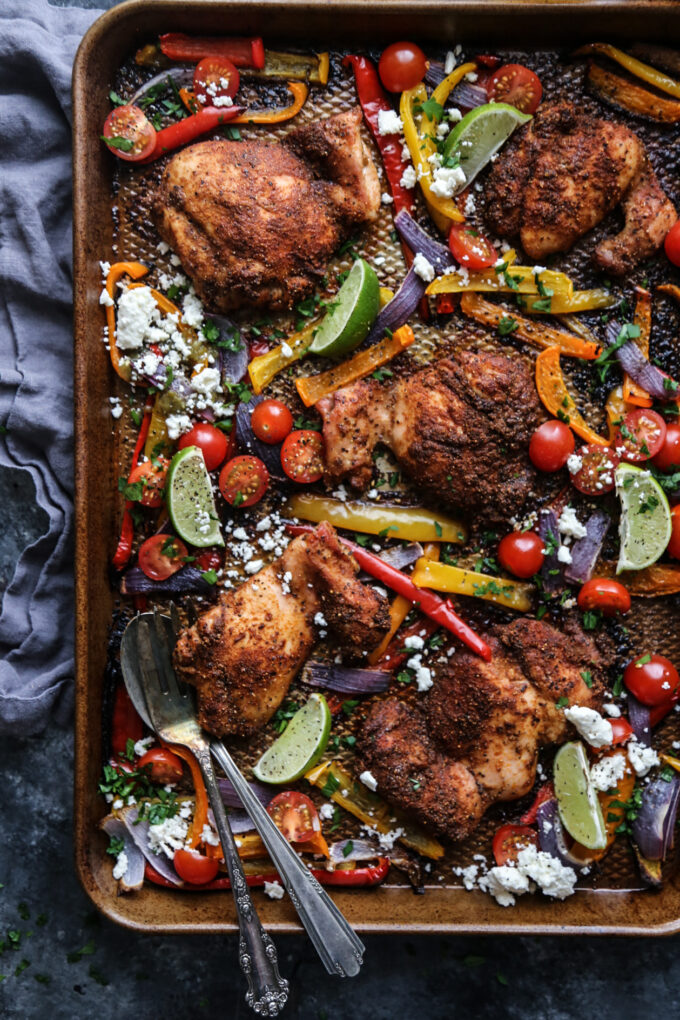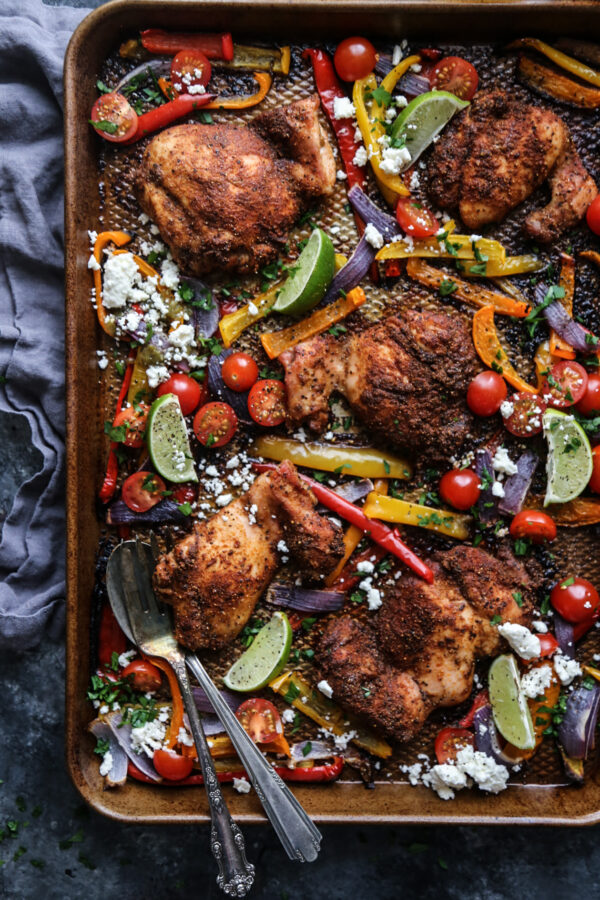 Happy President's Day.

This holiday still confuses me. Am I the only one?

I loved it when I worked in the financial industry because we got the day off. BUT! Now, that I work for myself I still don't know why the Federal government calls this day a holiday. I do know that it used to be a celebration for Washington's birthday, but that got axed.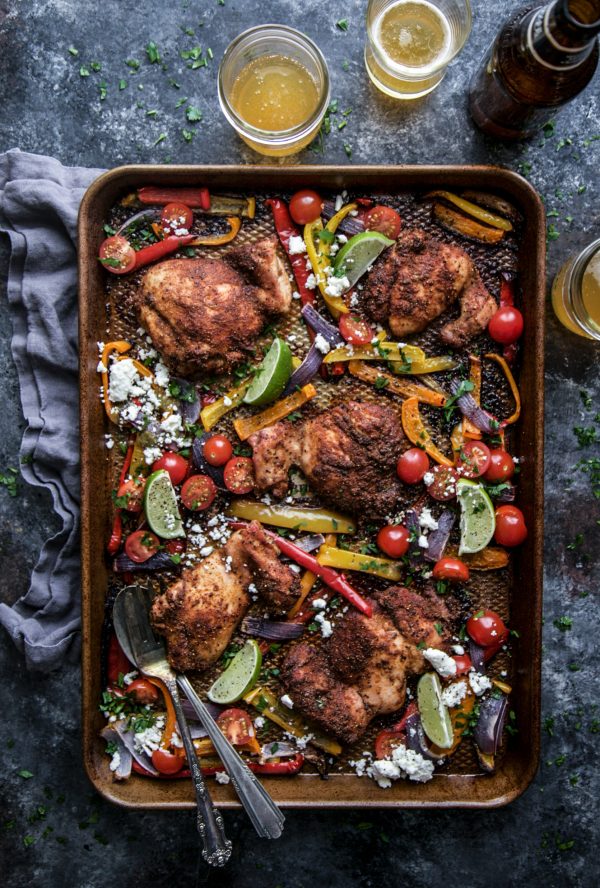 Can you image If you were Washington, the first dude to be the symbol of freedom and they told you, "Um, George, we had a change in plans. Some of other presidents weren't feeling appreciated so we had to change your birthday celebration to include everyone. Sorry."
If I was George, I'd be like, "Homie don't play that." Well, maybe he wouldn't say that very clearly because the man did have wooden teeth. Anyway, I need another cup of coffee if we are going to talk politics so instead lets chat real quick about these Sheet Pan Chicken Shawarma Fajitas.
Another quick, like ridiculously quick, meal to make during the week. All you have to do is toss the chicken with some spices and then throw it on a baking sheet along with the veggies. Roast and in 30 minutes you have an extremely delicious meal on the fly.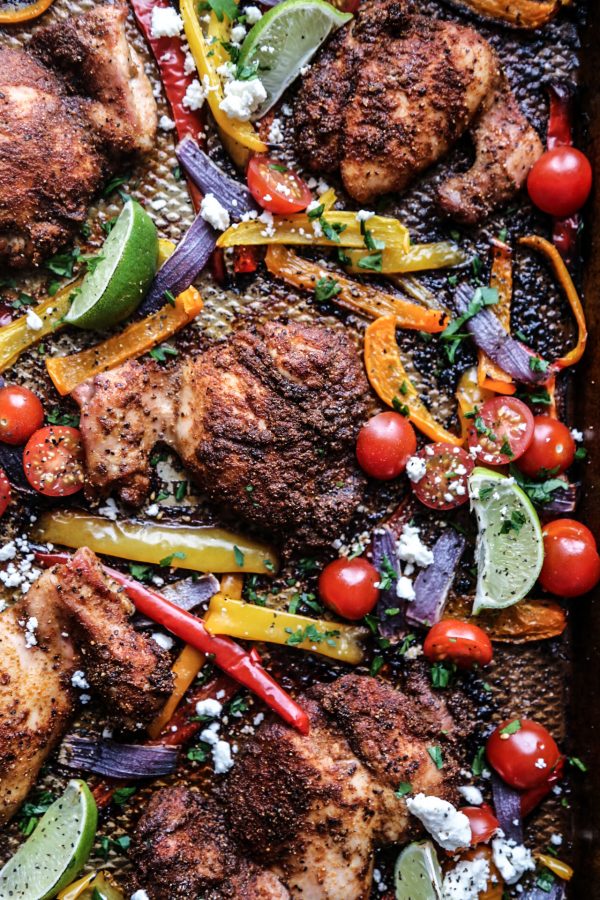 If you aren't into the shawarma seasonings you can definitely sub in Mexican or even Greek would be delicious. Once everything is cooked just load it up with all the toppings. Bonus: you could even put the baking sheet on the table and serve it family style. Um, no mess? Yes, please!

Hope you guys have a great Monday!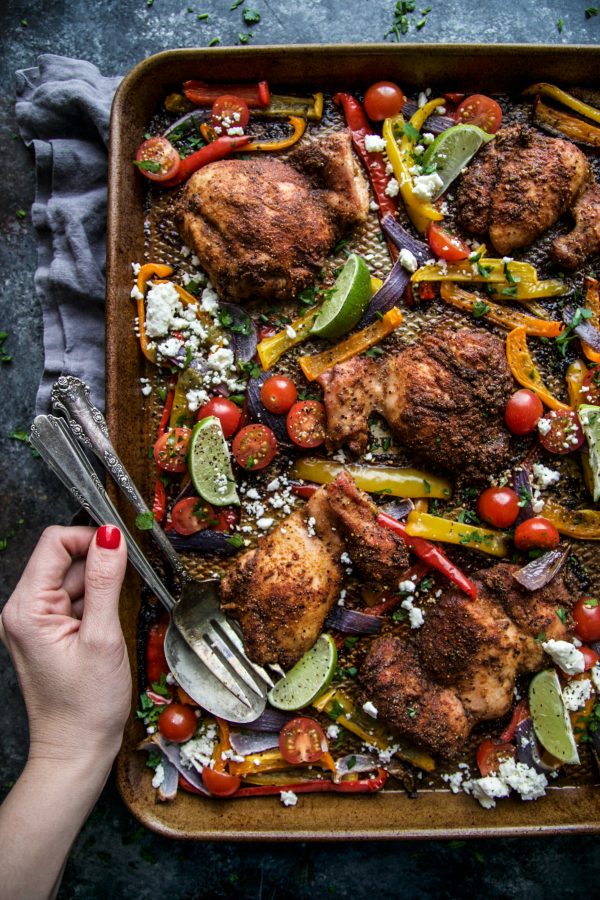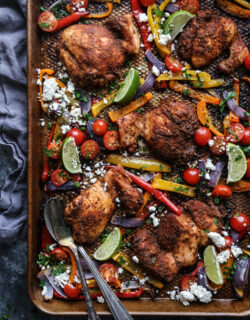 Sheet Pan Chicken Shawarma Fajitas
Ingredients:
5 to 6 boneless skinless chicken thighs
1 tsp ground cardamon
2 tsp ground paprika
1 tsp ground cumin
1 tsp ground coriander
1 tsp garlic powder
3 tbsp olive oil, divided
salt and pepper to taste
1 large red pepper, sliced thinly
1 large orange pepper, sliced thinly
1 large yellow pepper, sliced thinly
1/3 cup red onion, sliced thinly
Feta crumbles, for garnish
Grape tomatoes, halved, for garnish
Fresh parsley, for garnish
Directions:
Preheat an oven to 425 degrees. Line a baking sheet with foil and spray with non-stick cooking spray.
Next, in a large ziploc bag add the chicken thighs, spices, 1 tbsp olive oil, salt and pepper. Mix the chicken thighs around so that the spices have evenly coated the chicken. Place the chicken thighs on the baking sheet.
Take the the peppers and red onion slices and lay them on the baking sheet around the chicken. Sprinkle the tops the of the veggies with the remaining 2 tbsp olive oil, salt and pepper.
Cook the chicken and veggies for about 40 minutes or until the juices of the chicken run clear. Remove the chicken from the oven and either serve it family style or divide among four plates. Garnish with feta, grape tomatoes, and parsley.
All images and text ©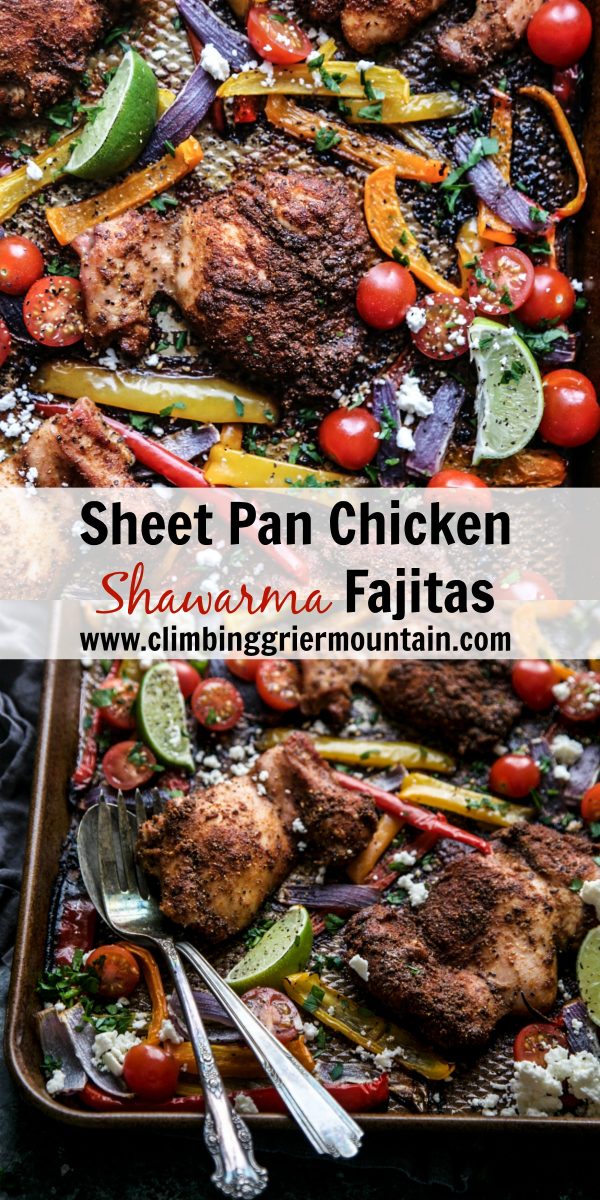 "In conclusion, indulge in the rich fusion of Middle Eastern and Tex-Mex flavors with our Sheet Pan Chicken Shawarma Fajitas. Effortlessly prepared, this culinary delight promises a symphony of bold, satisfying tastes for a memorable dining experience."