Al Pastor Baked Chicken Tacos with Shishito Pepper Salsa
Al Pastor Baked Chicken Tacos with Shishito Pepper Salsa is an easy, cheesy meal ready in 30 minutes! Perfectly baked chicken tacos topped with a spicy shishito pepper salsa. These tacos are worthy of an OLE!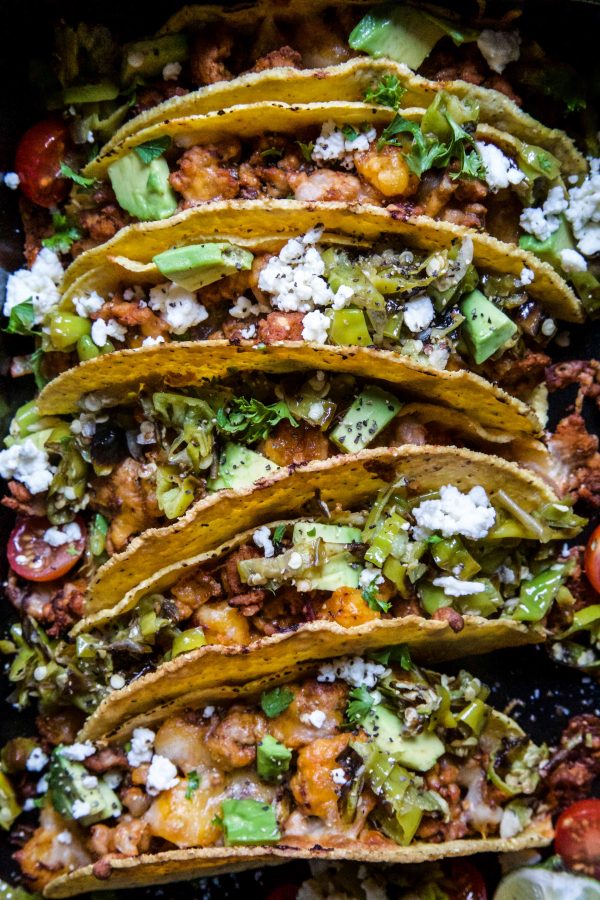 I have some Monday motivation for you.
**cue Mr. Burn's EXCELLLLLLENT voice**
It comes via a taco shell that has been baked into a cheesy, golden bliss. But! Before we get to the mighty taco, I wanna chat real quick about this two minute pump-er up session by Gary Vaynerchuk that I heard the other day.
For those of you who don't know Gary Vee in a nutshell he is an entrepreneur, motivational speaker, CEO of media company, author, etc. He's like the hipster version of Tony Robbins in my opinion. Anyways, I follow Gary Vee on Instagram and Instagram stories because he shares great tips and tricks for staying motivated and challenging yourself among other things.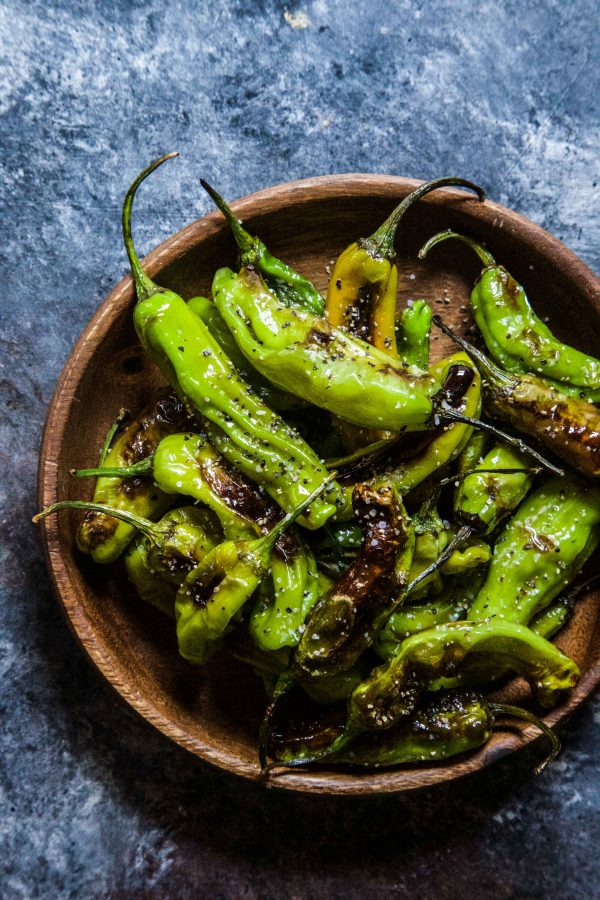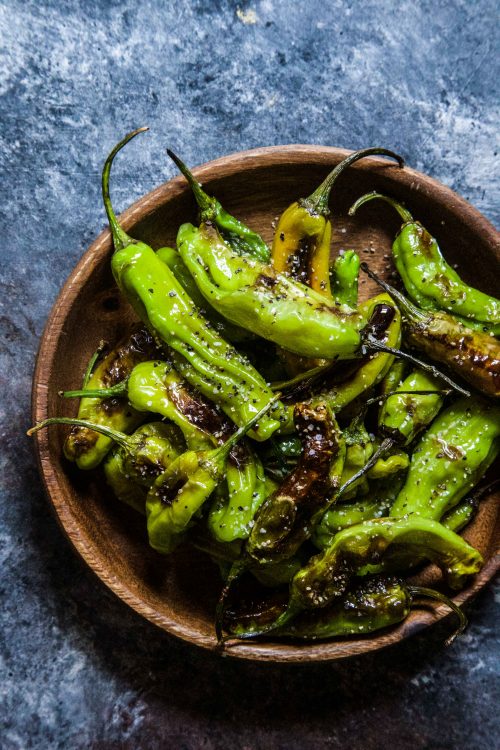 One of the links he shared last week was fitting because he talks about how August is such an important month in the calendar. Why? Well, August is typically a month where the "out of office" reply is at it's highest which means this is point in the year when you need to double down on whatever you are doing. While everyone else is at the pool sipping pina coladas you need to work hard and prepare for the fourth quarter.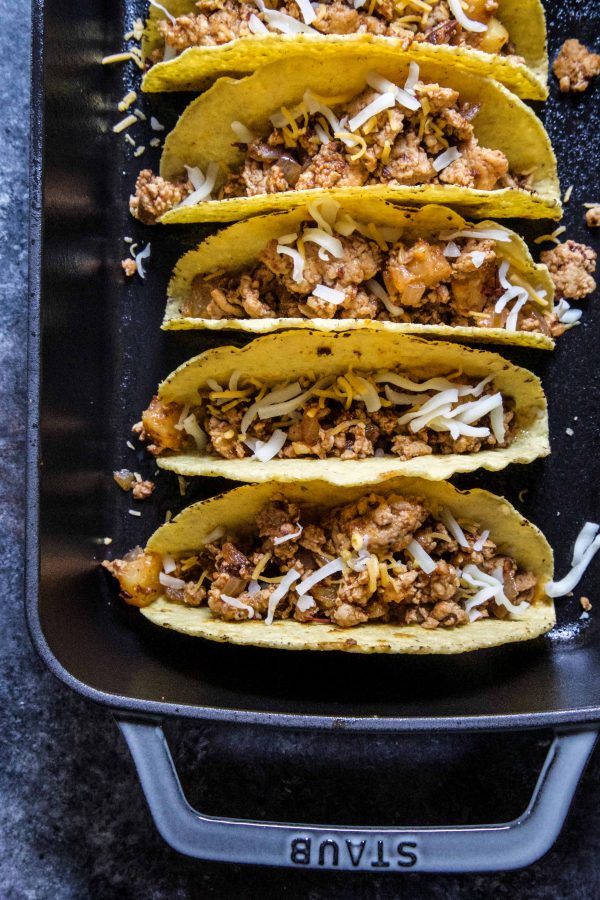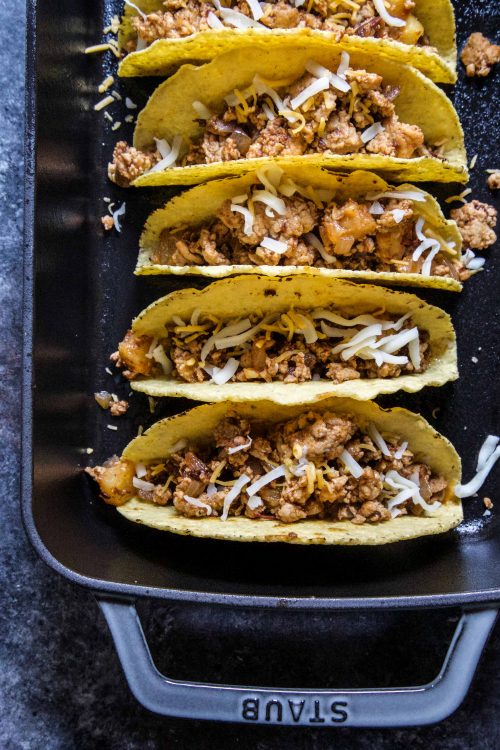 After listening to his two-minute pep talk I was like this guy is effing brilliant! The message is simple, but holds so much weight. So as we enter upon this seventh day of August I am challenging myself to double down over the next month on CGM because I want this blog to be bigger and better! How's that for some Monday motivation?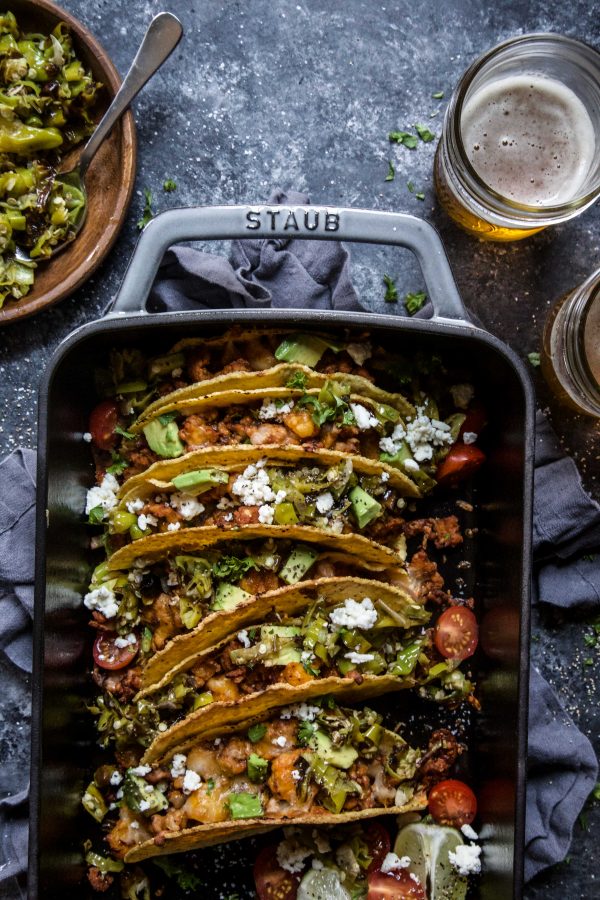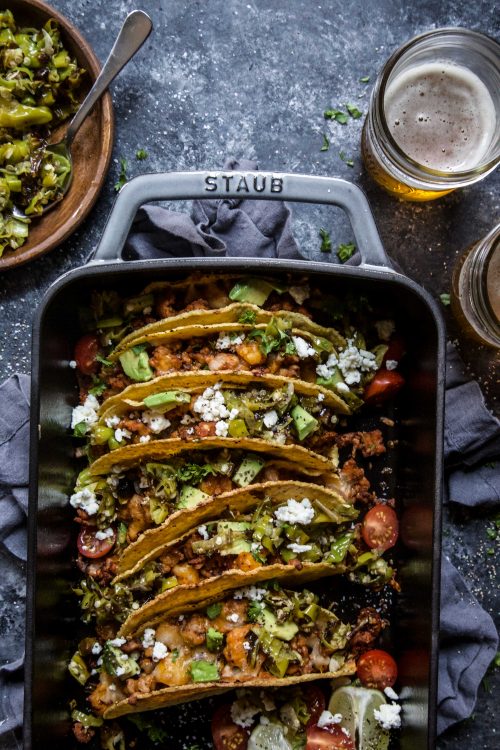 Alright, as promised let's talk about these Al Pastor Baked Chicken Tacos with Shishito Pepper Salsa. Baked tacos might be my new obsession. It's kind of like a giant edible nacho. Simply stuff the corn tortilla with al pastor flavored chicken, add cheese, and then bake into a golden perfection. Topped with a blistered shishito pepper salsa. This is all you need to win when it comes to acing your taco game!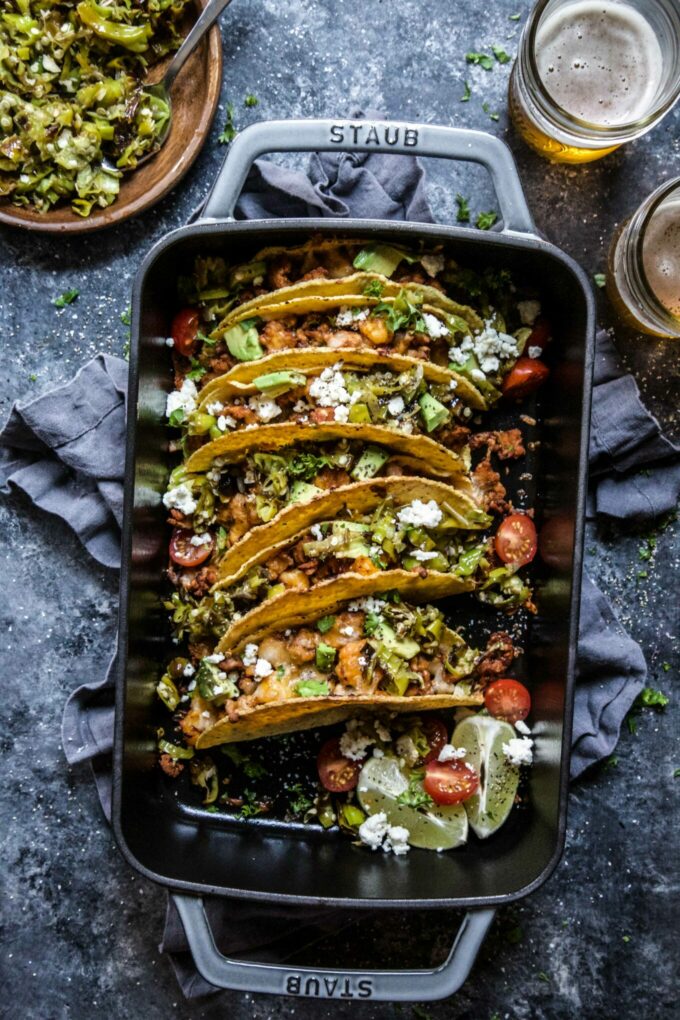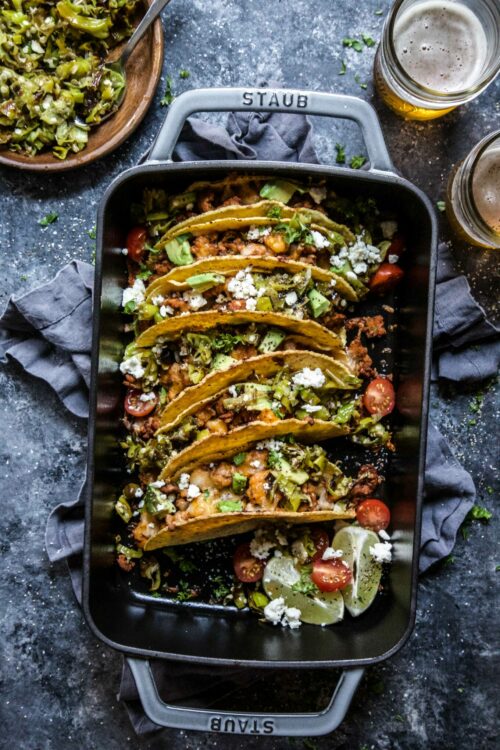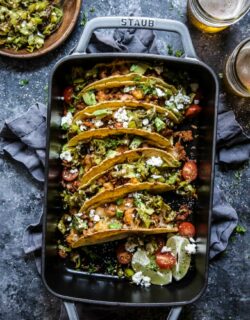 Al Pastor Baked Chicken Tacos with Shishito Pepper Salsa
Ingredients:
for the shishito pepper salsa:
1 lb shishito peppers
2 garlic cloves, minced
1/4 cup red wine vinegar
salt and pepper to taste
vegetable oil, for frying
for the al pastor chicken:
1 tbsp olive oil
1 lb ground chicken
1/2 cup chopped yellow onion
2 garlic cloves, minced
1 tbsp chipotle powder
1 tsp cumin
1 tsp paprika
1 tsp coriander
1/2 cup orange juice
1/3 cup water
1/2 cup pineapple chunks
2 chipotle adobo peppers roughly chopped
8 to 10 corn taco shells
1 1/2 cups shredded monterey jack cheese
Avocado chunks, for garnish
Fresh cilantro, for garnish
Directions:
for the shishito pepper salsa:
In a large cast iron skillet, add about a 1/4 cup of vegetable oil. Turn the skillet to medium-high heat; almost smoking. Add the shishito peppers in batches turning them to keep them from burning but still allowing them to char slightly. Once slightly charred place the peppers on a cutting board to cool. Once all the peppers have cooled roughly chop the peppers and place them into a bowl. Next, add the garlic, vinegar, salt and pepper. Toss to combine and set aside until ready to garnish tacos.
for the al pastor chicken:
Preheat an oven to 400 degrees. Spray a 9 X 13 casserole dish with non-stick cooking spray. Set aside.
Preheat a large skillet to medium-high heat. Add the olive oil, ground chicken, onion, garlic, salt and pepper. Saute the chicken until no longer pink about five minutes. Next, add in chipotle powder, cumin, paprika, coriander, orange juice, water, pineapple chunks and chipotle adobo peppers. Stir to combine and bring the mixture to a slight boil and then a simmer. Simmer for about 10 minutes or until the sauce has thickened. Once cooked, drain the liquid from the skillet.
In the prepared baking dish place the hard shell tacos. Take some of the drained taco meat and place it inside a taco shell. Repeat process until all tacos have been stuffed. Next, sprinkle the top of each taco with cheese and then slide the casserole dish into the oven for about 12 to 14 minutes or until the cheese is golden brown.
Remove the casserole dish from the oven and garnish each taco with avocado slices, fresh cilantro, and shishito pepper salsa.
All images and text ©