Slow Cooker Sriracha Beef Short Rib & Kimchi White Pizza
Slow Cooker Sriracha Beef Short Rib & Kimchi White Pizza is a decadent meal perfect for any occasion! Slow cooked Sriracha beef short rib piled high on a white sauce pizza with kimchi and mozzarella cheese. You will need a slice or two!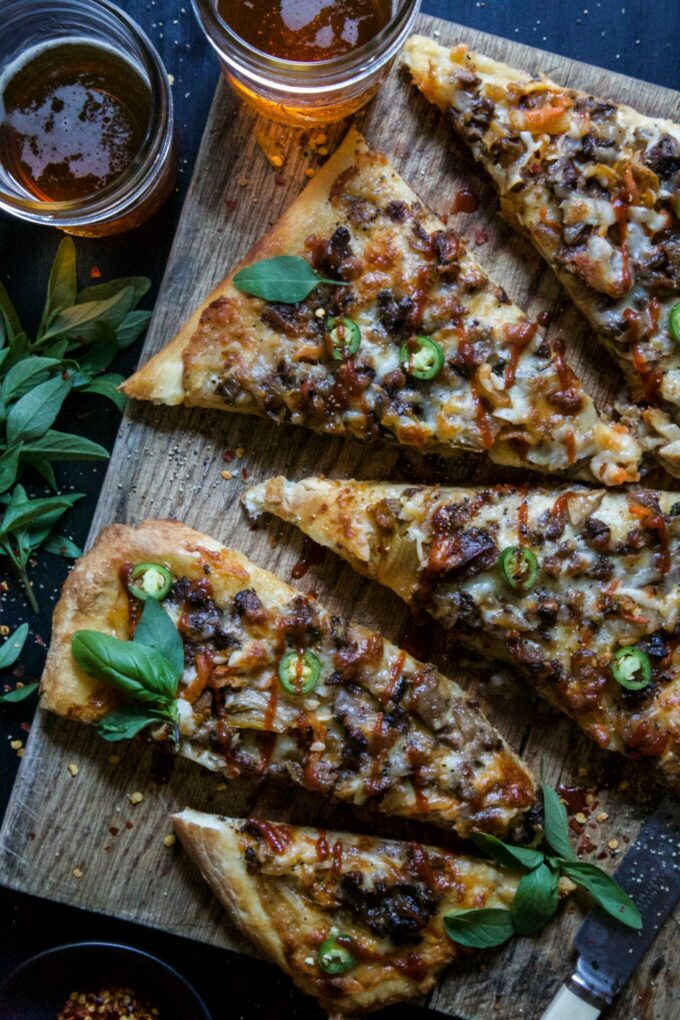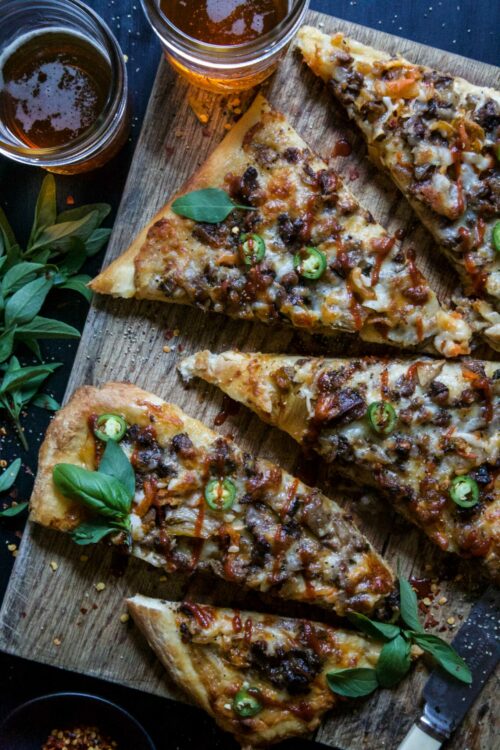 We have some celebrating to do.
Come to think of it whenever someone mentions the word "celebrate" I automatically think of cake and pizza.
This might have to do with the fact that when I would celebrate my birthday as a little girl I always had a gaggle of girlfriends over for a slumber party. We would nosh on Pizza Hut pizza and devour my mom's famous Chocolate Cake with Marshmallow Frosting. Simple and delicious. What more could a nine year-old need?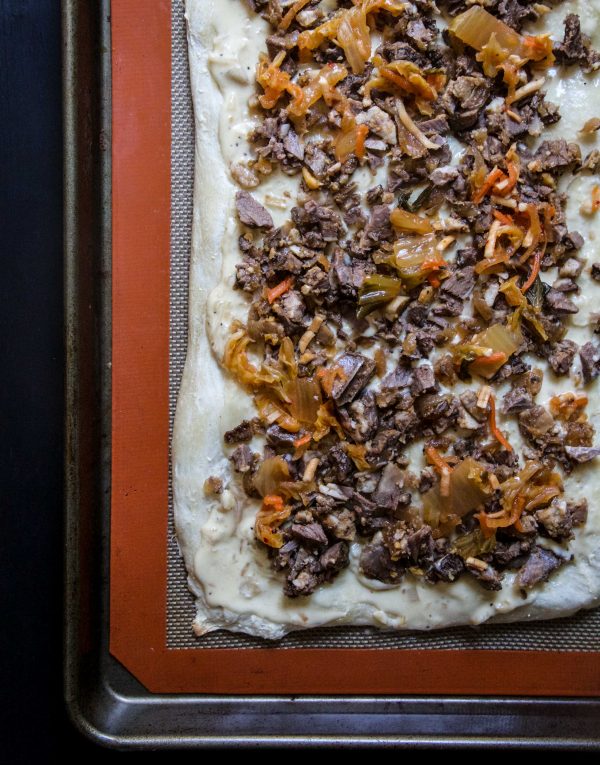 Okay, you might be thinking, what are we exactly celebrating? GREAT QUESTION! This coming Saturday, August 5th, Climbing Grier Mountain will turn seven years-old! Can you believe it? A part of me is still in disbelief that after hitting publish 2,555 days ago that this blog would eventually become my full time job.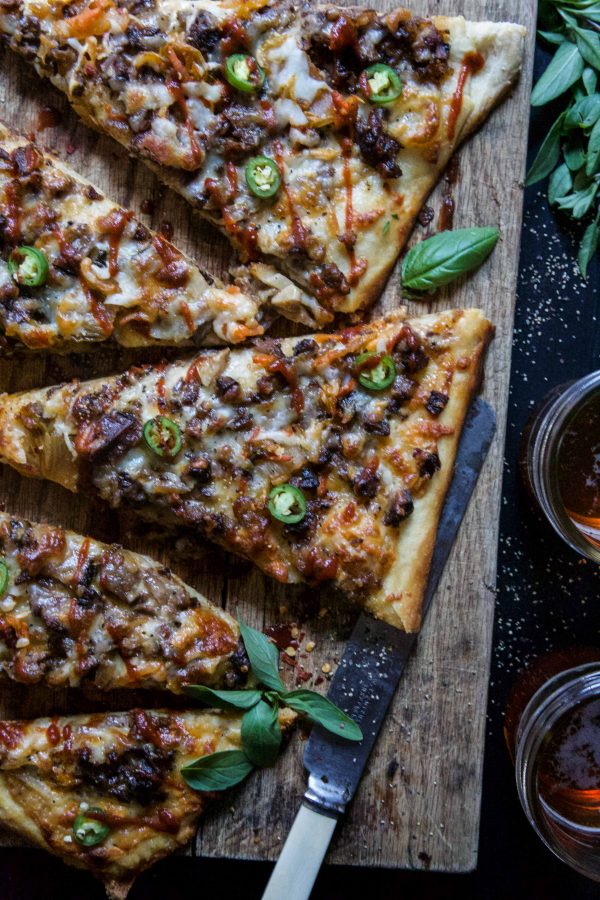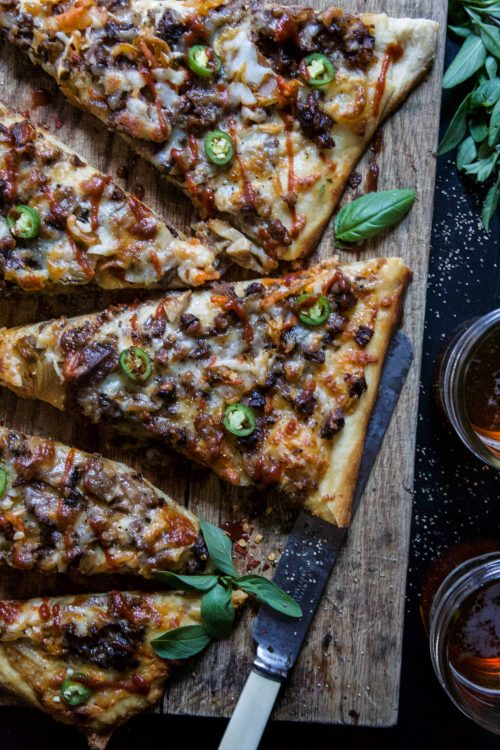 I would love to say that it's been all sunshine and lollipops, but then that wouldn't have made for a good story. CGM has pushed me in ways I never thought possible. Things I thought weren't in my realm of possibility like making a cookbook. Oh, and by the way, it's still in the final editing phases. My plan is to make a big announcement about the book coming in September like oh you know, the NAME!
But before all that happens, I want to take a moment to honor this platform, space, and especially my readers. None of this would be possible without your love and continued support. I bow to your loyalty. 2017 has been a year for the books and to say that I'm looking forward to this next year is a effing understatement. I'm so freaking pumped to what the future will bring that I feel I am in a permanent jazz-hands state.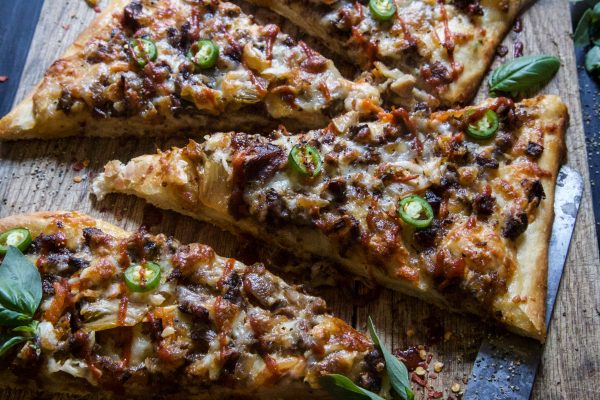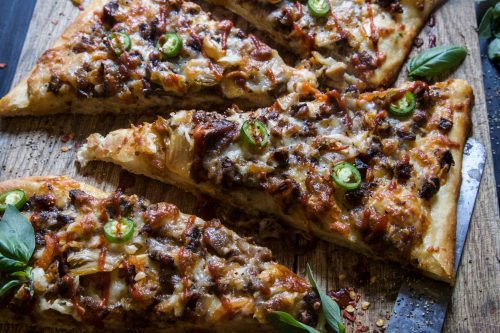 With that, I think we all need to grab a slice of this Slow Cooker Sriracha Beef Short Rib & Kimchi White Pizza. I think this is my greatest culinary pizza concoction yet! Slow cooked beef short ribs in a Sriracha sauce piled-high on a white pizza and topped with kimchi and a shite load of cheese. This pizza is worthy of any celebration. Now, grab a slice and let's cheers to another year of kicking ass here at CGM!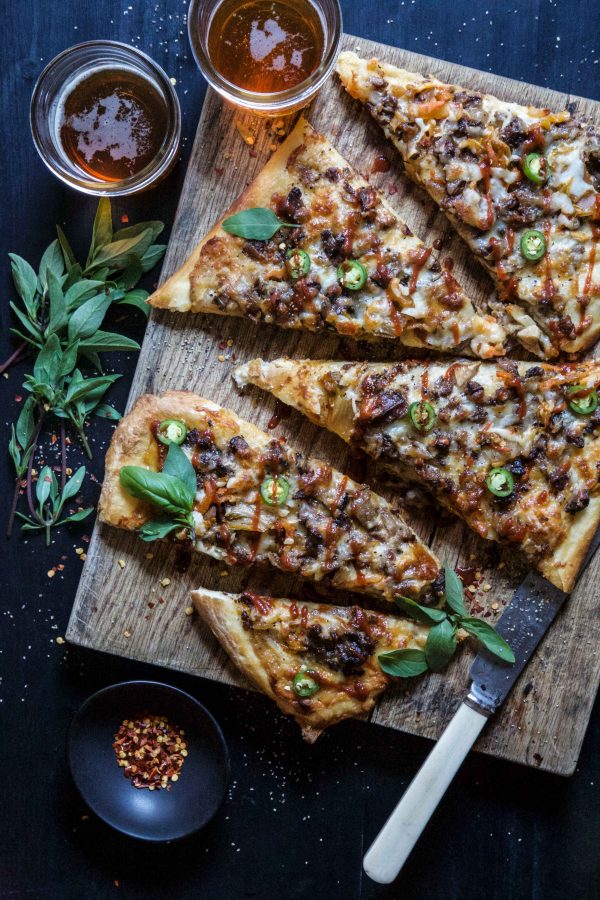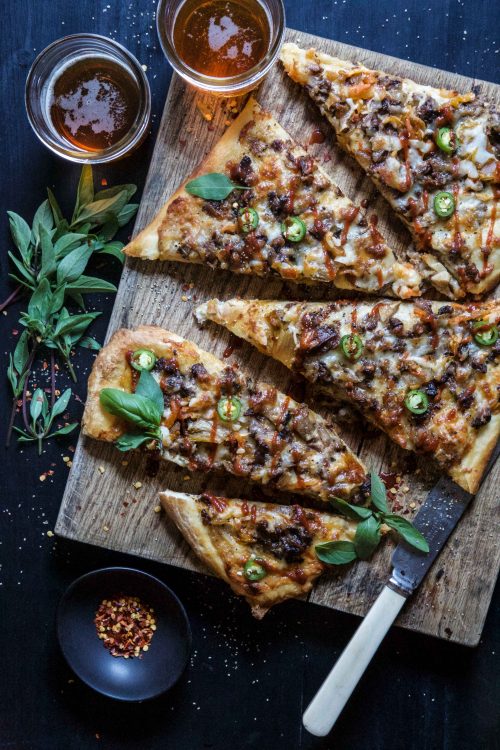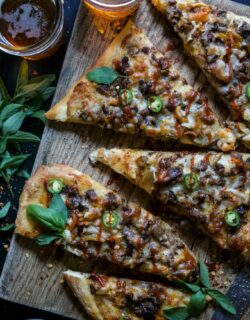 Slow Cooker Sriracha Beef Short Rib & Kimchi White Pizza
Ingredients:
2 lbs bone-in beef short ribs
2 tbsp light brown sugar
1 tbsp ground cumin
1 tbsp kosher salt
1 tbsp ground pepper
1 large onion, sliced thinly
6 garlic cloves, roughly chopped, divided
1/2 cup rice vinegar
1/2 cup low sodium soy sauce
2 tbsp Worcestershire sauce
2/3 cup Sriracha + plus more for garnish
1 1/4 cups beef stock
1 package store bought pizza dough
2 tbsp unsalted butter
1 shallot, minced
2 tbsp white wine
1/3 cup shredded Parmesan
1/2 cup heavy whipping cream
1/3 cup Kimchi
1 cup shredded mozzarella
Jalapeno rounds, for garnish
Fresh Thai basil, for garnish
Directions:
In a medium bowl combine short ribs, light brown sugar, cumin, salt, and pepper. Toss to combine. In the bottom of a slow cooker add the onion, 4 garlic cloves, rice vinegar, soy sauce, Worcestershire sauce, Sriracha, and beef stock. Stir to combine. Next, place the short ribs in the slow cooker. Cover the slow cooker and cook on either high for 4 hours or on low for 8 hours. Once cooked, remove the short ribs from the slow cooker using a pair of tongs and place on a cutting board. Discard the bone and using two forks shred the beef. Set aside until ready to use.
Preheat an oven to 400 degrees. Take the pizza dough and roll it out into a 9 X 13 rectangle and place it on a baking sheet. Partially bake the pizza dough for about seven minutes. Meanwhile prep the white sauce. In a medium skillet melt the butter over medium heat. Next, add remaining 2 garlic cloves and shallot. Saute until slightly golden brown about two to three minutes. Add in the white wine and let it cook out for about one minute. Nex, pour in the cream followed by the Parmesan. Continue to stir until the sauce has thicken about four minutes. Remove the skillet from the heat and set aside.
Pull out the pizza dough and add the white sauce on top leaving a 1-inch border all the way around. Next, add the shredded short ribs on top followed by kimchi and mozzarella. Place the pizza back into the oven and bake for about 20 minutes or until the cheese has melted and the crust is golden brown. Remove the pizza from the oven and let cool slightly before slicing. Garnish with jalapenos, Thai basil, and more Sriracha!
All images and text ©