Peach Mousse with Basil Krispie Crumble
Peach Mousse with Basil Krispie Crumble is a delightful and tasty summer dessert! Fluffy peach mousse topped with a sassy basil krispie crumble make for an unforgettable combination when it comes to fruit centered treat!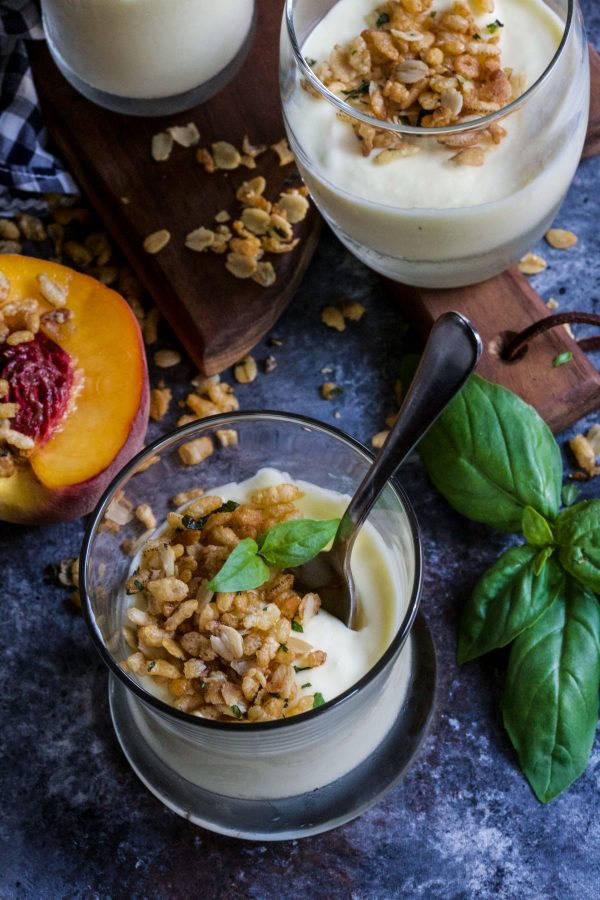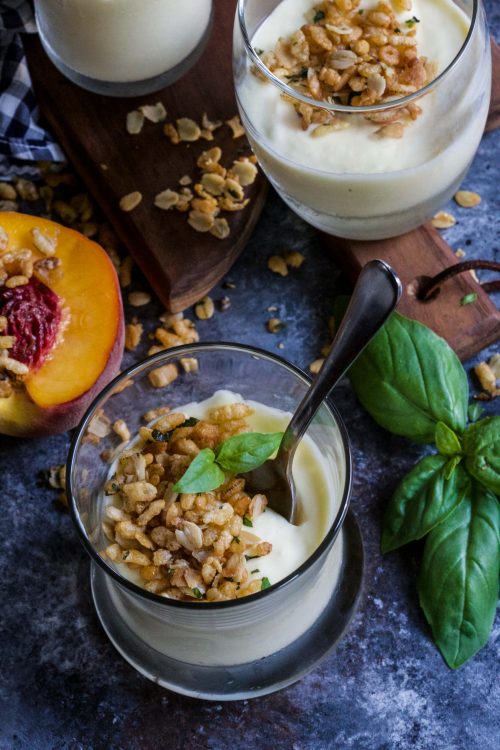 This past weekend Mr. B surprised me.
He's sneaky like that.
We were walking around Paulino Garden's which is an amazing garden center just up the street from us. I would say on average we make a trip to Paulino's at least once if not twice a week. Probably more when we were in full backyard remodel mode.
Anyways, every time we walk around the garden center I always make sure to stop by the Japanese maples to admire and say hello. Ever since we visited Japan I have falling in love with Japanese plants and gardens because whenever I am around them I instantly feel more balanced.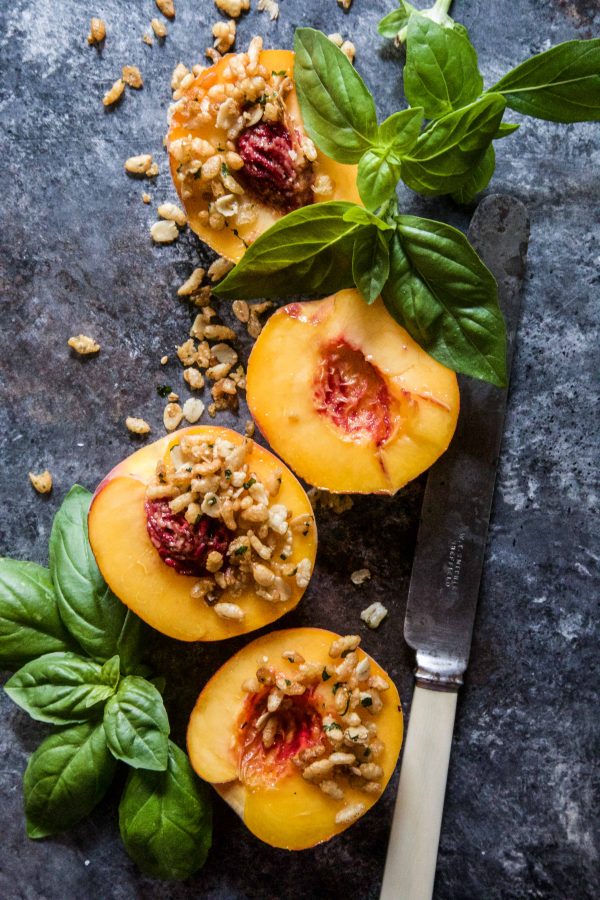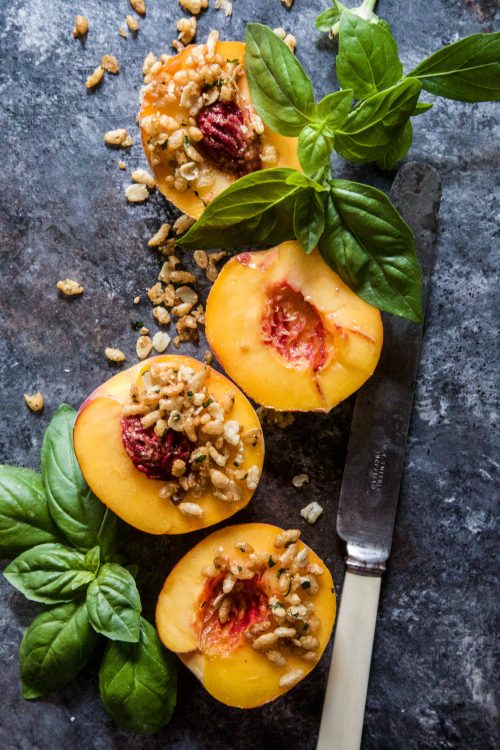 As we we strolled by the maples last weekend Mr. B stopped, turned to me and said, "pick one." At first I didn't hear him correctly and just ignored what he said. He looked at me confused and said again, "pick a maple tree out babe." Well, things finally started to register and in one single moment my heart burst and I started jumping up and down as if I going home with a new puppy!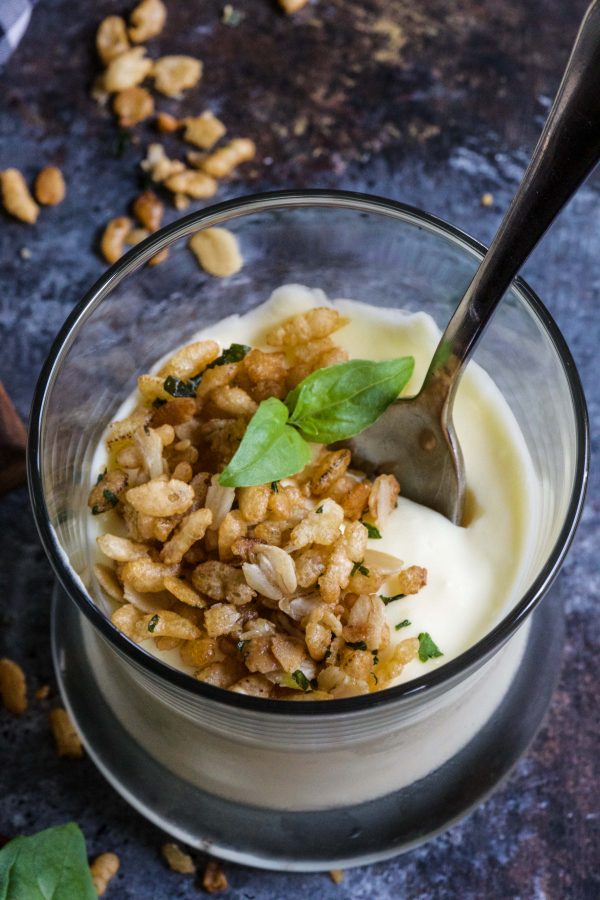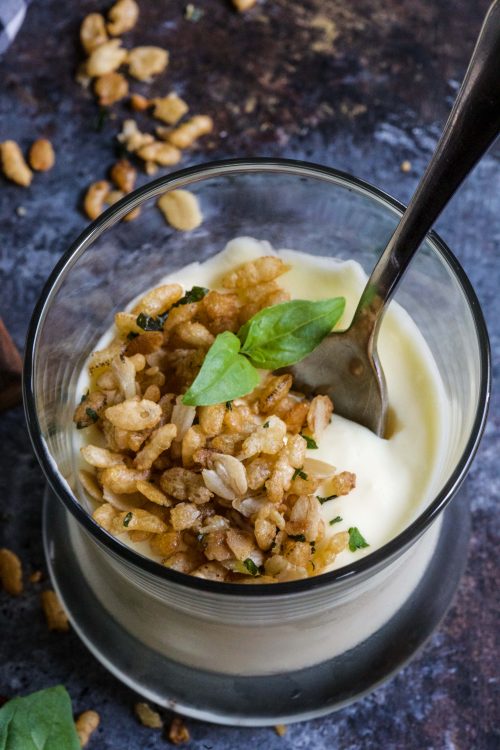 Well, the Japanese maple is kind of like a new member of our family because "Mable" will need a lot of TLC. But! I am up for the challenge. I must give kudos to my hubby because for the longest time I thought he wasn't paying attention when I would stop and exchange pleasantries with the maples. Apparently he was paying attention all along and it was a wonderful surprise to finally bring one home!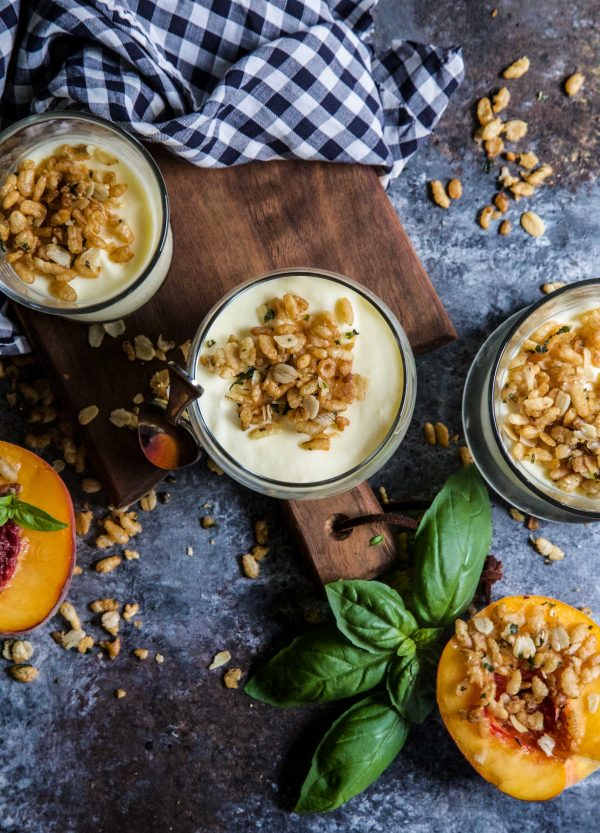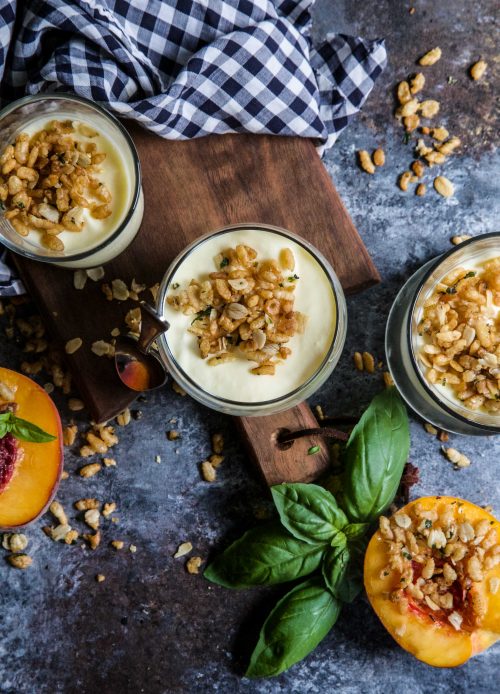 Okay, on with today's recipe because it's a GOOD one! I wasn't kidding when I said that peach might be in every recipe from now until August. Please don't leave? If anything I hope these recipes will make you excited to cook with peaches. Alright, are you ready? On the menu for today is Peach Mousse with Basil Krispie Crumble. Best part? Making a mousse is super easy and delicious. But what makes this extra special is the basil krispie crumble. It's like a marshmallow krispie gone savory but with a little more crunch. Dying!!
I say make this Peach Mousse with Basil Krispie Crumble and surprise yourself or someone that you love! It will make them feel extra peachy! (wink, wink)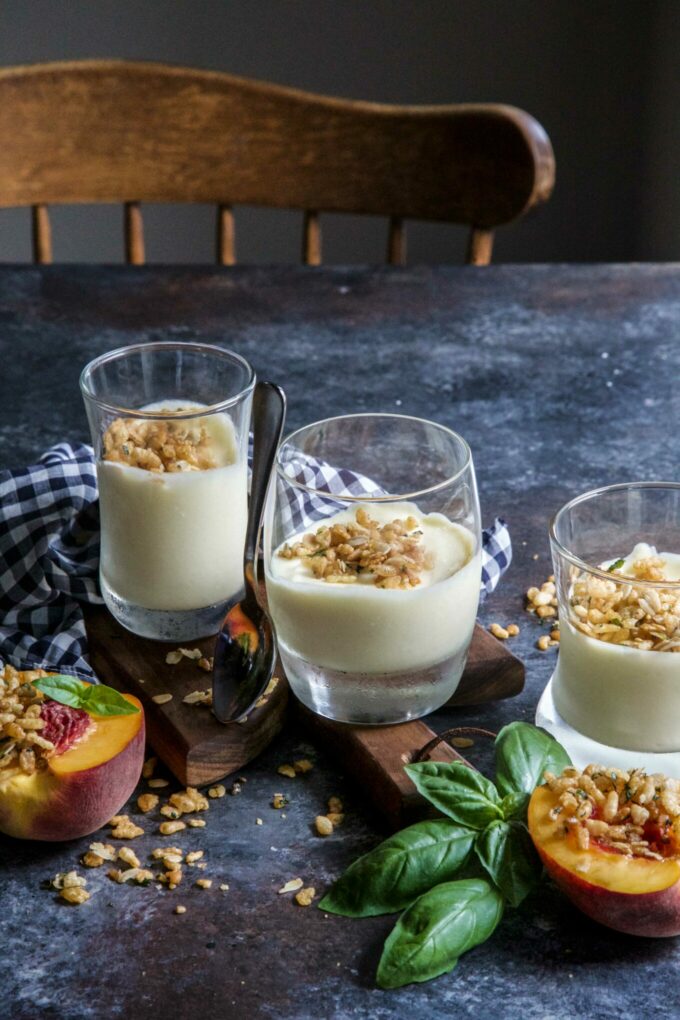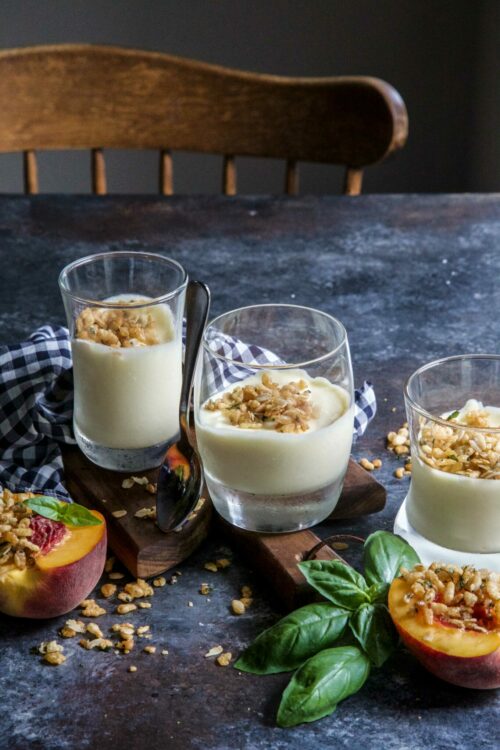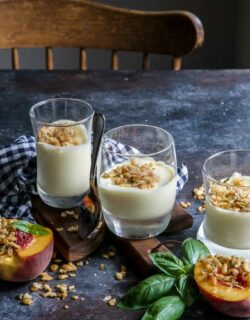 Peach Mousse with Basil Krispie Crumble
Ingredients:
for the peach mousse:
2/3 cup granulated sugar
1/3 cup peach puree
1 tbsp lemon zest
2 egg yolks
1 tbsp water
1/2 cup mascarpone
1/4 cup sour cream
3/4 cup whipping cream, whipped
for the basil krispie crumble:
3 tbsp unsalted butter
3/4 cup rice krispie cereal
1/4 cup honey granola
2 tbsp old fashioned oats
1 tbsp chopped fresh basil
2 tsp lemon juice
pinch of kosher salt
Directions:
for the peach mousse:
In a medium saucepan, add about 2 inches of water. Bring the saucepan to a simmer. Next, place a heatproof glass bowl over the simmering water. Add the granulated sugar, peach puree, lemon zest, egg yolks, and water. Whisk to combine and continue to whisk until slightly thickened about 6 minutes.
Next, strain the mixture through a fine mesh sieve to make sure there aren't any curdled eggs in the mousse. Once strained allow the peach mousse to cool slightly before adding in the remaining ingredients. Once cooled, stir in the mascarpone and sour cream. Then fold in the whipped cream. Next, pour the peach mousse into a desired serving container and cool for at least an hour or two before serving.
When ready to serve garnish the tops with basil krispie crumble and enjoy!
for the basil krispie crumble:
In a small saucepan pan melt the butter over medium heat. Next, add the krispie cereal, granola, and oats. Stir to combine. Continue to stir until the butter has been absorbed and the mixture slightly toasted. Next, add in the fresh basil, lemon juice, and salt. Stir to combine for a minute. Remove the saucepan from the heat and allow the crumble to cool before garnishing the peach mousse.
All images and text ©