Tomato & Bacon Upside Down Cake
Tomato & Bacon Upside Down Cake is a great way to use up all those juicy tomatoes. Caramelized heirloom tomatoes look smashing on top of this fluffy cake. But don't forget the bacon! This cake is perfect for breakfast, lunch, or dinner!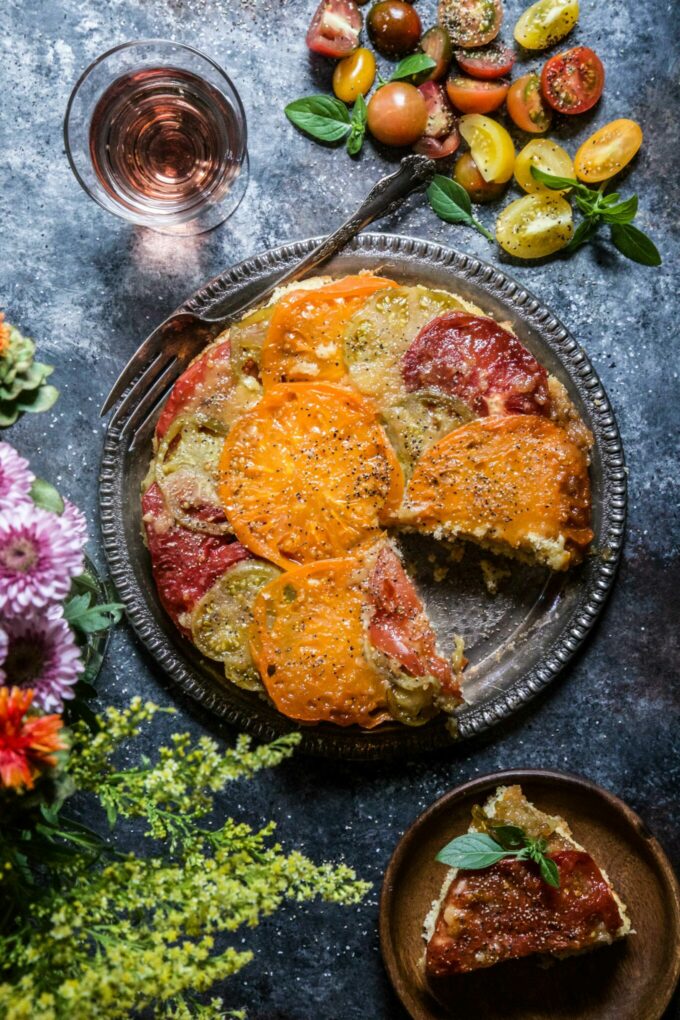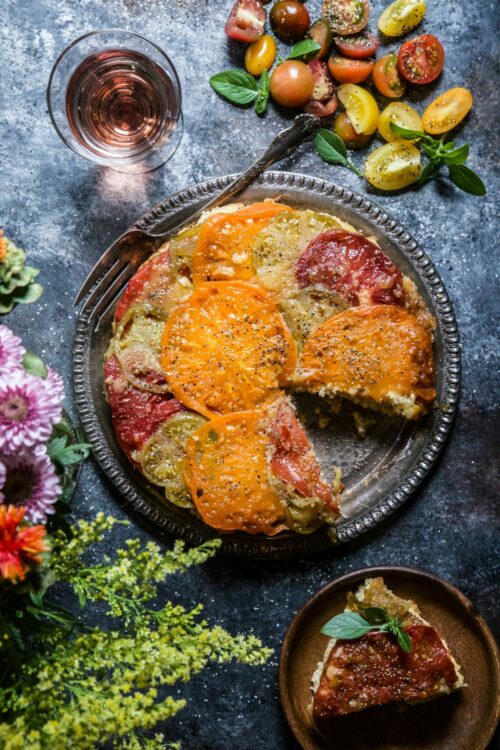 Oh, look, CAKE!
Whenever I hear the word cake I am instantly reminded of Jim Gaffigan's standup routine when he talks about how we act completely different once cake is inserted into our lives. For instance, you can tell people that you downed a twelve-pack of beer overnight and people typically respond with, "Cool, brah." But if you tell people that you ate an entire cake they look at you as if you have serious issues.
But I want to offer a counter to the above scenario. What if said consumption of the whole cake was of the savory variety? By definition is still a cake but its ingredients consist of bacon, tomatoes, ground pepper, etc. If someone told me they took down a Tomato & Bacon Upside Down Cake I would be like, "Cool brah."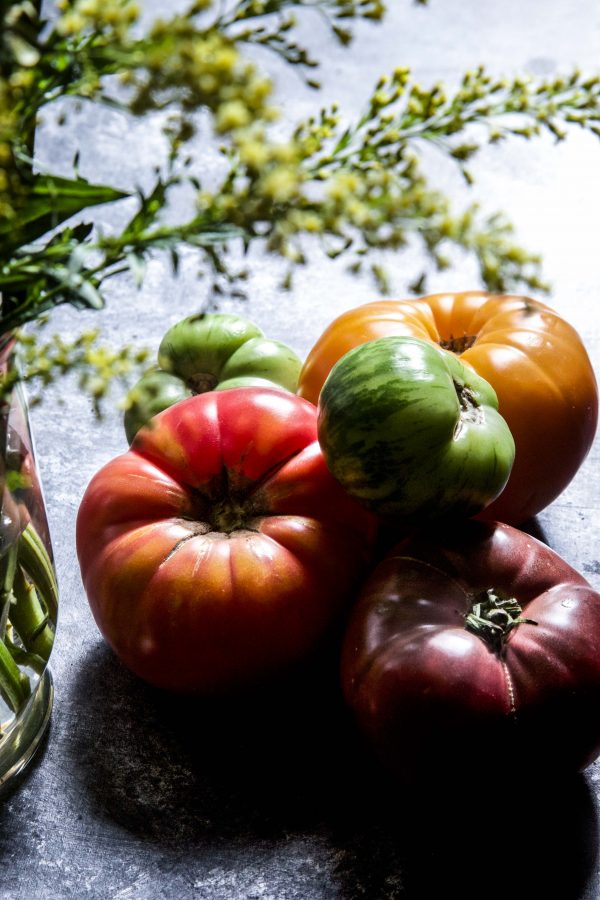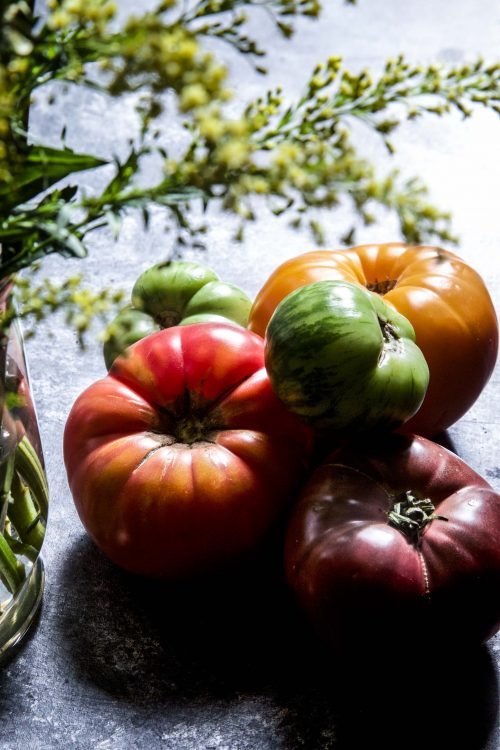 If someone said they took down a No-Bake Oreo Double Fudge Cheesecake, I might have to stage an intervention. Because no one takes down a No-Bake Oreo Double Fudge Cheesecake and lives to tell about it. Am I right? Okay, the only person who could is a 16-year-old boy. But that's it!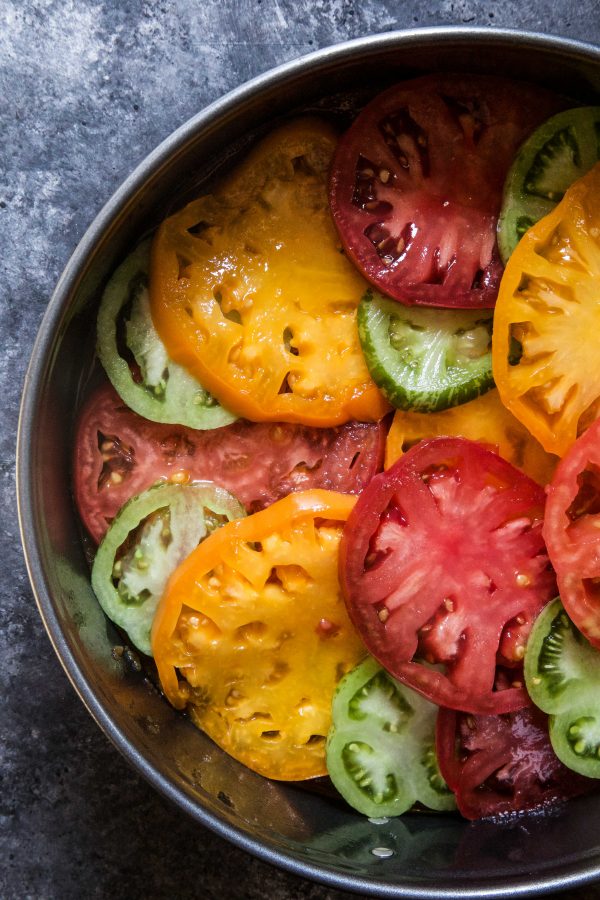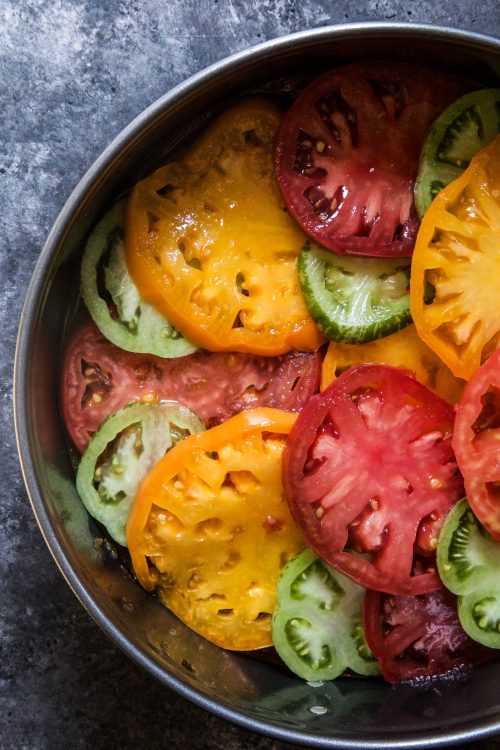 Well, today's cake recipe is of the savory kind. PHEW! Do you have tomato problems? Currently, our garden is taking its sweet ass ol' time because we have an obscene amount of green tomatoes that are just dangling right in front of our faces. Sighhhhh. So until they get their ripeness I picked up a few heirloom gems at the farmers market the other day.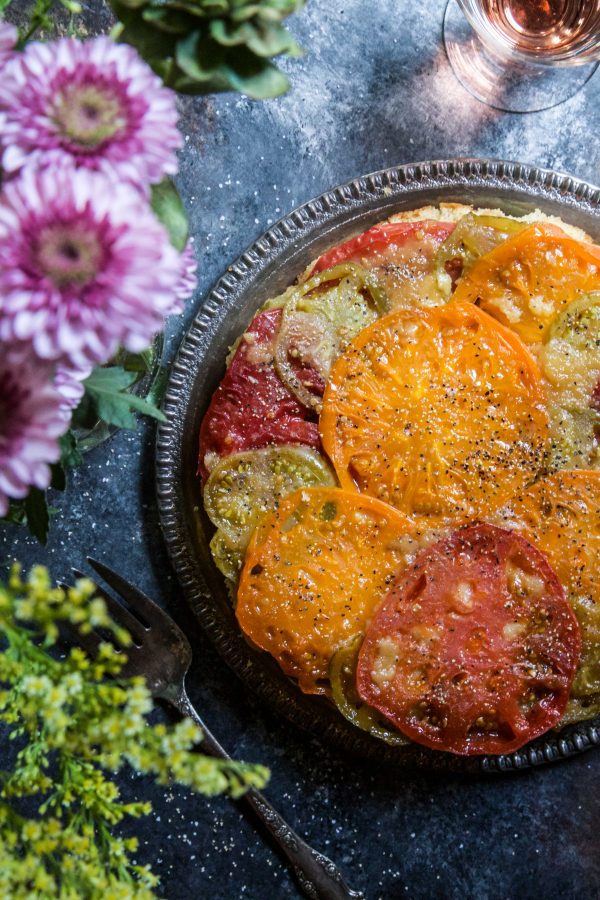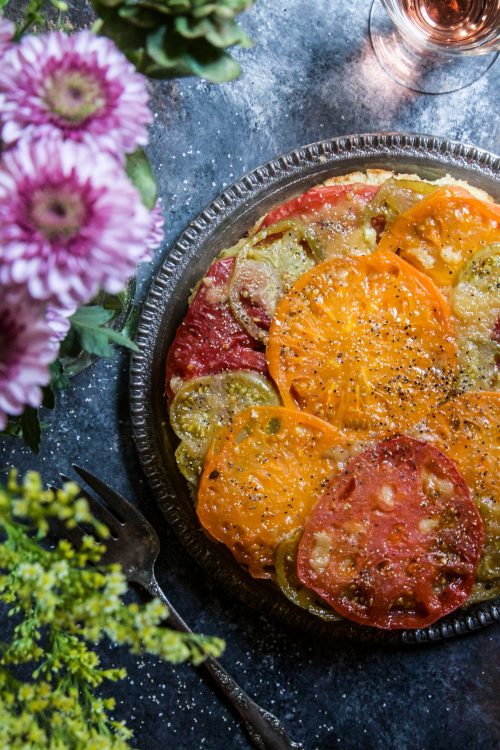 Because! Wait for it. I decided to make this Tomato and bacon Upside Down Cake. *The crowd goes wild!* This cake is the cake to end all cakes. Hmmm….maybe that doesn't sound quite right. What I am trying to say is this cake takes the cake. It's a combination of sweet and savory. You can eat it for breakfast, lunch, or dinner, and is a great way to use up summer's gems.
Now, pass me a twelve-pack. Wait. I mean a slice of cake.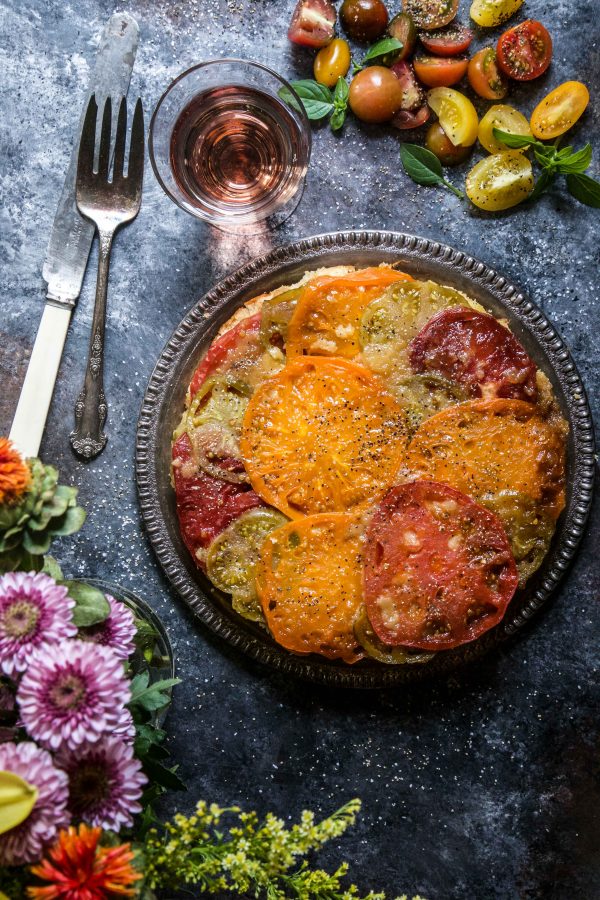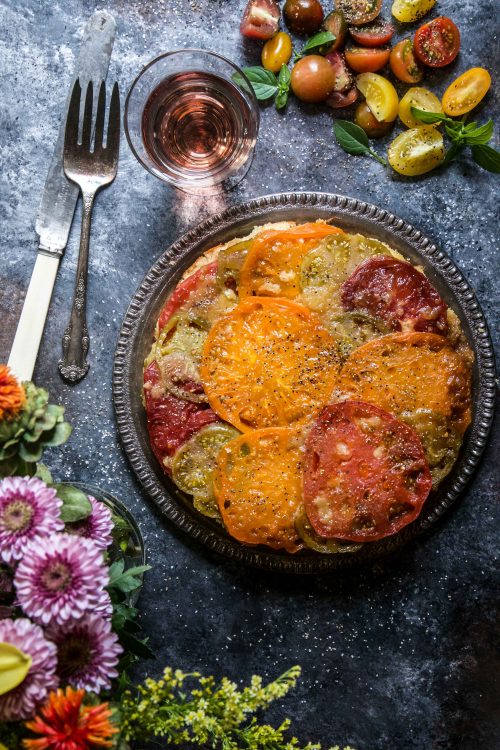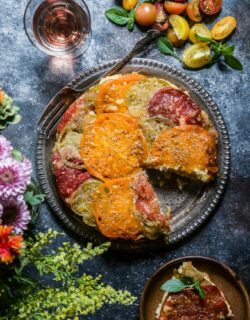 Tomato & Bacon Upside Down Cake
Ingredients:
4 slices bacon
1 1/2 sticks unsalted butter at room temperature, divided
3/4 cup brown sugar
3 to 4 medium heirloom tomatoes, sliced thinly
1 1/2 cups all-purpose flour
2 tsp baking powder
1/2 tsp ground ginger
1/4 tsp kosher salt
1/2 cup whole milk
1 tsp vanilla extract
1 cup granulated sugar
2 large eggs
Fresh basil, for garnish
Balsamic glaze, for garnish
Directions:
In a medium skillet preheated to medium-high heat, add four slices of bacon to the skillet. Cook the bacon on the first side for about five minutes, flip, and continue to cook for about three minutes or until crispy. Remove the bacon from the skillet and place on a plate lined with a paper towel. Let the bacon cool completely before roughly chopping.
Preheat your oven to 350 degrees. Spray a 9-inch springform pan with non-stick cooking spray. For extra insurance, line the bottom of the pan with a parchment paper round. Next, in a small saucepan preheated to medium heat, melt 1/2 stick butter with brown sugar. Stir to combine. Once melted, pour the melted butter into the bottom of the cake pan. Take half of the tomato slices and lay them cut sized down in a pretty arrangement. Then take the remaining tomato slices and place them on top of the first layer of tomatoes filling in any gaps. Sprinkle the roughly chopped bacon on top of the final layer of tomatoes.
In a medium bowl, mix together flour, baking powder, ground ginger, and kosher salt. In a small mixing bowl, combine milk and vanilla. In a mixer fitted with a paddle attachment mix together 1 stick of butter and 1 cup granulated sugar on medium until pale in color. Next, add the eggs one at a time until mix until well combined. Add the dry ingredients in batches in between the milk and vanilla. Once the batter has formed pour it into the baking pan.
Place the cake onto a baking sheet to make sure the batter doesn't spill out into your oven and bake for about 1 hour and 10 minutes or until a tooth inserted into the middle runs clean. Remove the cake from the oven and let cool for 30 minutes before inverting onto a platter. Slice and serve with a garnish of fresh basil and balsamic glaze.
All images and text ©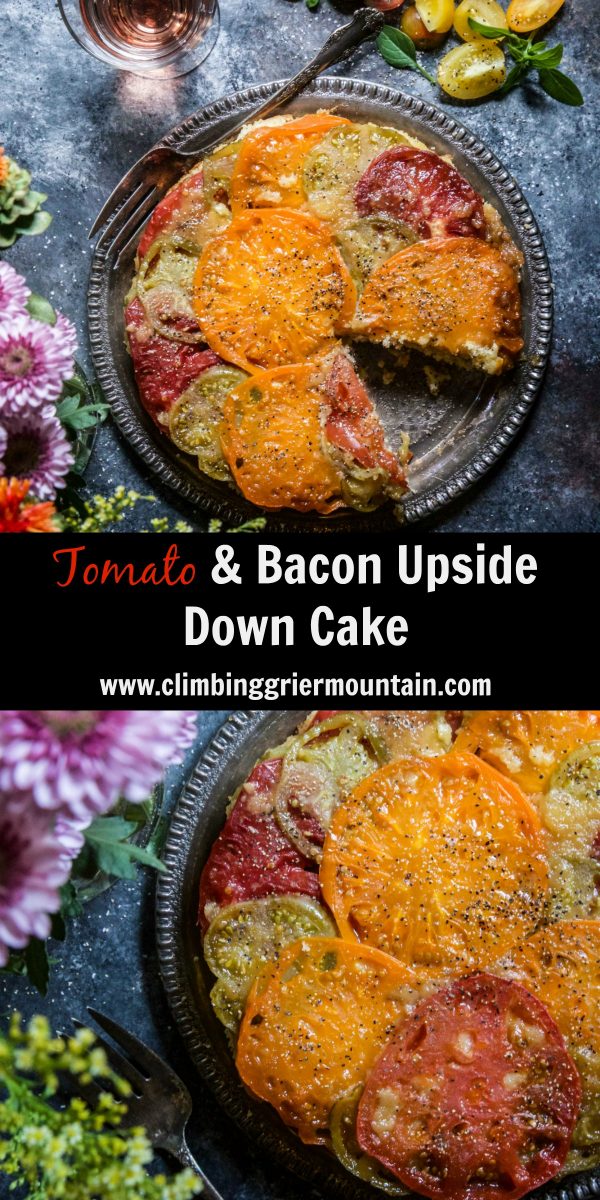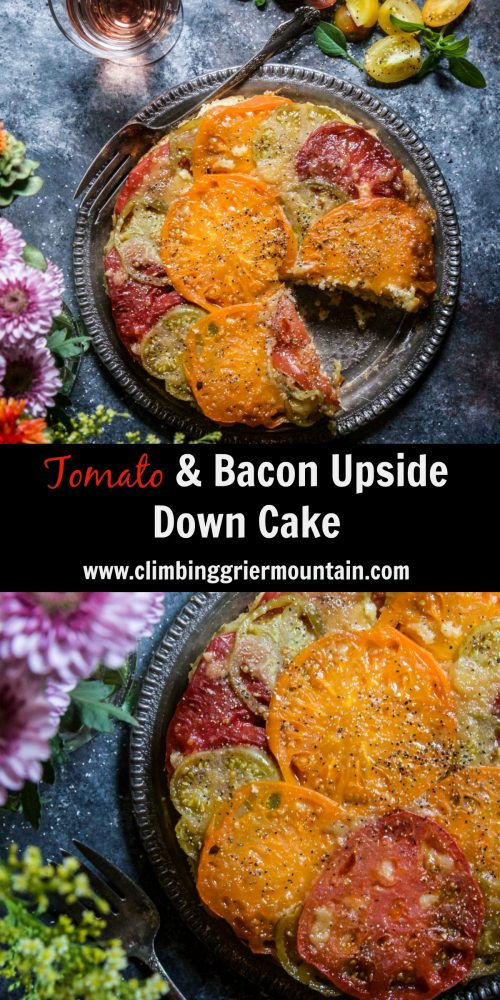 "We're delighted you enjoyed our Tomato & Bacon Upside Down Cake, a unique culinary experience. Stay tuned for more unconventional delights. Can't wait to have you back for another savory surprise!"