autumn acorn squash pita "nachos" with pomegranates & blue cheese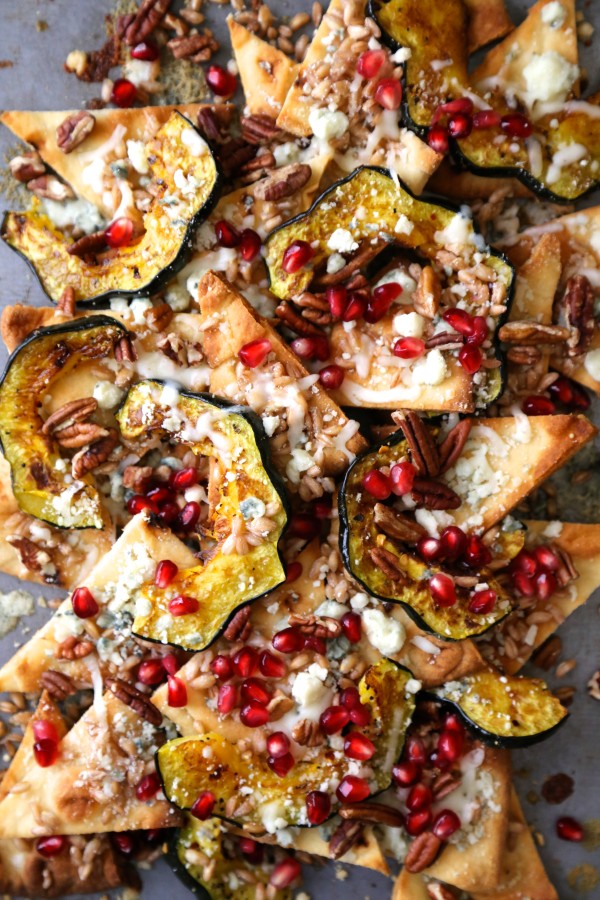 Let the squashing begin!
No, this is not like the episode of I Love Lucy where Lucy visits a vineyard and stomps around in a big vat of wine grapes. But, Lucille Ball's face in that episode was priceless. As a kid, I was a big fan of I Love Lucy re-runs. Just between you and me, sometimes, when Mr. B works from home, I enter the house, and belt out, "Lucy, I'm HOMMMMMMME." Mr. B always looks confused.
The squashing I'm referring to is of the acorn, butternut, and other "squash-izzles." This past weekend, I roasted, baked, blended, and roasted more squash then ever.. I swear my oven wanted to punch me in the face. The crazy thing is, I am not a huge squash lover; but it's hard not to have eyes for these fellows at the grocery store. I mean it's like squash porn at Whole Foods.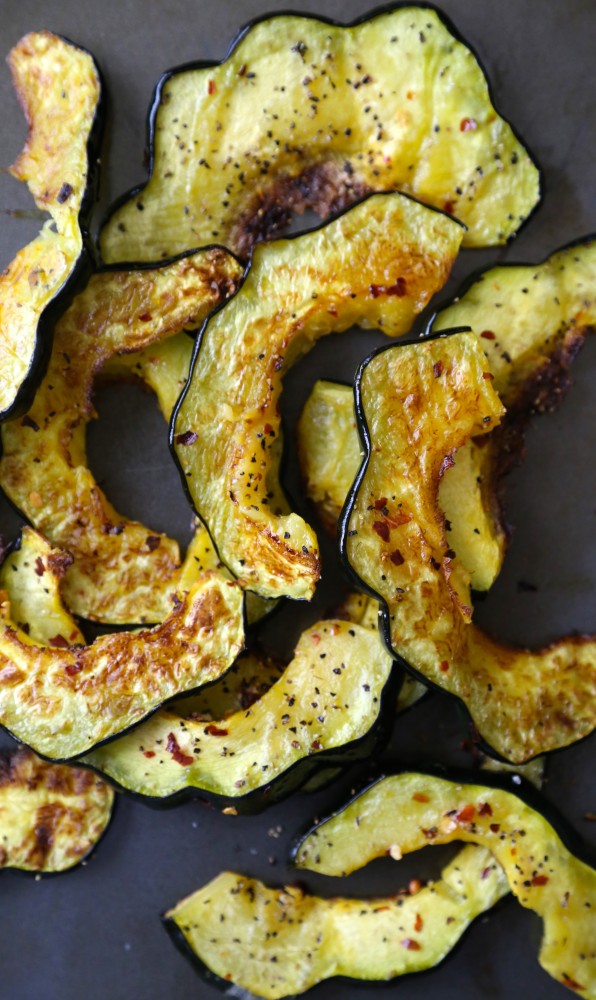 My typical buying behavior favors butternut squash because let's be real, when you can buy it frozen in a bag, all chopped up and ready to go, you butternut everything. Oddly, I passed by the butternut squash and my eyes immediately landed on acorn squash. "Oh, hello, little fellow." I haven't cooked with him in ages and into the cart he went.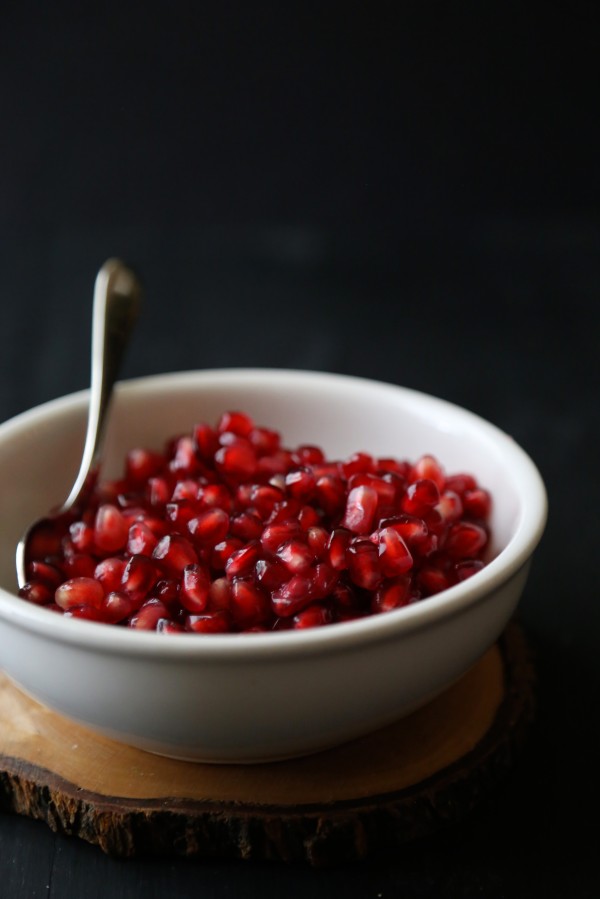 On the way home for the grocery store, I had big plans for this squash and it involved little half moons. Little half moons roasted with sprinkles of red pepper flakes. And that's what I did. I roasted them to golden perfection, placed them on top of crispy pita chips, then covered them with farro, blue cheese, and pomegranate seeds. One bite of these and you'll be squashing the rest of winter.
Eat Seasonal Series: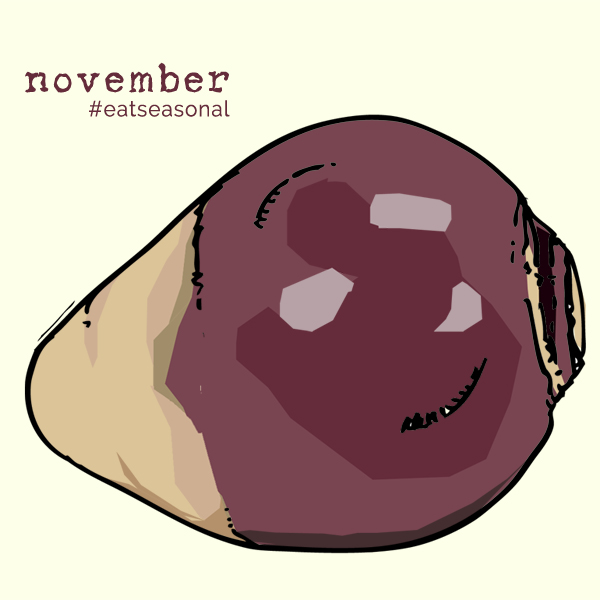 My talented and fantastic friend, Becky, author of The Vintage Mixer, and her husband Josh, are showing us that eating seasonally can be fun! Each month they will provide a Seasonal Produce Guide, which you can save on your iPhone or desktop so you can get in the seasonal eating spirit.
Not only do they provide a beautiful illustration each month like the one above, you can also join me and a few fabulous food bloggers who are serving up seasonally inspired recipes. Follow us on Instagram and tag your photos with the #eatseasonal hashtag!
Aimee – Simple Bites: Secrets to the best mashed potatoes
Annalise – Completely Delicious: Apple Pear Praline Pie
Kelley – Mountian Mama Cooks: Root Veggie Mash
Maria – Two Peas and Their Pod: Kale and Brussels Sprout Salad
Becky – Project Domestication: Thanksgiving Couscous with Butternut Squash, Sausage, Kale, Manchego, Dried Fruits and Nuts
Liren – Kitchen Confidante: Cranberry Sauce Slab Pie
Kate – Cookie and Kate: Thai Curried Butternut Squash Soup
Lindsey – Cafe Johnsonia: GF Cranberry Lemon Curd Tart with Gingersnap Crust
Heidi – Foodie Crush: Miso Roasted Butternut Squash
Becky – Vintage Mixer: Proscuitto Wrapped Turkey
Erin – The Law Student's Wife: Maple Balsamic Brussels Sprouts with Walnuts and Feta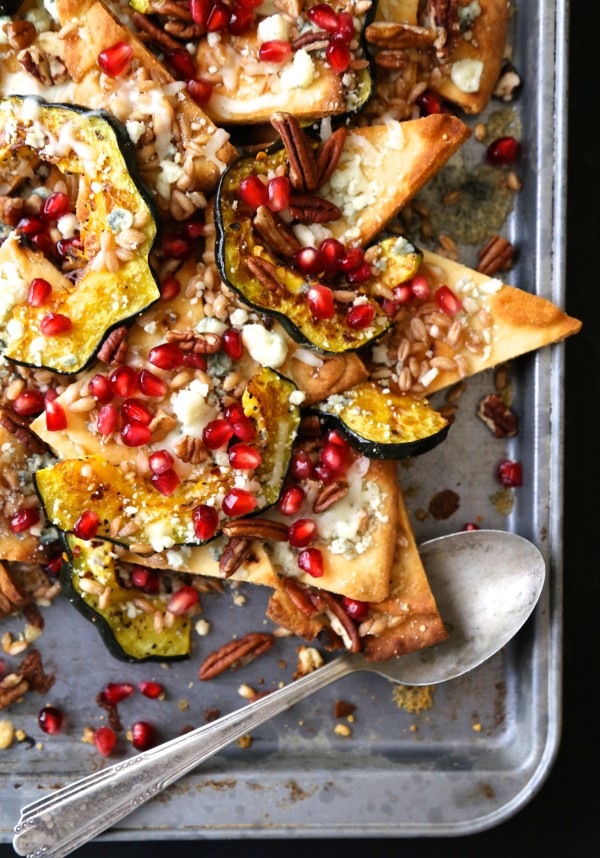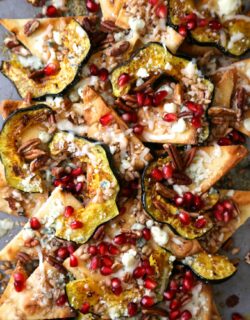 Autumn Acorn Squash Pita "Nachos" with Pomegranates & Blue Cheese
Ingredients:
2 tablespoons olive oil
1 acorn squash, seeds removed, sliced into half moons
1/4 teaspoon red pepper flakes
1 cup farro, cooked
1/2 cup pomegranate seeds
1/2 cup blue cheese
1/2 cup mozzarella, shredded
3 whole pitas, cut into triangles, toasted
salted and pepper to taste
Directions:
Preheat an oven to 400 degrees. Spray a baking sheet with non-stick cooking spray. Place the acorn squash on the baking sheet and drizzle tops with olive oil followed by red pepper flakes, s&p. Bake for about 30 minutes or until golden brown.
On another baking sheet, place 1/2 of the pita triangles onto the sheet. Top with 1/2 cup farro, 1/2 cup acorn squash, 1/4 cup blue cheese, and 1/4 cup mozzarella. Then, add the remaining pita, squash, farro, blue cheese, and mozzarella. Place back in the oven for about 5 to 10 minutes or until golden brown. Remove from oven and garnish with pomegranate seeds.
All images and text ©