bacon, salami, and sweet potato hash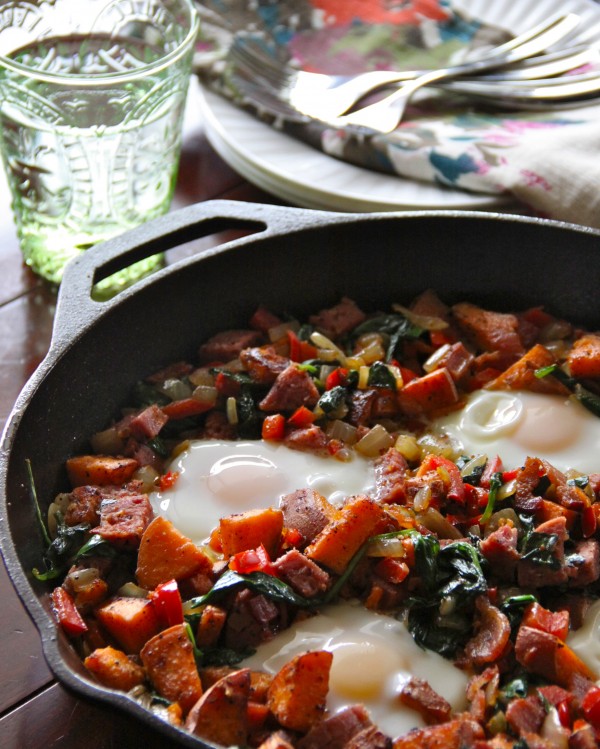 Sooooo, have you joined the hash bandwagon?
No, not that kind of hash. Jeez. I know I live in Denver and there are those "medical stores" at every corner, but this is not the hash I speak of today.
I'm talking about breakfast hash.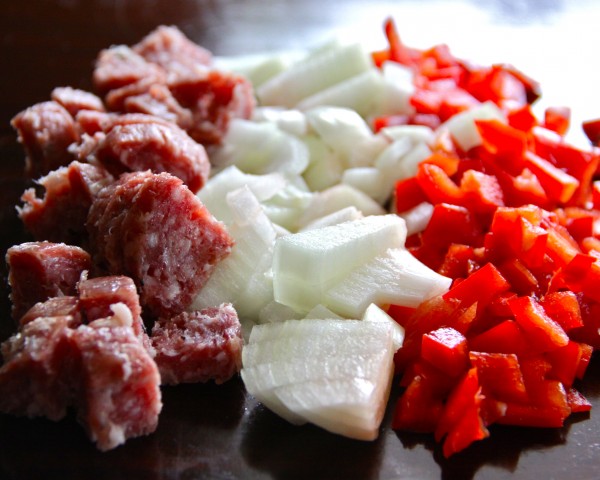 The one that uses every ingredient expect the kitchen sink. The one where flavor combinations are endless. The one that makes an omelet look like a sad pile of eggs. Yep, I'm talking about "the hash of breakfast."
When people think of hash for breakfast, they immediately associate it with corned beef. As a little girl, I remember visiting western Kansas diners and corned beef and hash would be a very popular dish among the older folks. Why? Haven't a clue because it looked like a huge plate of dog food if you asked me. That gives me chills just thinking about it. Eeeeehhhwww.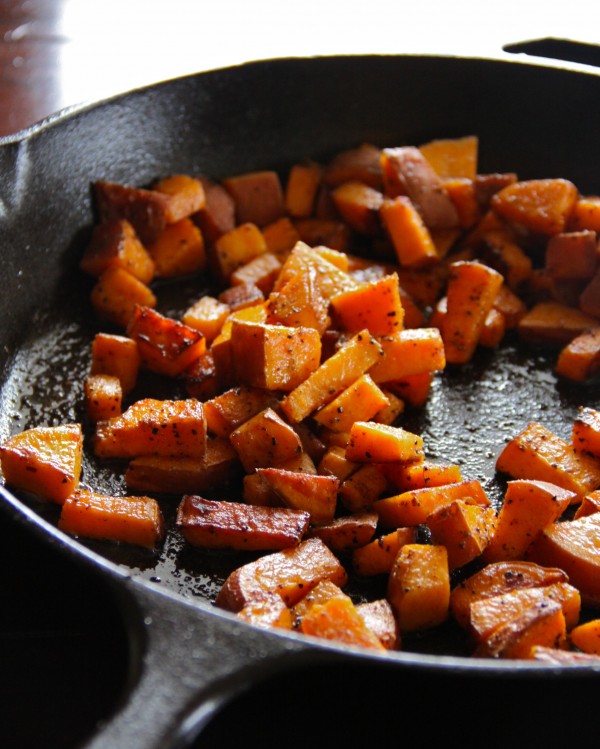 Anyway, thank goodness times have changed. Hashes have made a wild comeback and yours truly couldn't be more excited. The base of a hash is pretty standard, usually some kind of potato with a protein. Then you mix in your favorite veggies and few sunny-side up eggs or eyeball eggs if you will. Doesn't it sound far superior already to an omelet? For reals.
Well, being the typical recipe pot-stirrer, I figured why not go for gold when making a hash. I want my weekend brunch to be epic and this hash is definitely the ticket. Bacon, check. Sweet potatoes instead of blah russet potatoes, check. Salami (because I like to party), check. And spinach with nutmeg for good measure, check, check.
And you can't forget the eggs! One of my top flavor foods beside wedding cake is runny yoke over salty potatoes. Life doesn't get much better than this folks. Okay, unless your married to Ryan Gosling, but a girl can dream, right?
Breakfast hash. Just do it.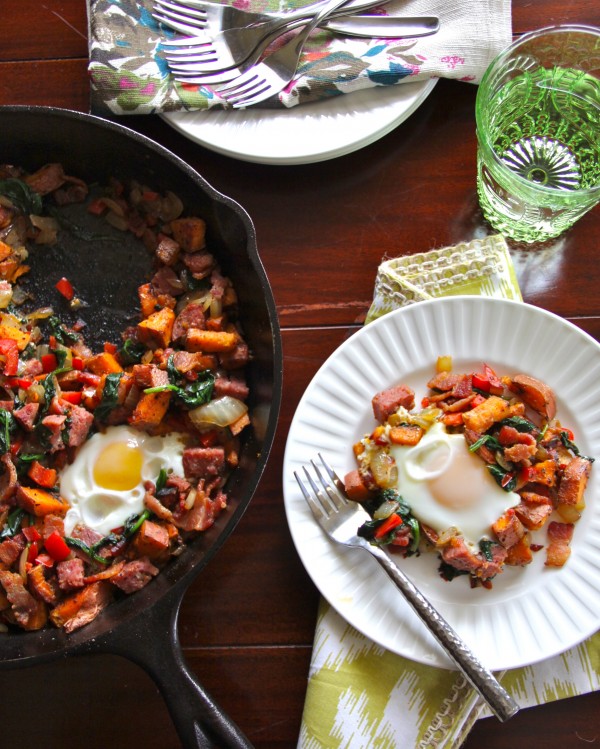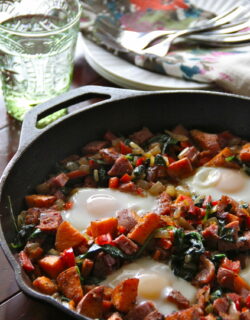 Bacon, Salami, and Sweet Potato Hash
Ingredients:
6 slices bacon, diced
2 medium sweet potatoes, chopped into 1-inch cubes
1 teaspoons kosher salt
1 teaspoon ground black pepper
2 tablespoons olive oil
1 medium onion, chopped
1 red bell pepper, chopped
3 cups baby spinach leaves
8 ounces dry salami, casing removed, cut into 1/2-inch cubes
1/2 teaspoon ground nutmeg
Zest of small orange
4 large eggs
Directions:
Cook bacon in a skillet over medium-high heat, until crisp. Remove the bacon from the pan with a slotted spoon and place on a paper towel. Add sweet potatoes, 1/2 teaspoon salt, and 1/2 teaspoon pepper to the pan. Cook until brown and crisp, about 25 minutes. Remove the potatoes from the pan and place on a paper towel.
Add oil, onion, bell pepper, 1/2 teaspoon salt and 1/2 teaspoon pepper. Cook until the vegetables have softened, about 5 minutes. Add spinach, salami, nutmeg, orange zest. Cook until the spinach is wilted. Add bacon and potatoes, stir to combine.
Make four holes in the hash and break an egg into each. Cook until the eggs are cooked through. To cook faster, place a lid over the pan. Serve with a giant Bloody Mary!
recipe from Giada de Laurentiis
All images and text ©