Baked Cajun Salmon with Parmesan Garlic Sauce
Baked Cajun salmon is a flavor-filled salmon recipe. The Cajun spices, sweet honey, and parmesan sauce are great on any fish, and it's an easy meal to make in under 30 minutes on a busy weeknight!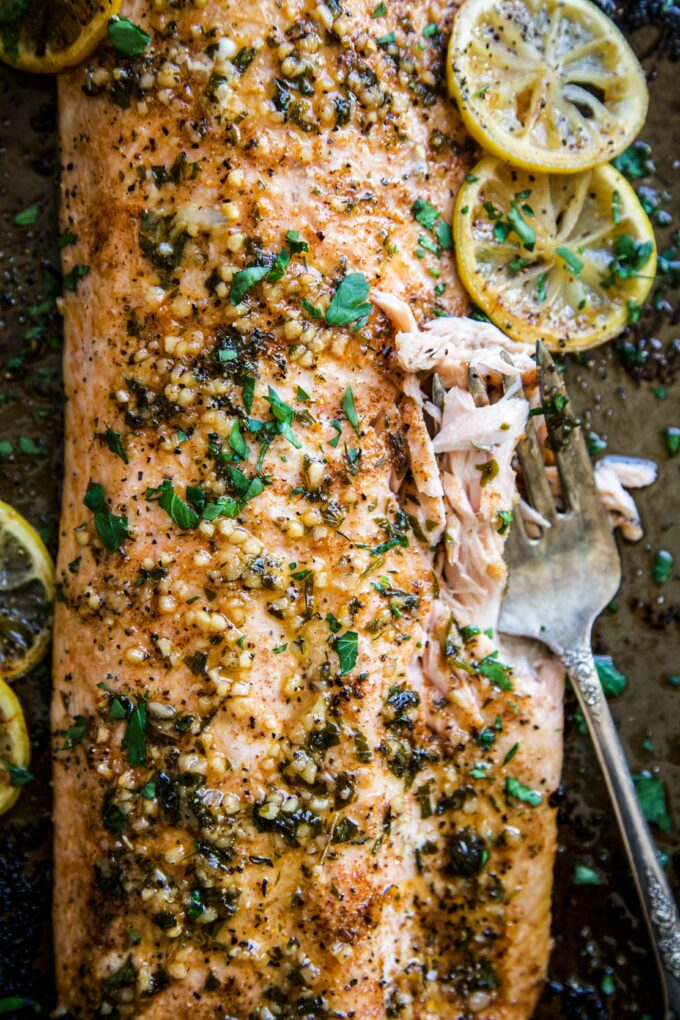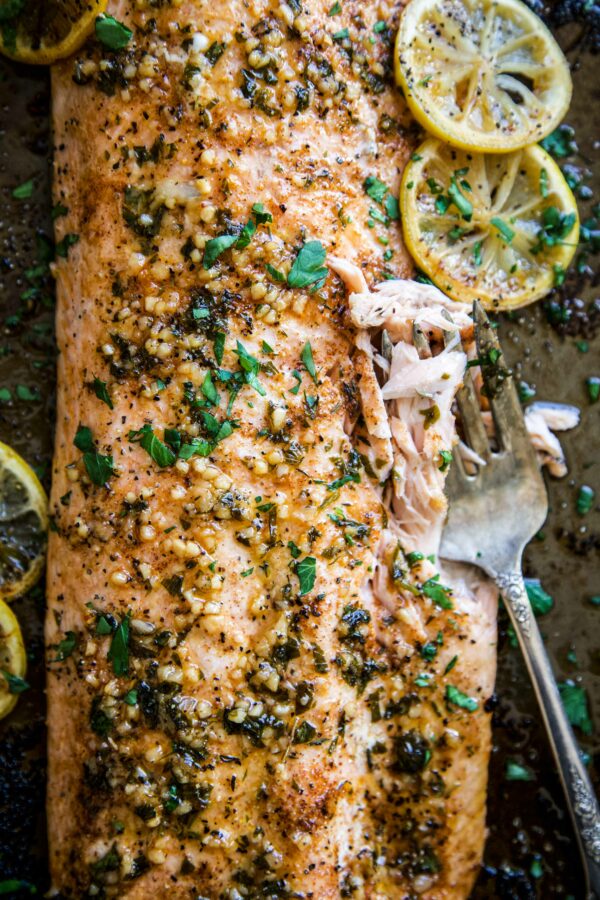 I'm always on the struggle bus when it comes to coming up with a weeknight meal. You can only have roasted chicken and vegetables so much, right?
The way I like to get off the struggle bus is with this baked cajun salmon recipe. Not only does it take less than 20 minutes to put together, but the flavor is outstanding.
After a quick bake, the salmon is drizzled with a sweet and savory sauce made with garlic, honey, cajun seasoning, and parmesan. Add a side of pasta or potatoes with some veggies or a salad and you've got an easy, healthy meal.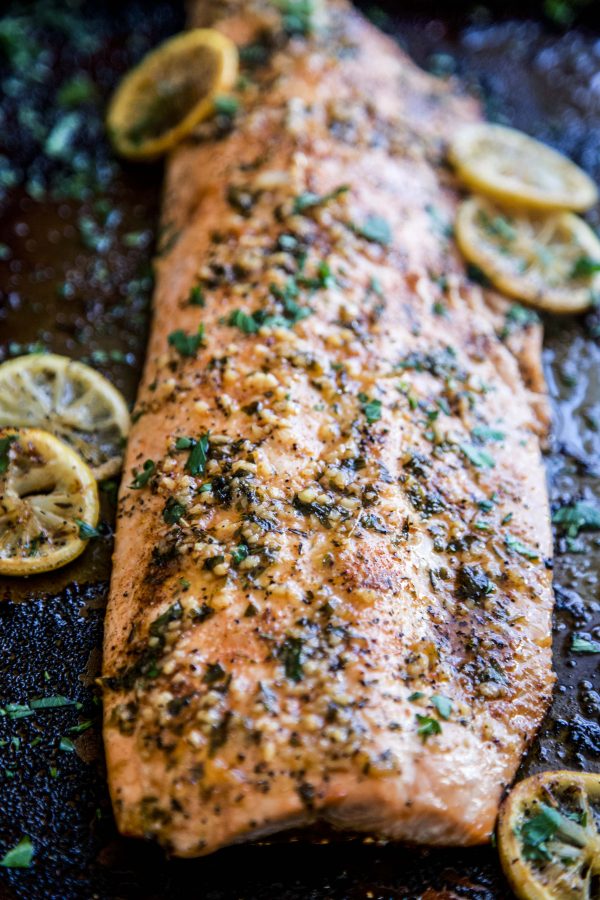 What's in Cajun Baked Salmon?
To make weeknight meals easy, you usually want to use minimal ingredients. Luckily, Cajun salmon needs just a handful of ingredients that you'll probably already have in the house!
Here's everything you will need to make this baked Cajun salmon recipe:
4 (6-8 oz) fresh salmon filets (or you could use frozen and defrost)
1 tbsp olive oil
2 tsp Cajun seasoning, divided
Salt & black pepper to taste
2 tbsp unsalted butter
3 garlic cloves, minced
1 tbsp lemon juice
1 tbsp chopped fresh parsley
1 tbsp honey
2 tbsp grated parmesan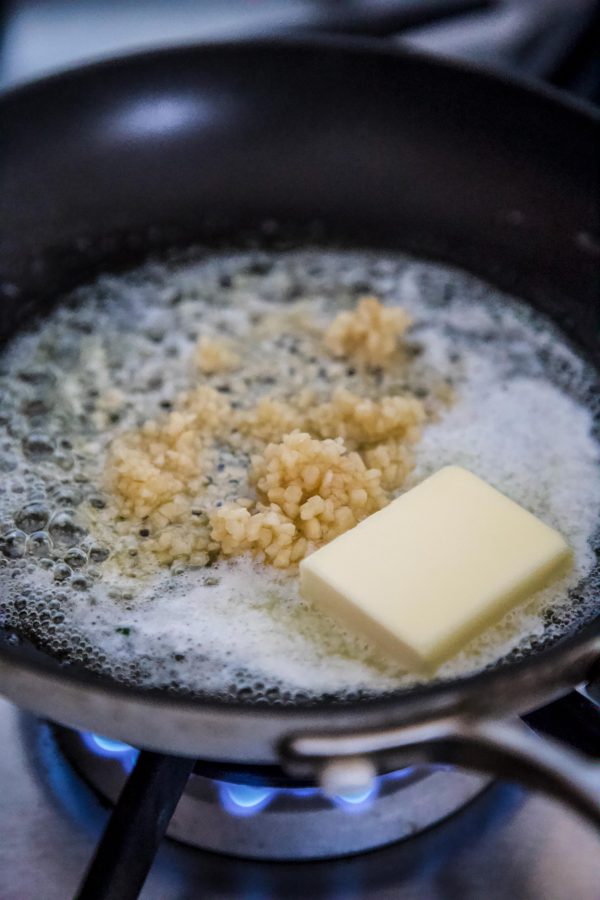 Tips for Making Oven-Baked Cajun Salmon
1) Salmon. Try to use the freshest salmon possible. If you need to defrost frozen salmon, the quickest way is to remove the salmon from its packaging and place it into a resealable bag.

Push the air out and place the salmon in a large bowl. Place the bowl in your sink under cool running water. If you need to weigh down the salmon to keep it submerged, use a canned item. Replace the water every 10 minutes or until the salmon is defrosted.

2) Cajun Seasoning. When purchasing store-bought cajun seasoning make sure it's salt-free. Many spice companies will add salt to their mixes. By purchasing salt-free you can control the amount of salt in your mixture. Trust me, there's nothing worse than super salty food!
3) Par-bake Salmon. By par-baking your salmon you will get a head start not only on cooking the salmon evenly, but it will allow you to add an extra level of flavor before you add the cajun parmesan butter.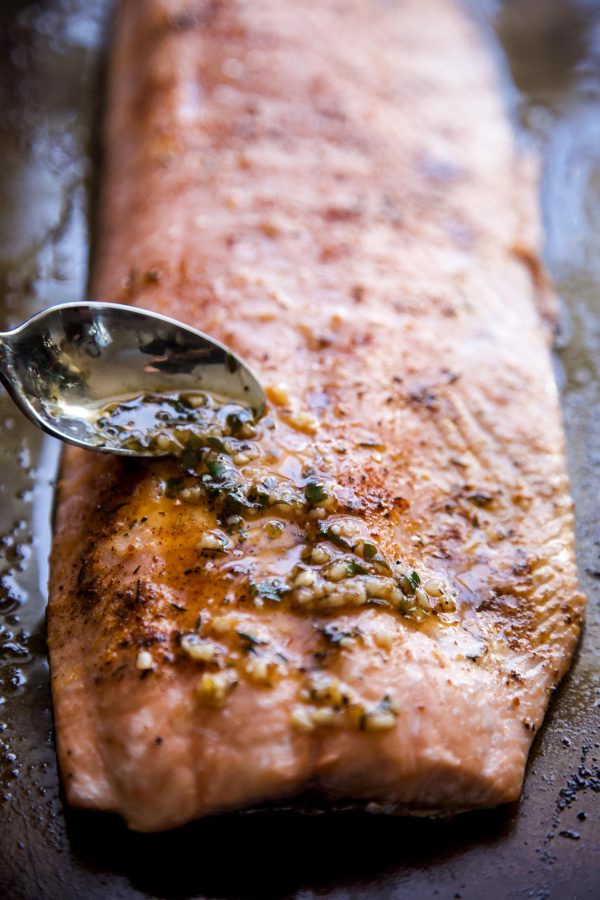 4) Can I substitute other fish for Salmon? Yes! I would definitely try halibut, cod, or tilapia. If you don't like fish you can certainly use the same spice and sauce mixture on chicken!
5) Do you have to buy the large salmon filets? Nope! The best size to get for salmon is center-cut and weigh about 6 to 8 ounces. At that size, it will be a perfect serving size for one person.
What to Serve With Cajun Salmon
There are endless options! I would definitely try brussels sprouts, chickpea salad, or potatoes.
Pasta is another side that goes great with salmon. Cajun salmon pasta and a vegetable like brussels sprouts or broccoli go great together.
Not only is this baked cajun parmesan salmon recipe a great weeknight meal, but it's also great for meal prepping too!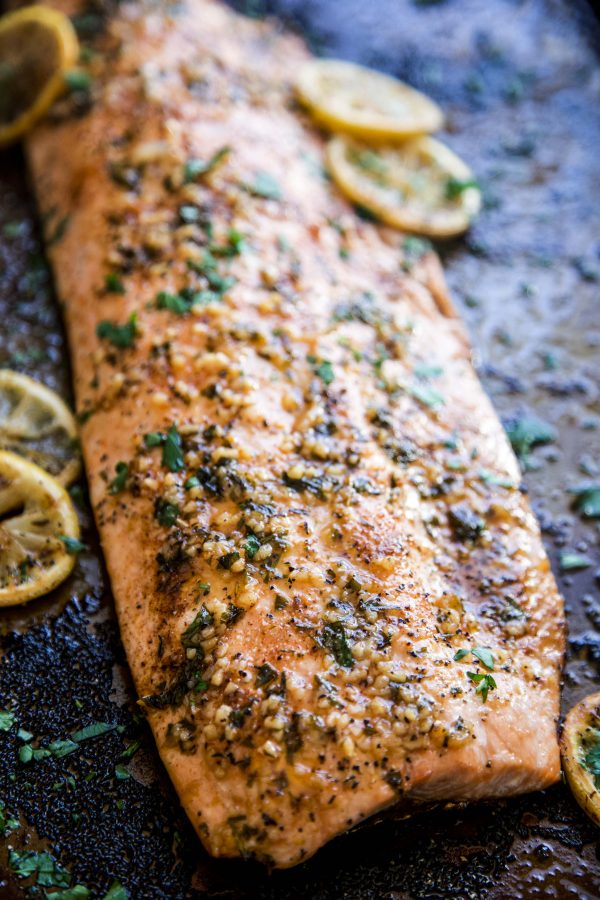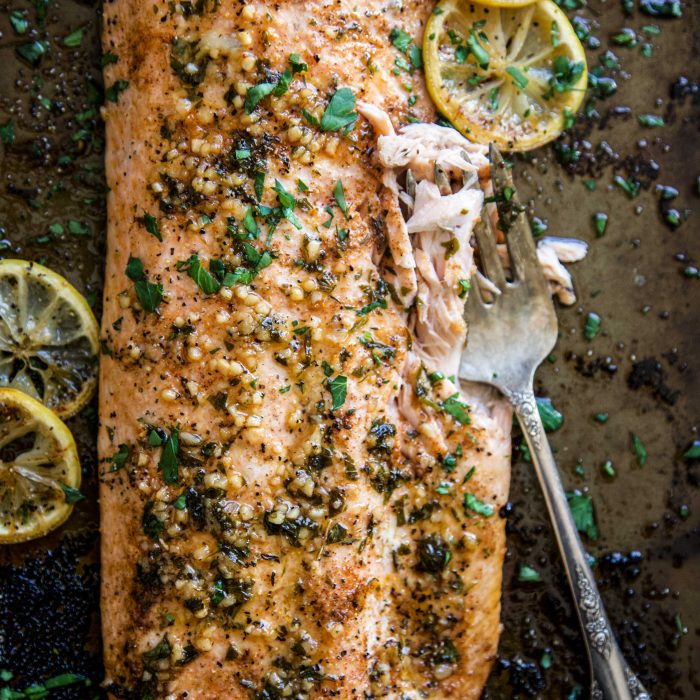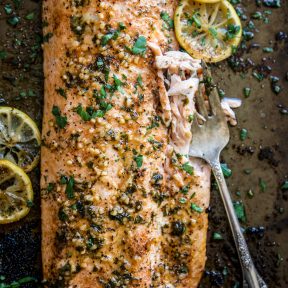 Baked Cajun Salmon with Garlic Parmesan Sauce
This baked cajun salmon is cooked in under 30 minutes with cajun spices, sweet honey, and a delicious garlic, butter, and parmesan sauce.
Ingredients
1 tbsp olive oil
4 6 to 8oz salmon fillets
2 tsp cajun seasoning, divided
salt and pepper to taste
2 tbsp unsalted butter
3 garlic cloves, minced
1 tbsp lemon juice
1 tbsp honey
2 tbsp grated parmesan
1 tbsp chopped fresh parsley
lemon slices, for garnish
Instructions
Preheat an oven to 400 degrees. Line a baking sheet with foil and spray with non-stick cooking spray.

Place the salmon fillets on the baking sheet. Drizzle the tops with olive oil, 1 tsp Cajun seasoning, salt, and pepper.

Cook the salmon fillets for about 5 to 6 minutes.

Meanwhile, in a medium skillet melt the butter over medium-high heat. Next, add in the garlic, honey, lemon juice, remaining cajun seasoning, and parmesan. Stir to combine and bring the mixture to a simmer. Let the sauce reduce for a few minutes.

Remove the salmon from the oven and cover the salmon fillets with the sauce. Sprinkle with fresh parsley. Place the salmon back into the oven until cooked through – about 10 minutes or until a thermometer reaches 145 degrees.

Serve the salmon with lemon slices!
Did you make this recipe?
Please leave a comment below and share a photo on Instagram with the hashtag #thecuriousplate!
Here are some more easy weeknight meals you'll love:
Easy Kung Pao Chicken
Spiced Pecan Baked Chicken Nuggets
Easy Parmesan Tomato Soup
Enchilada Turkey Meatball Skillet