Tex-Mex Zucchini Lasagna
Tex-Mex Zucchini Lasagna offers weekday convenience with its low-carb, flavorful profile. A delicious twist on traditional lasagna, it's perfect for those seeking a satisfying and health-conscious meal option. Enjoy!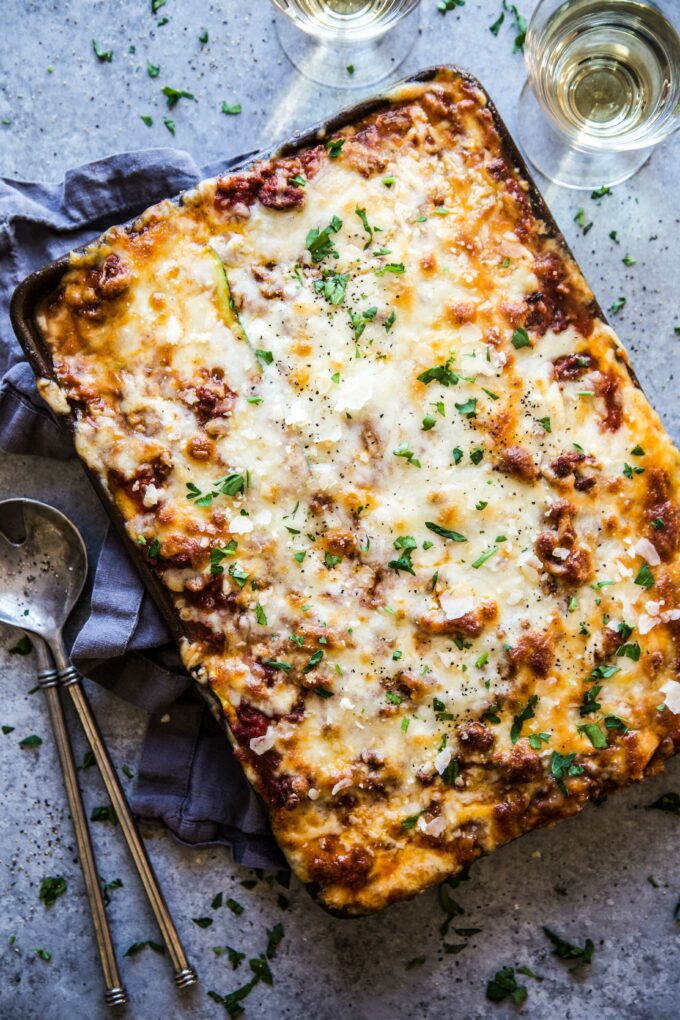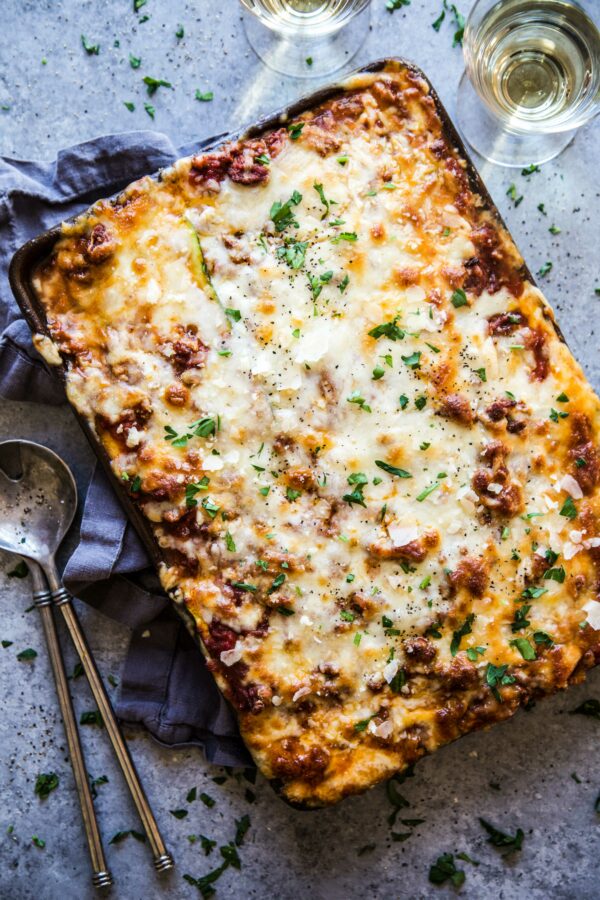 Lasagna has come a long way over the years.
What started out as a labor of love with homemade lasagna noodles to no-boil to no noodles at all. It's no wonder this iconic dish still ranks high on the go-to weeknight dinner list.
Well, today, I'm sharing a fun new way to serve lasagna. I love a good mash-up of flavor so it should be no surprise that we are making a Tex-Mex Zucchini Lasagna. I mean, if we are going to eat vegetables might as well make them tasty!
Let's dive in because we've a few things to chat about!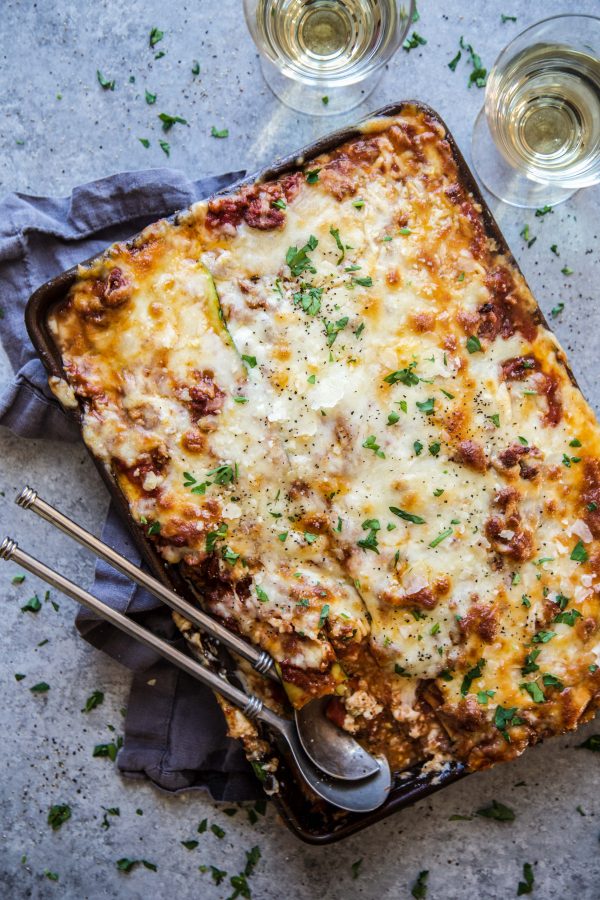 What's in this Tex-Mex Zucchini Lasagna?
NOODLES. Just kidding. There are zero noodles in this recipe because I wanted to keep this specific version of lasagna low-carb. So, you'll find:
Zucchini Slices
Ground beef
Crushed Tomatoes
Enchilada Sauce
Cottage cheese (*I feel it tastes better than ricotta!!)
Garlic
Onion
Cumin
Pepper jack and Mozzarella cheese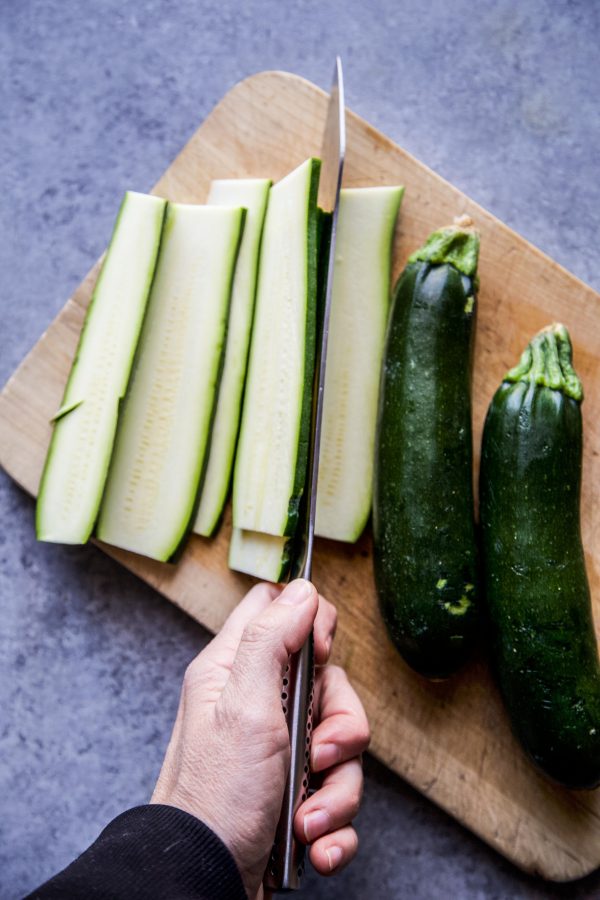 Tips for Making the Tex-Mex Zucchini Lasagna:
1) Zucchini. There are a couple ways to prep your zucchini:
a. Slice them thinly using a mandolin. Be careful to not cut yourself! Personally this isn't my favorite way to cut zucchini, but a lot of people swear by it.
b. Slice the zucchini lengthwise using a sharp knife. THIS IS MY FAVORITE WAY to prep the zucchini. Easy, straightforward and you don't have to dirty a whole other product.
c. Slice them with vegetable peeler. This allows you to make long zucchini slices. Really best used for zucchini roll-ups because sometimes the peeler makes the zucchini slices pretty thin.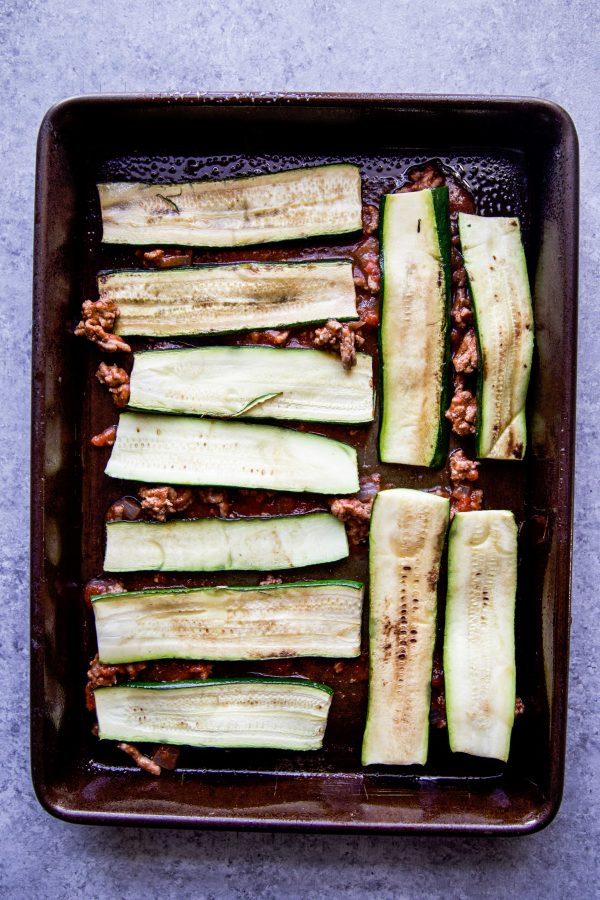 2) Make Zucchini Less Watery: Zucchini is 95% water and with that you will need to do a few things to make sure you draw some of the moisture out.
a. Salt your zucchini and let it sit for 15 to 30 minutes. The salt draws the water out. All you would do then is blot the zucchini dry with a paper towel before using.
b. Grill it. By grilling the zucchini you can reduce the moisture. You will want to grill the zucchini for about 1 to 2 minutes on each side.
c. Let the lasagna sit for 30 minutes after cooking. This will help everything settle and tend to make the lasagna less watery.
3) Ricotta vs Cottage Cheese: Personally, I think cottage cheese has a bit more flavor and texture. You can certainly do either! Cottage cheese is also a great alternative if you want to save on calories and carbs, but add more protein.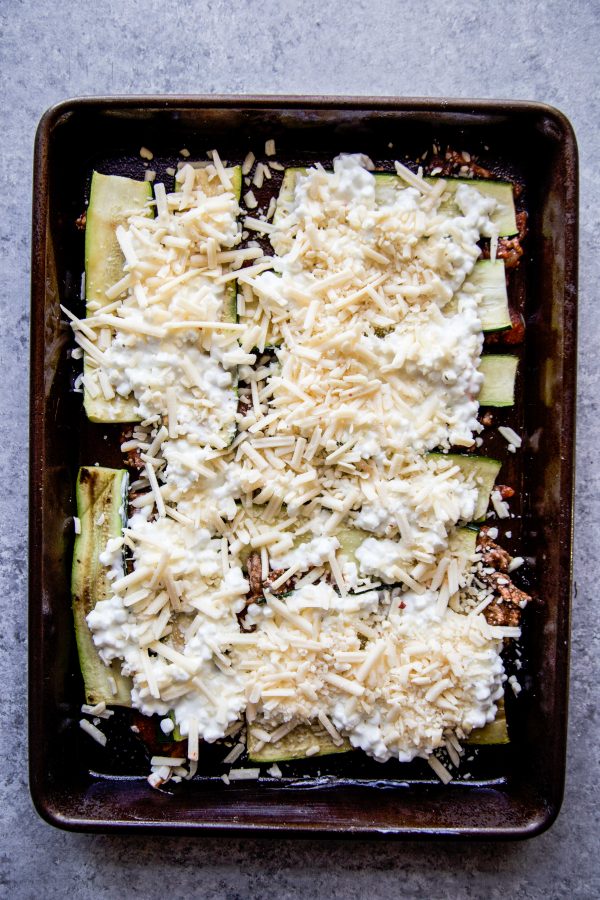 Do I need to add the ground beef?
Nope! I added the ground beef because we wanted a bit more protein in this dish. You can certainly keep it vegetarian by removing the ground beef.
What other vegetables can I add to this dish?
Great options would be kale, spinach, mushrooms, carrots, or eggplant!
Can I freeze this Tex-Mex Zucchini Lasagna?
Yep! You can fully cook it and place it into the freezer for up to 3 months! Great for meal prepping too!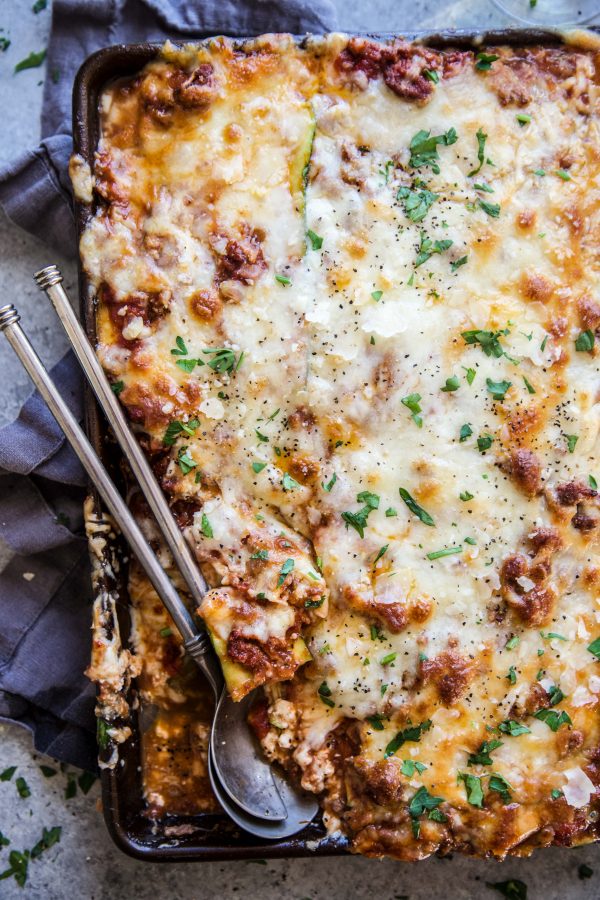 More Zucchini Recipes to Enjoy: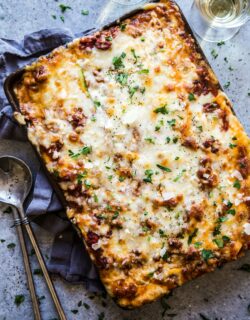 Tex-Mex Zucchini Lasagna
Ingredients:
4 large zucchini, sliced thinly lengthwise
1 tbsp olive oil
1 lb ground beef
3 garlic cloves, minced
1/2 yellow onion, diced
1 tsp ground cumin
1 10oz can red enchilada sauce
1 14oz can crushed tomatoes
2 cups shredded pepper jack cheese
2 cups shredded mozzarella
2 cups cottage cheese
salt and pepper to taste
Directions:
Preheat an oven to 400 degrees. Spray a 9X13 baking dish with non-stick cooking spray.
In large skillet preheated to medium-high heat add the olive oil and ground beef. Cook the ground beef until until no longer pink about 4 to 5 minutes. Next, add in the garlic, onion, cumin, salt, and pepper. Stir to combine and continue to cook until onion has softened. If you need to remove some of the beef drippings please do that now.
Add the enchilada sauce and crushed tomatoes. Stir, and let simmer for a few minutes.
Spread 1/2 cup of the enchilada beef sauce onto the bottom of the prepared baking dish. Add your zucchini slices on top of the sauce. They can overlap or you can place them side-by side.
Top the zucchini with more of the enchilada beef sauce and cottage cheese. Evenly spread both. Top with mozzarella and pepper jack. Repeat this process one more time.
Top the final layer with zucchini slices and more mozzarella and pepper jack cheese.
Place the lasagna in the oven and cook for about 40 to 45 minutes. Broil for the last few minutes until nice and golden on top. Remove from the oven and let the lasagna set for at least 30 minutes before serving.
All images and text ©