Cranberry Whiskey Sour
"Cranberry Whiskey Sour, a festive and wintery delight, is the perfect happy hour companion. Sip and savor the tangy and spirited flavors of this seasonal cocktail."
What's my ideal winter cocktail you ask?
Well, let's set the stage first.
I'll go with a log cabin in the middle of the woods, sitting on a couch in my favorite Lululemon leggings, watching the snow fall, and sipping a Cranberry Whiskey Sour next to the fire.
Sounds dreamy, right?
Even though I won't be visiting a log cabin any time soon, I will be in my Lululemon leggings sitting on a couch next to a fire sipping a Cranberry Whiskey Sour. Almost perfect.
So if you are into chilling by fire with a wintery cocktail let's dive in to make this cozy cocktail.
What is a Cranberry Whiskey Sour?
This version of a whiskey sour omits the egg white and uses cranberry juice instead. The combination of the cranberry + whiskey + citrus gives it the sour aspect. BUT! I promise it's delicious even if you aren't into cranberry juice.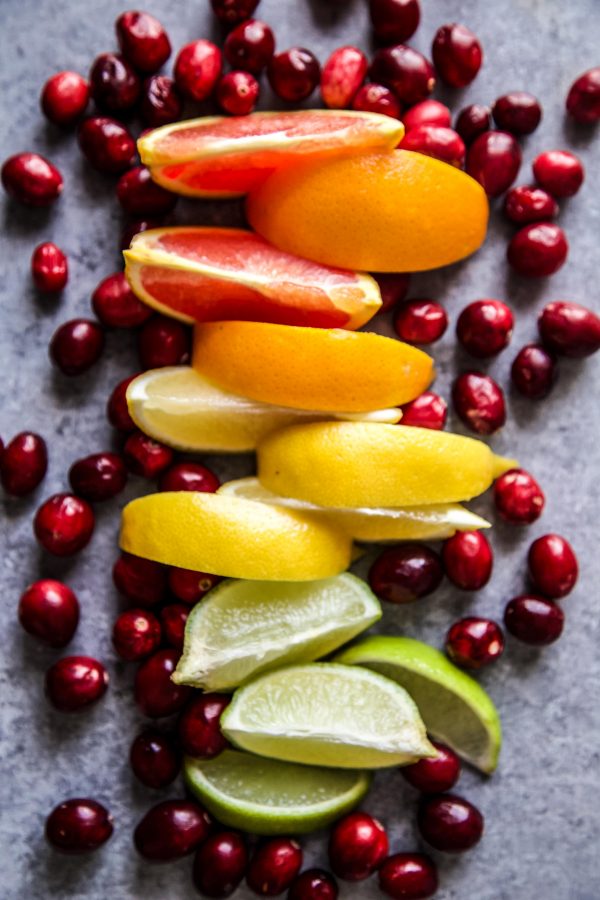 What's in a Cranberry Whiskey Sour?
A few ingredients are required to make this drink. You'll need:
Fresh cranberries
Water
Granulated Sugar
Cinnamon Sticks
Whiskey or Bourbon
Lemon Juice
Lime Juice
Orange Juice
Tips for Making the Cranberry Whiskey Sour:
1) Cranberry Simple Syrup. Making a simple syrup is quite easy. The hardest part is waiting for the syrup to cool before using. If you don't want to make the simple syrup you can omit and use 2 cups of regular cranberry juice.
2) Use fresh citrus. This recipe calls for lemon, orange, and lime juice. That's a lot of citrus which means you've got to use the fresh stuff. It will make a big difference in taste!
3) Cocktail shaker. To really make this cocktail shine use a cocktail shaker this will ensure that all the ingredients are well mixed and chilled properly.
Can the Cranberry Simple Syrup be made ahead?
Yep! You can actually make this a week ahead and store it in the fridge. Use it in other cocktails too!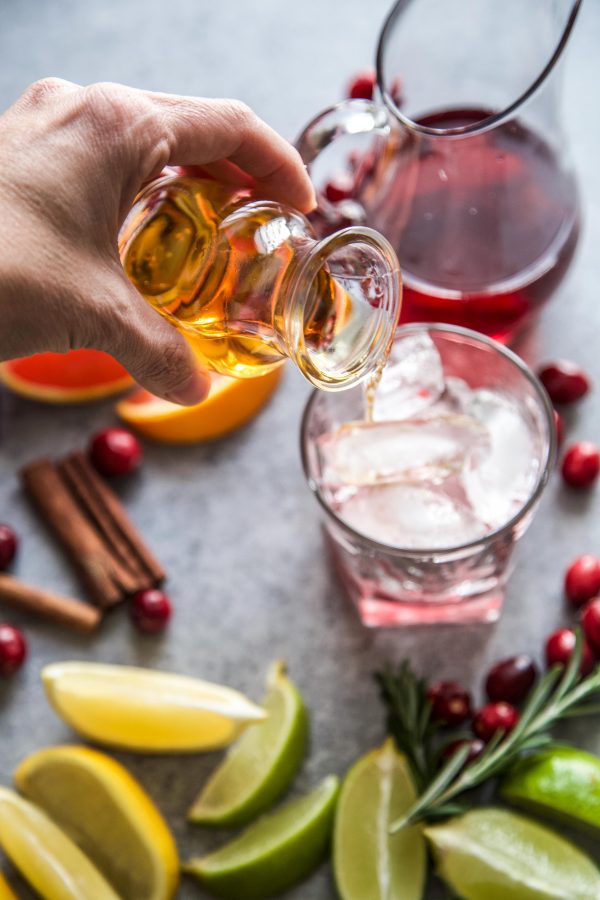 What Kind of Whiskey/Bourbon do you recommend?
Oh, man! There are so many choices. We are big drinkers of Breckenridge Bourbon. However, if you need a few ideas I would try:
Kentucky Four Roses
Calumet
Angels Envy
Bulleit
Woodford
Knob Creek
Any Japanese Whiskey
What if I don't like Whiskey?
Um, hello, RUM! Rum is now on my radar and would be an excellent substitute for bourbon in this cocktail.
Now, go make this drink, find a couch with a cozy fire to sit in front of and enjoy! 
More Winter Cocktails to Enjoy:
Cranberry Whiskey Sour
Ingredients:
2 cups fresh cranberries + more for garnish
2 cups water
2 cups granulated sugar
2 to 3 cinnamon sticks + more for garnish
1 cup bourbon or whiskey
1/2 cup freshly squeezed lemon juice
1/4 cup freshly squeezed orange juice
1/4 cup freshly squeezed lime juice
Directions:
In a medium saucepan combine the cranberries, water, granulated sugar, and cinnamon sticks. Bring to a boil over medium-high heat and then reduce to a simmer. You will need to continue stirring as the cranberries will begin to burst open. Not to worry. Once the cranberries are done bursting simply keep stirring until the simple syrup has thickened.
You will take the cranberry simple syrup and strain it through a fine mesh strainer into another bowl. This will get rid of all the large chunks making it smooth to use in a drink. Let cool before using in a cocktail.
To make the cocktail: add about 3/4 cup of the cranberry simple syrup, whiskey, lemon-lime-orange juice, along with a handful of ice to a cocktail shaker. Shake vigorously for 30 seconds. Divide the mixture among 4 cocktail glasses. Garnish with cranberries + cinnamon sticks.
All images and text ©