Buffalo Wing Popcorn
Buffalo Wing Popcorn is a fun and tasty snack to make for any occasion!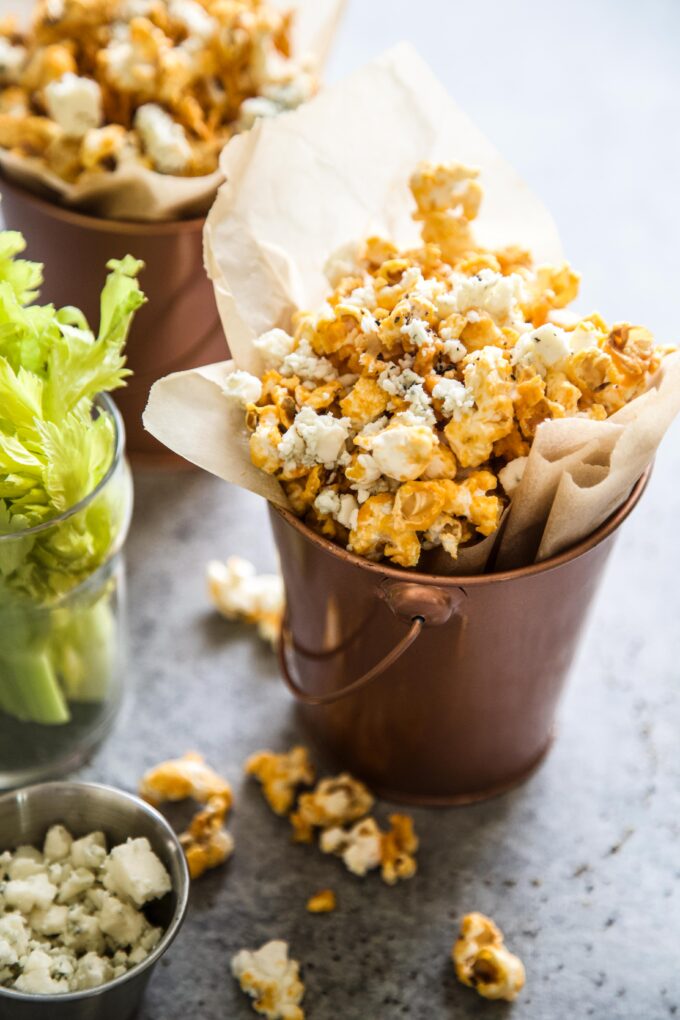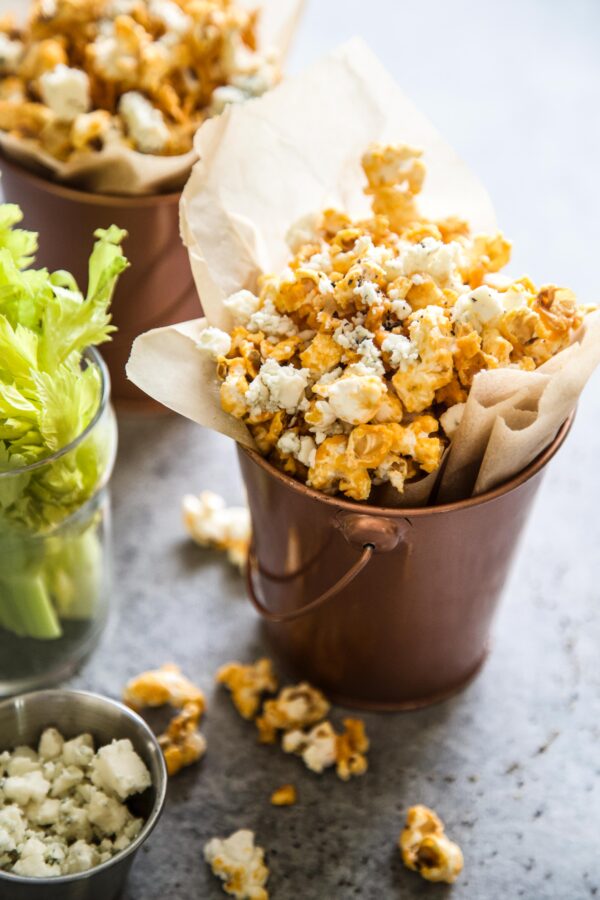 Raise your hand if you need a snack?
Um, this mama.
Now that Charlie is getting older I swear I just throw snack after snack at her. I'm amazed at what she consumes and often wonder, where does it all go? If I had that many snacks in a day I might look a little different in the pants department.
Curious, what are your go-to snacks? Cheese is always a win in our household. Hummus might reign supreme. BUT! One snack that I kind of forgot about…..popcorn. I used to gobble that stuff up as a kid. Not to mention I would get a big ass bucket to enjoy while watching a movie at the theater.
Today, we are bringing back popcorn. I know that classic butter popcorn will always be a winner, but we're jazzing it up by making this Buffalo Wing Popcorn. Ya, dig?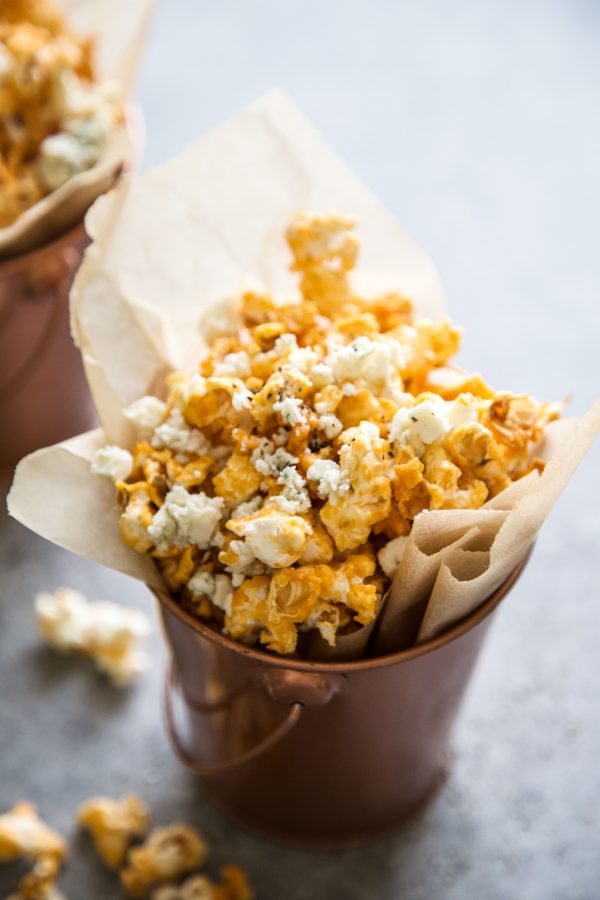 What's in this Buffalo Wing Popcorn?
My motto for this year: simple yet flavorful. In this recipe you will find:
Microwave popcorn
Unsalted Butter
Frank's Buffalo Red Hot Sauce
Blue Cheese Crumbles
Fresh Parsley or Chives for garnish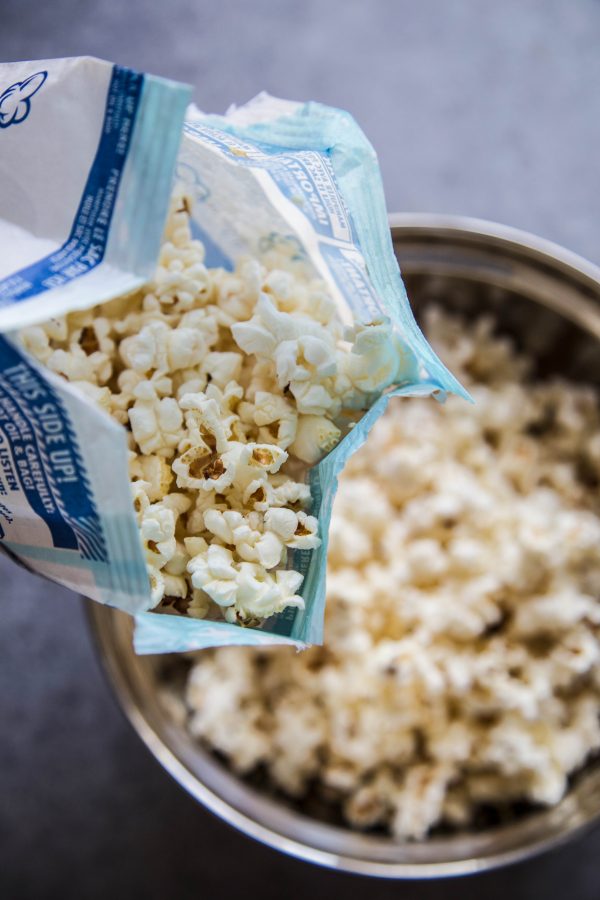 Tips for Making the Buffalo Wing Popcorn:
1) Use store-bought microwave popcorn. I know it feels like you're cheating, but when I want a snack it better happen quick, fast, and in a hurry. Any brand will work! Just don't get the flavored kind!
2) Butter + Buffalo Hot Sauce. Once you've got the butter melted and stirred in the buffalo sauce, start by adding a little bit at a time to the popcorn. The popcorn will absorb the liquid quickly and become soggy. If you can work in batches to not drown the popcorn.
3) Blue cheese. If you wanted to jazz this popcorn up even more you could melt the blue cheese and drizzle it over the top versus just tossing in the crumbles.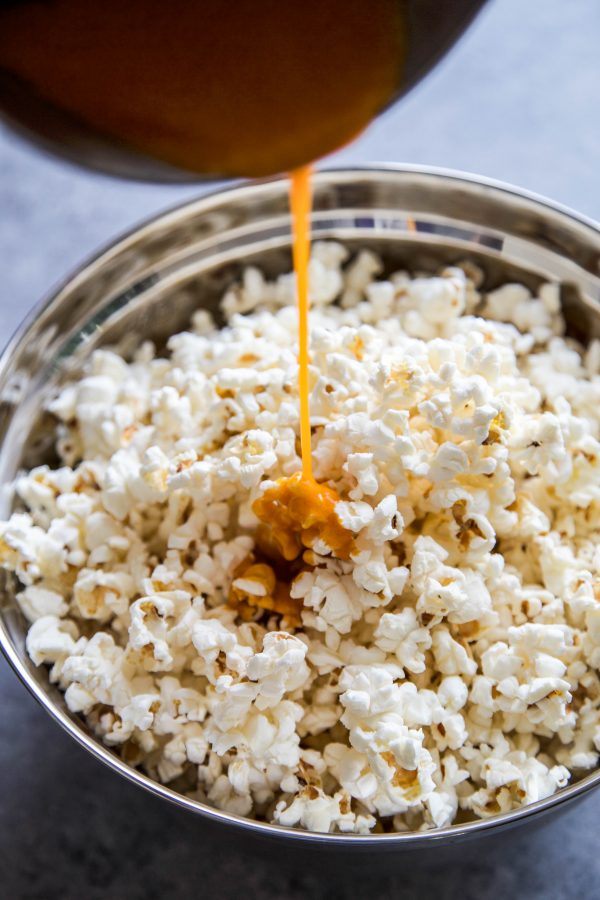 What Kind of Buffalo Hot Sauce do you use?
Any kind that you love! I personally like Fred's Red Hot Wing Sauce.
Can the Buffalo Wing Popcorn be made ahead?
Yes! I would make the popcorn ahead of time and then at the last minute toss it with the butter and buffalo sauce.
What if You Don't like Buffalo Sauce?
No problem! There are many different varieties you can mix together when it comes to making fancy popcorn. Try the following:
Taco Seasoning + Nutritional Yeast
Cinnamon Sugar
Ranch Packet+ Fresh Chives
Curry Powder + Coconut Flakes
I hope y'all enjoy this Buffalo Wing Popcorn. I'm telling you it's one that will be on the regular snack rotation! Enjoy!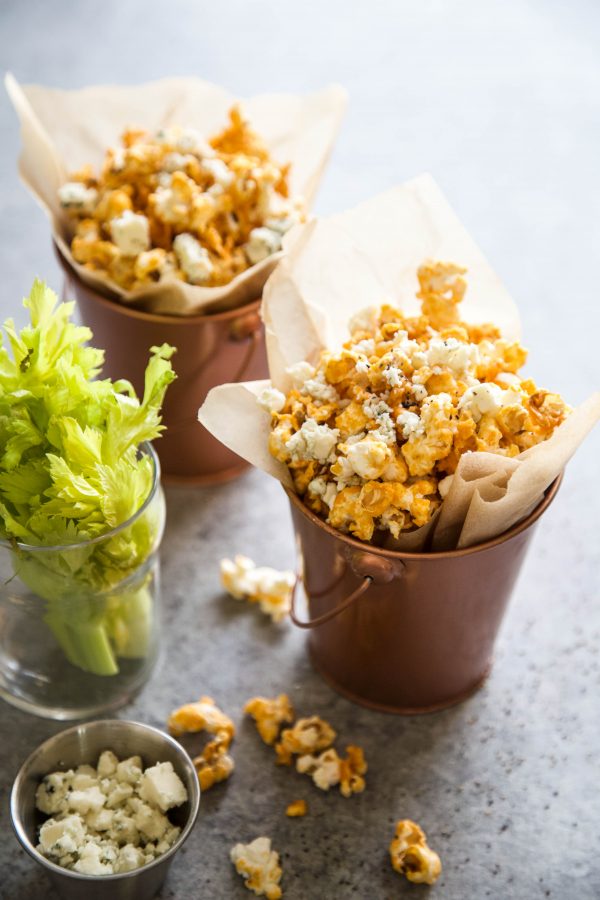 More snack recipes to enjoy: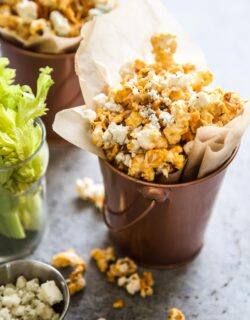 Buffalo Wing Popcorn
Ingredients:
2 bags microwave popcorn, popped
1/4 cup buffalo hot sauce
4 tbsp unsalted butter
Blue cheese crumbles
Fresh parsley or chives, for garnish
Directions:
Place popcorn in a large mixing bowl. In a medium saucepan preheated to medium heat, melt the butter. Once melted stir in buffalo hot sauce and stir to combine. R
Remove the saucepan from the heat and pour it over the popcorn a little bit at a time. Carefully toss and add more as needed to cover the popcorn. If you need to add more buffalo hot sauce to the mix go for it.
Next, add the blue cheese crumbles and chopped chives to the popcorn. Toss and serve.
All images and text ©