Easy Pepperoni Pizza with Hot Honey
Easy Pepperoni Pizza with Hot Honey is a fun and delicious meal to make when you need an easy meal on the fly!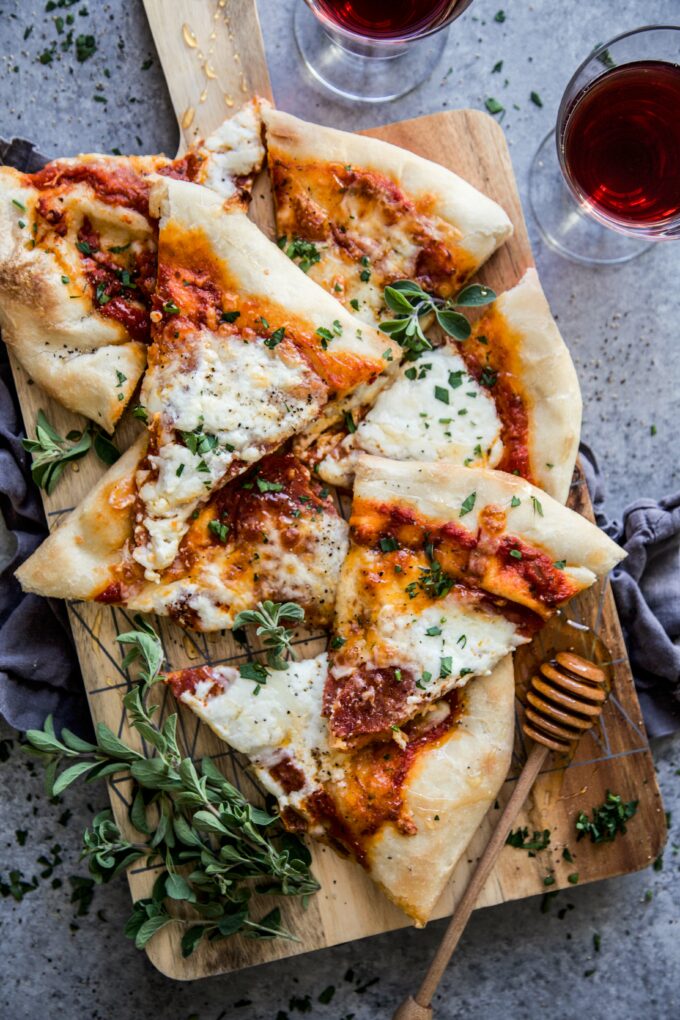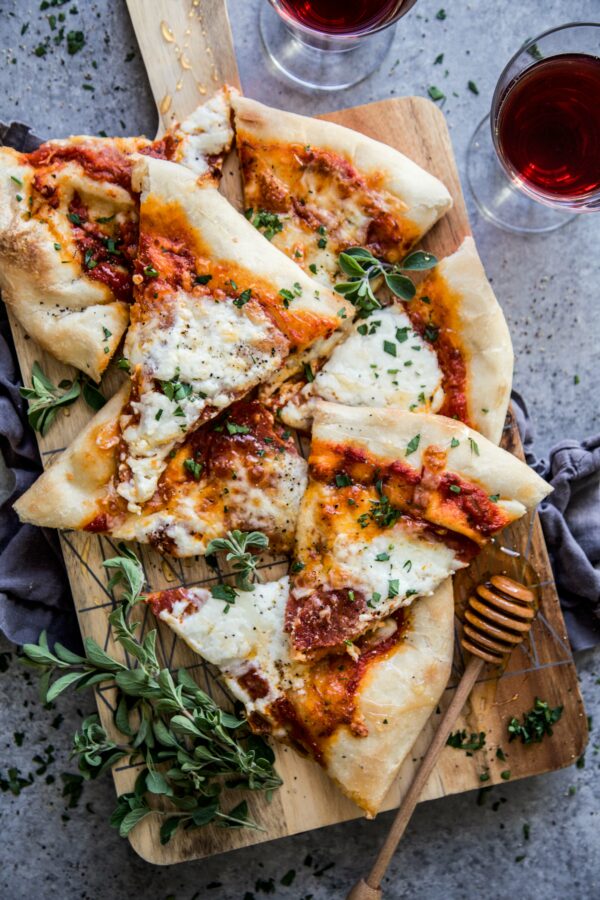 I'm a sucker for the classics.
If I had to wear a single outfit for the rest of my life: white oxford with a military jacket and a pair of dark washed Levi jeans. A car to ride in: 1967 Shelby GT. A movie to watch: Breakfast at Tiffany's. BUT! If we're talking about food…..a simple pepperoni pizza will do.
See the classics will never go out of style or taste for that matter. That's why I'm a big believer in sticking to classics, but adding a bit of flare to make it modern. Case in point: Easy Pepperoni Pizza with Hot Honey. Simple, straightforward pizza with drizzle of the modern era thanks to hot honey.
So, let's dive in and make something classic, cheesy, and a bit spicy.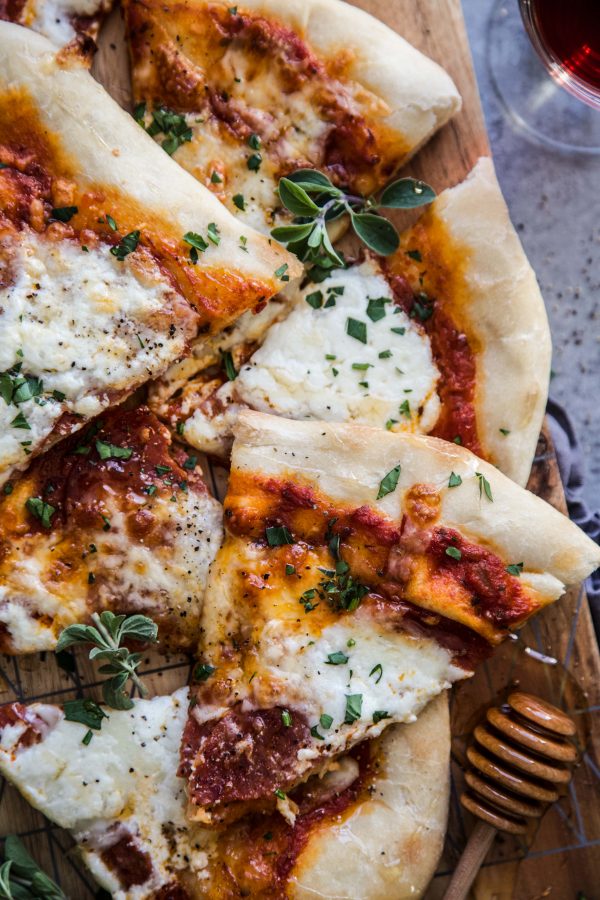 What's in this Easy Pepperoni Pizza with Hot Honey?
The ingredient list you will find is minimal and that's because I used store-bought pizza dough. If you want to make your own pizza dough, please do so. BUT! If you want to save time grab some pizza dough at your local pizza joint or the grocery store.
Pizza dough
Rao's pizza sauce (Just try it. It's freaking amazing!!!)
Shredded mozzarella
Pepperoni
Burrata (*not necessary, but damn it's good)
Honey
Hot sauce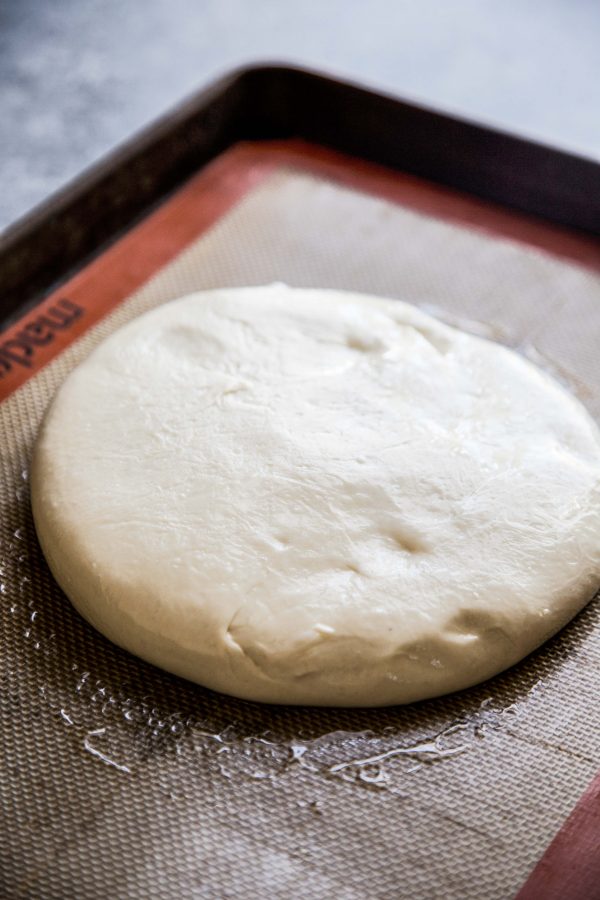 Tips for Making Easy Pepperoni Pizza with Hot Honey:
1) Par-bake your dough. This is a VERY IMPORTANT step. You'll roll out your pizza dough onto a prepared baking dish either into a circle or rectangle. You will cook the dough for about 5 to 7 minutes before you add any toppings. This will ensure you don't end up with soggy pizza dough!!!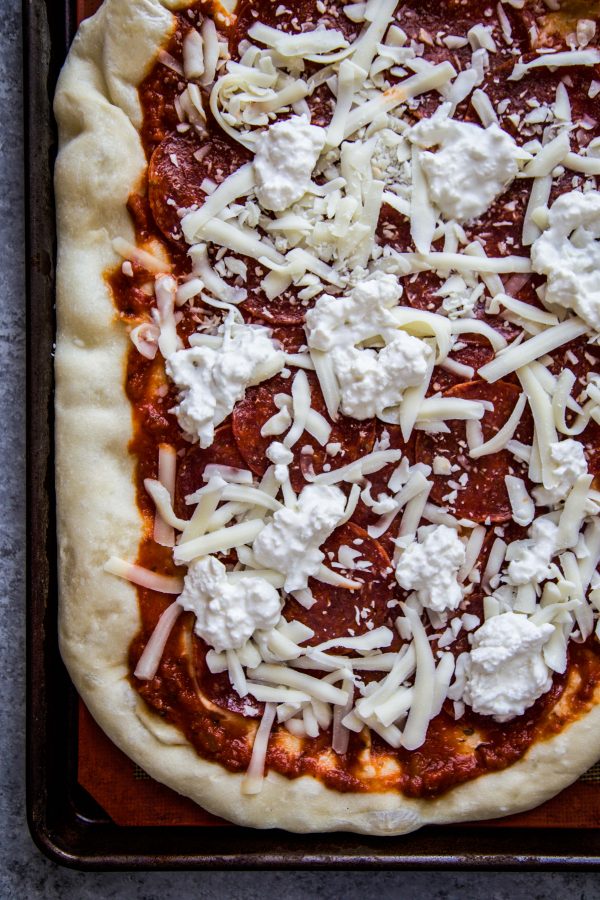 2) Rao's pizza sauce. When you are making classic things whether clothes, cars, or food ingredients must be the best. Rao's (yes a bit more expensive) is the only sauce I use. It tastes like an Italian grandmother stood over a pot of tomato sauce for hours.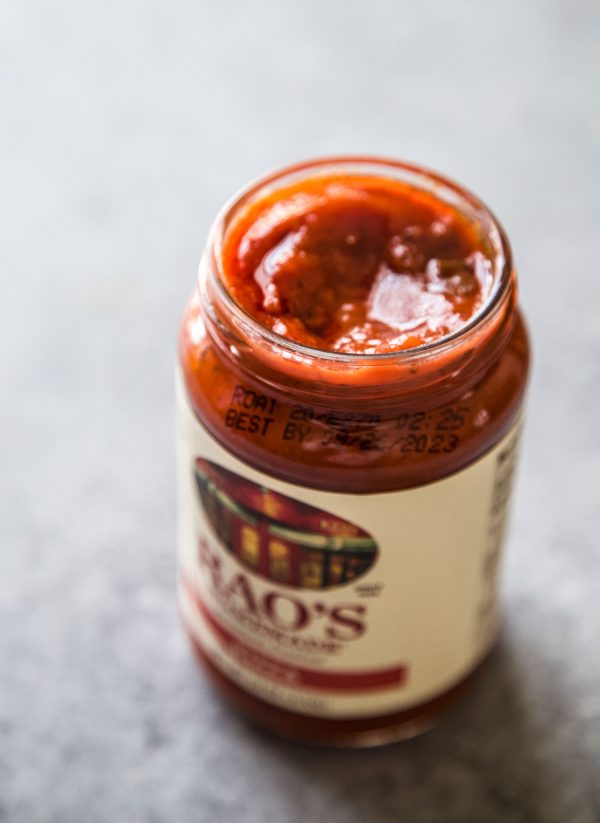 3) Hand shred your mozzarella. Don't buy the store package stuff unless you can find the rustic style. Hand shredded cheese is a game changer and melts so much better than the packaged variety.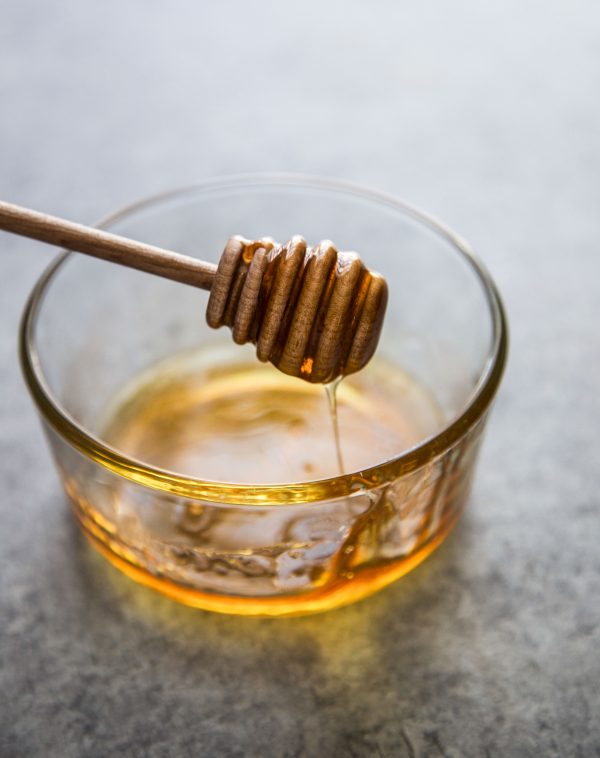 How Do You Make Hot Honey?
This step is super simple and one you will be making over and over again. Pour some honey into a microwave safe dish followed by a couple of glugs of hot sauce. Highly recommend using Tabasco. In my husband's eyes there are no other kinds of hot sauce.
Microwave the dish on high for one minute, mix, and then drizzle over the pizza. OH MY LORD. It's seriously so good!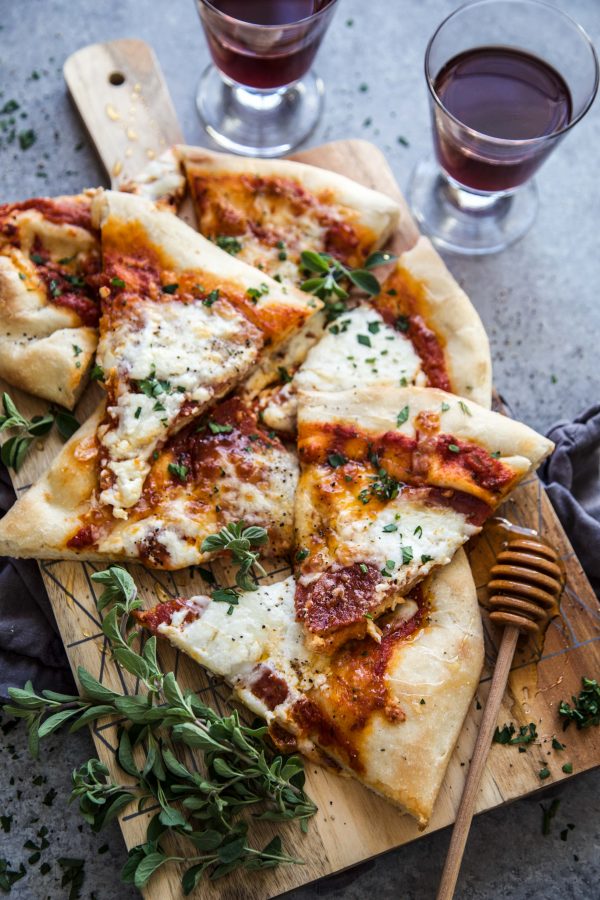 Can I substitute the pepperoni?
Yes! Use whatever kind of toppings you'd like. You could even omit all the protein and simply do a cheese pizza!
Do I have to use the Hot Honey?
Nope! This is just an added bonus of flavor!
I hope y'all enjoy this Easy Pepperoni Pizza with Hot Honey. I'm telling you it's one that will be on the regular Friday night pizza rotation! Enjoy!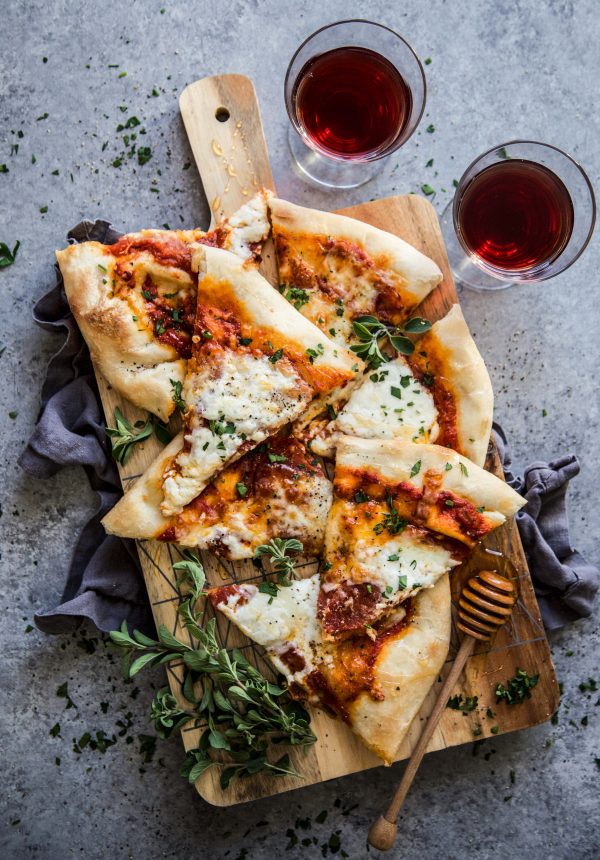 More pizza recipes to enjoy: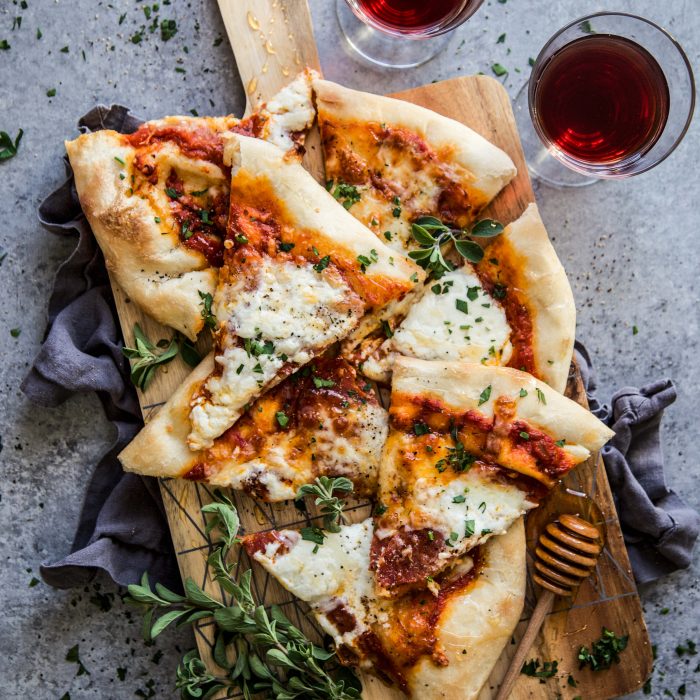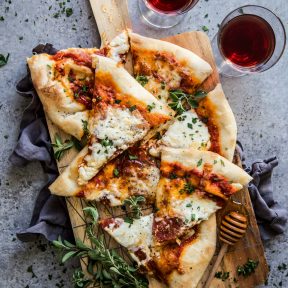 Easy Pepperoni Pizza with Hot Honey
Easy Pepperoni Pizza with Hot Honey is a fun and delicious meal to make when you need an easy meal on the fly! 
Ingredients
1 pkg store-bought pizza dough
1 ¼ cup Rao's pizza sauce (*or any favorite pizza sauce)
10 slices pepperoni
1 cup shredded mozzarella
8 oz burrata ball
¼ cup honey
2 tsp hot sauce
Fresh oregano, for garnish
Instructions
Preheat an oven to 400 degrees. Line a baking sheet with parchment paper and spray with non-stick cooking spray. Roll the dough out into a 9X13 rectangle. Place the dough into the oven and par-bake for 5 to 7 minutes.

Remove the dough from the oven and top with pizza sauce, pepperoni, mozzarella, and the soft cheese from inside the burrata ball. Place the pizza back into the oven and cook for about 10 to 15 minutes longer or until the pizza crust is golden brown.

While that cooks make the hot honey. Pour the honey and hot sauce into a microwave safe bowl. Place the bowl into the microwave for 1 minute and stir. Set aside.

Remove pizza from the oven. Let it cool slightly before slicing and garnish with fresh oregano and drizzle the top with hot honey.
Did you make this recipe?
Please leave a comment below and share a photo on Instagram with the hashtag #thecuriousplate!